York Blvd Streetscape Master Plan Final Concept
By Ryan McGreal
Published February 13, 2009
Last night, the city's Department of Public Works unveiled their final concept for the York Boulevard Streetscape Master Plan.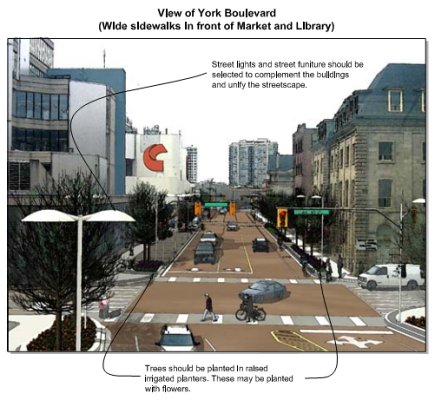 York Blvd Master Plan rendering
Staff summarized the citizen feedback from the November 2008 sessions in the following five points:
Improving cycling opportunitites along York with bike lanes and biking facilities;
Slowing traffic through the master plan area;
Improving pedestrian safety, comfort, accessibility, and wayfinding;
Providing facilities and opportunities for festive events - attracting people to the Downtown and making the Farmers' Market and Library Downtown focal points; and
Creating opportunities for street closures for large special events and large festivals.
Based on this feedback, staff developed their final concept, which incorporates bike lanes (subject to the Cycling Master Plan Update), wider sidewalks, urban braille, street furniture, landscape planters, trees and hanging baskets, and the abililty to close the street for large special events.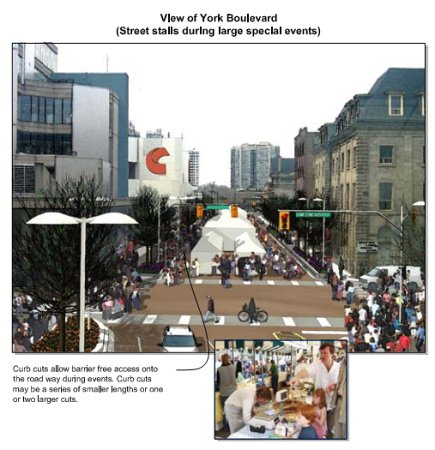 York Blvd special event street closure rendering
You can view the final concept as a PDF.
A few observations:
The sidewalk adjacent to the Market actually appears to be wider than in the original three proposed concepts.
They seem to have dropped the proposed "scramble intersection" at York and MacNab. Not sure why.
It seems to incorporate the proposed flexible events [PDF] concept in that it provides for easy street closures between Bay and MacNab.
No street trees on the North side of York between Bay and Park. Not sure why.
York reverts back to one-way west of Bay St. It would be nice to see the city push the two-way conversion so that it's continuous right back to Queen St.
Combined with the city's Farmers' Market / Central Library renovation concept, this should prove to bring new vibrancy to a downtown block that has tremendous potential (the P word again) but is currently hampered by a hostile public environment next to a multi-lane one-way thoroughfare.
The final concept has done a nice job of incorporating citizen feedback into the original three concepts - like the inclusion of bike lanes - and offers great flexibility of land use for the Market to take advantage of nice summer days or special events.
All in all, this may well turn out to be a real showcase for urban revitalization.
If you have any comments on the final concept, you can send them to Khaldoon Ahmad, the urban designer in charge of the master plan.
Post a Comment
You must be logged in to comment.