Et Tu, Brutalism?
So the future didn't happen. Does this mean we destroy all the Brutalism style buildings, much the same as we tore down all our Victorian and Georgian streetwalls?
By Trey Shaughnessy
Published May 31, 2005
The Brutalism style of architecture is a sub-style of the Modernist period (post-war to 1975). It was largely built during the 1960s and '70s. Brutalist buildings are defined by their exposed, bunker-like, bare concrete walls, and usually have main entrances not oriented to the street - a major criticism of the old Art Gallery of Hamilton building.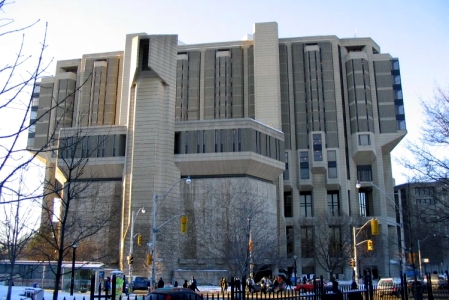 Robarts Library, University of Toronto (built 1973)
Swiss architect Le Corbusier can be blamed for the name, taken from the French words for "rough concrete" (beton brut), which doesn't translate very well into English. To some degree it is an appropriate term to describe some Brutalist buildings, which often feature windowless blank walls.
Hamilton has its share of Brutalism. In fact, you can tell when a city went through a prosperous time by the clusters of building styles built during a period. In Hamilton, we can see many fine buildings built in the style of, Georgian, Edwardian, Art Deco, Art Moderne, International, Modern, and Brutalist.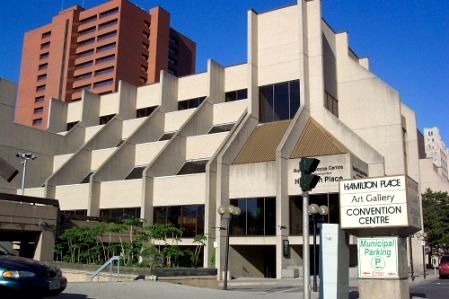 Hamilton Place (built 1972); Trevor Garwood-Jones, architect
In contrast, Hamilton has very few Post-Modern buildings. This suggests Hamilton was prosperous in the late 19th century, early 20th century, pre-war, and post-war and throughout the 1960s and '70s, but not much happened during the '80s and '90s.
Studying architecture can be very similar to studying Art History. By studying a style that dominated a certain period of history, we can learn what was important in a society, how technology impacted life, and what was feared, or revered during a period of time. From this, historians extrapolate a snapshot of social values, which are largely shaped by economics, religion, and politics.
With a global economy that has managed to homogenize everything from architectural, fashion and graphic design, historians in the future will have a difficult task in determining what was happening in Shanghai or Toronto, simply because the same buildings are built, the same clothes are worn, the same music is listened to, and the same movies are seen.
Brutalism was one of the last architectural styles that pre-dated globalism. It was a time when society thought the future of science-fiction novelists was upon us. Le Corbusier and the new modernist movement sought to eradicate the past, and its irrelevant urban lifestyle. The streets would become highways moving mass numbers of automobiles, the street-life would be moved indoors or elevated above the street.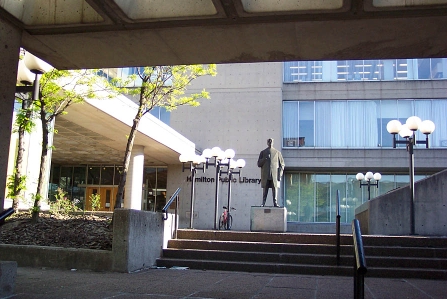 Hamilton Central Library has an obscured main entrance
Our lifestyle would be filled with modern inventions, and a totally new evolved society would require a re-fabricated neo-urban environment. York Boulevard, for example, paved over a Victorian streetwall to make room for Modern skyscrapers that didn't happen. Hamilton, like and other Canadian and U.S. cities, went on a rampage during the '60s and '70s to eradicate Victorian architecture. Victorian buildings were regarded as dirty, old, and of little use in a society that would be jet-packing around by the 21st century.
So the future didn't happen - at least not how it was envisioned. Does this mean we destroy all the Brutalism style buildings, much the same as we tore down all our Victorian and Georgian streetwalls? Bruce Kuwabara's new AGH proved they can be renovated to a more human scale. In fact, the new-new-modernists, known as New Urbanism, seek to return to a simpler, more human urban environment. New Urbanism stresses more compact neighbourhoods, calmer car traffic, public squares, public transit, less reliance on cars, local food sources, and buildings that acknowledge the street.
Brutalism demonstrated that the street is relevant. Streetlife is what makes Toronto's urban neighbourhoods so successful. "Eyes on the street" make them safer, and streetlife makes our city walkable, socialable and livable.
Brutalism buildings in Hamilton define an era in our history and for that reason they are significant. These buildings were built to last and are structurally strong. Conversely, suburban development is only built to last for one generation and for that reason is not significant.
Bruce Kuwabara's architecture firm, KPMB, has done a fantastic job of renovating an unfriendly building. I hope it is the start of renovating an unfriendly downtown.
Post a Comment
You must be logged in to comment.