James Balfour Left his Mark on Hamilton
The ambitious architect often criticized his colleagues for copying and not designing buildings - he was interested in developing a uniquely Canadian Style of architecture.
By Trey Shaughnessy
Published September 11, 2008
James Balfour was born in Hamilton on Christmas Eve 1852. He was born into a Scottish Presbyterian family that fostered a hard-working ethic and almost stubborn individualistic ambition to achieve.
His father Peter was a carpenter, whom often worked with Stone Masons (Freemasons) to erect stone-block houses, factories and commercial buildings from the abundant local limestone. These mid-19th century buildings belong to Hamilton's own Stone Age. Many of these fine buildings still exist, like Sandyford Place at Duke and McNab Streets a terraced house that was popular with Scottish immigrants.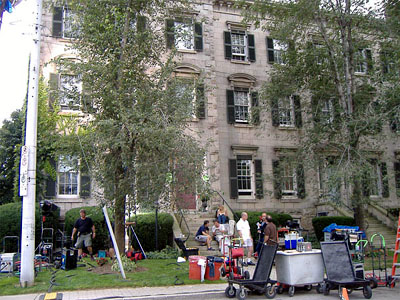 Sandyford Place 1858 Building from Hamilton's local limestone
Peter Balfour worked with architect William Thomas on the 1850s castle-like mansion known as "Ballinahinch" for the wealthy merchant Aeneas Kennedy in the Durand neighbourhood. William Thomas most famous local building is St. Paul's Presbyterian Church.
However, another lesser known building – but one that has garnered some attention of late – is neighbouring the Lister Block to the north on James Street, known locally as the "Thomas Building".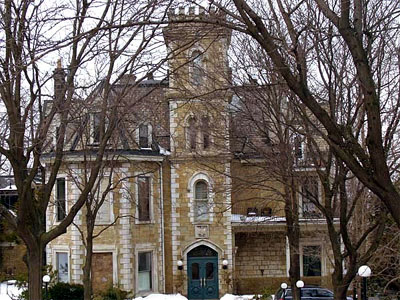 William Thomas' Ballinahinch, built with the help of carpenter Peter Balfour (Photo credit: Paul Dolanjski)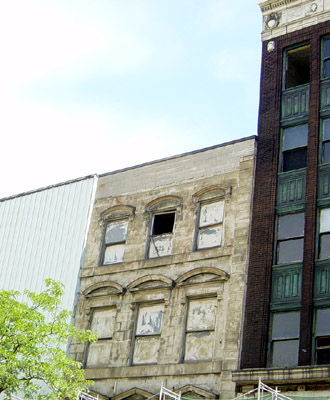 Thomas Building neighbouring the Lister Block (RTH File photo)
It is likely that these top architects and skilled craftsmen, influenced Peter Balfour's desire to see his son James become a great architect. James was sent to Edinburgh and trained as an architect and designer. James returned to Hamilton in 1875 at the age of 23.
For his first three years, his office was located at 55 Main West. At this time the local limestone 'stone-age' was being supplanted by Hamilton's 'iron-age' that favoured the Gothic Revival style. It is in this period that Balfour begins his practice.
James Balfour practiced in Hamilton from 1875 until his death in 1917. In 1887 Toronto architects formed the "Architects Guild of Toronto", which was at the core of the Ontario Association of Architects (AOA). The Guild operated as an elite group within the AOA. Since the majority of Ontario architects practiced in Toronto they made most of the decisions. Balfour was a rival Hamiltonian and attempted to form a similar Hamilton Guild. This was soon disbanded and joined the Toronto-centric Association.
The young, ambitious upstart Balfour was at times outspoken and often criticized his colleagues for copying and not designing buildings. Balfour became Vice President of the AOA in 1889 at age 37. Balfour was interested in developing a uniquely "Canadian Style" of architecture. His fallout with the Toronto elite started with the refusal of the Association hold meetings outside Toronto and eventually his unsuccessful attempt at his vision of a Canadian style. This bickering was likely a distraction from his work that was maturing.
Balfour's career peaked early. The majority of his commissions were before age 45. His strong individualistic personality did not lend itself to working well with others. His commissions were residential, commercial and industrial buildings. He did not design steel-frame buildings; the majorities are stone or brick construction in the Victorian Gothic style.
Balfour buildings present a contrast of textures and colours using different materials. His preference was for dramatic rooflines with varying chimney heights, high gables and asymmetrical plans. His houses were punctuated with distinct tall windows often framed with complimentary stonework and topped with a slight arch, a large wrap-around porch with prominent front entrances often present on his residential buildings.
In the typical High Victorian Gothic style, Balfour used many ornamental embellishments but maintained a disciplined tastefulness.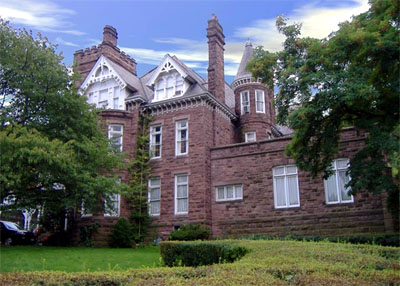 Ravenscliffe Castle, 1881 was one of Balfour's first showpieces of his ability. Exhibiting dramatic rooflines, tall windows, conical tower, castle keep, varying chimney heights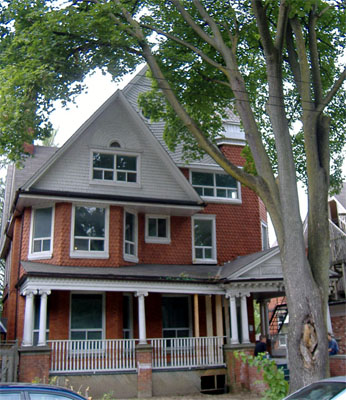 280 Bay South, 1891 Queen Anne style, large porch and large gables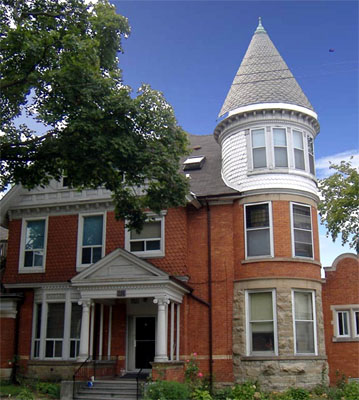 274 Bay South, 1892 Queen Anne style with conical corner tower, and varying brick and stone.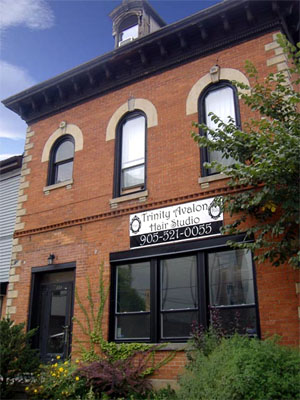 230 James South, Gothic Revival with mansard roof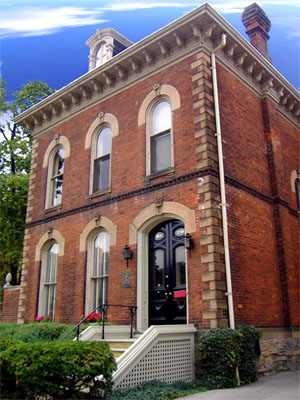 Presenting tall narrow windows framed with complimentary lighter stonework and curved tops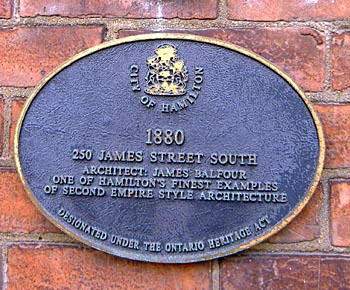 250 James South, Second Empire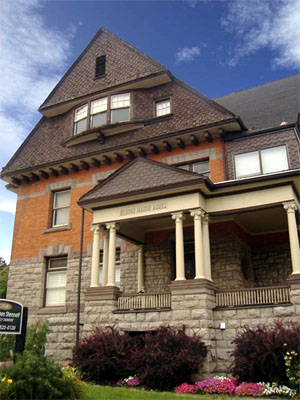 268 James South, 1893 Queen Anne, large gables, projecting porch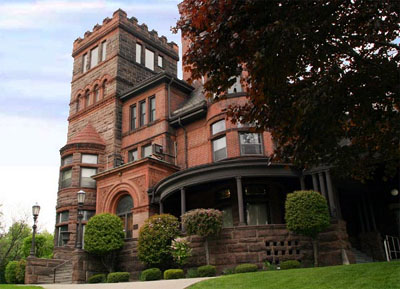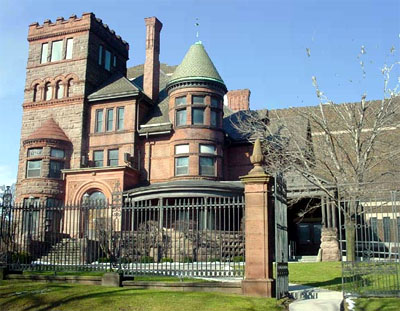 4 Queen Street North, 1892-4 Tucket Mansion (currently the Scottish Rite). At the time it was the most expensive residence in Hamilton built for the founder of the Tucket Tobacco Company
Conical corner tower, medieval tower keep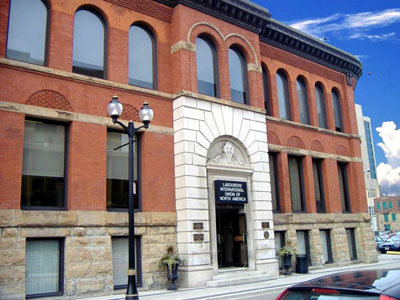 Bell Telephone Building, 1890 Hughson St South (currently LIUNA office)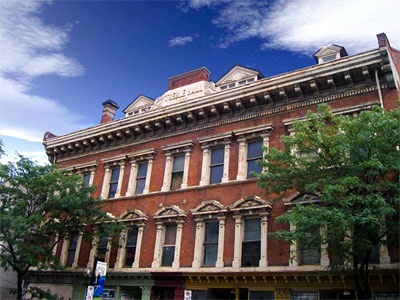 Treble Hall, 1878-9 John Street North
Renaissance Revival, Balfouresque characteristics include a variety of surfaces and colours, contrasting façade, light stone framed windows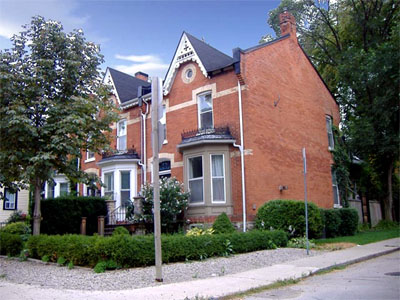 121-125 Markland, 1889-90. Owned by the Balfour family until 1991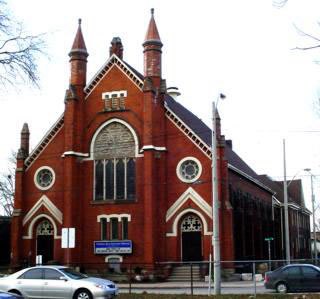 Erskine Presbyterian Church

46-42 Herkimer, 1877-78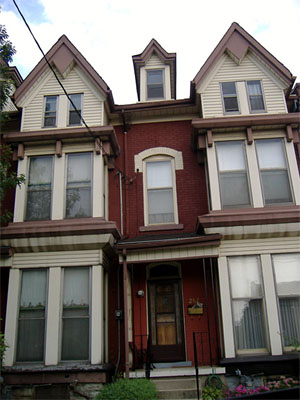 252 MacNab North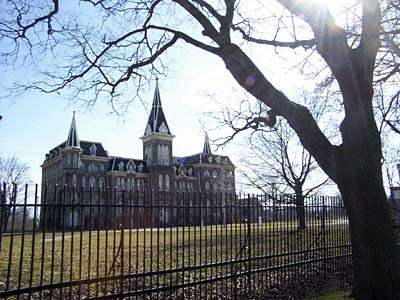 Alma College, 1878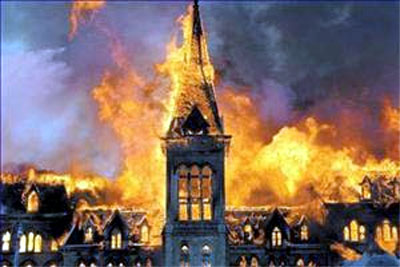 Sadly a fire destroyed Alma College in St. Thomas last year, demolition by neglect
James Balfour's buildings are in Toronto, St. Thomas, Hamilton, Smithville and Niagara Falls. He left behind a legacy of beautiful buildings that tell us about how we lived and functioned in our environment. Historical art and architecture reveals for us what people before us revered, feared, and most of all valued.
It is important to our future to study history and save these buildings. We've lost two of his greatest Hamilton buildings, the City Hall and the YMCA. There was a permanence to these buildings that were built to last and often took years to build because it were important to do things right.
I found no evidence that the building recently torn-down on King William was a James Balfour building. Although it does exhibit certain Balfouresque details, it was built before Balfour's time but perhaps was an influence to his style. James Balfour is buried in Hamilton Cemetery.
Post a Comment
You must be logged in to comment.