Public Space Defines a City
If we always do what we've always done, we'll always get what we've always got.
By Trey Shaughnessy
Published October 22, 2007
Recently Mayor Eisenberger suggested that a small stretch of King Street (Gore Park) be turned into a pedestrian plaze. Bizarrely, this suggestion generated some resistance, even from the director of the downtown BIA.
City planning in Hamilton and largely across North America for the past 50 years has focused on private land use.
The city staff members and councils have micro-managed how a landowner can build, what gets built, the use of the land and its buildings and neglected the places that the public occupies. This has been a double-edged sword for city life.
Micro-Managing Private Land Use
Currently city by-laws and zoning rules stand in the way of a land developer to mix residential, commercial and entertainment uses. The City forces a minimum amount of parking spaces, maximum heights on buildings, minimum setbacks (how far a building must be from the street), and usage.
Ultimately this destroys pedestrian use and makes automobiles necessary to participate in day-to-day civic life.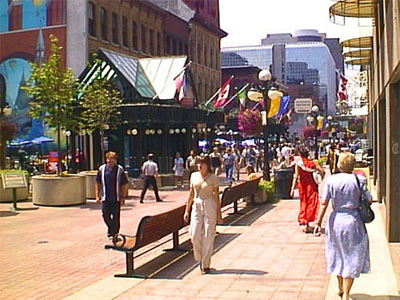 Sparks Street, Ottawa
The long-time zoning rules have forced developers into making their lots be used for one purpose only. That is, single unit housing, multiple housing, office, entertainment, commercial, or industrial uses.
Forcing a building or lot of land into a single-function-use is not natural to how people live and function in an urban area. It has segregated the citizens and not allowed a city to naturally grow and evolve into vibrant clusters where people can live, work, shop, and socialize.
An article by Andrew Dreschel in the Hamilton Spectator suggested that people would not stroll a Gore Park promenade because they can socialize and shop at Limeridge Mall. The problem is that Limeridge Mall is private property. One can be evicted for a loosely defined infraction such as 'loitering'.
Illegal Urbanism
Public spaces are vital to a community. Gore Park has historically been the place that Hamiltonians visited to celebrate and protest. This couldn't happen at a mall or big box centre that is privately owned.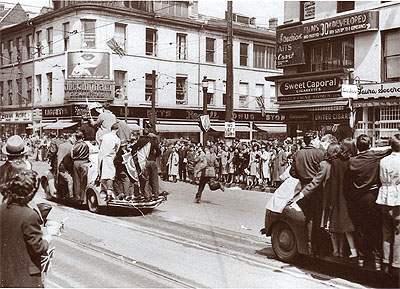 Hamiltonians took to the streets (Gore Park included) and celebrated Victory in Europe (VE Day) in 1945
Most of the livable places in the city would be illegal to build today.
Granted, the city is taking small steps forward. Some downtown developments are being built to the street, two-way streets, on-street parking, wide sidewalks.
But the rest of the city continue with the same car dependent environment with huge surface parking lots, five or more lanes of fast moving traffic, and buildings set so far back from the street that they require signs at the street to let people know what's at the back of the parking lot.
City Planners Neglect Public Space
Parks, plazas, squares; boulevards and streets with wide sidewalks next to calm vehicle traffic add much to a city's livable factor. People experience a city through the public realm.
If it's a hostile environment, people won't bother using the space. That means the space has to be more than just a space. The space has to have a reason and a function.
Even some city parks don't function very well. Everyone wants them, wants to live near them, but they aren't used very much.
Why? Because there isn't much reason to go them, and if you do, they often lack washroom facilities, picnic facilities, most are barren grass fields, kept green with chemicals, and few trees.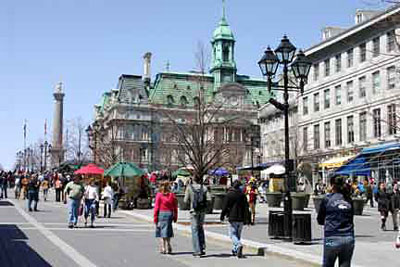 A pedestrian street in Montreal
A pedestrianized Gore Park plaza would meet the requirements of a useful public space – with the addition of public washrooms, something that used to be in Gore Park. It would be a destination, have a reason, and be a friendly place to socialize.
This will take a change of thinking from our city planners, but it is the right direction. If we always do what we've always done, we'll always get what we've always got.
Post a Comment
You must be logged in to comment.