Downtown Update
The core is cooking! Jason serves up the tastiest treats that downtown has to offer.
By Jason Leach
Published May 18, 2007
(this article has been updated)
Terraces on King
Hamilton's International Village continues to hum along in the midst of a remarkable revitalization. More info regarding the 'Spallacci Building' has been released and it looks fabulous.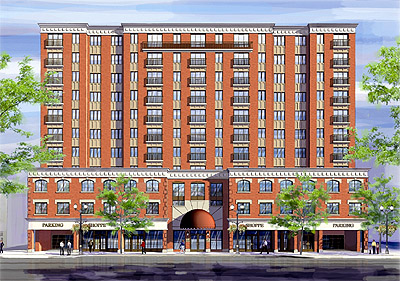 Terraces on King rendering
This eleven-storey building will include two bachelor units, 43 one-bedroom units, 78 two-bedroom units, and 188 square metres (2,027 square feet) of ground floor retail space (plus 117 spaces of underground parking) for a total square footage of 10,465 square metres (112,648 square feet).
Personally, I'm a huge fan of buildings that capture the heritage aspects of our downtown core. I think this building will blend in beautifully with the streetscape and add another batch of urban residents with plenty of nearby amenities to enjoy.
Let's hope the street level retail spaces are rented to suitable tenants that will animate the street with sidewalk displays or patios.
The city is currently constructing a five-storey apartment building at King and John. It, too, is designed with a great heritage feel and streetfront retail space.
The St Deny's project has been a long time coming. It's wonderful to see it finally take shape and not disappoint with bland architecture or street presence.
These two projects on King East are pointing the way to Hamilton's urban future. Head to Boston or Montreal sometime and check out the plethora of new buildings that are designed to look classical.
Kudos to the Spallacci Group and the hard-working folks in the International Village who have come a long way to make this project a reality.
Three16 Lounge and Mindstorm
Further east on King at 316-318 King East, two new businesses are set to open in the same building. Three16 Lounge and Mindstorm Studio will be opening soon and will both be huge additions to the Village.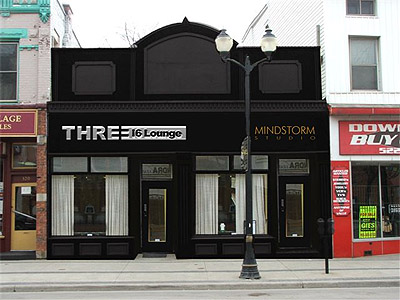 Three16 Lounge and Minstorms Studio
The principals behind the lounge are the same folks who brought us Urbanicity Magazine. The lounge will double as the Urbanicity office and should result in the magazine being resurrected after a bit of a hiatus while renovating this building.
Three16 will have wireless internet, a liquor licence (with 16 premium beers to choose from), and great coffee, and will surely become another hot spot for Hamilton's booming urban population. And get this – there's a fantastic space for an outdoor patio behind the building. They hope to have the patio ready by later this summer. The café will open shortly.
Based on the skill and professionalism we've seen in Urbanicity, Reg and his sister should do great with this new venture. Congratulations to them both. Hamilton's downtown will be better for their efforts.
I'm aware of another web firm, photography studio and artist studios already in the Village. Adding this creative cluster will go a long way towards drawing more similar ventures in the future and lay the foundation for a vibrant, 24-7 neighbourhood in the years to come.
More International Village News
The façade is now redone at the old carpet store just east of Walnut. The word is that a cappuccino bar/ pastry shop is coming.
A sign up on the southwest corner of Walnut and King is advertising a deli/café coming soon.
The folks at the BIA office are pleased to announce that by next month there will be 29 restaurants, cafes and entertainment spots in the Village. The great weather is here giving us a perfect chance to get out and discover this hot downtown neighbourhood.
Several months ago we told you about Speakeasy, a funky little coffee lounge at Ferguson and Picton. The owner of this company has been busy and is now bringing Hamilton's first roasting machine to the Imperial Cotton Centre for the Arts.
Speakeasy coffee is also now available at the Bread and Roses Café on King William, The Harbour Diner on James North, the Farmers Market, Imperial Cotton Centre and of course on Ferguson North. All coffee is organic and fair trade.
Nina's Bistro is now open at Main and Locke. It's been quite busy during its first week of operation.
Also, a new lounge is said to be opening behind Nina's. More to come in future issues.
Patio Watch
With summer just around the corner it's time to see what new patios are opening up this year.
Honest Lawyer on King West. This place continues to cram in the customers. Kudos for the nice looking patio and great furniture.
Mahal Indian at the Gore. I don't recall a patio being there last year. Along with Infusions, Chesters and Fingers there are 4 good options for outdoor dining next to our most famous park.
Bread and Roses Café is said to be opening a patio this summer.
The Corktown Pub on Young St will have their new patio open soon.
Not quite a patio, but the Big Sea pub on James North has an authentic double-decker bus that will serve as an outdoor dining room.
More Downtown News
The rumour mill has the Ramada Plaza Hotel being renovated into a Crowne Plaza Hotel. Apparently work has resumed on the new conference centre next door in the old theatre.
Demolition of the old Kit Kat building is complete. Construction will now begin on the five-storey apartment building to replace it.
A new athletic/health club is opening in the recently renovated complex at Forest and James.
If anyone wants to own one of the coolest cafes in town, now's your chance: the Bad Dog Café on Locke is up for sale. Just don't mess with that great coffee!
The Downtown BIA finally has a new website: www.downtownhamilton.org. Now let's hope for some of the International Village magic (read: comprehension and hard work) to head west on King.
A new restaurant is opening on King William next to the Bread and Roses Café. Let's hope they also jump into the patio business.
Upper floor renos continue on the building housing the Capri and yet to open Last Call Bar and Grill.
More upper floor apartments have been going into a nice old building on Mary Street across from the Century Theatre.
The Hamilton Chinatown Centre is now going up on Cannon Street West near Park. This will be a fantastic addition to an already-booming Asian neighbourhood. Also, an Asian video store is opening on Park Street across from the T&T Supermarket.
If anyone from City Hall is reading, maybe now would be a good time actually to get around to calming Cannon Street and banning through trucks. Think Spadina/Kensington Market in Toronto.
Of course, I know I just wasted a sentence of typing activity to say that again, but hey, maybe common sense will trickle into the Hall one of these decades.
Redesign the Downtown!
Finally, this just in from the Hamilton Spectator:
Think of the great downtowns of the world: Chicago. Paris. New York. Montreal. (Toronto? Not quite.) Hamilton? What does Steeltown need to help put its downtown on the road to world class? Two-way streets? Light rail transit to the waterfront? A new football stadium? Foot-traffic only on Hess Street?

The Spectator invites readers to send in any and all comments and ideas on how the downtown should be redesigned. No idea is too small or too off the wall, so send one send all.
Send your suggestions to news@thespec.com. Let's flood their inbox with great visions of light rail, pedestrianized Gore Park and new streetcar lines in our downtown!
---
Update: this article originally stated that the Three16 Lounge website was designed by Mindstorm Studio, but this is incorrect. the Three16 Lounge website was designed by Mark Beaudry. RTH regrets the error. -Ed.
Update 2: this article originally stated of the Three16 Lounge, "They hope to be open by the end of the summer." Now it correctly reads, "They hope to have the patio ready by later this summer. The café will open shortly." RTH regrets the error. -Ed.
Update 3: the email link to send suggestions to the Hamilton Spectator was incorrectly listed as "newsroom@thespec.com", but alert readers pointed out this email address was broken. The Spec changed their article and now lists the contact email as news@thespec.com. But we ain't taking the rap for this one. ;) -Ed.
Post a Comment
You must be logged in to comment.