Downtown Update
A plethora of new cafes and studios are opening up through the city.
By Jason Leach
Published November 23, 2006
A new four storey office building is being developed out of the former health department building at James and Hunter. No word on specific details such as whether there will be any street level commercial/retail space. This rendering is now up at the location on Hunter.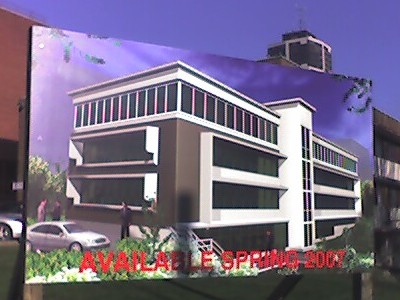 Rendering of new building at James and Hunter
The second floor lounge at Brownies Downtown Fine Food is now open. It is brilliantly decored and will become a very popular spot for a late night coffee and dessert along with business luncheons and private functions. RTH will do a review of Brownies in an upcoming issue.
A new café/restaurant is opening on King East near Walnut. More to come as renovations continue.
Drama Antiques is now open on King East near Ferguson, across from Denningers. This place is loaded with amazing goods and high quality antiques from all over the world. Another fine addition to the burgeoning International Village - the next hot neighbourhood in the Hammer.
M&Y Café at Rebecca and Mary just opened this week. Two young fellas are the brains behind this well designed and comfortable café. RTH plans on grabbing a lunch sometime soon and will report on the experience. It's open Monday to Friday from 6:30am - 6:00pm.
Speakeasy
Speakeasy has just opened at Ferguson and Picton. This place looks amazing. A small bar counter faces out the window and a great lounge is off to the side with couches and a coffee table.
It offers fair trade, organic teas coffees and hot chocolate. There are even organic/fair trade snacks, sugars, etc. You can buy coffee beans by the pound; the owner roasts all the beans himself at the St Lawrence Market in TO twice a week.
It's smack in the middle of a residential neighbourhood and looks very worthwhile for all of you who live in the area. They're open weekdays until 6pm, other than a few hour break between noonish and 3. Wednesdays they are closed all day and Friday they are open until 8pm.
Further, a second location of Speakeasy is coming to the Imperial Cotton Centre for the Arts on Sherman North. There are great things happening down there at the Cotton Centre and having a funky café like this as part of the complex will be a more than welcome addition.
This is exactly what Hamilton needs more of. Small, locally owned cafes and eateries tucked away in residential neighbourhoods. Portland was full of places like this and as the Speakeasy owner told me, he's had folks come through and say how Berlin or European cities are full of this sort of thing. So should Hamilton.
Cities like Portland, Toronto and Buffalo have a plethora of these sorts of funky little places tucked away in neighbourhoods and they thrive. I think Hamiltonians need to embrace the local, neighbourhood café/gathering spot. It won't kill us to skip Horton's once a week.
Pardon My French is also now open at Main East and Gage. Gage Park is across the street and Sealed Art - a fabulous art retail store is next to the new bistro giving this otherwise noisy and highway-like stretch of road a trio of great spots to spend an evening in the city.
James North
Caldense Bakery, a Toronto-based Portuguese bakery, cafe and pastry shop, just opened a new location on James North. Judging by their success in Toronto, this should be a very welcome addition to the vibrant James North neighbourhood.
A friend and I visited recently and loved the cappuccinos and desserts. They also have paninis, toasted sandwiches and various bakery goods. A great addition to James North.
Two new studios are now open on James North: Worthworks and James North Studio.
Still on James North, a few more buildings and storefronts are being renovated currently. RTH will dig around and try to find out what new businesses are moving into the area.
Post a Comment
You must be logged in to comment.