Whitehead Concern Trolling Aberdeen Traffic Calming Recommendations
Will Ward 14 Councillor Terry Whitehead ever stop being wrong about what makes our city streets safe and functional for everyone?
By Ryan McGreal
Published June 26, 2019
City staff want to allow all-day curbside parking on Aberdeen Avenue to protect pedestrians from the carnage of frequent traffic collisions, and Ward 14 Councillor Terry Whitehead is predictably opposed.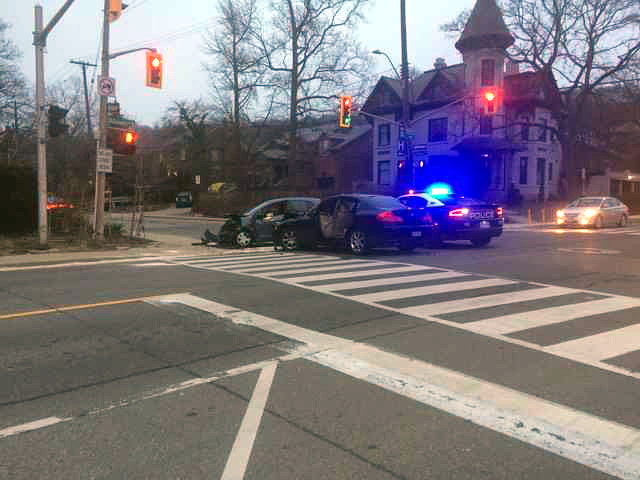 Collision at Aberdeen and Queen on April 6, 2018 (Image Credit: Tadhg Taylor-McGreal)
At the June 17, 2019 Public Works Committee meeting, staff presented an update on safety measures on Aberdeen Avenue from Queen Street to Longwood Road [PDF] that made the following recommendations:
(i) Timing modifications to the intersection of Aberdeen Avenue and Dundurn Street to implement a pedestrian lead phase for pedestrians crossing the east leg (north to south);

(ii) That a "No Right Turn on Red" be installed during the morning hours to align with the School Crossing Guard operations that take place on the west leg of the intersection;

(iii) Working under the principles of Vision Zero, staff are recommending permitting parking on both the north and south sides of Aberdeen Avenue between Queen Street and Dundurn Avenue; and,

(iv) That a flashing 40 km/h zone along Aberdeen Avenue from Queen Street to Longwood Road during school arrival and dismissal hours be implemented
The Public Works Committee approved the recommendation with only Whitehead and Ancaster Councillor Lloyd Ferguson opposing, and it is going to City Council today for final approval.
Whitehead is not going down without a fight. He has long regarded Aberdeen as a de facto highway for his constituents to get to work a minute faster and has consistently obstructed all efforts to make this harrowing minor arterial safer or more inclusive for people living around it.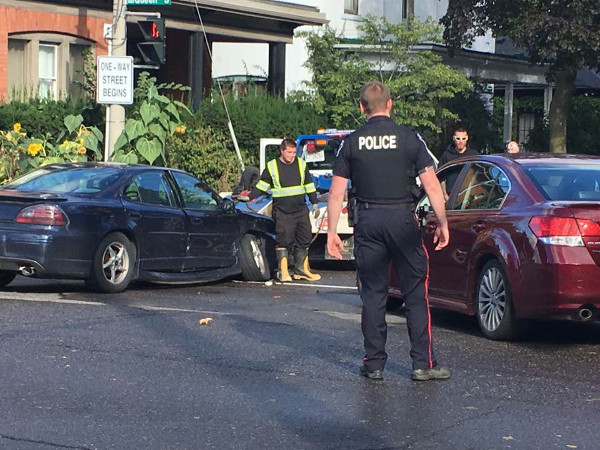 Collision at Aberdeen and Queen on September 19, 2017 (Image Credit: Maureen Wilson)
His latest tactic is concern trolling: he claims that traffic calming on Aberdeen will result in more congestion and air pollution that will hurt children in his ward.
This is not a new argument. It turns out there have been a number of studies trying to measure this and the results are generally contradictory and inconclusive. Some studies find an increase in local air pollution while others find a reduction.
One thing is very clear: cities that design their transportation systems to prioritize driving have the most overall driving and the most overall air pollution, whereas cities that design their transportation systems to be inclusive and multi-modal have less overall driving and less overall air pollution.
High-Collision Street
It is disingenuous in the extreme for Whitehead to oppose making Aberdeen safer because of concern for public health and safety, considering the number of children who have to walk along and across Aberdeen every day to get to school, to the library, to the park and other local destinations.
A follow-up study released by Public Works staff on June 25 notes that there have been 466 reported collisions on Aberdeen since 2008, of which 15 involved pedestrians and five involved cyclists. Staff note:
The overall collision rate for this corridor is 4.70 collisions per million vehicle-kilometres. The industry standard for identifying an area of concern based on collision rate is 1.0.
So it's not just your imagination: Aberdeen is a high-collision street.
Perhaps Whitehead should consider the fact that one of the major causes of traffic congestion on Aberdeen and upstream is getting stuck behind one of the frequent collisions along this dangerous-by-design street.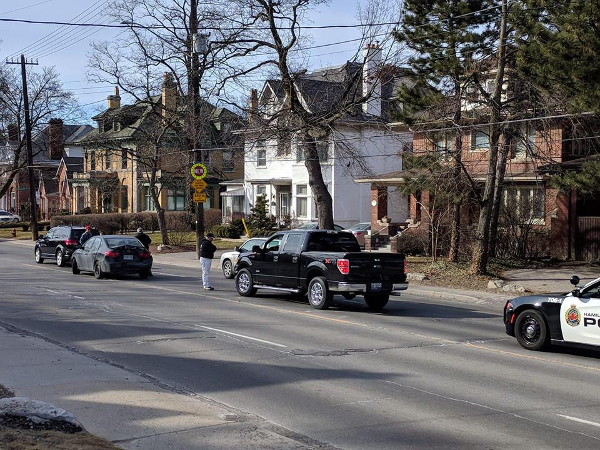 Three-car collision on Aberdeen between Queen and Locke on March 22, 2018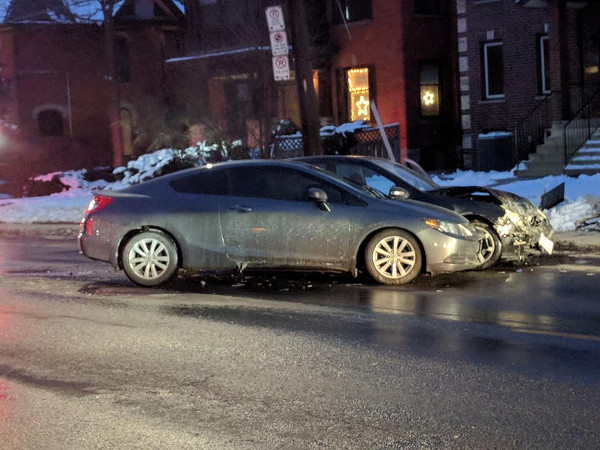 Two-car collision on Aberdeen between Queen and Locke on December 13, 2017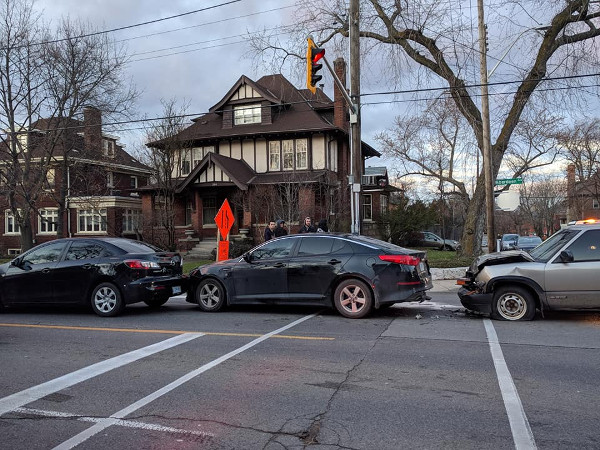 Five-car collision at Aberdeen and Kent on December 6, 2017
Dangerous Vehicle Speeds
The physics of moving vehicles is clear: the only way to bring the fatality risk in a collision close to zero is to keep vehicle speeds below 30 km/h. That is why the Vision Zero approach to road safety, which the City has formally endorsed, calls for a 30 km/h speed limit enforced by physical design.
The June 25 staff report summarizes a three-day traffic study recently conducted along Aberdeen. It found that overall, the 85th percentile speed in both directions is significantly higher than the already-too-high 50 km/h speed limit, including during morning and afternoon rush hours.
The 85th percentile speed is a common traffic engineering measure. It means 85 percent of drivers measured are going at or below that speed, and 15 percent of drivers are going above that speed.
It also means that at all times of the day, including during rush hour, fully 15 percent of drivers on Aberdeen - approximately 3,000 cars a day - are going significantly faster than the speed limit.
85th Percentile Speed on Aberdeen

| | Overall | AM Peak | PM Peak |
| --- | --- | --- | --- |
| Eastbound | 56.1 | 55.3 | 54 |
| Westbound | 55.7 | 56.2 | 50.2 |
If Aberdeen was a congested street with no spare capacity, this would not be possible. As it turns out, we know Aberdeen can handle the current vehicle traffic on one lane in each direction, because Beckett Drive already does this.
One thing we learned from the extended closure of the Beckett Drive escarpment access (Queen Street Hill) six years ago is that nearly all of the car traffic on Aberdeen is cut-through traffic. When Beckett was closed, Aberdeen was a ghost town.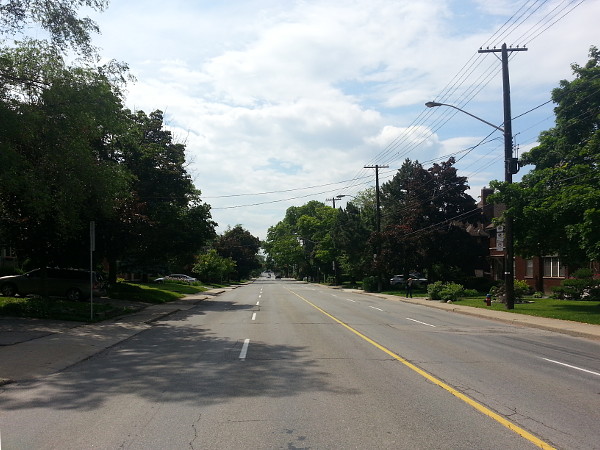 Aberdeen Avenue during evening rush hour when Beckett Drive was closed
Beckett carries some 23,000 cars a day on one lane in each direction, so Aberdeen can definitely carry 20,000 cars a day on one lane in each direction.
Whitehead is both wrong-headed and objectively wrong, and I hope Council supports the staff recommendation to make Aberdeen safer for everyone - including Whitehead's constituents in cars.
Post a Comment
You must be logged in to comment.