Debating Councillor Whitehead on Aberdeen Road Diet
Hamilton has an amazing opportunity to repurpose its excess lane capacity, built during our industrial heyday, to create a rich, safe, high-quality active transportation network.
By Ryan McGreal
Published October 06, 2015
So, last week I was walking home in the rain on Aberdeen Avenue west of Queen Street South and got splashed by one of the cars that was roaring past me just inches from the sidewalk. In frustration, I pulled out my phone, took a photo and posted it to twitter.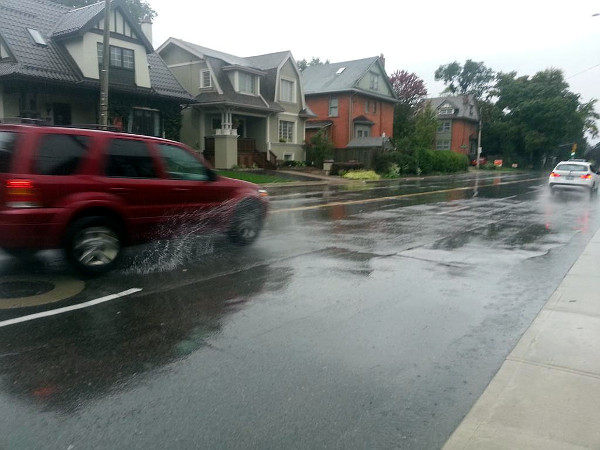 Aberdeen Avenue on September 29, 2015 at 3:45 PM
(Sidenote: as soon as I pointed my camera at the street, drivers started pulling farther away from the curb so I wouldn't get splashed. After I put it away, I got splashed again. Make of that what you will.)
I had no idea that one tweet would snowball into a wide-ranging debate that spanned almost a week and accumulated at least several hundred total replies.
The main reason it turned into a thing, I think, is that Ward 8 Councillor Terry Whitehead decided to join the discussion, mainly to caution against doing anything to Aberdeen that might, um, slow down traffic.
As always, much as I might disagree with Councillor Whitehead on a given matter of policy, I have to acknowledge his willingness to engage publicly in the discussion.
The debate itself is worth unpacking a bit because it really drives home the fact that the case for putting Aberdeen on a road diet is so robust. Lots of issues came up, including rat-running on Stanley and the case for converting Queen to two-way, but to keep this article from getting too unwieldy I'll focus on the Aberdeen/Beckett/Garth discussion.
Minor Arterial
The section of Aberdeen Avenue between Queen Street and Highway 403, just west of Longwood Road, forms part of a shortcut route between the west mountain and west Hamilton. The City designates it as a "minor arterial" road according to this map in Appendix 11 to the Urban Hamilton Official Plan [PDF].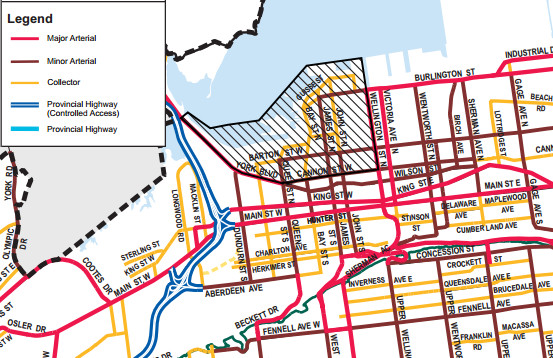 Map detail with superimposed legend from Appendix 11 of the Urban Hamilton Official Plan
According to the City's Classification of City Streets [PDF], a minor arterial has a design speed of 70 km/h (!) and carries 5,000 - 20,000 vehicles a day. Aberdeen carries around 17,000 vehicles a day, a volume that falls in line with the definition.
The guideline also states that a minor arterial should be 20-36 metres (66 to 118 feet) in right-of-way width. I don't have an exact width for Aberdeen, but it is certainly less than the default minimum of 20 metres wide, even including the narrow ribbons of sidewalk. I would estimate it is approximately 15 metres (50 feet) in width, including sidewalks.
The Classification does not specify a number of lanes for a minor arterial, but note that one of the other nearby minor arterials on the map is Dundurn Street South, which is only one lane in each direction (with painted bike lanes).
In terms of traffic calming, the Classification indicates "gateway features" where required. Gateway features are street design elements intended to communicate to drivers that they are moving into a new and different area when entering the street.
Examples of gateway features can include bumpouts and neckdowns, planted islands, street trees, bollards, enhanced crosswalks, planters, and so on. Cycling should by default be accommodated through "wider lanes or separate facilities where required".
Putting Aberdeen on a Diet
Currently, this stretch of Aberdeen is four lanes, two in each direction, with a yellow centre line and the outer lanes immediately next to narrow sidewalks that line the two sides of the street.
A broad consensus is emerging among transportation planners and traffic engineers that an arterial street can comfortably carry up to 20,000 vehicles a day on one lane in each direction with a centre turn lane.
In fact, traffic often flows more smoothly - albeit with a significant reduction in dangerous speeding - when a four-lane street is converted to three lanes.
Some places go even farther. The City of Chicago's complete streets policy [PDF] recommends one lane in each direction with a centre turn lane for streets up to 25,000 vehicles a day.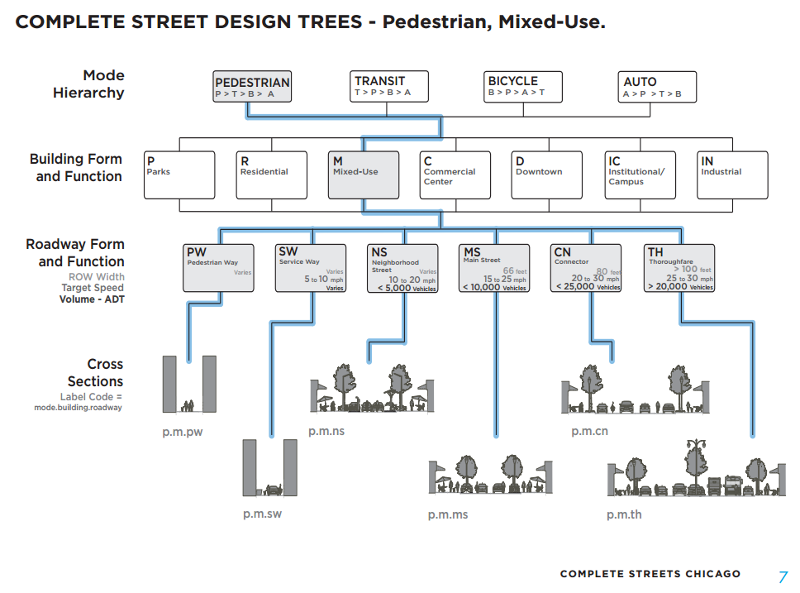 Chicago Complete Streets Guidelines design tree (Image Credit: City of Chicago)
This kind of a road diet accomplishes a number of goals:
It can still carry up to 20,000 cars a day at a reasonable level of service so congestion is avoided.

With one lane in each direction, it is no longer possible for vehicles to pass at dangerously high speeds.

The centre turn lane means through traffic is not stuck behind left-turning vehicles.

Space is freed up for other uses, e.g. bike lanes or all-day curb parking.

It becomes possible to provide a buffer of parking or space between vehicle traffic and pedestrian traffic.

The number of potential conflict points is reduced. Combined with reduced speeding, that means fewer and less serious collisions.
What is most astonishing is just how inexpensive it is to implement a road diet. In most cases, it can be done using just paint, signage and cheap bollards. Yet the return on investment is tremendous.
According to the US Department of Transportation, road diets reduce crashes by 29 percent on average.
A recent road diet cost-benefit analysis was undertaken for the city of New Brunswick, New Jersey on a four-lane arterial that carries a lot more traffic than Aberdeen - over 30,000 vehicles a day.
They found that the proposed road diet would have only a small impact on vehicle delay - a few minutes a day - but taking a very conservative estimate of a 19 percent reduction in crashes, it would save up to $37 million in costs due to injuries and deaths over 20 years.
The authors concluded, "Public officials should be less timid in their approach to implementing positive changes that improve safety and walkability, even at the expense of potential delays to traffic."
Local Context
Here's a preliminary rendering of what a road diet might look like on Aberdeen: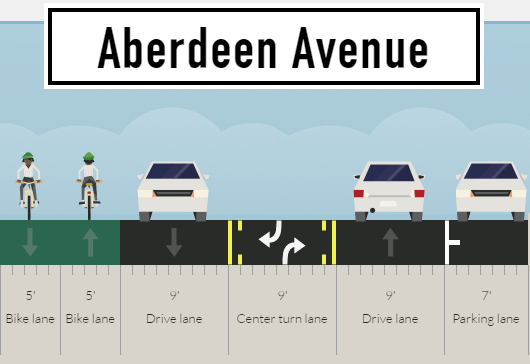 Sample rendering of an Aberdeen road diet
As I mentioned, I don't know the exact width of the street but assumed a width of 13.5 metres (44 feet), not including sidewalks. Obviously the final design will depend on a number of factors, including the actual width and input from the various stakeholders. This is just a suggestion meant to indicate possibilities.
But will this general principle work on Aberdeen? Councillor Whitehead doesn't think so. He insisted repeatedly that traffic calming on this street will "create congestion" and "chew up capacity that is needed".
He also claimed that Beckett Drive is already congested and Garth Street is "jammed with traffic".
Are these streets actually congested? On Garth, in particular, Hamilton Police Service regularly sets up speed traps near Fennell. (They also occasionally set up a speed trap on Aberdeen east of Longwood.)
It's hard to believe the police would be wasting their scarce resources trying to reduce dangerous speeding on a street that is too congested to speed on.
Luckily, we have a source of real, live, local data we can use to get to the bottom of this. You may have noticed that Google Maps has a Live Traffic layer that superimposes green, yellow, light red or dark red lines on streets based on whether traffic is moving quickly or slowly.
I've often wondered how Google gets this data, and the Aberdeen discussion spurred me to finally look it up. The answer turns out to be quite ingenious: since 2009, it is generated using anonymized movement data from smartphones with Google Maps installed. (They also use data from on-street sensors where available.)
With the traffic layer enabled on your map, you can toggle between current live traffic and "typical traffic" for a given weekday and time.
Curious about the Garth/Beckett/Aberdeen route, I looked up typical traffic on a Monday at various times during morning peak, midday and afternoon peak periods. I screengrabbed the maps and turned them into an animated GIF:

Typical traffic on Garth, Beckett, Aberdeen on a Monday, AM peak, midday and PM peak (Image Credit: Google Maps)
As you can see, aside from brief slowdowns at intersections to wait for traffic signals, there is no serious congestion on Garth, Beckett or Aberdeen even during rush hour. For the rest of the day, they function as race tracks that encourage dangerous speeding.
For this reason, I think Garth should also be put on a road diet. If we reconfigure these streets so that their own design enforces safe vehicle speeds, we free up the police officers that we are currently throwing at the problem for more valuable work.
Manageable Traffic Volume
Whitehead insists that the daily volume of traffic on these streets cannot fit on one lane in each direction, but we need to point out that it already fits on one lane in each direction: on Beckett Drive, which the city incidentally classifies as a major arterial.
Beckett Drive carries 20,000 vehicles a day, signficantly more than Aberdeen (some of that traffic is going north on Queen and turning east on Herkimer).
Obviously Beckett Drive has the advantage of no cross streets between Auchmar and Glenfern (turns are not allowed onto Amelia), but that's why the road diet includes a centre turn lane: so that through vehicles are not stuck behind left-turning vehicles.
It's important to understand that almost all of the traffic on Aberdeen is cut-through traffic passing between the West Mountain and West Hamilton. A couple of years ago, when Beckett Drive was closed for reconstruction, the volume of traffic on Aberdeen collapsed to almost nothing.
Here's a photograph I took at around 6:30 PM on a weekday during the Beckett Drive closure: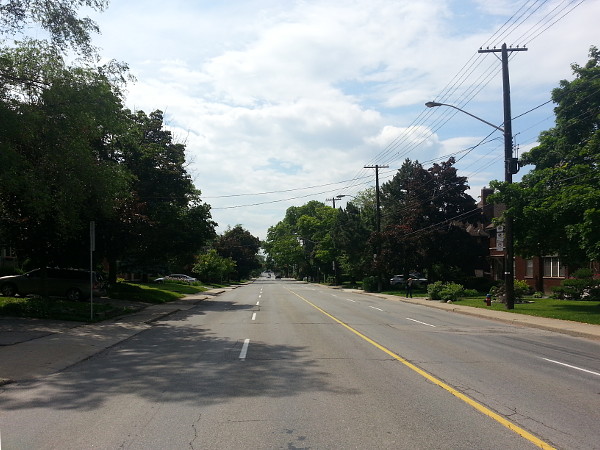 Aberdeen Avenue during Beckett Drive closure
No exaggeration: literally several minutes would pass without a single car on the street.
And no, I'm not saying we should close Beckett Drive. I'm pointing out that most of the traffic on Aberdeen is coming from Beckett, and Beckett is able to carry it all on just one lane in each direction - even during rush hour.
Alternatives
Whitehead refused to accept that we can implement a road diet on Aberdeen without causing congestion, despite all the evidence to the contrary. Instead, he advocated "Education, enforcement, stiffer penalties, [and] reducing speed limits" to deal with dangerous speeding.
I'm not sure what he means by education, but we're already doing enforcement and it's not working. Stiffer penalties for speeding would be up to the Province to implement, and reducing speed limits has been proven not to change driver behaviour unless it is accompanied with changes to the street design.
The problem with enforcement is that it only works - to the extent that it works at all - while the enforcement is actually happening, so it is an extremely expensive way to reduce speeding. Even then, it works by waiting for people to drive dangerously and then punishing them.
Presented with this, Whitehead countered that he advocates photo radar, pointing out that it is being used by the City of Edmonton.
He claims photo radar is "a deterrent for speed and generates revenue", but I don't see how both of those claims can be true.
If photo radar really is working as a deterrent, that means people are not speeding, in which case the system shouldn't be able to generate revenue.

Conversely, if the system is generating revenue, that means people are speeding, which means it is not succeeding as a deterrent.
Whitehead claimed that the photo radar setup changes driver behaviour at a given location, and then can be moved to another location to start changing driver behaviour there.
I'm not so sure about that: driver behaviour is highly context specific, and as soon as people figure out the radar system has been moved they will resume driving in a way that feels natural for the street.
Incidentally, I have no problem with photo radar, especially if the revenues are dedicated for road safety improvements. Hamilton already has a red light camera system, the revenue from which is being used to fund a strategic road safety program.
However, merely waiting for people to break the law and then punishing them will always be a worse solution than redesigning the street so that people are discouraged by design from breaking the law in the first place.
A well-configured inclusive street is self-enforcing by design, deterring dangerous behaviour all the time - whether or not the threat of punishment is in place. Enforcement is at best a stopgap while waiting for necessary redesign.
I must also point out that Edmonton's use of photo radar is only one part of a comprehensive strategy framed by the city's adoption of the Vision Zero goal of eliminating traffic fatalities - the first Canadian city to do so.
This is from the strategy's Principles:
This approach does not ignore risk taking behaviour, but acknowledges human fallibility and the need for greater allowances for human error. Planning and developing a safe system means looking beyond standards and towards systematically planning and designing a sustainable and inherently safe road and transportation system for all road users.

Creating a safe system depends heavily on understanding and implementing these guiding principles:

The limits of human performance: we all make mistakes and we need to acknowledge the limits of our capabilities

The physical limits of human tolerance to violent forces: we are physically vulnerable when involved in a motor vehicle collision

Shared responsibility: this means all of us take an individual and shared role in road safety

A forgiving road system: so that when crashes do happen, deaths can be avoided and injuries minimized
This is exactly what we have been saying for years about our need to move from train-and-blame to engineering-for-safety.
Transportation Master Plan Review
Finally, after spending a week arguing strenuously against traffic calming on Aberdeen, Whitehead claimed he "will not prejudge the outcome" of the City's Transportation Master Plan review, which is currently underway.
This became the mantra of his replies: "I willing to wait for the recommendations coming out of the study", "let the study unfold", and so on.
Of course, this the same Councillor who already prejudged the Transportation Master Plan review earlier this year by denigrating lower-city residents who got engaged in the consultation process, implying that they are unemployed or don't have families and are trying to "hijack" the process.
The deeper problem is that Hamilton has approved a number of master plans over the past 15 years, but then mostly fails to put those plans into action. When it comes budget time, year after year goes by without streets being converted back to two-way or crosswalks being installed.
In Wards 1 and 2, the only significant street improvements have come about via the participatory budget process, which uses the area rating capital budget. This is despite the fact that many of the measures funded this way were approved in the 2007 Transportation Master Plan or the 2001 Downtown Transportation Master Plan.
Likewise, the City is already years behind its already unambitious schedule in implementing the Shifting Gears Cycling Master Plan, and some Councillors have even exercised vetoes to kill bike lane projects in their wards.
We must also recall that Whitehead is the same councillor who argued strenuously against the transit lane and then accused staff of having an agenda when the staff report endorsed keeping and fixing the lane instead of scrapping it. All this happened despite the fact that he had already made up his mind a month before the report came out.
He even commissioned a citywide survey loaded with leading questions, and then misrepresented the results when it came out that a majority of Hamiltonians supported keeping and fixing the lane. Whitehead was one of the nine councillors who voted to kill the lane, despite the evidence that it was effective and despite the fact that most Hamiltonians favoured keeping and fixing it.
Like many of his Council colleagues, he also tried to frame his vote as support for a "comprehensive" approach to the city's transportation system.
For his part, Whitehead maintains, "I am taking the time to listen and challenge ideas. Does not mean I am not getting something out of the discussion".
Given that Whitehead is one of the 16 people who gets a final say on the City's transportation policy - including, crucially, the decision on whether a given recommendation is ever funded in the budget - we must hope that this time, he really is engaging the issue in good faith.
Hamilton simply cannot afford the luxury of a myopic, parochial Council that keeps failing to make strategic policy decisions - and implement those decisions - based on clear understanding and good evidence of what is at stake.
Hamilton has an amazing opportunity to repurpose its excess lane capacity, built during our industrial heyday, to create a rich, safe, high-quality active transportation network. But it shouldn't require a citizen movement with thousands of supporters to shame Council into approving a modest, inexpensive traffic calming design on a dangerous street with lane capacity to spare.
Post a Comment
You must be logged in to comment.