Whitehead: Notice of Motion to Close Queen Street, West 5th Accesses
Angry about a housekeeping motion to fix an amendment missed from a Council-approved motion on Aberdeen Avenue, Councillor Whitehead proposes closing the Beckett Drive and James Mountain Road accesses.
By Ryan McGreal
Published May 02, 2016
Another week, another reactionary stunt by Ward 8 Councillor Terry Whitehead. The stage for this performance is the April 27, 2016 City Council meeting, amid Ward 2 Councillor Jason Farr's notice of motion with respect to Aberdeen Avenue.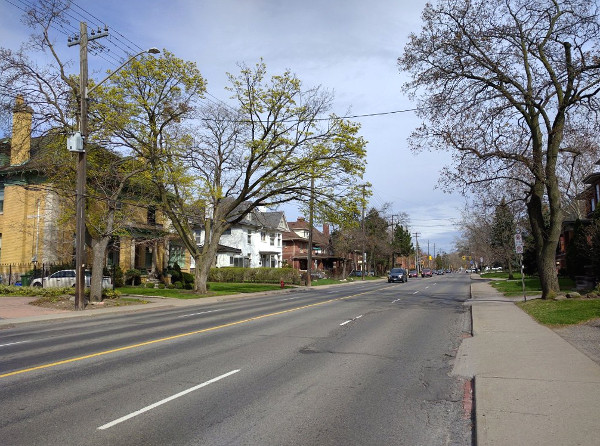 Aberdeen Avenue during PM rush hour on April 29
Late last year, Ward 1 Councillor Aidan Johnson brought a motion to Council directing staff to review Aberdeen Avenue between Queen Street and Longwood Avenue under the context of the Transportation Master Plan review with the goal of implementing a more inclusive pedestrian- and cycling-friendly design.
The amended motion that was approved by Council stated:
That staff, in consultation with all affected Ward Councillors, be directed to undertake a full review of Aberdeen Avenue from Queen Street to Longwood Avenue, respecting the safety and operational characteristics of the roadway; with specific reference to and harmonization with the recommendations and principles of the updated Transportation Master Plan; with a focus on improvements to meet the request for a more complete street- and pedestrian-friendly design, including consideration for a road diet, and the recommendations put forward by the Kirkendall Neighbourhood Association Working Group regarding Aberdeen Safety and Road Improvement, and report to the Public Works Committee.
Under the Council-approved motion, no changes would come to Aberdeen until some time after the Transportation Master Plan review is completed. However, a second part of the motion had been approved by the General Issues Committee (GIC) and inadvertently left off the text of the motion that went to Council. The second part of the motion reads:
That the appropriate staff be directed to work with the affected Ward Councillors on interim safety measures along Aberdeen Avenue, during the full review of Aberdeen Avenue from Queen Street to Longwood Avenue, respecting the safety and operational characteristics of the roadway. [emphasis added]
So Councillor Farr had a notice of motion to finalize this second part of the previously-approved motion. This sort of motion is referred to as a "housekeeping motion" because it seeks to set the record straight on something that has already been decided, rather than introducing a new issue.
The city's committee meeting website is broken-by-design so we can't link to Councillor Farr's motion directly, but it is item 8.5 on the agenda under Notices of Motions.
Thanks to The Public Record, you can watch the City Council meeting in full. The section dealing with this motion starts at the 1:18:40 mark.
For a bit more procedural background, a councillor brings a notice of motion to Council to advise Council that they will be bringing the motion itself forward for consideration at a subsequent meeting. A Councillor can also ask Council to waive the rule that the motion must wait until the next meeting, and if Council agrees, they can consider the motion right there and then.
When the agenda moved to item 8.5, Farr acknowledged the notice of motion and then said, "It can hold off until next council meeting."
Immediately after that, Ward 1 Councillor Aidan Johnson asked Council to waive the rules in order to introduce the same motion. Things get a bit confusing at this point.
Motion and Counter-Motion
Cue Whitehead, who tried to debate whether to waive the rules and debate the motion, bringing Council to a level of meta it doesn't often achieve. He argued, "I'm trying to understand the urgency or the time-sensitivity, understanding the Master Transportation study will not be completed until September."
Eisenberger pointed out that Council needed to vote on whether to waive the rules before debating the motion itself and called Whitehead out of order. Whitehead challenged the chair, and after some more back-and-forth, Council eventually voted to waive the rules with only Whitehead opposed.
Just to be clear, this was a housekeeping motion to clarify that the already Council-approved Aberdeen motion was also supposed to direct staff to look at possible interim measures to improve safety on Aberdeen Avenue while waiting for the results of the Transportation Master Plan review in September.
The amendment had already been approved by the General Issues Committee last year but was not included in the text of the motion that was approved by Council.
The City Clerk explained, "We were made aware that the motion that was actually approved by Council from the GIC report didn't contain the full text of the amendment that was put by Councillor Farr at the time. That came to light today so this is why this motion was brought on as a notice of motion, because it didn't make it into the agenda. And both Councillors Farr and Councillor Aidan Johnson were involved with this."
Once this confusion was finally straightened out, the motion was immediately carried. But Whitehead was clearly not happy about any of it. As soon as it was carried, he indicated that he had another notice of motion - and it sounds exactly like he made it up on the spot.
My notice of motion, Mr. Chair, is that: Whereas, there is a push to put more arterial roads on road diets creating more congestion, where, uh, there is a review of Aberdeen that staff be directed to take a look at the impacts on Fennell, Garth and Scenic where we have over a half a kilometre, a kilometre of traffic queueing, uh, preventing homeowners getting access to their driveways or access to the roadway, and looking at the feasibility of closing down Queen Street Hill and West 5th altogether. [emphasis added]
This is essentially the procedural equivalent of that kid on the playground who doesn't get his way so he picks up his toys and stomps home.
For now, it's just a notice of motion. We can expect that the motion itself will be presented for debate at an upcoming meeting, assuming Whitehead can find someone else around the Council table to second it.

PM rush hour on Garth Street (RTH file photo)
Post a Comment
You must be logged in to comment.