Cannon Cycle Track a Success: Staff Report
A new staff report recommends making the Cannon Cycle Track permanent and enhancing its physical protection.
By Ryan McGreal
Published June 14, 2018
In a new report going to the June 18 Public Works Committee meeting, staff recommend making the Cannon Cycle Track permanent and using remaining funds earmarked for the pilot to enhance its physical protection.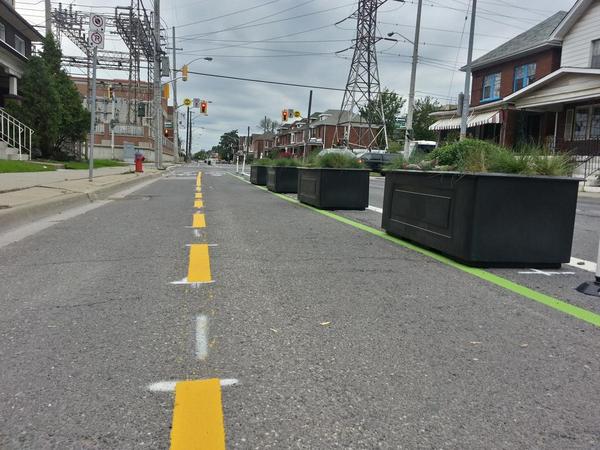 Cannon Cycle Track (RTH file photo)
The three-kilometre protected two-way cycle track runs continuously between Sherman Avenue North and Hess Street North. It was built in 2014 as a three-year pilot project after a broad-based public campaign called "Yes We Cannon" called attention to the lack of decent cross-town cycling facilities and the overbuilt lane capacity on Cannon Street.
After some intersection collisions in the first year, staff added pavement markings through intersections to make the cycle track more visible to motorists.
A staff update a year ago found that year-round ridership was growing steadily on the cycle track, while automobile traffic flow actually improved.
The new report extends this analysis, finding that both summer and winter ridership continues to grow year-over-year. Peak summer ridership has grown 68 percent since year one, while peak winter ridership has grown more than five times.
Cannon Cycle Track Peak Daily Rides

| | 2015 | 2016 | 2017 |
| --- | --- | --- | --- |
| Summer | 580 | 700 | 972 |
| Winter | 75 | 200 | 396 |
One sticking point for Council when the pilot was first proposed was the projected cost of $867,200 to build and maintain the cycle track for three years. Cycling advocates suggested that this was a very high estimate, but naysayers latched onto this as a reason not to proceed.
Thankfully, Council decided to approve the pilot anyway, and the cost estimate has, indeed, turned out to be high. Almost four years after construction, the total money spent to date is only $524,100, or almost 40 percent under budget.
Staff propose using the remaining $343,100 to upgrade the physical separation at selected intersections.
A major factor in the success of the Cannon Cycle Track has been the design with physical separation, so it will be good to see this improved further.
In the past, it has been something of an uphill struggle to convince staff that physically separated cycling infrastructure is superior at both attracting and protecting cyclists, so it is encouraging to see the following conclusion:
The separation of the cycling facility from vehicular traffic on Cannon Street has been positively received by the users. The success of the separated facility is demonstrated by some of the highest ridership numbers in the city.
One area of concern is an increase in collisions between bicycles and cars, especially in year three, when 24 collisions occurred. The report notes that 80 percent of such collisions were at just three intersections: Mary Street, Wellington Street North and Wentworth Street North.
The report suggests "that these are location-specific problems" and notes that staff will "perform a detailed review" to "identify appropriate measures" at these locations.
Cannon Street Collisions by Year and Type

| | Prev. 5 Year Average | 2015 | 2016 | 2017 |
| --- | --- | --- | --- | --- |
| Automobile / Pedestrian | 4.6 | 6 | 6 | 4 |
| Automobile / Bicycle | 6.2 | 11 | 11 | 24 |
| Automobile / E-Bike | 0.6 | 12 | 9 | 8 |
| Automobile / Automobile | 46.6 | 43 | 39 | 46 |
| Total | 58 | 72 | 65 | 82 |
Post a Comment
You must be logged in to comment.