Intersection Pavement Markings on Cannon Cycle Track
It is good that the City of Hamilton is finally adding markings on Cannon, but it would be nice to see us follow the lead of cities painting really high-visibility markings.
By Ryan McGreal
Published May 15, 2015
The City has begun adding intersection pavement markings and bike boxes on the Cannon Street Cycle Track.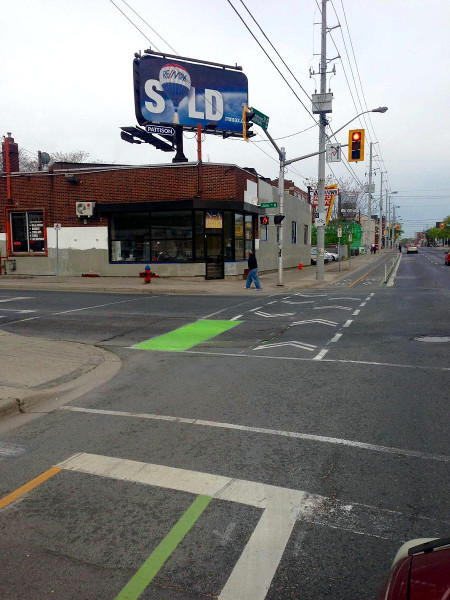 New intersection pavement markings on Cannon Cycle Track at John (Image Credit: Jason Leach)
According to Kris Jacobsen, Superintendent of Traffic Operations for the City, all of the intersections on the Cycle Track will be treated with painted chevrons.
Staff are also painting some two-stage bike boxes to help cyclists turning north onto cross streets. According to Jacobsen, "a few of these boxes were placed in error [on southbound one-way cross streets] and will be removed as they serve no purpose at some locations."
The work should be completed in the next week or two.
According to a staff information update on October 15, 2014, the plan was for staff to complete these markings before winter, but the work was not completed in time.
When the cycle track between Sherman and Hess first opened last September, it was missing pavement markings through intersections - the most dangerous place on the street, since it brings cyclists in direct contact with drivers making turns.
An early review of bicycle-automobile collisions on Cannon indicated that most collisions were happening at intersections where a driver was turning left across the bike lane.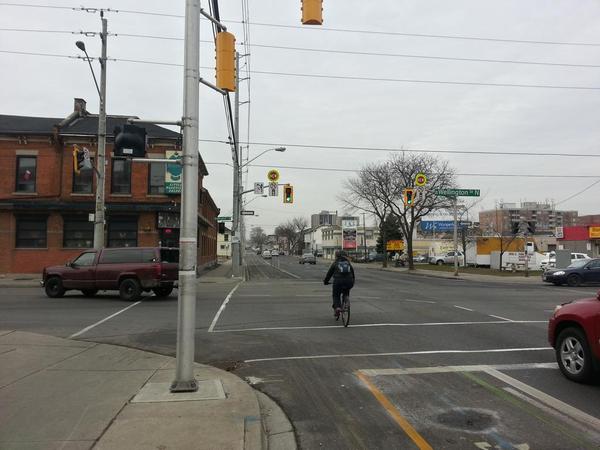 Cyclist on Cannon Cycle Track crossing Wellington (RTH file photo)
The best cycle track intersection designs minimize bicycle interactions with drivers. The Netherlands has come up with an intersection design that dramatically reduces the possibility that a motorist will fail to notice a cyclist.
However, since the Cannon Cycle Track has bi-directional bike lanes side-by-side on the south lane of an otherwise one-way westbound street, the design does not incorporate this Dutch best practice.
Instead, City staff are adding white painted chevrons across the intersections the bike lane crosses to raise the visibility of the bike lanes so drivers are more likely to look for cyclists.
Unfortunately, it does not sound like these intersection markings will include green paint to make them even more visible. The Dunsmuir Cycle Track in Vancouver is an excellent example of a high-visibility intersection design.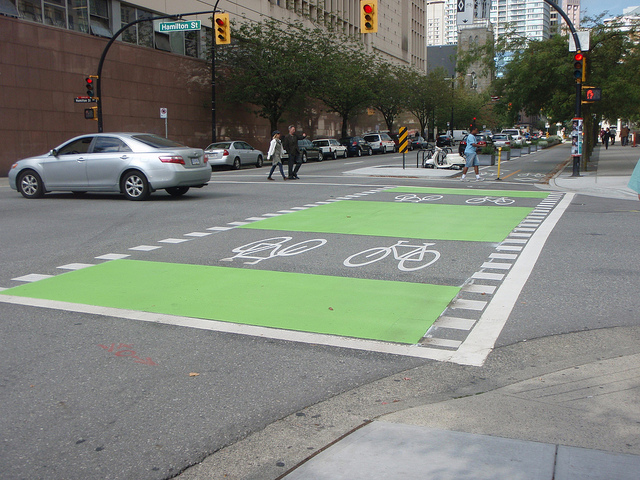 Intersection pavement markings on the Dunsmuir bike lane, Vancouver (Image Credit: Alexander Pope/Flickr, CC-BY-NC-ND)
The City of Seattle goes even further and installs green pavement markings and bicycle stencils through intersections and even across driveways. The cycle track on Linden Avenue physically protected in some spots with raised curbs and in others with parallel parked cars.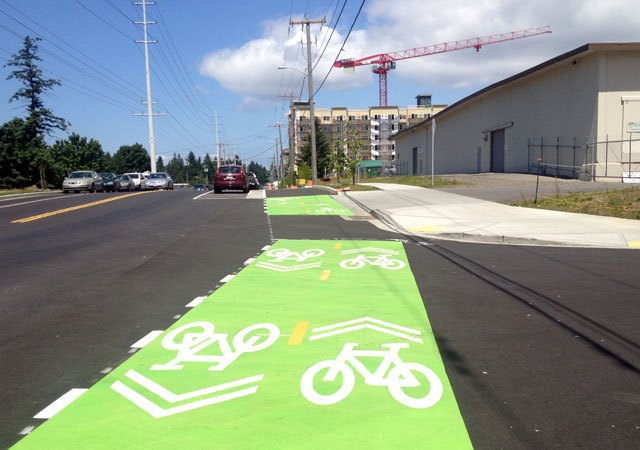 Linden Avenue Cycle Track intersection pavement markings in Seattle (Image Credit: Family Ride)
Linden Avenue is not a one-off, either. Seattle also paints intersections green on the Broadway Protected Bike Lane: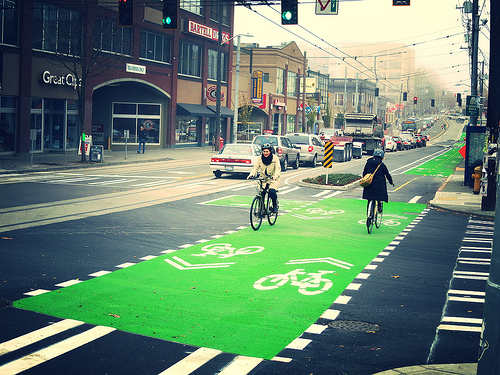 Broadway Protected Bike Lane intersection markings (Image Credit: City of Seattle)
It is good that the City of Hamilton is finally adding markings on Cannon, but it would be nice to see us follow the lead of cities that are really raising the visibility of their cyclists when they are at their most vulnerable.
With files from Jason Leach.
Post a Comment
You must be logged in to comment.