More to Intensification than Number of Units
Greenwin's plans for 181 John Street North and 192 Hughson Street North raise a number of complex and interconnected planning issues that need City Council's attention.
By Rob Fiedler
Published July 03, 2017
Last week, the Beasley Neighbourhood Association asked concerned Hamiltonians to make the trek to City Hall to join us in opposing an application that we thought would result in the loss of 59 family-sized rental apartments at a large apartment complex at 181 John Street North and 192 Hughson Street North.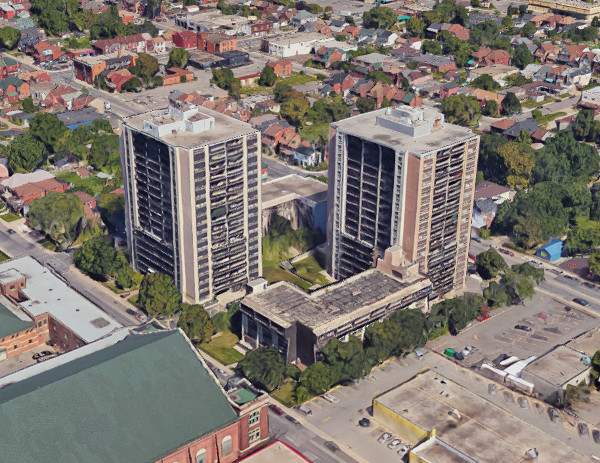 192 Hughson Street North (left) and 181 John Street North (Image Credit: Google Earth)
It turns out we were misinformed: the potential loss of three bedroom or larger units is actually significantly higher at 119. I'm told the lower number was based on information provided by Greenwin earlier this year.
Beyond that, I'm happy to report that turnout at the Committee of Adjustment was incredible. On Thursday afternoon, the meeting room was packed with tenants from the buildings themselves, concerned residents, activists, and people representing community groups, neighbourhood associations, and third-sector organizations.
In fact, so many people came to the meeting that the chair had to ask people there in relation to other variances to clear the room to make space for the large overflow crowd waiting outside in the lobby.
'Minor' Variance
For those unfamiliar, the Committee of Adjustment is where property owners go for minor variances when the existing zoning of their property prevents them from doing something that is "desirable for the appropriate development or use of the land, building or structure" in question and maintains "the general intent and purpose of the by-law and of the official plan".
Whether the variances requested by Greenwin, the property owner, are in fact "minor" was a key factor in settling the matter (for now). The Committee voted to deny the variances being requested without prejudice. Greenwin lost.
But the decision was really a message to Greenwin that in the Committee's opinion, the variances were not "minor" in nature and should be considered by City Council's Planning Committee as a rezoning application.
Greenwin can take that advice and proceed with an application for an Official Plan amendment and rezoning or appeal the Committee's decision to the Ontario Municipal Board (OMB).
Until Greenwin decides how it wishes to proceed, it is unclear where things are headed. So, if you're interested, stay tuned.
In the meantime, I'd like to pass along some further information.
Planning Rationale
Two days before their application was scheduled to be heard at the Committee of Adjustment, a staff report was made available that recommended the variances be approved.
I read their rationale with interest, but soon realized reading through the attached submissions that a letter from Greenwin's legal counsel to the Committee of Adjustment not only revealed more clearly the full extent of the changes being planned, but differed with the staff report with respect to planning rationale.
The staff report appears to accept at face value that Greenwin's proposal to increase the number of residential units on the subject property is intensification and therefore conforms to relevant provincial and municipal plans and policies.
Put simply, the interpretation by planning staff seems to be that an increase in units, which requires a variance to increase the permitted unit density on the subject lands, equals intensification.
Greenwin's legal counsel, however, makes a different argument in their written submission to the Committee of Adjustment:
Despite the increase in unit count, the proposal would not materially increase the functional density of the properties [and] the proposal would have little, if any, impact on the intensity of the use on the Properties, as the number of bedrooms, and thus the number of residents occupying the Properties, would remain largely unchanged.
Intensifiction
So is this really intensification, as per Places to Grow: the Growth Plan for the Greater Golden Horseshoe?
That may ultimately be a question that is settled by the OMB, but the Provincial Policy Statement defines intensification as:
The development of a property, site or area at a higher density than currently exists through:
a. redevelopment, including the reuse of brownfield sites; b. the development of vacant and/or underutilized lots within previously developed areas; c. infill development; and d. the expansion or conversion of existing buildings.
Neither Places to Grow, nor the Provincial Policy Statement provide an explicit definition of "density", but the main aim of both is to increase the number of people and jobs per hectare in already urbanized areas.
Increasing the number of residential units in a given area may be an important contributor to achieving higher residential population densities, but is not reducible to it.
Greenwin's plans illustrate this point.
Reconfigure Internal Space
Their proposal does not so much add new units as it reconfigures of the internal space within the buildings at 181 John Street North and 192 Hughson Street North. The net effect is to significantly increase the number of apartment units from 383 to 535 by converting existing rental units, specifically most of those with three or more bedrooms, into smaller ones.
The precise nature of the change in unit mix across the two properties is as follows: a reduction of 115 three-bedroom apartments and four four-bedroom apartments; and an increase of 19 bachelor apartments, 11 two-bedroom apartments, and 241 one-bedroom apartments (see Table 1).
Unit Mix for 181 John St N and 192 Hughson St N
Existing
Proposed
Change
Number of Units
%
Number of Units
%
Number of Units
%
Bachelor
2
0.50%
21
3.90%
19
950.00%
One Bedroom
123
32.10%
364
68.00%
241
195.90%
Two Bedroom
129
33.70%
140
26.20%
11
8.50%
Three Bedroom
125
32.60%
10
1.90%
-115
-92.00%
Four Bedroom
4
1.00%
0
0.00%
-4
-100.00%
Total
383
535
As can be seen in Table 1, Greenwin's proposal does retain ten three-bedroom units and will result in a modest increase in the total number of two-bedroom units from 129 to 140.
Complete Communities
Both the Growth Plan for the Greater Golden Horseshoe and the Urban Hamilton Official Plan contain language that speaks to building "complete communities", which the former defines as places that:
meet people's needs for daily living throughout an entire lifetime by providing convenient access to an appropriate mix of jobs, local services, a full range of housing, and community infrastructure including affordable housing, schools, recreation and open space for their residents. Convenient access to public transportation and options for safe, non-motorized travel is also provided.
It is unclear how Greenwin's variances contribute to making Beasley a "complete community", especially as the 115 three-bedroom units it wishes to convert, mainly to one-bedroom units, represent approximately one-quarter of all three-bedroom rental units in the "downtown" and "central" part of Hamilton, according to the CMHC's Rental Market Report for 2016 [PDF].
A number of submissions to the Committee of Adjustment attempted to draw attention to how the loss of larger, family-sized units relates to school enrollment and protecting the character of lower city neighbourhoods as inclusive and welcoming places with affordable housing options for a diversity of people and households, particularly families with children.
This should be a major consideration in planning decisions by the City on proposals of this nature. The staff report, however, had little, if anything, to say on these substantive planning issues and may well have played an important role in the Committee of Adjustment's decision to deny the variances sought by Greenwin without prejudice.
Committee member William Pearce was quoted in CBC Hamilton as stating: "It's way beyond our mandate. It's a housing issue. There needs to be some policy guidance around this."
I couldn't agree more. Greenwin's plans for 181 John Street North and 192 Hughson Street North raise a number of complex and interconnected planning issues that need City Council's attention. Let's hope that happens.
Post a Comment
You must be logged in to comment.