'Minor Variance' Would Remove 59 Family Apartments from Beasley
The BNA calls upon concerned Hamiltonians to write your Councillor to oppose the removal of family units from Hamilton's apartment buildings and the use of "minor variances" as a loophole.
By Alexandria Anderson and Michael Borrelli
Published June 28, 2017
While the City of Hamilton prides itself on being a welcoming community that is the "best place to raise a child and age successfully", recent developments are threatening the City's ability to remain an inclusive and complete community.
This Thursday, June 29, at the meeting of the Committee of Adjustment, members will hear an application by Greenwin Inc. for a minor variance to dramatically increase the number of units in their residential tower complex at 192 Hughson Street North and 181 John Street North. Alarmingly, this "minor" variance would reduce the number of family-style (three-bedroom) units from 69 to 10.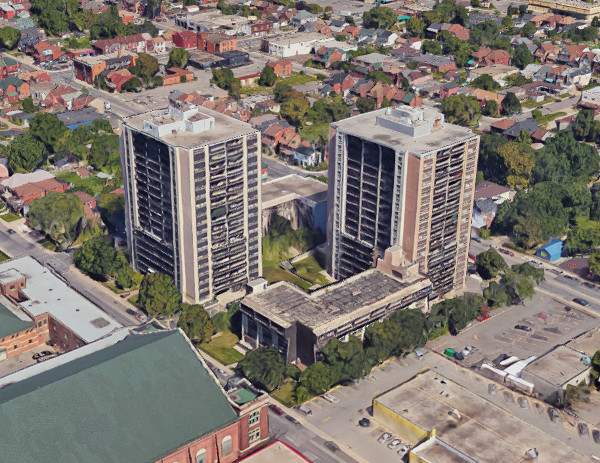 192 Hughson Street North (left) and 181 John Street North (Image Credit: Google Earth)
The removal of 59 of the three-bedroom units represents approximately 21 percent of Central Hamilton's 278 three-bedroom rental apartments. By no measure is this proposal "minor."
The Beasley Neighbourhood Association (BNA) is supporting residents caught up in this wave of displacement and is fighting to protect the existing housing mix in Hamilton by speaking out at the Committee meeting.
The Greenwin application is expected to be heard around 2:40 PM on Thursday. If granted, the BNA worries this variance will provide the de facto right for every apartment owner in Hamilton to aggressively push families out of buildings and convert those units into bachelor and single units, exacerbating the wave of school closures we have witnessed across City.
For more than two years, residents have turned to the BNA after being affected by aggressive relocation efforts, and now this application to convert to smaller units has the potential to significantly impact enrolment at the nearby Dr. Edgar Davey Elementary School, as well as the welcoming, inclusive character of the Beasley neighbourhood.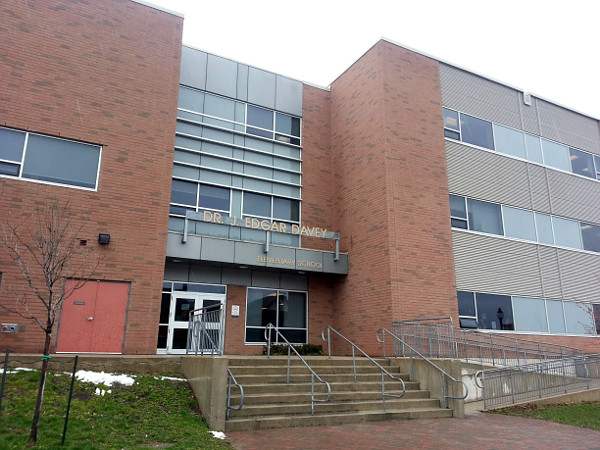 Dr J Edgar Davey School (RTH file photo)
As Rob Fiedler reported in February, "new census data reveals [that] the block that contains Robert Village [has seen] an enormous population decline in absolute terms between 2011 and 2016: 581 people or 50 percent. That may be explained in large part by a significant increase in unoccupied units from 17 to 150."
Dr. Davey school is in the heart of Beasley and is one of downtown's newest and most under-enrolled schools at only 62 percent capacity [PDF]. The loss of families from communities ramps up pressure to maintain enrollment, and endangers the viability of nearby community centres, libraries, grocery stores, day cares, and the many amenities that residents enjoy in healthy, balanced communities.
Due to the wide ranging community impact on other areas of the City, the BNA has been working for more than a year to raise awareness about the effects of these kinds of applications, and associations from across downtown have committed to attending the hearing to protect their communities.
The Ainslie Wood Community Association has already seen what happens when family homes are illegally converted into student rooming houses: three schools have been closed in Ainslie Wood in the past two decades, leaving only St. Mary's Secondary School (with students busing in from Wards 1, 2, 13, 14, and 15 to maintain enrollment).
The BNA calls upon concerned Hamiltonians to write your Councillor to oppose the removal of family units from Hamilton's apartment buildings and the use of "minor variances" as a loophole.
We also encourage you to support the development of an inclusionary zoning policy that will help set a minimum number of family-friendly units in new developments so that we can all enjoy the benefits of living in "complete communities".
Post a Comment
You must be logged in to comment.