Time to Stop Rewarding the Whitehead Circus
The angry, right-wing politics of hatred and resentment is a troll that gets bigger and stronger when we feed it. It's time to stop feeding the troll.
By Ryan McGreal
Published February 10, 2017
This article has been updated.
I am sick and tired of writing about Ward 8 Councillor Terry Whitehead and his disreputable antics. He persists in clowning around instead of leading this city responsibly, and as a result he persists in turning City Hall into a circus.
Whitehead's latest stunt was to call a "press conference" (his words) yesterday at City Hall to respond to the recent provincial announcement that planning is starting on the north-south A-Line bus rapid transit (BRT) system.
This sort of thing is red meat for reporters, which is why Whitehead knew he'd get an audience for his shameless publicity grab.
The "press conference" started with Whitehead's assistant taking the official Hamilton City Hall podium and stating that Whitehead would not actually be taking questions from the press, but would be available for one-on-one interviews after making his statement.
As reporter Joey Coleman of The Public Record pointed out, Whitehead could have just put out his news release [PDF] if he wasn't actually going to be taking questions from the press. (Coleman refused to participate in the sham conference.)
Zero Credibility
After almost two years of continuous grandstanding, hyperbolic posturing, bullying and insults, Whitehead has zero credibility on this file and has squandered any expectation of the benefit of the doubt from reporters.
Despite consistently voting literally dozens of times for the City's Light Rail Transit (LRT) plan and applauding the Provincial announcement of full capital funding, Whitehead has since hurled a continuous volley of self-contradictory muck against the plan, hoping something would stick.
He has variously tried to argue that it should be BRT, not LRT, that it should be on Main, not King, that it should be built on the A-Line first, that it should go all the way to Eastgate, that the A-Line should be built as well as the B-Line, that we could turn down the LRT money and use it for something else instead, and so on ad nauseam. It's pure FUD calculated to confuse and undermine the plan he himself has consistently voted to support.
Now he is thinking he might ask the Auditor General to review the Provincial plan in light of the recent decision to eliminate the two-kilometre LRT spur on James North and start work on a full A-Line BRT instead, which is exactly what he voted for along with Council just six months ago.
There You Go With The Numbers Again
In an attempt to mitigate the damage from Whitehead's reckless publicity stunt, Ward 3 Councillor Matthew Green also stepped up to the podium to try and introduce some facts and arguments into the debate. "I am not clear ... where Councillor Whitehead was elected and given the opportunity to speak on behalf of the majority of Councillors."
"The fact is, this council voted 40+ times for this plan. The fact is, this Councillor voted to have an A-Line consideration. The only thing that's left, that remains consistent, is the confusion that is being reported by some few select members of council."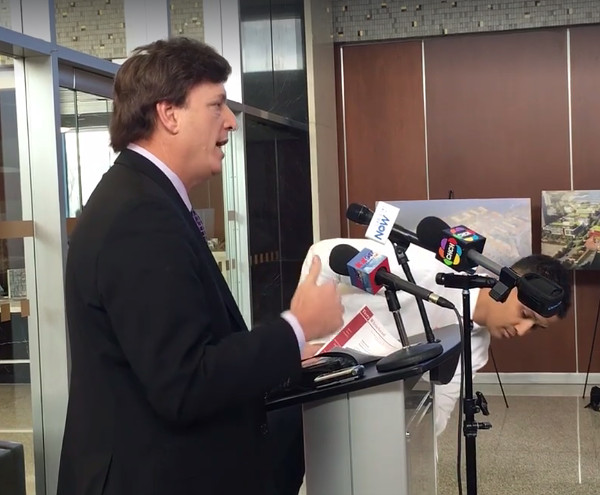 Green (right) looks at the official 'Hamilton City Hall' podium while Whitehead speaks (Image Credit: Screen capture, video by CBC Hamilton)
And while that was happening, a former mayoral candidate named Edward Graydon jumped in front of the cameras holding a "No LRT" sign and pitched his own candidacy for mayor in the 2018 municipal election. Because why not?
When Green tried to point out that Graydon was violating municipal election law by campaigning early, Graydon launched into a bizarre, Trumpian rant and Green asked for security to have him removed. I'm not going to transcribe it; feel free to watch the cringey video through your fingers if you must.
Whitehead Likes the Fight
Councillor Green is to be commended for his attempt to put out the dumpster fire that Whitehead was trying to light before it spread out of control. However, the events clearly demonstrated yet again that attempting to engage with Whitehead merely strengthens and emboldens him.
To the casual observer who doesn't dig much past the surface, yesterday's fiasco just looks like a bunch of duelling politicians trying to out-grandstand each other.
It actually elevated Whitehead's lame publicity stunt into a significant news story that will get play and traction and raise his public profile. (I'm painfully conscious that just writing about it here may actually play in to his desire to stay in the news.)
Ultimately, Green's attempt to counterbalance Whitehead's nonsense just reconfirmed George Bernard Shaw's famous maxim: "I learned long ago, never to wrestle with a pig. You get dirty, and besides, the pig likes it."
Divisive Politics
Whitehead's brand of shameless right-wing politics is effectively impervious to rational, evidence-based debunking. Whitehead isn't selling a plan, he's selling an attitude, a posture of division and bitterness.
He constantly stokes and inflates a sense of grievance and resentment toward the lower city and the downtown, playing to a small, vicious constituency and alienating most other constituents.
A few years ago, former Toronto Mayor David Crombie gave a talk in Hamilton about the future of Ontario cities. During the Q&A session, he responded to a question about then-Toronto Mayor Rob Ford by citing Ford's cynical strategy to "drive a wedge into the city and grab the bigger piece."
That is also what Whitehead is trying to do. He wants different parts of the city fighting each other, and he likes serving as a flashpoint for all the anger and volatility he foments.
This is why he spent a solid month last year trying to goad me into publicly debating the incoherent pile of garbage "LRT report" he had his assistant write, which was immediately and thoroughly debunked [PDF] by transportation researcher Christopher Higgins, PhD, of McMaster Institute for Transportation and Logistics.
Merely agreeing to debate it would have given it more credit and legitimacy than it deserved and kept his pile of garbage in the news cycle a bit longer.
Stop Feeding the Troll
Despite the temptation to get some easy and entertaining news fodder, it's time for Hamilton's media to stop showing up and providing an audience for Whitehead's foolishness.
Whitehead is not the spokesperson for Council or the City, and he has proven time and again that he is not interested in taking real leadership or moving this city forward.
What he wants is chaos, confusion and uncertainty, because politicians like him thrive in that environment. Anti-rational, hate-fuelled right-wing populism is on the rise across the Western World, and its presence is being felt at the international, national and local levels.
The angry, right-wing politics of hatred and resentment is a troll that gets bigger and stronger when we feed it. It's time to stop feeding the troll.
---
Update: I want to close with a quote from Joey Coleman: "In the age of poor quality politicians, the media must take responsibility for our role in allowing politicians to avoid accountability, and to start to focus on the quality of voices we cover, not the entertainment or loudness factor of some voices."
Post a Comment
You must be logged in to comment.