Whitehead's Anti-LRT Argument is a Jumble of False and Misleading Claims - Updated
Councillor Terry Whitehead's 'list of concerns' is filled with outright factual errors, misleading claims and bizarre omissions.
By Nicholas Kevlahan
Published June 02, 2016
This article has been updated.
Ward 8 Councillor Terry Whitehead has laid out his case against the city's light rail transit plan in a submission to The Hamiltonian that takes a throw-everything-at-the-wall-and-see-what-sticks approach. Unfortunately, his case does not bear scrutiny: even a cursory review finds that his "list of concerns" is filled with outright factual errors, misleading claims and bizarre omissions.
Whitehead's unspoken premise throughout his entire argument is that nothing will change in the next 30 years after LRT is built. In other words, he starts with an assumption of failure and then, lo and behold, concludes the LRT project will fail.
But within that larger false premise are a number of specific claims that are factually wrong or used in a misleading way. This is not an exhaustive critique, but just a cursory review of the most obvious howlers.
Operating Cost
Whitehead claims near the top of his list that the operating cost for LRT would be $1.80 per passenger.
In fact, the Rapid Ready LRT Plan [PDF] states that the operating cost for LRT would be between $0.95 and $1.80 on opening day (depending on the level of uptake), compared to a net cost of $1.07 for B-line, and would drop to a net revenue of $0.75 by 2031, compared to a net subsidy of $1.12 for buses.
By entirely discounting future growth in the economy, population and ridership, Whitehead is like an entrepreneur trying to decide whether it would be profitable to open a store based entirely on whether it would turn a profit on opening day.
LRT actually has favourable ridership projections on day one, but the real benefit is over the longer term.
Peak Passenger Level
Then Whitehead claims that the peak passenger level on the B-Line express bus is only 444 per hour, with the remaining passengers on local buses with closer stops.
According to the 2010 HSR Operational Review [PDF], there are about 1.35 million riders per year, which amounts to 1.35 million / (52 weeks * 5 days * 12 hours) = 433 passengers per hour on average, since the B-line only operates a full service for just 12 hours per weekday.
Combined with at least a 20 percent increase since 2009, this suggests a current average hourly ridership of 520. There is no way the peak ridership can be only 444!
This is not to mention the fact that there are only 11 total express buses per hour in both directions, and 11 percent of B-Line buses were over-capacity. That tells us peak ridership is limited by capacity, not demand.
And, of course, most people take whichever bus arrives first and has space; they don't just wait for the 10, so it is misleading to imply that only current riders of the 10 will take LRT. Similarly, 12.5 percent of King 1 buses are over-capacity at peak times, and there are lots of drive bys.
Economic Uplift
Whitehead also repeats a common misrepresentation of a 2013 report by McMaster researcher Chris Higgins by claiming that Higgins says other things in addition to building LRT need to be done to take full advantage of the economic uplift, and then implying LRT will fail because we won't do those other things.
However, Council - including Whitehead - voted to sign the Memorandum of Agreement [PDF] with Metrolinx, which commits Council to:
Implement transit-supportive land use policies and provisions in any relevant municipal Official Plans, Secondary Plan and Zoning By-laws, and in doing so, shall be guided by the Ministry of Transportation's Transit-Supportive Guidelines.
These "transit-supportive land use policies" are precisely the changes Higgins says are needed to achieve the full benefit of LRT.
Incidentally, Higgins himself notes that Hamilton's current B-Line ridership per kilometre puts it sixth-best among North American cities that have LRT systems: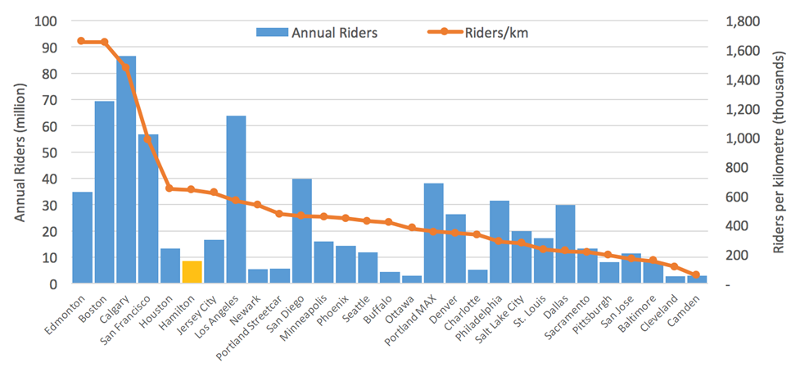 Riders per km and annual riders for various cities (Image Credit: Chris Higgins)
And that's before investing in LRT!
Automobile Usage
In the Chris Higgins report Whitehead cites, he claims that it states LRT will not reduce automobile usage, including the following partial quote: "LRT in and of itself should not be expected to mitigate regional congestion."
Here is the quote in its context:
The effect of LRT on metropolitan congestion has been considered using the Road Congestion Index created by the Texas Transportation Institute. There is some evidence that LRT can at least slow the rate of congestion increase. Overall, results suggest that LRT in and of itself should not be expected to mitigate regional congestion. But light rail in conjunction with TOD [transit-oriented development] has resulted in higher trip rates for public transit and lower levels of automobile ownership and usage. [emphasis on the section Whitehehad quoted]
Again, Whitehead acts as if we will implement LRT but then fail to implement the land use and transit supportive policies that are proven to maximize the benefits of LRT.
Average Speed
Next, Whitehead claims the Metrolinx Benefits Case Analysis is evasive about speeds and misrepresents what the BCA says in Table 4. The speeds are: 35 km/h per hour except 33km/h from Ottawa to Longwood and 25 km/h in the downtown core (as distinct from "Downtown" from Ottawa to Longwood).
The BCA notes: "travel speeds in the downtown core are assumed to be somewhat slower in the range of 25 kph."
Does the 25 km/h slowdown in the downtown core significantly lower the average speed? Is this some nefarious attempt to drastically over-estimate the total average speed?
Of course not. They used the 33 km/h speed overall because it makes no difference at the level of approximation their considering (+/- 1 km/h at best).
10.7 minutes (from Ottawa to Longwood apart from the downtown core) + 3.1 minutes (downtown core from Wellington to Bay at 25 km/h) = 13.8 minutes.
If you assume 33 km/h for the whole section, the travel time is 13.1 minutes. So this "error" amounts to 0.7 minutes on a 26-minute total time.
The average speed drops only marginally from 32.8 km/h to 31.8 km/h. Or to use precise numbers for each of the sections, the total travel time increases from 25.1 minutes to 25.8 minutes (33.9 km/h to 33 km/h).
Or, taking numbers rounded to the nearest minute, as in table 4, we have 14 minutes instead of 13 minutes for the central section.
Whichever way you look at it, it makes a difference of 1 minute, or 1 km/h in the average speed. That is of course negligible for this sort of estimate, which is why Metrolinx didn't bother using the lower 25 km/h speed for the downtown core.
There is no issue once you actually calculate the speed difference. It's well within the margin of error and still much faster than the 25 km/h assumed for BRT.
Using the average speeds in the BCA, the travel time from Queenston Traffic Circle to McMaster would be about 20 minutes, not the 24-25 minutes Councillor Whitehead has been claiming on twitter.
Another obvious point is: why did it take Whitehead six years to get around to reading the BCA and three years to get around to reading the Rapid Ready LRT report and start asking questions? Especially as these questions could have been easily addressed back when there was still a Rapid Transit team.
Benefit Comparison
In another misleading claim, Whitehead quotes the BCA giving a benefit-to-cost ratio of 1.1 for LRT and 1.4 for BRT and asks, "Why are we spending more money to get less benefit?"
First, that is a comparison of benefit-to-cost ratios, not overall benefits. LRT costs more to build but provides a bigger overall benefit. (By this reasoning, Whitehead would choose to receive a 10 percent interest rate on $1,000 over a 1 percent interest rate on $1,000,000.)
And in any case, many of Whitehead's concerns about traffic disruption during and after construction would also apply if we had chosen BRT, only the overall benefit to the City would be much lower. In addition, the operating cost per passenger for BRT is much higher than the operating cost for LRT, and the peak capacity is significantly lower.
For these reasons, it is hard to imagine Whitehead not opposing BRT as well. His BRT argument is really just an attempt to undermine LRT - he is not really arguing for BRT as a viable alternative.
Most importantly, the benefit-to-cost ratio might matter more if Hamilton was paying the capital costs, but we're not - yet we still get the much higher overall benefit of $852 million compared to just $313 million for BRT.
Why wouldn't Hamilton want over half a billion dollars in additional actual benefits, especially if we're not paying the capital cost? It would be crazy to turn down $539 million in extra benefits.
In addition, the BRT cost estimate in the BCA is only preliminary. According to analysis by the Institute for Transportation and Development Policy, full BRT costs around half as much to build as LRT (and produces around half the return on investment in terms of new transit-oriented development).
Who Pays Capital Cost
Whitehead's false contention about the benefit-to-cost ratio is an example of another misleading premise running through Whitehead's argument: it is the Province, not the City, that will be paying the full capital cost for the LRT plan, but Whitehead keeps writing as if "we" have to foot the bill, not the Province.
He might argue that it doesn't matter who's paying for it if it is not a good project, but it makes a huge difference whether the City is spending its own money - money it must borrow and/or can't spend on other priorities - or whether the money is in addition to our regular spending.
Even if you reject the (very conservative) economic uplift estimates, this $1 billion Provincial investment will produce thousands of construction jobs for Hamiltonians for several years.
In any case, the City and Council - including Whitehead - steadfastly pursued the project for six years, provided they got full provincial funding. Nothing fundamental has changed.
Diverting Cars
Whitehead claims the LRT will entail "diverting 20,000 cars a day," causing "much more congestion" and more cut-through traffic in local neighbourhoods.
He does not state where his 20,000 cars a day claim comes from, and the traffic modelling being undertaken as part of the LRT implementation and Transportation Master Plan review has not even been completed yet, so it is not clear how he came up with this number.
He may be referring to the average daily traffic volume along King Street from the east end through downtown, which is around 18-20,000 cars a day.
However, by using that number, Whitehead assumes there will be no more car trips on King Street, even though it will still be two lanes (one in each direction) for nearly all of its length.
He also assumes that no one who is currently driving will switch to LRT, which is extraordinarily unlikely, and that no one will change routes, choose different destinations, shift driving times, carpool or otherwise do anything to shift their driving pattern.
Which is to say, he assumes LRT will fail and then uses that assumption to predict its failure.
Let's wait for the traffic modelling study to be completed instead of inventing numbers.
As for Whitehead's claim that building LRT will produce "a Toronto transportation solution that has resulted in traffic gridlock", he gets it exactly backwards. Toronto's traffic congestion is in large part a result of the fact that investment in transit has not kept up with population growth.
The best way Hamilton can achieve "a Toronto transportation solution" is to do nothing and wait for congestion to become intolerable.
Transit Level of Service
Whitehead argues, "We must comprehensively provide a greater level of service in all geographic areas of the city before we start making it more difficult for people who do not have viable transportation alternatives."
This is the same Whitehead who voted against the bus lane, which was supposed to be the first part of a citywide network of dedicated express bus lanes. And year after year, Whitehead also refuses, as part of Council, to put any ratepayer money into trying to implement the HSR Ten Year Transit Strategy, even though the initial proposal still had nearly all of the additional revenue coming from riders.
What exactly has Whitehead done in his 13 years as a Councillor to "provide a greater level of service in all geographic areas of the city" aside from voting to support LRT? Is he dedicated to fixing area rating for transit, increasing the HSR budget, or anything else that would support this goal?
With LRT, at least, buses currently serving the B-Line will be freed up to increase service in underserved areas.
Remember that if Hamilton turns down the $1 billion for LRT, we will lose that money to another city whose approved project is waiting for funding. We will lose out on LRT and also not get any money to improve local transit - a lose-lose proposition!
Does Whitehead really care about improving transit service, or is this, like his sudden interest in the BRT alternative, merely another concern-trolling way to undermine support for LRT without actually providing an alternative?
Purpose of Rapid Ready
Yet another misleading claim is Whitehead's contention that the Rapid Ready report was a plan to get Hamilton ready for LRT rather than a plan to implement LRT with Provincial funding.
Yes, Whitehead has decided to follow the lead of former mayor Bob Bratina, who tried to claim after the fact that his vote for the Rapid Ready LRT plan was not actually a vote for the LRT plan.
As City Manager Chris Murray clarified in April 2013:
In terms of where we've been all along, we've been focused all along on the B-Line and advancing the detail of that B-Line so the Province can make a decision on the B-Line. Okay?

But clearly Rapid Ready has added to that a number of other investments that, should they choose, should the Province choose to defer the B-Line to some later date, we are still there with our hand in the air saying, wait a minute, there are other things you should be investing here in Hamilton. That is it.

So that's the sum total motivation for the report and all of its options. ... You are saying, I think, by this motion, that you want the Province to make a decision on the B-Line first - that subject to that, if they choose to advance the B-Line, then by all means do that. ...

We think investing in transit, LRT specifically, in the City of Hamilton is something fundamental to our growth, and that, you know, it's really at the end of the day up to the Province to make a decision about what it is it wants to invest here in Hamilton.
Whitehead understood that in April 2013, as evidenced by his spirited defence of the Rapid Ready plan at the time:
I'm trying to understand how people like to try muddy the water when in fact there's no conflict here. If the Province and Metrolinx do not like where we're at or do not think we're prepared or ready for the B-Line, we have now provided them options in the rapid transit report.

There's no conflicts here. I don't know why people are creating conflicts. There's absolutely no conflicts by supporting and reaffirming the position we already took.

And here's another point, um, Deputy Mayor, we would have had to have two-thirds vote, two-thirds vote to support the rapid report if it was in conflict with the original position of supporting the B-Line. So obviously everything links in well together. And I don't know why this game is being played.
Yet here we are today, just three years later, and Whitehead is playing that very game himself.
---
Please take a few moments to tell Council to take YES for an answer, reaffirm its support for LRT and accept the full capital funding from the Province that Council has consistently voted for since 2008.
---
Update: an astute RTH reader alerted us to the fact that Whitehead took a statement from the Higgins report out of context in order to imply the opposite conclusion of the report. You can jump to the added section.
Update 2: Added a section rebutting Whitehead's claim that LRT will displace 20,000 cars a day. You can jump to the added section.
Update 3: Added a section rebutting Whitehead's argument about increasing HSR bus service. You can jump to the added section.
Post a Comment
You must be logged in to comment.