Eleven Hours and Forty Minutes of Sound and Fury, Signifying One Very Important Thing
Because Council has definitely voted to approve the LRT project, it would require a "reconsideration motion" and a two-thirds majority vote to overturn that decision.
By Ryan McGreal
Published October 26, 2016
The most important thing to come out of yesterday's eleven-and-a-half hour heroin coma of a General Issues Committee meeting was the fact, hammered home by City Solicitor Janice Atwood-Petrovski, that Council has, in fact, clearly voted to implement the Hamilton Light Rail Transit (LRT) plan on three separate votes.
Here is the City Solicitor, answering Ward 8 Councillor Whitehead:
Certainly, Council did make a decision to implement the LRT. And that decision, I think, is reflected not only in the August 2015 meeting [when Council approved the staff report "Fostering the Light Rail Transit (LRT) Project"], but also in the [Memorandum of Agreement between the City and Metrolinx] that was entered into, and then the Real Estate Protocol that was entered into.
Because Council has definitely voted to approve the LRT project, it would require a "reconsideration motion" and a two-thirds majority vote to overturn that decision.
As a result of this clarification, Ward 4 Councillor Sam Merulla withdrew his contentious motion to re-affirm Council's support for the LRT project, since the motion is unneccesary and a vote against it would be procedurally meaningless but politically dangerous.
The other important vote was to release the legal opinion of Integrity Commissioner George Rust-D'Eye, who agreed with the City Solicitor's determination that Council has voted to implement the LRT system.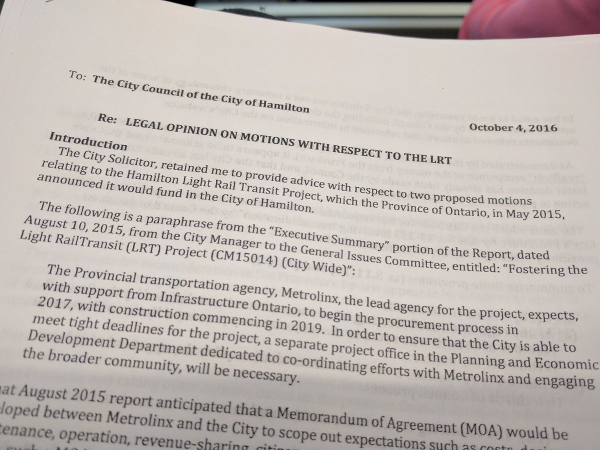 Detail from Rus-D'Eye's legal opion with respect to the LRT
Rust-D'Eye's report also argues that a Council vote to defer the LRT project to a ballot question on the October 2018 municipal election would similarly constitute a reconsideration of Council's decision to implement LRT and would also require a two-thirds majority vote.
The rest of the meeting was more or less pure theatre - and what a theatre of pain it was! We must give a huge kudo to the indefatigable Joey Coleman of The Public Record, who livestreamed the entire shambles even as the City's official livestream repeatedly went off-line.
Setting the Stage
Before the meeting, a small, vocal anti-LRT group organized an effort to fill the gallery with LRT opponents and present a number of anti-LRT citizen delegations to the committee members.
In response, various groups of LRT supporters came together to make sure the small anti-LRT voice was not allowed to dominate the meeting. As a result, the gallery was packed with 150 residents, the vast majority of them there to support LRT. Out of 26 delegations, 19 were supportive. (Note: I made a delegation on behalf of Hamilton Light Rail. You can read the text of my delegation.)
When the meeting began, the councillors spent the first half-hour debating the order in which they should proceed through the agenda. This should have been a tipoff that the meeting was going to turn into a gong show.
It was actually Whitehead who argued that the delegations should be moved forward so that the citizens should not have to wait all day to get the chance to speak. The Committee eventually agreed that the staff presentation would go first, then delegates would be allowed to speak, and all questions from councillors would wait until after the delegations were over.
Of course, Whitehead also insisted that he had the right to question a delegate if his name was mentioned, and Mayor Fred Eisenberger agreed that a Councillor is always allowed to raise a point of privilege.
The Chair, Ward 7 Councillor Donna Skelly, set the tone for the rest of the meeting by constantly interrupting her colleagues to speak "through the chair" and lecturing the delegates that the five-minute speaking time would be strictly enforced.
Skelly also ordered the 150 audience members not to applaud after a delegation. When the audience applauded anyway, she started passive-aggressively announcing the next speaker during the applause so no one could hear her.
LRT Update
Oh yeah: nearly lost in all the sound and fury was an actual project report from LRT director Paul Johnson. Johnson presented an update on the LRT Transit Project Assessment Process (TPAP), which you will find under item 5.1, Presentations in the agenda for the meeting. (We can't link directly to the report because the City's Council/Committee meeting website is unusable-by-design.)
It turns out Metrolinx has already spent or committed $60-70 million on implementing the LRT project that Council approved. So far, the project is on track to hit all the major milestones for completion: Environmental Assessment amendment completed in early 2017, construction bid awarded in mid-2018, construction starts in 2019, service begins in 2024.
One important point that came out of the meeting was that the Operating and Maintenance details cannot be finalized until a bid is accepted. This is because the Metrolinx procurement model actually awards a bid to Design, Build, Finance, Operate and Maintain the service, not just to build it.
Maintenance Facility
Metrolinx and City staff are working to secure a site for the Operations, Maintenance and Storage Facility (OMSF) and they have settled on a roughly wedge-shaped piece of land immediately west of the CP Rail line between Aberdeen Avenue and Chatham Street, a little east of Longwood Road.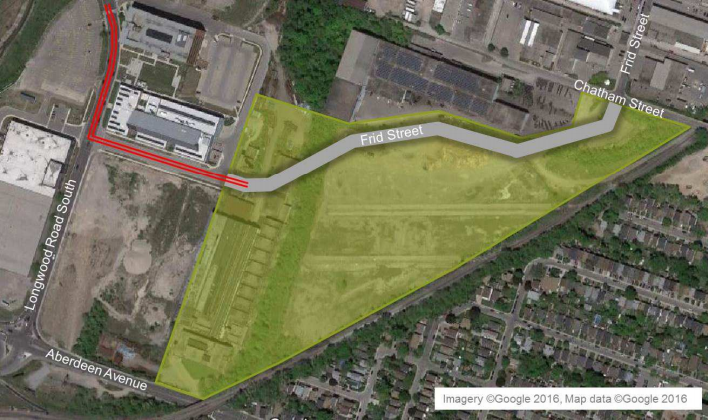 Proposed OMSF location
The site is around 6-8 hectares (15-20 acres) in size, within a kilometre of the LRT line, has the right site configuration and compatible adjacent land uses, and will have minimal impact on the surrounding community.
LRT vehicles would travel between the OMSF and the main LRT line via tracks running from Main Street West along Longwood Road South and Frid Street. The short distance to the line means less cost to build the access tracks.
LRT vehicles would be travelling to and from the OMSF early in the morning and late at night, so they will not impact rush-hour traffic on Longwood.
This location would also allow the city to complete the Frid Street connection between Longwood Road and Chatham, which has been in the works for years but is unfunded.
LRT Construction and Utilities
Most of the LRT line is running on a right-of-way that is 20 metres wide or less. Staff have catalogued 20 km of municipal utilities located within the LRT right-of-way:
10 km of water mains
6 km combined sewers
600 m of sanitary sewers
4 km of stormwater sewers
The deepest pipes are ten metres below the surface.
All of these utilities must be relocated from the LRT right-of-way into around 3.5 metres on either side of the line.
Staff are currently undertaking subsurface utility engineering investigations so they can get a clear picture of exactly what lies under the roadway and what will need to be replaced.
Metrolinx will be replacing the existing utilities on a like-for-like basis. If Council wants, it has the opportunity to pay the differential cost to increase the capacity of these utilities. (That added cost can be recovered through development charges on new developments around the LRT line.)
Intersections
At major intersections, vehicle turning movements will be allowed in all directions across the LRT tracks.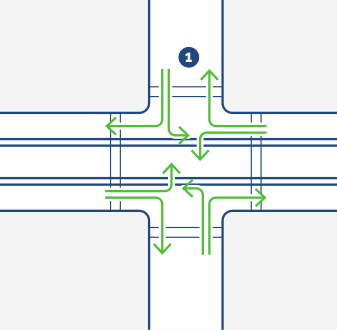 Typical major intersection
On smaller side streets, vehicles will only be allowed to make right-turn-on and right-turn-off movements. However, major intersections will also allow u-turns so that vehicles from side streets that want to turn left can do a right turn followed by a u-turn.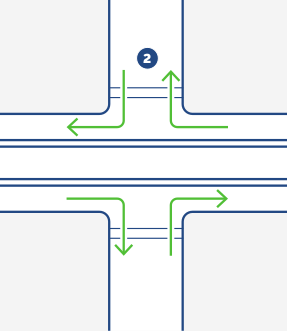 Typical side street intersection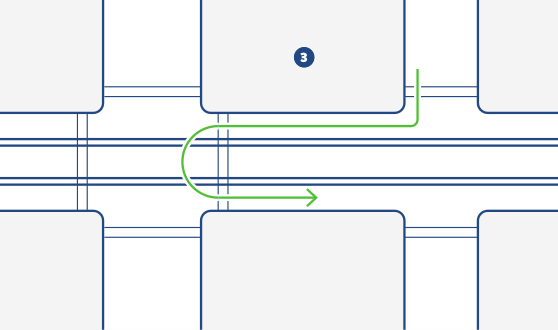 Typical side street intersection with u-turn at major intersection
Traffic
Traffic modelling has found that westbound vehicle trips will disperse to adjacent streets north and south of King. The one area of significant concern is from Cannon/York to Dundurn and the Highway 403 access.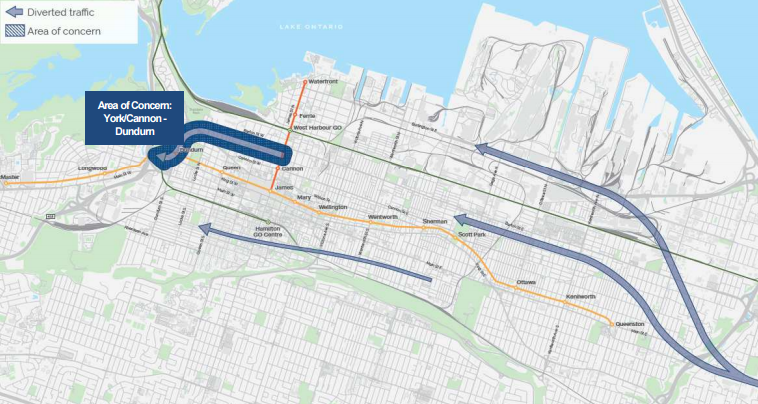 Map: where will the traffic go
Johnson said that staff are still working on developing strategies to mitigate the area of concern. (Ahem: convert Main Street to two-way.)
Moving People
An LRT vehicle can hold 130 people comfortable - or up to 200 people at "crush capacity". 130 people is equal to two and a half buses or, at two passengers per car, 65 cars. (In fact, during rush hour, the average occupancy of cars is significantly lower than two people per car.)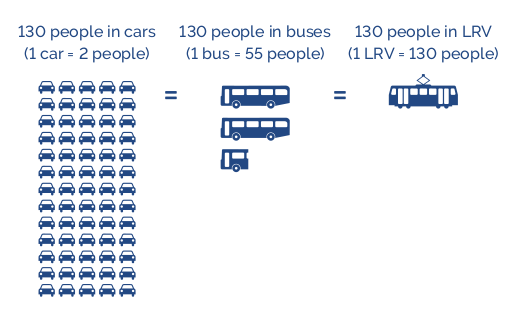 Cars, buses and LRT to carry 130 people
The LRT vehicles we will be using can also be coupled, so a single driver could carry 260 passengers - or up to 400 at "crush capacity".
The simple fact is that we are going to need LRT to continue to be able to move people through this corridor. Staff estimate 12.4 million to 15.1 million annual boardings on the B-Line in 2031 (currently, the current total ridership on the various bus routes along the corridor is around 9 million annual boardings.)
That is expected to increase to 16.8 million to 20.3 million annual boardings by 2041.
Pedestrian Connection to Hunter GO Station
Johnson noted that the Hunter GO Station will continue to be an important regional transit hub, and Hughson Street is planned as a higher-order walking corridor between the Gore Park LRT station and Hunter. Hughson will prioritize pedestrian traffic with streetscape design, tree planting and wayfinding.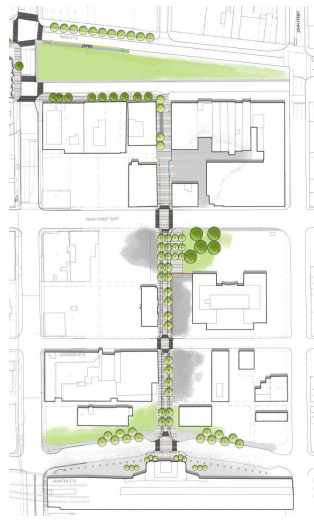 Hughson Street redesign
Environmental Studies
Because the route is changed slightly from the original design that was submitted with an Environmental Assessment (EA), several studies have to be revised: cultural heritage, natural heritage, contamination, air quality, hydrogeology, noise and vibration studies are underway.
Property Acquisition
Metrolinx is leading this process. 43 properties have been identified as priorities, and the owners have been notified. Metrolinx will meet with the owners to negotiate the sale of their property (in whole or in part). Where the owner is not willing to sell, Metrolinx will expropriate the land at fair market price.
Risks and Opportunities Assessment
The City's Audit Services Department is undertaking a high-level Risks and Opportunities study for LRT, coordinating with department leaders across the city government to look at what challenges and opportunities the LRT project creates for the various city operations and initiatives.
Public Information Centre
Last month, the City held seven public information centres, which drew 861 attendees. Of those, 349 provided detailed feedback through a response form. Of those, only 57 recorded opposition to the project.
A major feedback was the need for an additional station in the Gage Park/Delta area, and staff are looking at how to incorporate a stop here.
Residents also suggested some additional pedestrian crossing locations, preferred to locate the McMaster terminus on the north side of the street (for easier access to campus), supported adding bike lanes on Main Street West, and preferred retaining the ability to make left turns at Paradise Road.
Promotional Video
City Manager Chris Murray presented a short video recently produced for the City explaining the LRT plan and how it fits into the BLAST network of rapid transit lines across the entire city.
The B-Line and A-Line spur are the necessary first phase of that citywide network.
Real Estate Study
Mark Conway of NBLC Real Estate Consultants gave an exciting presentation on Hamilton's prospects for transit-oriented development around the LRT line.
He started by noting that every market is different, but that Hamilton's market is on the cusp of change toward more high-density development.
He explained that LRT transforms a real estate market by improving market demand for property around it, increasing the viability of planned or proposed projects, and increasing the competitiveness of the city compared to other cities.
Already, property values along the LRT corridor are rising faster than the city as a whole. Over time, as the LRT is built and goes into operation, development growth in Hamilton will accelerate, and especially around the line.
LRT increases the interest of developers and stimulates demand to develop derelict, vacant and underused land around the line. When the right zoning and land use framework is in place, LRT also encourages more dense, compact, land-efficient developments that are cheaper for the City to serivce.
The kind of land use that LRT encourages is also more appealing for the young professionals that the city is trying to attract. Young people want interesting cities with a high quality of life and great transit.
Profesional companies, in turn, tend to follow the talent pool they are trying to attract, so a city that does better at attracting young professionals will also do better at attracting new offices to employ them.
It also encourages an increase in the supply and diversity of housing types and price ranges, including both condo and rental units, and hence providing more housing opportunities to more people at a range of prices.
With more developments and more people looking to live, work and invest around the line, that creates a positive impact on local retail by increasing the number of customers who are accessible to the business.
He stressed that development growth will start slowly and then accelerate over time. He also pointed out that development growth will first start to accelerate in the downtown core, then north and west, and then gradually extend further east.
Then Things Turned Ugly
The first real indication of how ugly this meeting was going to get happened at the end of Johnson's presentation. The last page on the overhead screen - a list of questions that Councillors had submitted to him prior to the meeting - was left off the printed package Councillors received.
Johnson apologized and said he'd arrange for Councilors to receive a copy of the list of questions. Ward 15 Councillor Judi Partridge took a cheap shot: "That's been happening a lot throughout this whole project - we just don't have information."
The audience booed and muttered about this unprofessional attack on staff, but instead of calling out her colleague for violating the Council Code of Conduct, Chair Skelly chastised the audience for making noise.
Once the delegations were over, Council began to question staff, and things turned really ugly.
Whitehead single-handedly mopped up literally hours of the meeting in what can only be characterized as a histrionic filibuster against the facts.
He rattled out volley after volley of increasingly ridiculous "questions" with absolutely no interest in actually listening to the answers or learning anything that might challenge his preconceptions. He made ridiculous demands of staff, repeatedly putting them on the spot to produce answers for his fishing expeditions.
He argued with everybody about everything. He argued with LRT director Paul Johnson over every aspect of the plan, including dredging up the Main vs. King debate yet again.
He argued with the representative from transit consultant Steer Davies Gleave over whether their ridership projections were credible and even tried to spring a gotcha over whether Steer Davies Gleave failed to accurately predict ridership on the Union-Pearson Express. (The company provided a range of ridership projections at different fare prices but did not set the initial fare. When Metrolinx reduced the fare from $26 to $9, ridership increased five times.)
He argued with the real estate consultant over whether their development growth projections are valid and whether people actually want to invest and live around LRT.
He argued and argued and argued with the City Solicitor and the Integrity Commissioner over whether Council actually voted to implement the LRT (it did), and whether Whitehead's sense that Council was "tentative" in its support means reversing course would not actually require a reconsideration motion (it doesn't).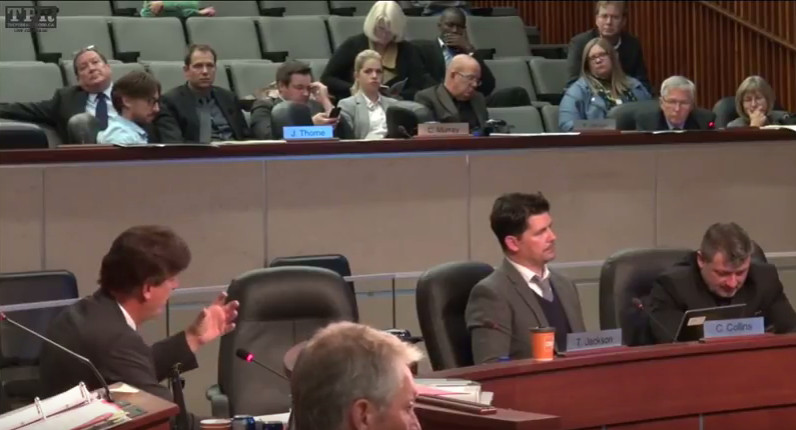 Whitehead physically miming the death-grip in which he endlessly held staff
He argued with Skelly over points of order and privilege. He went on and on and on, endlessly. His first round of questions sprawled for more than 90 minutes (so much for the five-minute time limit), and he was back for more several bouts over the course of the eleven and a half hour day.
It got so bad that even Ward 6 Councillor Tom Jackson, arguably the most mild-mannered member of Council, became visibly exasperated, saying, "That's not fair. Come on!"
Chair Skelly asked him to move on but still failed to rein him in, and he was allowed to continue grandstanding and sucking all the oxygen out of the room.
Seriously, his relentlessly bullying behaviour needs to be observed to be understood. There is really nothing else remotely like it on this Council.
Whitehead was certainly the Obstructionist-in-Chief, but he wasn't the only offender among Councillors who were trying to confuse and undermine the project - though in fairness, no one else consumed even a fraction of the amount of time that Whitehead swallowed into the void.
Skelly tried to argue that the City could have built out the entire BLAST network with buses for the cost of the LRT, even though the Province has repeatedly said they don't fund local bus service and the LRT money cannot be reallocated to a different project.
Partridge kept asking whether Council still had any "off-ramps" for the project, even though she couldn't explain what she meant by an "off-ramp". (And note the confused analogy of trying to bolt an "off-ramp" - something that goes on a highway - onto a rapid transit project.)
And all of this, just to receive Rust-D'Eye's report and withdraw Merulla's motion.
Incidentally, the City pays Rust-D'Eye $350 an hour, so having him sit there through 11.5 hours of pointless showboating cost the City $4,025.
In fairness to Ward 12 Councillor Lloyd Ferguson, he had had earlier tried to get the committee to move the debate over Rust-D'Eye's report forward so he could leave sooner. However, that would have required a reconsideration of their previous vote on what order to follow the agenda, and Ferguson's motion failed to receive the two-thirds majority it needed.
That, in turn, is as good a metaphor as any to understand the outcome.
Post a Comment
You must be logged in to comment.