Cycling Infrastructure Threatened to Accommodate Automobile Traffic with Light Rail
The City is considering sacrificing bike lanes to maintain automobile traffic flow, undermining the goal of leveraging LRT to transform how Hamiltonians live and get around.
By Ryan McGreal
Published January 26, 2017
The plan to build a light rail transit (LRT) line across Hamilton from McMaster University to Queenston Traffic Circle is creating a potential conflict with the city's already-fragmentary network of bicycle infrastructure.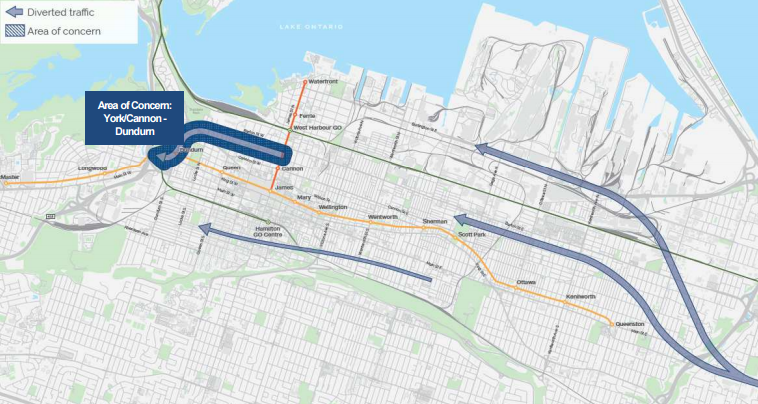 Map: Area of Concern' for westbound traffic
Last year, traffic modelling conducted for the City of Hamilton and Metrolinx had already identified an "area of concern" for westbound vehicle traffic between Queen street and Highway 403.
Specifically, there are few options for westbound automobiles to connect with the highway - particularly traffic heading westbound on the 403, since there is only an eastbound on-ramp at York Boulevard.
A new round of public information centres held this month acklowledges that the City and Metrolinx might decide to remove the bike lanes on Dundurn Street North between King and York, and the bike lanes on York Boulevard between Dundurn and Queen, in order to accommodate that westbound automobile traffic.
In addition, the planned addition of bike lanes on Main Street West from Cootes to Macklin has been scrapped in order to leave an extra driving lane for automobile trips coming from Dundas.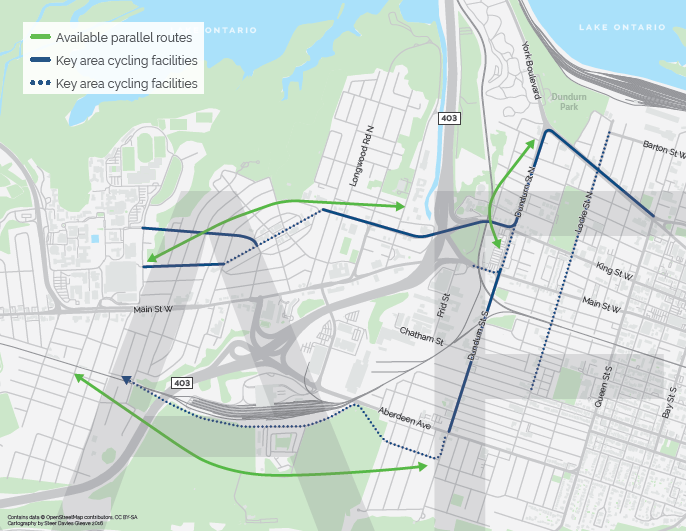 Map: cycling routes within LRT traffic 'area of concern'
This is extremely frustrating. A huge part of the point of investing in LRT is to transform the design of the transportation system to prioritize walking, cycling and transit over driving.
Eliminating bike lanes so that the street can accommodate more automobile traffic undermines the success of the LRT system in two ways: it weakens the comparative advantage of LRT over driving, and it weakens the connectivity between the LRT stations and active transportation.
Two-Way Main Not Considered
And glaringly absent from the traffic plan is any consideration of converting Main Street to accommodate two-way automobile traffic. The Metrolinx Business Case Analysis that evaluated the Hamilton LRT projects recommended converting Main Street to two-way in order to support the success of the LRT investment.
Making Main Street two-way would address at least some of the westbound traffic challenges, even if it is not feasible to add a new highway on-ramp, and the existing off-ramps are not a major barrier to conversion.
In addition, a two-way Main Street will provide a number of other benefits, including:
A safer, more inclusive and more humane public realm;
Improved quality of life for people living and working on and around Main Street;
Higher property values and higher potential for new transit-oriented development (Main is close enough to King to attract investment around the LRT stations); and
Better accessibility for local retail businesses on Main for both foot traffic and vehicle trips.
The real net advantages of urban two-way streets over one-way thoroughfares have been demonstrated and proven consistently and repeatedly on streets and cities all over the world, including a number of highly successful two-way conversions right here in Hamilton.
The fact that this is not even being considered - out of sensitivity to politicians who are so adamantly opposed to a two-way Main Street that they refuse even to find out whether it would be feasible - means we are literally denying ourselves the opportunity to study whether it makes sense.
That is just fundamentally bad leadership and it will result in a project that does not achieve its full potential.
Commitment to Maintaining Cycling Network
There is one encouraging note here: Metrolinx and the City have at least stated that they are committed to maintaining or replacing the existing cycling infrastructure around the LRT line.
According to the formal documentation that came with the current round of information centres: "Metrolinx and the City of Hamilton are committed to replacing bike lanes impacted by the LRT project during construction and developing longer term solutions in close consultation with affected neighbourhoods and the cycling community."
City staff plan to schedule a meeting with the cycling community in February or March to get feedback on possible alternative routes, not only detours during construction but also permanent routes once the LRT is completed.
It's encouraging that the City and Metrolinx are looking to the cycling community for guidance on how best to proceed, rather than imposing a direction from the top-down.
---
In subsequent articles, we will consider some opportunities to replace and even improve the cycling infrastructure in the Strathcona and West Hamilton neighbourhoods.
Post a Comment
You must be logged in to comment.