Province Considering Alternatives to A-Line LRT Spur
CBC Hamilton reports that the Province is considering possible alternatives to the A-Line LRT spur on James Street North.
By Ryan McGreal
Published January 12, 2017
I was surprised to receive a call last night from Samantha Craggs at CBC Hamilton looking for a hot-take on a scoop: the Province is considering scrapping the A-Line spur from the Hamilton Light Rail Transit (LRT) project.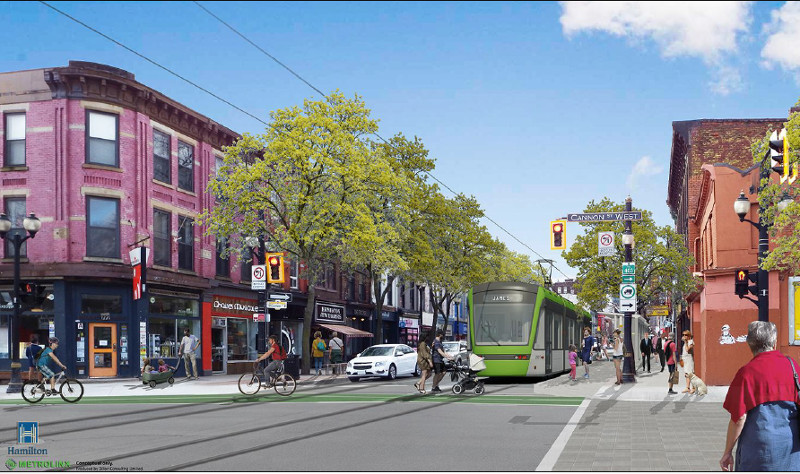 Rendering of LRT on James North
The article quotes Mayor Fred Eisenberger: "There's been a reassessment of the value of the spur, and they're looking at alternatives that would have more value."
It's too early to know what that means, what alternatives are on the table, or what a change would mean for the project as a whole, but rumblings from City Hall suggest this is going to be a good-news story.
The decision may have been motivated at least in part by a recent shift in the GO transit picture: due to difficult negotiations with CN, Metrolinx is unlikely to be able to provide all-day train service to the West Harbour Station in time for an LRT launch in 2024. For now it's just going to be rush-hour service.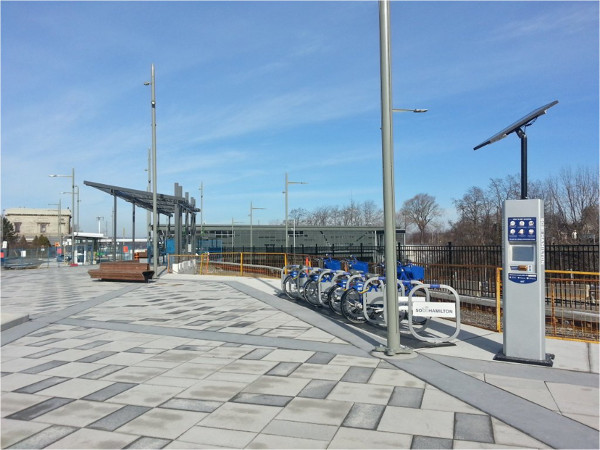 West Harbour GO Station under construction (RTH file photo)
Meanwhile, Metrolinx will be able to provide all-day train service to the Hunter GO Station, which is going to be connected to the east-west B-Line LRT by a higher-order pedestrian route along Hughson Street.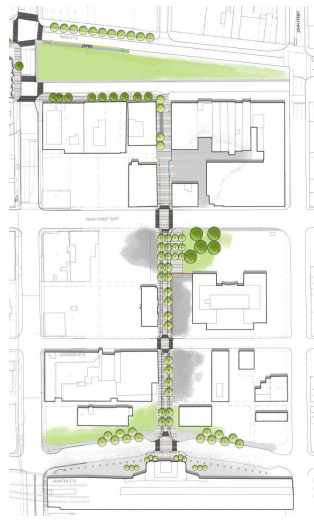 Proposed Hughson Street pedestrian corridor design
So the A-Line spur is not going to be essential to meet the Province's requirement that LRT connect to regional transit.
Possible Alternatives
As for what the Province has in mind, I can think of at least a few possibilities:
They might want to spend the money on some kind of higher-order bus transit that serves the entire north-south A-Line corridor from the waterfront up the escarpment and out to the airport. If designed right, this could incrementally grow ridership along the corridor until it makes sense to upgrade to full rapid transit service.
They could decide to extend the B-Line LRT to Eastgate Square instead of terminating it at Queenston Traffic Circle. This seems less likely, because it would face fierce opposition from Ward 5 Councillor Chad Collins, and because it could imperil the timeline of the entire project.
The Federal Government has been talking about getting into the capital investment business and could be planning to announce funding to build Hamilton's proposed B-L-A-S-T network of rapid transit lines serving the entire city. A short LRT spur line on the north end of the A-Line could be incompatible with the rest of that plan.

B-L-A-S-T Network map
Council committed to building a citywide network of bus rapid transit lines ten years ago in its 2007 Transportation Master Plan, which is currently under review.
Since then, the City has implemented an A-Line express bus that runs every half-hour between the airport and Pier 8, in addition to the B-Line express bus between University Plaza and Eastgate Square.
Opportunity for Obstruction
There is another dimension to this change in the LRT plan. For those City Councillors who have built a cottage industry out of stirring up noise and controversy about LRT, this could provide a fresh opportunity to try and disrupt, delay and undermine the project.
Depending on how much this new development changes the plan, we can expect some councillors to try and argue that it has changed enough that previous Council votes to support it no longer apply.
On the other hand, the Council-approved plan stipulates that Metrolinx has the right to scale back the project as necessary, so this may be a moot point - especially if the "alternative" in consideration is a separate project serving another proposed rapid transit route.
And all of this is happening as Metrolinx and City staff race to complete a required Environmental Assessment Amendment that is expected to be presented to Council for approval in early spring.
Upcoming Public Meetings
Metrolinx and the City are currently holding a series of public meetings to present updated details about the plan.
There will be three "Community Update" meetings featuring a formal presentation followed by a question-and-answer session, as well as three "Public Information Centre" meetings that will be structured as more of an open house.
Community Update Meetings
Date: Wednesday, January 11, 2017
Time: 7 to 9 pm
Location: Sackville Seniors Centre, Fireside Lodge
780 Upper Wentworth St., Hamilton
Date: Tuesday, January 24, 2017
Time: 7 to 9 pm
Location: Dundas Town Hall, Level 2 Auditorium
60 Main St., Dundas
Date: Thursday, January 26, 2017
Time: 7 to 9 pm
Location: Cardinal Newman Catholic Secondary School, Lecture Hall
127 Gray Rd. Stoney Creek
Public Information Centres
Date: Monday, January 16, 2017
Time: 4 to 8 pm
Location: Dr. John M. Perkins Centre, Atrium
1429 Main Street E., Hamilton
Date: Tuesday, January 17, 2017 Time: 4 to 8 pm Location: David Braley Health Sciences Centre, 2nd Floor Auditorium 100 Main Street W., Hamilton
Date: Wednesday, January 18, 2017 Time: 4 to 8 pm Location: McMaster Innovation Park, Atrium 175 Longwood Road S., Hamilton
Post a Comment
You must be logged in to comment.