Bike Licencing is Just Fundamentally Bad Policy
It would take 810,000 people riding bikes to do as much cumulative damage to the road as one person driving an SUV.
By Ryan McGreal
Published December 02, 2016
Bad civic policy ideas never seem to go away; like bad pennies, they keep turning up at the worst times. One such coin that predictably turns up is the knee-jerk proposal to start licencing bicycles, which inevitably manifests during any debate over cycling infrastructure.
Most recently, it reared its ugly head during last week's Council debate over the protected cycle track planned for the Claremont Access.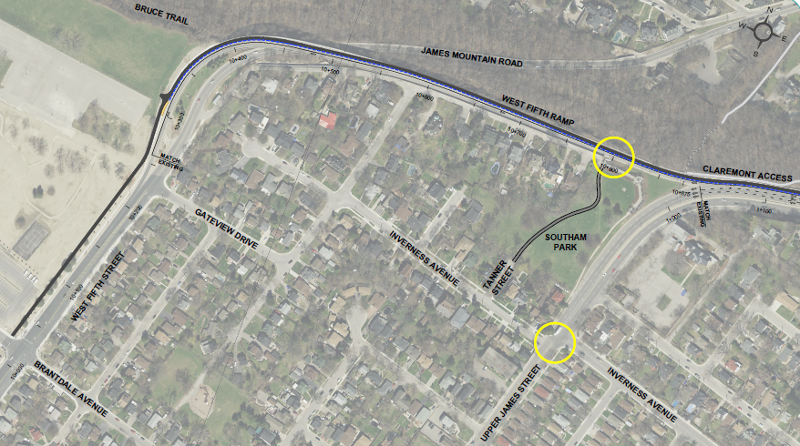 Claremont Cycle Track upper portion rendering (Image Credit: City of Hamilton)
This dumb idea should be easy to put to bed. After all, it's based on the premise that licencing bicycles will somehow make them "pay their share" for cycling infrastructure.
This premise is fundamentally wrong-headed and needs to depart from the policy debate once and for all.
Licencing for Regulation, Not Revenue
The City's official, council-approved strategic goal for cycling is to increase the number of bike trips in Hamilton, but a bike licencing system would achieve the opposite goal and reduce the number of bike trips.
The very concept of licencing bikes is a basic misapplication of the municipal policy tool of licencing. The main reason to licence an activity is to restrict and regulate it so the City can exercise oversight, usually for public health and safety reasons.
Consider the list of businesses that must apply for a business licence (pp. 33-4) in Hamilton. These are all categories of business with significant public health and safety implications: food services, accommodations, personal services, tobacco retailers, taxis, construction trades, and so on.
The purpose of the business licence system is not to generate funds but rather to ensure that the public is protected from reckless or unscrupulous owners and operators.
This is also why the City requires dog owners to obtain a dog licence: an unregulated dog with an irresponsible owner is a significant danger to public health and safety.
(Sidenote: to be productive, a Council discussion about a proposed cat licence should be framed in the same way: does a cat licence help the City reduce a significant danger to public health and safety?)
The reason why the Province requires people to obtain a driver's licence to drive and a vehicle permit to operate a vehicle (with mandatory insurance coverage) is that driving is extremely dangerous.
Motor vehicle collisions kill 3,000 people a year in Canada and injure many tens of thousands more.
Bicycles, not so much.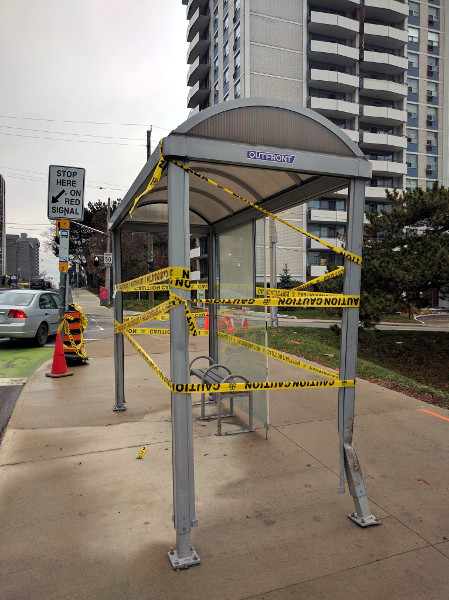 This bus shelter at Hunter and Bay was struck by a person driving a car, not a person riding a bike
Licence Fees Pay for Regulatory Bureaucracy
In areas where the city licences an activity, most or all of the money collected under the licence application goes to pay for the administration of the licencing system and regulation of the licenced activity, not to collect revenue for general program spending.
Under any licencing system for cyclists, the administration of the system - including enforcement - would consume whatever money was collected in licence fees. The result would be a pointless new government bureaucracy and a net reduction in the number of bike trips.
Yet this basic fact doesn't stop the usual posturing councillors and culture war provocateurs to insist that cyclists should be made to "pay their share" for street infrastructure.
I can't believe this even needs to be pointed out, but Hamilton's municipal streets are funded mainly through property tax revenue, not driver fees. Since everyone pays property tax, people riding bikes are already "paying their share".
In fact, a very strong argument can be made that when someone chooses to ride a bicycle instead of driving for a trip, that person is actually paying far more than their fair share.
Roadway Wear-and-Tear
A big part of the overall lifecycle cost of a road is the maintenance and resurfacing cost due to wear-and-tear. It's vitally important to understand that the engineering rule of thumb for roadway wear-and-tear is that it's a fourth-power exponential function of the vehicle's axle weight.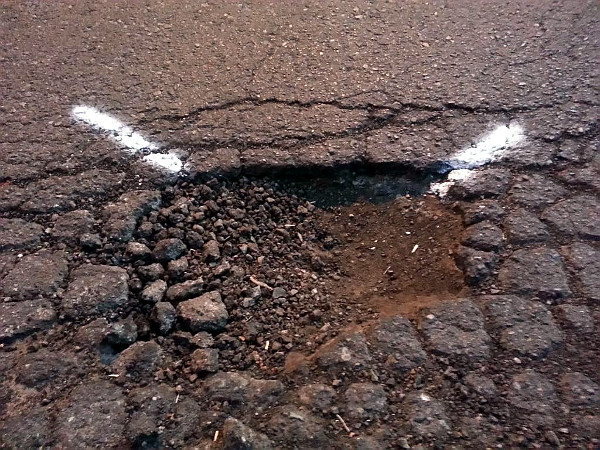 Pothole marked for filling (RTH file photo)
A linear function would mean that a vehicle twice the weight did twice the damage, and a geometric function would mean that a vehicle twice the weight did four times the damage. (For example, it's a geometric function to calculate the kinetic energy of a moving vehicle.)
What a fourth-power exponential function means is that a vehicle twice the weight does sixteen times the damage.
Let's compare the relative damage of a bicycle's axle weight to some other vehicles that use public roads.
Relative Wear-and-Tear damage by Axle Weight
Bicycle
Small Car
Big Car
SUV
Semitrailer
The weight and damage multiple for each vehicle is in comparison to a person on a bicycle.
Axle Weight (kg)
45
600
900
1,350
9,000
Weight Multiple
1
13
20
30
200
Damage Multiple
1
31,605
160,000
810,000
1,600,000,000
A person driving a small car does more than 31,000 times as much damage to the road as a person riding a bike. That means it would take more than 31,000 people riding bikes on the street to do as much cumulative damage as a single person driving one small car.
If the person is driving a sedan rather than a small car, it would take 160,000 people riding bikes to do as much cumulative damage as that one car driver.
If the person is driving an SUV, it would take a whopping 810,000 people riding bikes to do as much cumulative damage as that one car driver.
And if we compare a bike to a semitrailer transport truck, it would take a mind-boggling one billion, six hundred million people riding bikes to do as much damage to the road as that single truck.
A vehicle licence plate sticker costs $120 for a year. That works for any size car, light truck or SUV, but let's be conservative and calculate a comparable bike permit cost given the wear-and-tear differential between a bike and a small car.
We would have to charge $0.0004, or four-hundredths of a penny.
Can anyone learn this and still claim with a straight face that peop are somehow not "paying their way" for using the road when they choose to ride a bike?
Double Standard
While Council agonizes over whether to spend the money to install jersey barriers on an upbound lane of the Claremont Access to safely accommodate cyclists, the City went ahead and installed jersey barriers on a downbound lane of the Claremont Access to safely accommodate drivers without any grandstanding whatsoever.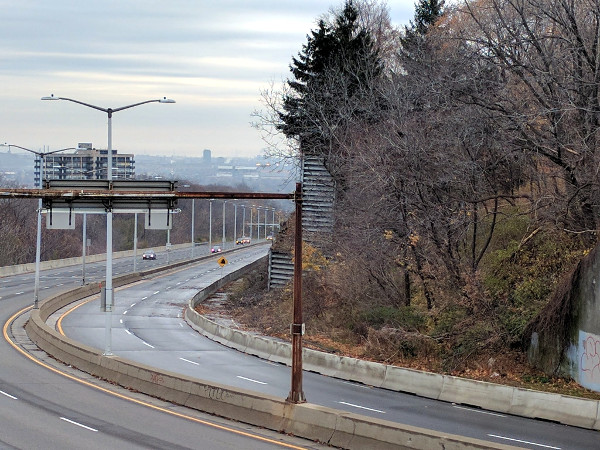 Council didn't have to debate whether to protect drivers on the Claremont Access
The total annual cycling budget is less than one percent of the total roadway budget, but bike infrastructure projects consume a vastly disproportionate amount of Council's time and energy.
Enough with the double standard. Council approves hugely expensive roadway projects without so much as a peep while every cycling project turns into a huge pitched battle with self-styled champions of the status quo framing it as some kind of culture war provocation instead of just responsible policy.
It's the same old divisive, us-vs-them wedge politics that continues to pit this city against itself, stoke Trumpian anger and resentment, and waste huge amounts of energy that we could otherwise direct into building a stronger, more inclusive city for everyone - including the majority of people who consistently say they want to bike more but are afraid to ride unprotected in mixed traffic.
After all, what prompted Council to look at expediting the Claremont Cycle Track in the first place was the death, one year ago, of a west Mountain resident who was struck and killed by a motorist while riding his bike home from his job as a school teacher.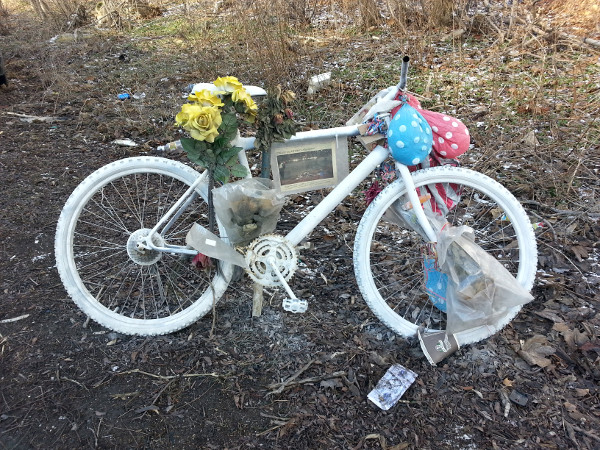 'Ghost bike' memorial for Jay Keddy (RTH file photo)
Post a Comment
You must be logged in to comment.