West Harbour GO Schedule Change Will Hurt Ridership
Service levels matter, and so long as GO Transit insists on running only two poorly-timed trains a day to/from the station on inconvenient schedules, we are bound to see more images of a barren station.
By Michael Borrelli
Published June 24, 2016
Dispatches from a commuter's diary, day 1,864:
Like any long-term relationship that has lost its intimacy, it's easy for commuters to fall into a love/hate bond with GO Transit. In my case, after a decade of begrudging virtually every minute I spent on the train, GO Transit and I finally found a happy rut last year with the opening of the new West Harbour station.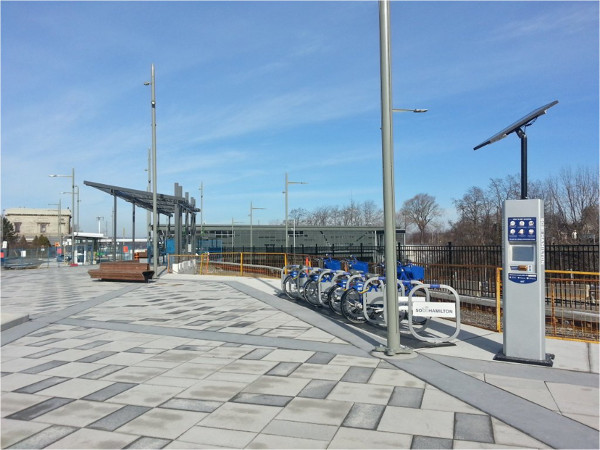 West Harbour GO Station (RTH file photo)
West Harbour GO is a convenient little station in my neck of the woods on James Street North. A longstanding (and long-delayed) promise to build a station there was one of the reasons my partner and I moved into the Beasley neighbourhood in 2006, and why my family stayed nearby when we moved to the North End in 2014. The station opened to some fanfare, just in time for the 2015 Pan Am Games.
But after a year of lulling us into West Harbour's sweet embrace, and right on the heels of the Province's announcement of new stations to increase service for Toronto riders, GO Transit is now pouring cold water on West Harbour commuters with a series of curse-inducing schedule changes that may seriously impact ridership at the lonely new station.
Credit to Stevan Garic, who turned GO Transit's unwieldy schedule update announcement into something riders could actually understand.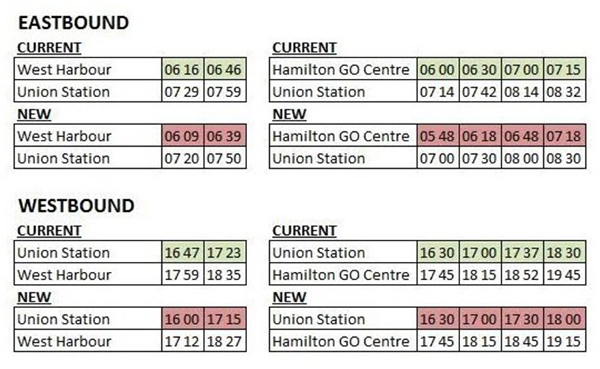 New GO Transit schedule for West Harbour (Image Credit: Stevan Garic)
Starting next week, the only two weekday outgoing trips from West Harbour are moved up to 6:09 AM and 6:39 AM. For the seasoned commuter, the seven minutes shaved off the old schedule will mean some bleary-eyed mornings, but being forced onto an earlier train is as familiar to a Hamilton GO rider as shouldering the ubiquitous fare increases.
The real pain starts when looking at the options coming home from the Big Smoke. The glorious 4:47 PM train that got us beleaguered souls back to Hamilton just inside of 6:00 PM is gone. We should cheer this, say the Bombardier-employed "Customer Service Ambassadors", because GO "listened" to us by not cancelling the 4:30 PM train to Hunter Street.
Small victories, I guess.
A crazy-early and unfathomable 4:00 PM express train serving West Harbour was added, though, and the two students who can ride it are surely happy. While I'd love to have the same level of work-day flexibility enjoyed by the Metrolinx planners, virtually every other commuter I know has to stick around the office until at least 4:00 PM, making that trip particularly unhelpful.
Thankfully, this time GO schedules have been aligned with HSR's summer changes so that, even though both West Harbour trains are long-gone before the #20 A-Line Express begins service, the #4 Bayfront now serves the North End as a reasonably-timed feeder route to the station, and the #2 Barton continues to offer ten-minute service from the east and south.
West Harbour's commuters are a small but growing group representing just a small piece of the GTHA's regional transit ridership: in April, CHCH reported that only 33 people using the two early-morning trains. Just this week, CHCH returned and reported from West Harbour at rush-hour, offering viewers images of an empty courtyard in front of the station.
Though my personal counts suggest a higher ridership on the return trains in the afternoon, especially on the 4:47 PM train, it's hard to make a case that the West Harbour station has been a prudent and useful investment of $58 million, or that it's even modestly improving regional transit.
When the station opened last year, it presented an opportunity for the North End, Central and Beasley neighbourhoods to become bedroom communities for Toronto-bound workers. And indeed, large price-increases for nearby homes suggest that the area is becoming a haven for refugees from Toronto's hot housing market.
But service levels matter, and so long as GO Transit insists on running only two poorly-timed trains a day to/from the station, on schedules that bear no resemblance to a rider's actual workday, we are bound to see more images of a barren station.
It's bad enough that all-day GO service appears to be way off on the horizon, but after only a year, the existing service to West Harbour has been signficantly weakened.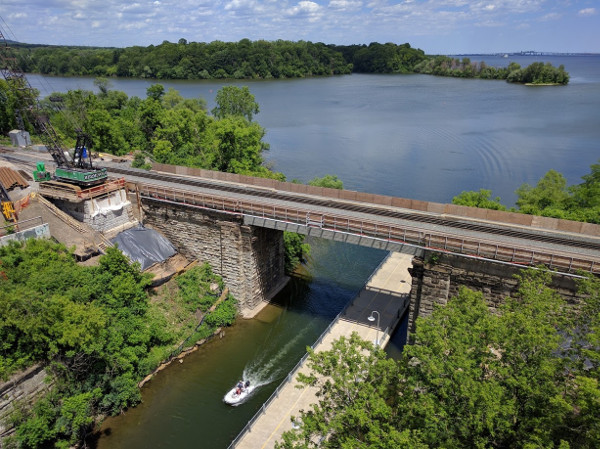 Construction work on new track across Desjardins Canal (RTH file photo)
Like many West Harbour commuters I've spoken to since the changes were announced, my commute will soon be 15-20 minutes longer. Due to the disappearance of a well-used rush-hour train, it is almost certain that many current West Harbour commuters will be piling onto the very-crowded 4:30 or 5:00 PM trains to Hunter St. station, and then using Hamilton Bike Share and/or HSR to get home.
Hopefully Metrolinx is monitoring the effects of these inconvenient schedule changes, as they seriously put a dent in the vision of a well-integrated community transportation hub. Hamilton deserves better than this step backward on service. Because, I want to love you again, West Harbour Station, I really do. But you're making it awfully hard.
Post a Comment
You must be logged in to comment.