Premier: 'I Honestly Thought That the Conversation Was Done'
A flustered Premier Kathleen Wynne was "surprised" to learn that suddenly Hamilton City Council is not sure whether it wants the LRT funding it spent the past eight years requesting.
By Ryan McGreal
Published May 26, 2016
CBC Hamilton reports that Ontario Premier Kathleen Wynne was asked about Hamilton's recent light rail transit (LRT) controversy at an unrelated May 24 press conference. A flustered Premier Wynne replied, "I honestly thought that the conversation was done. I was very surprised when I heard that it was being revisited. So my hope would be that they'll be able to go through this process and we'll have a final answer sooner rather than later."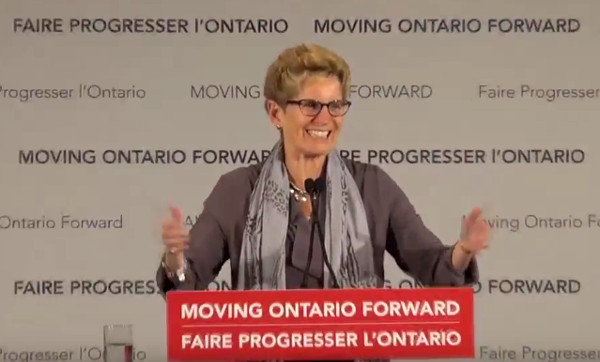 Video still: Premier Wynne announcing full capital funding for LRT and GO expansion on May 26, 2015 (Image Credit: The Public Record)
Wynne said, "We've been having this conversation since 2010" when she was the Minister of Tranportation, and "the conversation was whether it's going to be BRT or whether it's going to be LRT." She added, "I thought that it had landed on LRT and that that's what was going to be built."
BRT, or bus rapid transit, is a rapid transit system similar to LRT but using articulated buses running on dedicated lanes instead of electric trams.
The City's Rapid Transit Feasibility Study recommended LRT over BRT because it has a higher maximum capacity, lower per-passenger operating cost and a bigger potential for economic uplift. The Metrolinx Benefits Case Analysis came to the same conclusion, finding that LRT has the biggest overall benefit.
Today, the Premier said, "There's a new kind of spirit in Hamilton in terms of their new economy. I think building transit is part of that so I would just like to get on with that and I hope we'll get a decision soon."
She added, "It's never been LRT or nothing. I really want to hear what Council's decision is and I hope we can put this to bed."
Doubtless, some people will interpret this to mean we can go back and revisit the case for building BRT instead of LRT, but it's vitally important to understan how this would work.
Billion Dollars Not Transferable
If Hamilton turns down the fully-funded LRT plan, which Metrolinx and the Province have already approved, the billion dollars is not set aside for us to use on something else. Instead, the money is released back into the GTHA transit fund to be used on the next project in the priority list.
The City would then have to develop a new transit proposal and submit it to Metrolinx for consideration. It would start out behind other already-approved projects and have no dedicated funding.
Given the $15 billion total budget of the GTHA transit fund and the number of projects already waiting for approval, the timeline for implementation would be pushed back years instead of being confirmed for contract signing in 2018 and construction starting in 2019.
With a Provincial election in 2018, it is an open question what the budget and priority criteria for transit projects in the GTHA will be by the time the Province gets around to considering Hamilton's transit funding request again.
So have no doubt: the recent talk about reconsidering BRT is not a serious transit proposal. It is nothing more than an attempt to confuse the issue, misinform uncertain residents and undermine the project altogether.
If we turn down the LRT money that has already been confirmed for us, the most likely result is that we will end up with nothing at all. Even if we do end up with something, it will be years farther down the road.
And of course, a BRT system would be more expensive to operate, have a lower overall capacity and produce a smaller economic uplift than LRT. Talk about a lose-lose situation!
---
Please take a few moments to tell Council to take YES for an answer, reaffirm its support for LRT and accept the full capital funding from the Province that Council has consistently voted for since 2008.
Post a Comment
You must be logged in to comment.