Hamilton is Not a Bedroom Community
Nearly 70 percent of Hamiltonians work in Hamilton, and another 38,000 people commute into the city.
By Ryan McGreal
Published May 25, 2016
The marbling of contempt and self-loathing that runs through civic discourse in Hamilton has many veins, and one of them is the perception that Hamilton is just a bedroom community that should not aspire to being more than a place for Toronto workers priced out of the big smoke to hang their hats at night.
That perception favours certain policy strategies over others - for example, prioritizing highways and regional express rail over local transit and integrated rapid transit.
The problem is that the perception is quite wrong. Hamilton is not just a distant suburb of Toronto - in fact, only a tiny proportion of Hamilton workers commute that far. According to an analysis [PDF] by research and planning consultancy Civicplan, nearly 70 percent of the city's 201,000 commuters work in Hamilton itself.
When you rank the commuting destinations for workers from Hamilton, it becomes clear that Hamilton is far from being a bedroom community. Here is a chart of the top 20 commuting destinations from Hamilton, using the data in Table 1 of the Civicplan report: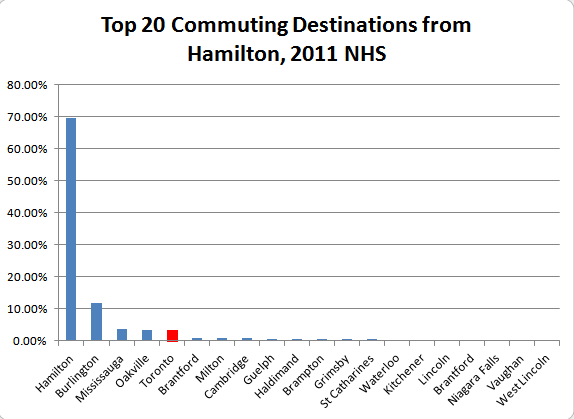 Chart: Top 20 Commuting Destinations from Hamilton (Data Source: Statistics Canada)
Toronto is in distant fifth place as a destination for Hamilton workers.
If you exclude Hamilton workers who commute to jobs in Hamilton, the distribution of outbound commuters becomes even more clear: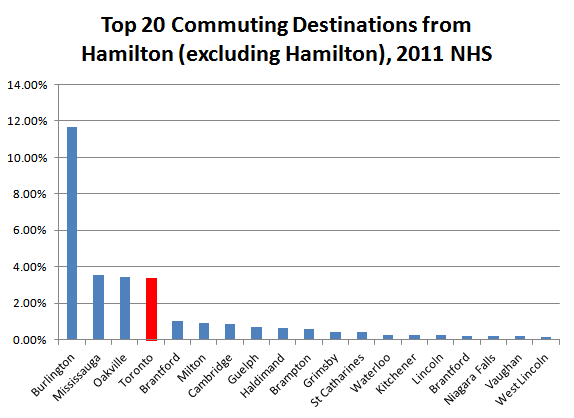 Chart: Top 20 Commuting Destinations from Hamilton, Excluding Hamilton (Data Source: Statistics Canada)
Among Hamiltonians who leave the city to work, the biggest share - almost 12 percent of all Hamilton commuters and 38 percent of commuters who leave the city - travel to Burlington. The percentages who commute to Mississauga, Oakville and Toronto are comparatively tiny - each city receives on the order of 3.5 percent of all Hamilton commuters and 11 percent of commuters who leave the city.
The percentage of commuters who travel to Mississauga and Toronto has increased a bit since the 2006 census, but otherwise the distribution of commuting destinations has remained quite stable over the past three census periods.
When we compare Hamilton's rate of intra-commuting - the rate of Hamilton workers commuting to jobs inside Hamilton - again we see Hamilton compares favourably to other cities that have been described as "bedroom communities".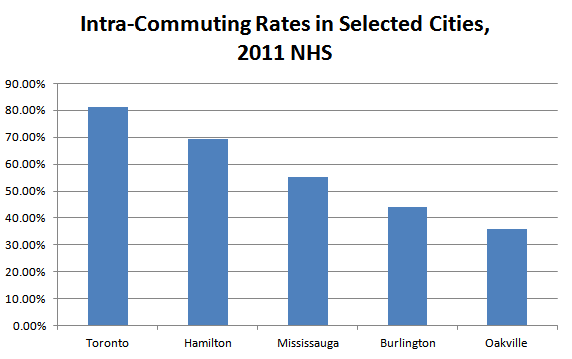 Intra-commuting rates in Toronto, Hamilton, Mississauga, Burlington and Oakville (Data source: Statistics Canada)
Toronto has the highest rate of intra-commuting, with 81.13 percent of Toronto commuters travelling to jobs in Toronto, but Hamilton fares well with an intra-commuting rate of 69.43 percent, compared to 55.11 percent in Mississauga, 44.06 percent in Burlington and 35.82 percent in Oakville.
Finally, we note that 38,340 people commute into Hamilton from other municipalities, primarily Burlington (7,755), Haldimand (5,070), Grimsby (3,160) and Brantford (2,960).
Hamilton is a smaller city than Toronto, but it is a city and the centre of its own metropolitan area, as well as a part of the Greater Toronto and Hamilton Area.
It is time we embrace the fact that Hamilton is a city, a destination for commuters, and an urban economic engine with the potential to be a significant job creator for both Hamiltonians and inbound commuters.
After all, the all-day GO service to which the Province has committed is all-day, two-way GO train service. Instead of just planning for vertical sprawl for GTA commuters getting off the train at night, we need to get serious about planning for new businesses and employment opportunities for GTA commuters getting off the train in the morning to get to work.
Toward this end, we should note that the downtown core is the city's single biggest employment centre, with 25,000 jobs and growing steadily. Instead of betting the farm (literally) on residential building and some low-value employment in logistics and warehousing, Hamilton needs to focus on leveraging our essential urban economies to generate economic growth and development in a way that actually increases the city's long-term financial sustainability.
Related:
Post a Comment
You must be logged in to comment.