New Hamilton Light Rail Engagement Campaign
Now, more than ever, citizens need to demonstrate the vision, courage and leadership to look past the politicking, hand-wringing and fear-mongering and see this once-in-a-generation opportunity for what it is.
By Ryan McGreal
Published May 16, 2016
Hamilton Light Rail has relaunched with a new engagement campaign we never thought we'd have to undertake: to make sure Hamilton City Council takes yes for an answer.
A year after the Province committed 100 percent full capital funding for the LRT system Council had repeated requested, now a disruptive faction of Councillors is seriously considering saying No, thanks and walking away from a billion dollars in rapid transit investment.
Last week, Ward 4 Councillor Sam Merulla introduced a motion to reaffirm Council's support for Provincial LRT funding, which Council had formally requested in two votes in 2013 and another vote in 2014.
Since the funding announcement last May, Council has also voted to establish an LRT Office, convene an LRT Sub-Committee, receive multiple reports from that Sub-Committee and sign a Memorandum Of Agreement (MOA) [PDF] with Metrolinx to complete a Class Environmental Assessment (EA) Amendment for the LRT route.
It was widely assumed that the vote to reaffirm - yet again - Council's support for LRT would be a shoo-in. But instead of approving the motion, a 9-6 majority of Councillors jumped on a snap deferral motion to put off a vote until this Wednesday's General Issues Committee (GIC) meeting.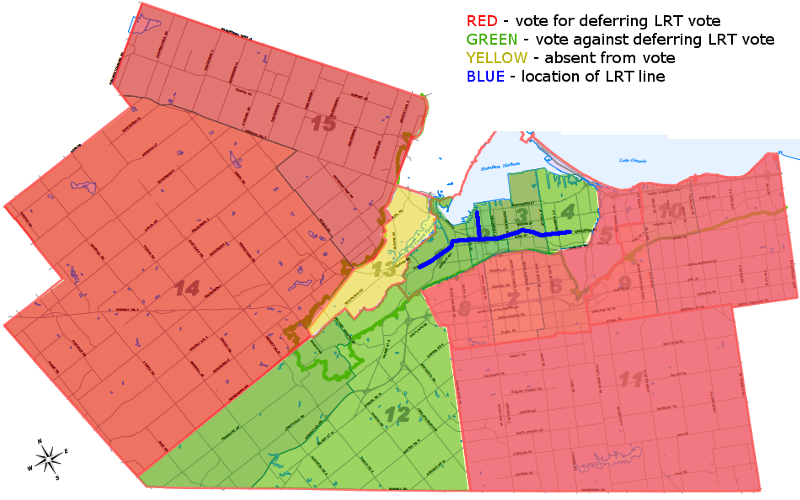 Map: votes for or against the LRT Deferral motion by ward
The justification for this deferral was that the May 18 GIC will also receive the latest report from the LRT Sub-Committee, which includes the preliminary LRT alignment, which was publicly released in late April.
A nasty swirl of opposition to the LRT plan has been building for the past week, with Ward 5 Councillor Chad Collins saying he opposes the plan and several others publicly wondering if they should should continue to support it.
Collins has mused that Hamilton could use the money on general transit funding or roads instead, but the Province has already shut that down by making it clear that the billion dollars can only be used for LRT.
"Investments under the Moving Ontario Forward - Inside the GTHA fund are directed to rapid transit projects that will help improve mobility and manage congestion in the region," stated Bob Nichols, senior media liaison officer in an email.

He stated the province has "committed" $1 billion for the capital construction of Hamilton's LRT. The province and Metrolinx respects the "importance" of the city's decision to support transit improvements and will "work collaboratively" with Hamilton to "advance work on the project."
Collins and company already know this, but that has not stopped them from trying to mislead Hamiltonians in their efforts to derail this project.
To recap: the City of Hamilton spent five years developing an LRT plan, asked the Province for full capital funding, received full capital funding, established an LRT office and LRT sub-committee, and signed an agreement with the Province to collaborate on an LRT design and EA Amendment in order to implement the system.
It is incomprehensible to imagine that Council would today be in a position where it might turn around and say, "No, thanks" to a billion-dollar investment a year after the Province came through with the funding we requested!
Yet here we are.
Hamilton Light Rail was founded on the understanding that in a large, complex, transformative project like LRT, it is necessary for citizens to lead by engaging directly with municipal and provincial leaders to make the right decision.
Now, more than ever, citizens need to demonstrate the vision, courage and leadership to look past the politicking, hand-wringing and fear-mongering and see this once-in-a-generation opportunity for what it is.
Please take a few moments to send a message to Council and the Province affirming your support for LRT and calling on Council to do the same:
If Council loses its nerve and turns down a billion dollars in transformative rapid transit investment, the effects on Hamilton's future prospects for growth and revitalization will be absolutely devastating. We simply cannot afford to screw this up!
Post a Comment
You must be logged in to comment.