King William Closure an Opportunity to Make Easy Improvements
We have all these progressive visions and master plans in place but when it comes time to do the work at street level, none of it seems to matter.
By Sean Burak
Published April 18, 2016
For the past few weeks, King William Street has been closed to automobile traffic at James Street to allow for the construction of the new Templar Flats building on the north side of King William between James and Hughson.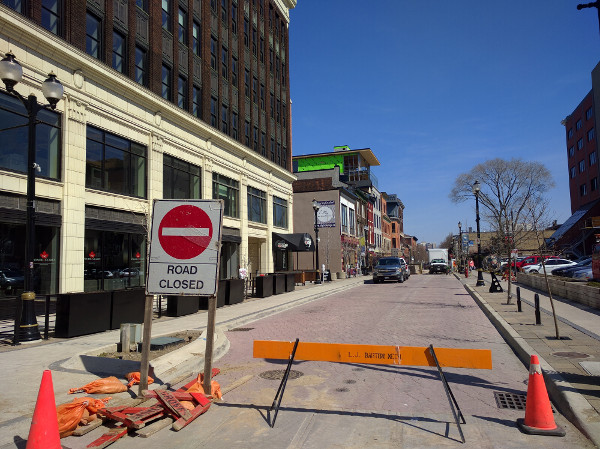 King William closed at James (RTH file photo)
Clearly this closure has had no detrimental impact on automobile traffic. The City should consider permanently closing this block to vehicle traffic and pedestrianizing it. Given that the City wants this to become a "restaurant district", having space to operate outdoor patios and encourage strolling will only help make it even more attractive.
To further support traffic calming and active transportation, the next block of King William, between Hughson and John, should get a westbound contraflow bike lane, and King William east of John to Mary Street should be converted to two-way traffic.
To accommodate eastbound vehicle traffic, the last block of Rebecca Street from John to James needs to be converted back to two-way as well. The section from Wellington to John was reverted to two-way in late 2014.
Currently, there is very little accommodation for westbound bicycle traffic through the north part of the downtown core, and this is an easy way to release a major bottleneck.
Minimal Changes
All of this can be done with minimal street changes. The traffic signals at John would need to be updated, and the intersection at Catharine could be switched to a four-way stop if a traffic signal upgrade is too expensive.
According to Ward 2 Councillor Jason Farr, he has only heard from one business owner on King William about the closure. To mitigate any inconvenience to local businesses, the block could still allow local deliveries and pick-ups, similar to the south leg of King at Gore Park.
And for customers who drive, there will still be a parking lot right at the southeast corner of James and King William.
Another way to alleviate parking concerns is to reclaim the curbside space on the next block, which is currently reserved for fire emergency vehicles but almost never used, and even then only by administrative vehicles.
The good news on this front is that it sounds like this issue is going to be resolved. According to Councillor Farr, "We solved the Fire Department issue last week. They'll all be gone soon."
Missed Opportunities
The big question is: how do we make this happen? Is there anything we can do during the current closure on King William to study the traffic impacts? This is a great opportunity and I think the data will show that there would be no negative impacts.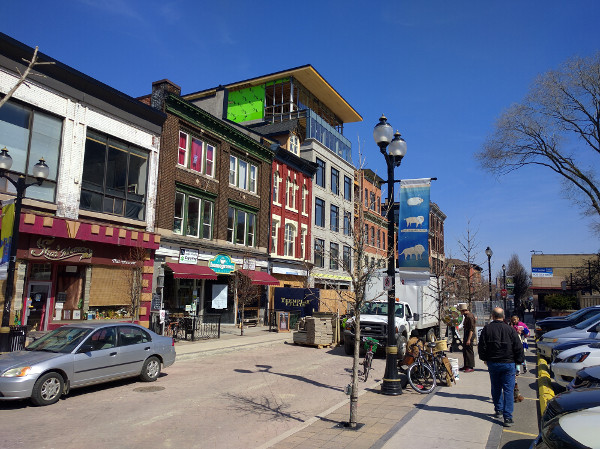 Pedestrians on King William during road closure (RTH file photo)
The road closure is scheduled to end on April 24, one week from today. I worry that we may have already missed the opportunity to take full advantage of the closure.
Already a concrete bumpout has been re-poured, making it more difficult to install a westbound contraflow bike lane. From my perspective, it feels like these opportunities were never even considered when planning this work. It is extremely frustrating to see us dig up the road only to replace the status quo without question.
It really seems like there is simply no process available to do any progressive thinking or design. If I'm approaching this the wrong way, I have no idea what I should do differently as a Hamilton citizen and nearby business owner.
Our councillor is supportive of exploring options, yet City staff remain silent and there is no process for providing input. Is it a management issue? A policy issue? We have all these progressive visions and master plans in place but when it comes time to do the work at street level, none of it seems to matter.
The cost to make the changes to King William are completely marginal in relation to the roads budget, and doing this the right way will actually save money in the long run if the service life of the pedestrianized Street is lengthened.
Is there nobody at City Hall who has the desire, the resources or the authority to consider these kinds of opportunities?
Related:
Post a Comment
You must be logged in to comment.