James North Road Reconstruction a Missed Opportunity to Add Bike Lanes
Every time we reconstruct a road, we need to challenge the unspoken assumption that the default status-quo allocation of scarce right-of-way is the best way to use that public space.
By Ryan McGreal
Published January 09, 2015
The City recently re-opened James Street North between Barton Street and Strachan Street after a road reconstruction. Workers replaced the watermains, rebuilt the roadbed and replaced the road surface and sidewalks.
This road reconstruction went right past the site of the new James Street North GO Station, which is the epicentre of the new James North Mobility Hub, a planned node for new transit-oriented development around the station.
According to the City's Draft James Street North Mobility Hub Study [PDF], "Mobility Hubs are places where multiple rapid transit lines will intersect, where various transportation modes are integrated, and where mixed-use intensification is encouraged."
What an exciting opportunity with the James North road reconstruction to build new dedicated cycling facilities so people can use active transportation to get to the GO station!
The Mobility Hub study notes that the GO station will include "pedestrian and bicycle pathways", and the language is full of impressive-sounding talk about "multi-modal transportation impact assessments" and "facilitat[ing] seamless integration between all modes of transportation."
The report cites the need for "more bike lanes to create an established network" and "a bike lane directly to the new James Street North station".
No Bike Lanes on James
But this is Hamilton. So instead of incorporating bike lanes into the new street design on James North, we get a dedicated right-turn lane into LIUNA Station, the banquet hall across the street from the new GO station.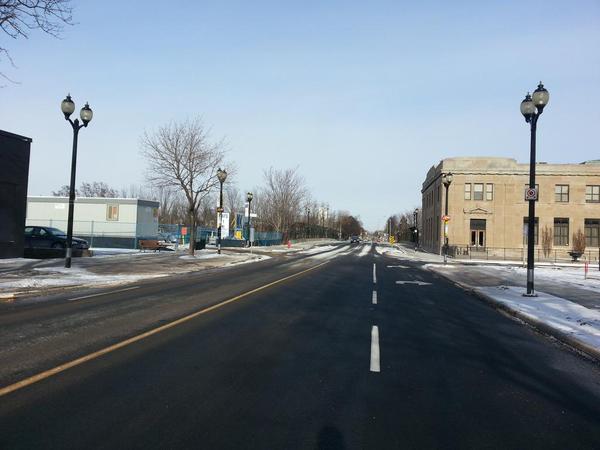 Right-turn lane into LIUNA Station
Just a bit farther up, across the bridge over the CN train tracks, James North is four lanes wide, with plenty of room for a dedicated cycle track.
Instead, the City poured asphalt for all four lanes and then literally crossed off the two outside lanes instead of dedicating even some of that space for bike lanes or wider sidewalks or any actual use at all.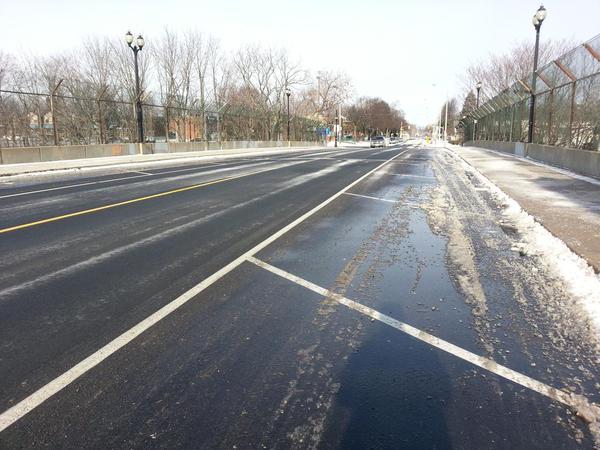 New asphalt poured and crossed off on the James North bridge
I can't think of a more apt metaphor for Hamilton's tendency to phone in the status quo when reconstructing streets: they would rather have a road surface that does nothing at all than use that right-of-way for anything else.
But maybe the new street was designed before the City knew there would be a GO station. After all, the Province only confirmed that it was starting work on the GO station back in 2011, after years of negotiating with the City over the rollout details.
Another Missed Opportunity
Just a couple of blocks away, the Bay Street bridge reconstruction over the CN train tracks ended up with bike lanes across it - albeit bike lanes that only run for considerably less than 100 metres.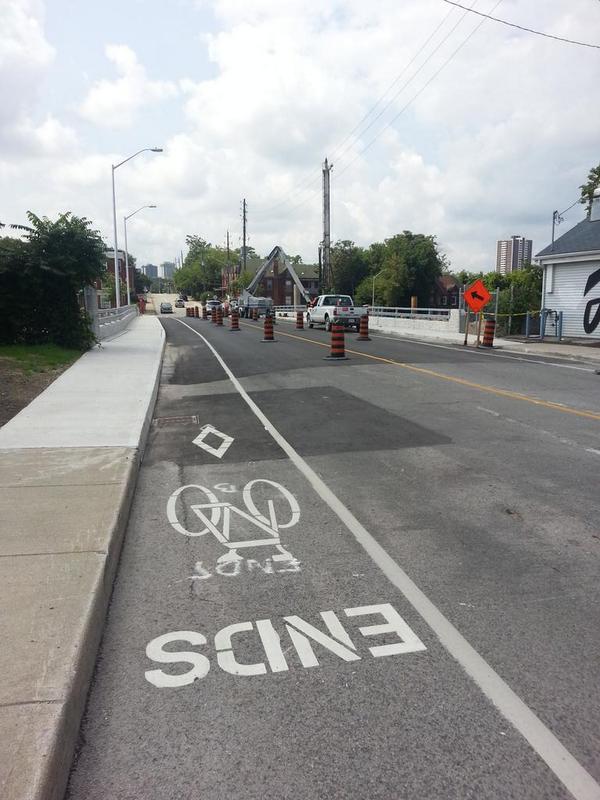 Short bike lanes on Bay across CN bridge (RTH file photo)
But at least it's something - a stake in the ground, so to speak. It becomes possible to extend the bike lanes further to connect north with the planned multi-use path on Strachan and the Waterfront Trail, and south to connect with the Cannon Street Cycle Track.
We no longer have that option on James. It's still technically possible to convert the hashed-out swaths of James North into bike lanes, but with the concrete sidewalks already poured south of the bridge, it will be very difficult to extend those bike lanes to the GO station itself.
Now, doubtless some people will object that it's still possible to add bike lanes to the GO station via an alternate street, like MacNab or Bay. However, that will only be of use to cyclists coming from that direction.
In the same manner that one-way streets are bad for cycling because they force people to overshoot-and-backtrack (it's bad enough to do it in a car, and especially frustrating to do it on a self-powered vehicle), it's bad for cycling to the GO station when cyclists can't approach it directly from the east.
We need to do better. Every time we reconstruct a road, we need to challenge the unspoken assumption that the default status-quo allocation of scarce right-of-way is the best way to use that public space.
We literally can't afford to keep screwing this stuff up: our $200 million infrastructure deficit is a direct consequence of a legacy of building streets around the self-fulfilling assumption that most people will drive for most trips.
Every person who decides to ride a bike to the GO station instead of driving means less traffic congestion on the street and one fewer parking spot, not to mention less noise, less air pollution, lower risk of collision, less wear-and-tear on the road itself, and improved public health.
By making the GO station less accessible by bike from the direction of James Street, which will likely be the source of a significant share of traffic to the station, we end up forcing more people to drive.
As Jason Leach keeps reminding us, we get the city we plan for.
Post a Comment
You must be logged in to comment.