Ideas for Connecting Top of Claremont Cycle Track
There should be multiple points of entry/exit to the Claremont cycling facility, especially given how badly the Claremont Access has fragmented the upper city neighbourhood where it originates.
By Ryan McGreal
Published January 27, 2016
Last week, I posted some ideas for connecting the planned Claremont Cycle Track at the bottom of the access. Here are some ideas for the other end of the cycle track at the top of the escarpment.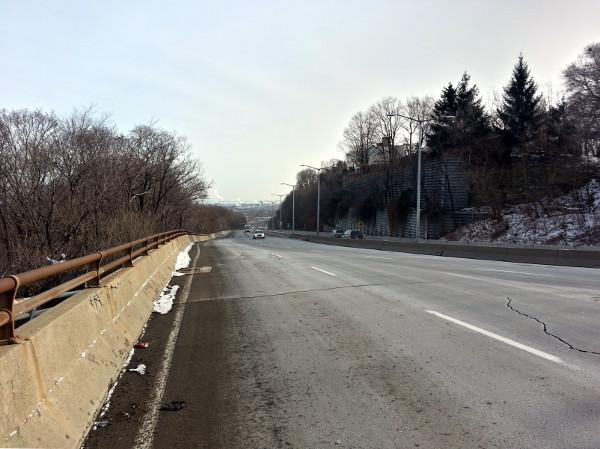 Looking down the Claremont Access
It is incredibly frustrating that City staff have said they can't accelerate the two-year completion timeline for this project due to lack of resources, but also that adding resources would not speed the project up. It's particularly galling when we learn that money from the City's Red Light Camera fund is being diverted away from road safety improvements to fix the courthouse.
I hope Council will consider hiring an outside transportation consultant to design the project as they did with the Cannon Cycle Track, given that we do not seem to have the ability in-house to complete this badly-needed cycling connection in a timely fashion.
In the meantime, I have proposed some considerations for connecting the top of the access. As with the bottom, I recommend multiple points of entry and exit to the Claremont, especially given the scale of the access and the way it has distorted the local environment at its endpoints.
Macro-Destinations vs. Micro-Destinations
Before I get started on the map, I wanted to share a note about how I approached this exercise.
I've written in the past about the difference between macro-destinations and micro-destinations and the types of networks that serve them. Fast networks have few access points and serve macro-destinations, whereas slow networks, like local streets, have lots of access points and serve micro-destinations.
A bicycle route works best when it supports lots of short, local trips to nearby micro-destinations instead of being designed with a highway mentality. Rather than herding everyone along a single controlled path with few access points, it's better to make the network more of a mesh that allows as much free movement as possible.
You really notice this local riding behaviour if you observe the Cannon Cycle Track for a while: you'll see people jump on the cycle track, ride for a block or two or three and then turn off, heading to a nearby micro-destination.
Cannon may be a highway for most of the people driving on it, but it's a local street for most of the people living on and around it.
People moving under their own power are especially sensitive to anything that feels like an arbitrary barrier or detour, and a walking or cycling network that does not allow them to go directly where they are headed will inevitably cause frustration and disobedience.
In the photos that follow, you will notice many desire paths - paths that have been worn into the earth through the actions of many people walking in a way that makes sense to them in an environment that was not designed for them.
Wherever we observe desire paths, we are observing an opportunity to acknowledge and support an active walking/cycling route that people are already using.
Top of Claremont Access
Following is an annotated map of the top of the Claremont Access with various numbered points. I will explain each numbered point in turn.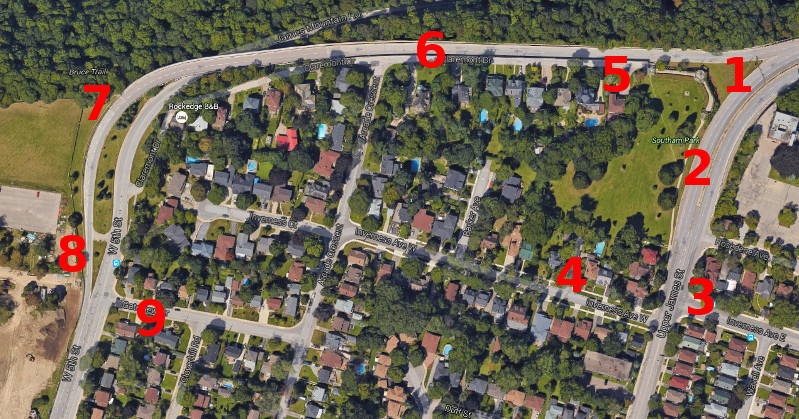 Claremont Access top: multiple considerations (Image Credit: Google Maps)
I assume that the right upbound lane of the Claremont is going to be converted into a physically protected cycle track.
1) Southam Park
The upbound Claremont Access is three lanes wide, divided from the downbound lanes by a concrete barrier, expressway style. That is already wider than it needs to be, as evidenced by the fact that one of the three downbound lanes was closed after a rock slide years ago and has had zero impact on traffic.
Partway up, the upbound route expands to a fourth lane on the right side (presumably for any cars that might drop out of the sky above the access). Then, at Southam Park, the second-to-right lane splits in two, with two lanes continuing right to join West 5th and the other three lanes bending left to join Upper James.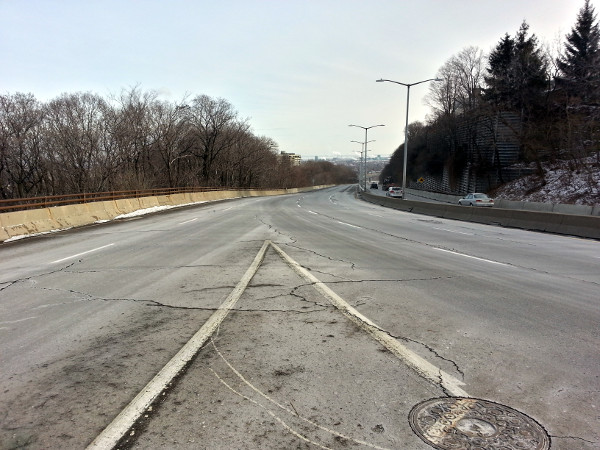 Upbound Claremont expands to five lanes and splits at Southam Park
Yes, you read that right: the upbound Claremont starts out three lanes wide and expands to five lanes wide before it connects with any other streets. For the purposes of a cycle track, this gives us some road space to work with.
Meanwhile, the overbuilt design leaves us with a wedge of grass that must be maintained but cannot generate any revenue for the city or serve any reasonable local community use. It's pure waste.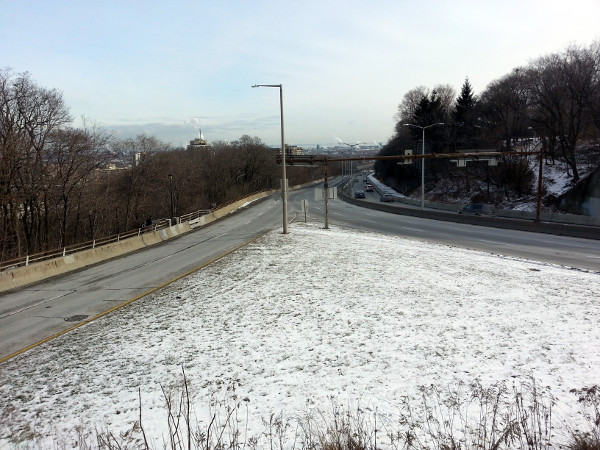 Useless wedge of grass at Southam Park
There is currently a walking route on the northwest end of the Claremont near Southam Park, which connects with the the top of the John Mountain Road trail, as well as the top of the James Street Stairs.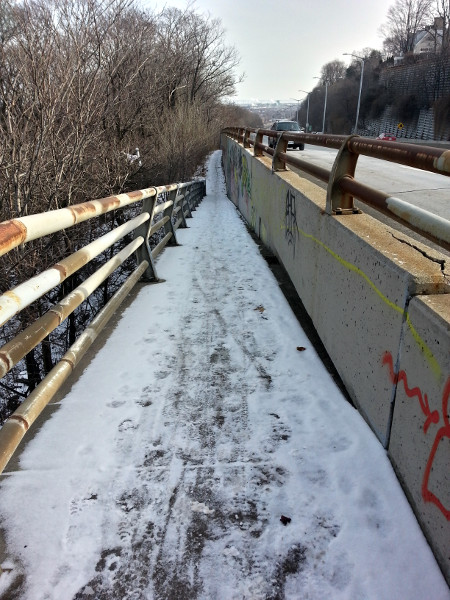 Looking down the top of the John Mountain Road trail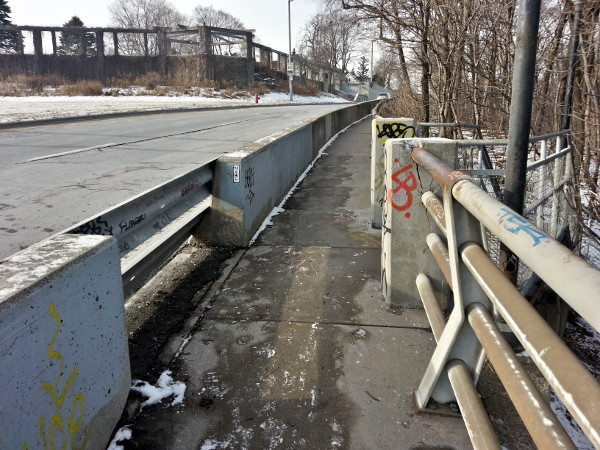 Top of the James Street Stairs
The James Street Stairs are not currently bike-friendly - they are narrow and there is no bike gutter - but in time this may be rectified, and in the meantime this is actually a heavily-used route. Every time I take these stairs I encounter other people on them, and unlike some of the other stairs which are popular for workouts, the people I see here generally look like people just using the stairs to get somewhere.
In the photo above, notice that the gap in the concrete jersey barrier protecting the sidewalk has been blocked off with guard rails. You have to walk farther west along the sidewalk before reaching an open section that connects across the two Claremont west lanes to a short staircase that leads into Southam Park.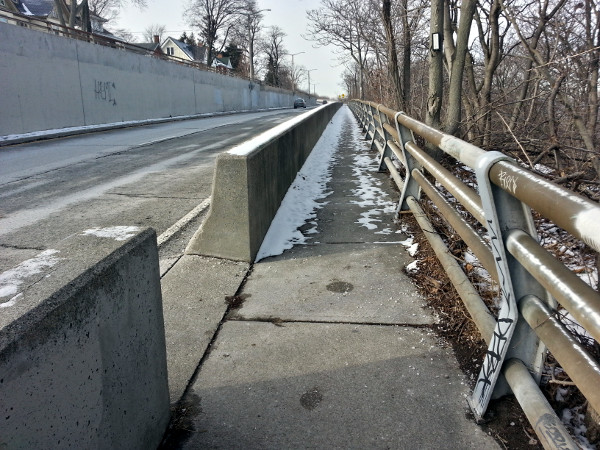 Opening in jersey barrier leading to stairs into Southam Park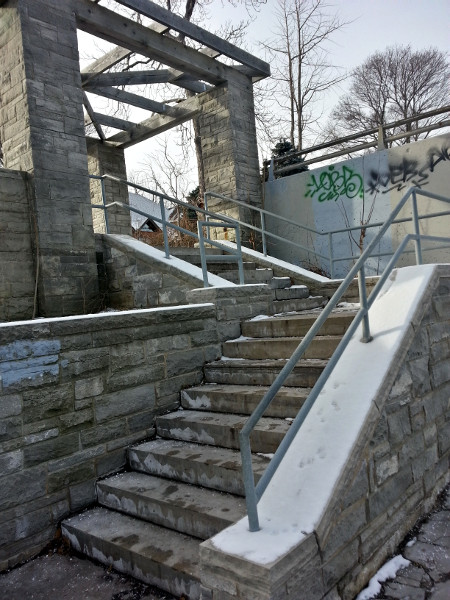 Stairs into Southam Park
One of the most important things we can do is improve this connection between Southam Park, the James Stairs, John Mountain Road trail and the Claremont Cycle Track.
There are a number of ways to do this, but one option is to make better use of that useless wedge of grass by taking off the guard rail next to the top of the James Stairs and adding a pedestrian-activated crosswalk where upbound traffic heading toward West 5th can easily see a red traffic signal.
This would simply normalize the pedestrian use that is already being made on that wedge by people who are heading straight or east at the top and don't want to walk farther west and go up a set of stairs to do it.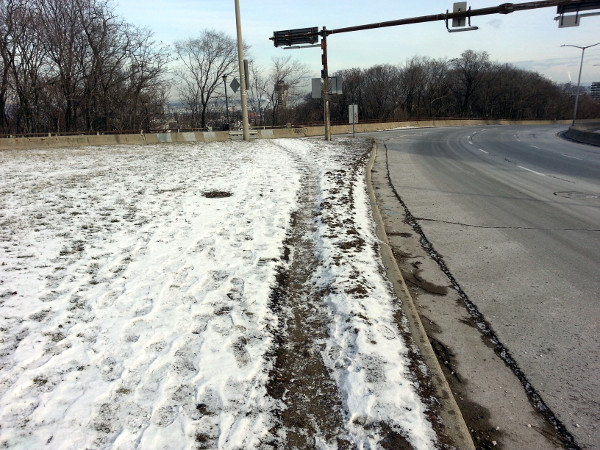 Desire path on grass wedge at Southam Park
A walkway starting at the wedge can connect to the stairs leading up into Southam Park, and the stairs should be fitted with a bike gutter.
2) Southam Park and Connection to Upper James
Southam Park is quite lovely, incorporating the ruins of the 1850 Mountain View Hotel in a nice grassy, tree-shaded oasis from the hypertrophic infrastructure that rings it on two sides.
Unfortunately, due to the oppressing presence of that very infrastructure it is rarely used for anything other than as a pass-through for people walking or cycling up and down the mountain.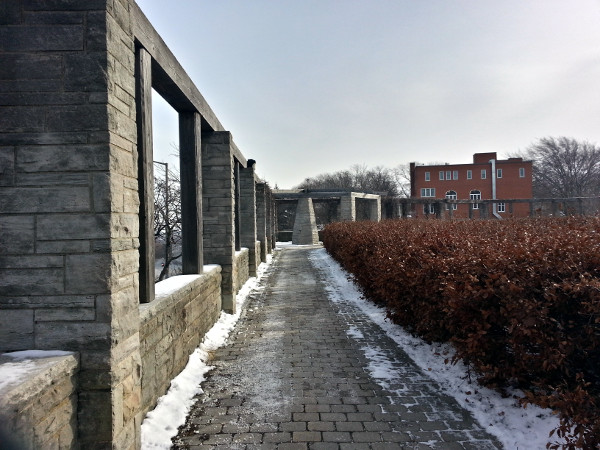 Ruins of the Mountain View Hotel
You can see the desire path that runs diagonally across Southam Park between the top of the stairs at the ruins and the sidewalk of Upper James near Rosedene Avenue.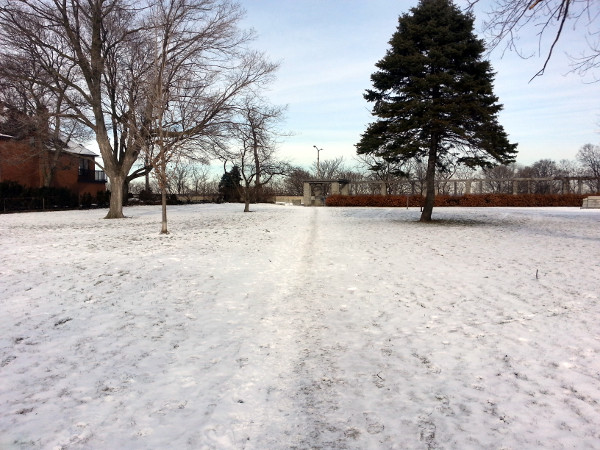 Desire Path across Southam Park
Here's how it looks in the spring, from a photo taken last May: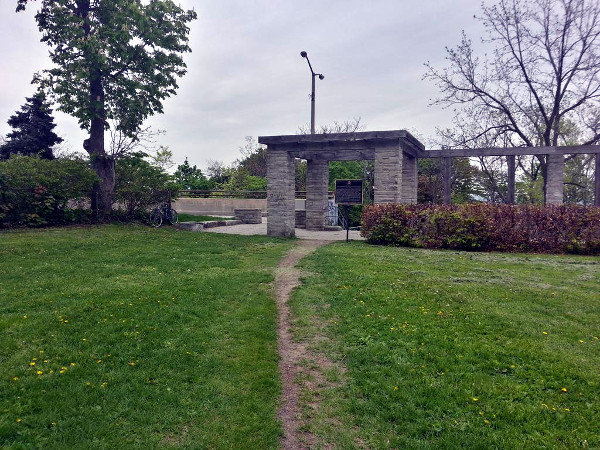 Desire Path across Southam Park, May 2015 (RTH file photo)
An easy way to make Southam Park more useful to its residents is to calm and buffer the highway-style traffic around it. The good news is that the Cycle Track will help with this.
In addition to the cycle track continuing in the right lane over to West 5th (see #6, below, for more on this), the cycle track should also continue left (south) to join Upper James.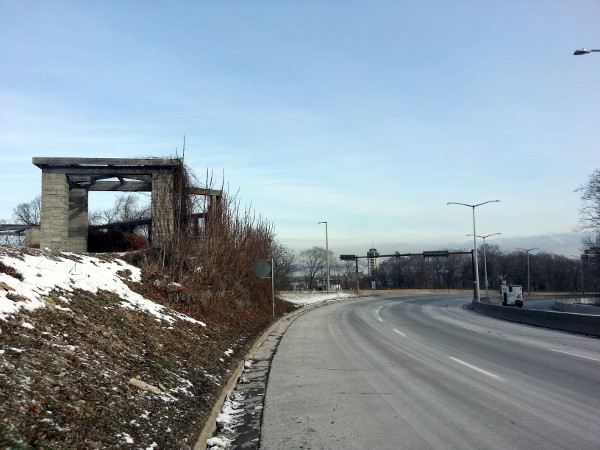 Right lane to the left of Southam Park
The same signalized intersection that protects pedestrians crossing the Claremont lane extending to West 5th can also protect cyclists who are proceeding south to Upper James instead of continuing west. Cars continuing west can stop to allow both pedestrians and cyclists to turn left and head south.
Here's the amazing thing: that right lane heading to Upper James is fully 4.9 metres (16 feet) wide. That's crazy! Two stunt drivers could share that lane side-by-side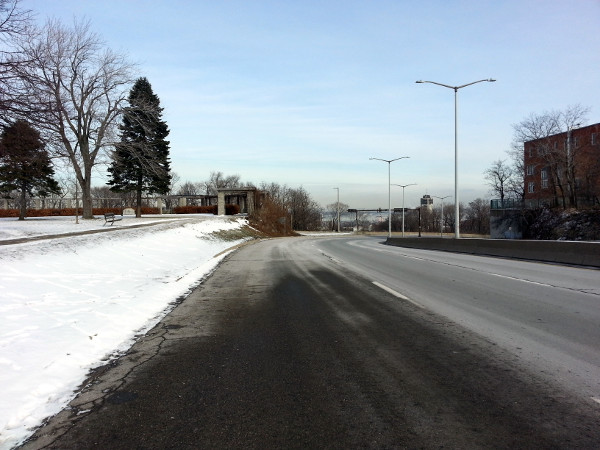 Really wide lane
That really wide lane ends across the street from Rosedene Avenue, which proceeds for two blocks east from Upper James. Around 60 metres south of Rosedene, Inverness Avenue East crosses Upper James.
The question is how to connect the length of road between the end of the extra lane at Rosedene and the intersection at Inverness.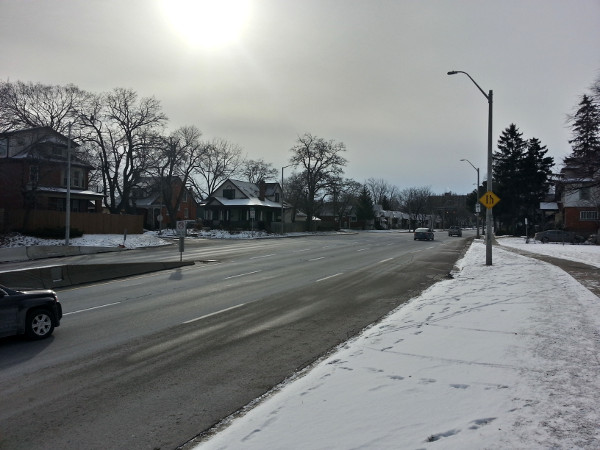 Right lane ends on upbound Claremont leading to Upper James
There are a few options for how to deal with this. To me the most obvious option is to squeeze the remaining five lanes (two upbound, two downbound and a centre turn lane) to make room for the protected cycle track to continue.
Upper James is over 20 metres (66 feet) wide at Inverness, even after the extra lane has disappeared. That means we have enough room for six 3.3 metre (11 foot) lanes: a protected cycle track, two upbound lanes, a centre turn lane and two downbound lanes.
Even 3.3 metre lanes are wider than they need to be, so this narrowing will have no impact on vehicle traffic flow. Frankly, I'd rather they reduce the other five lanes to 3 metres (10 feet) and leave 16 feet for the cycle track, if only to gain the benefit of a bit of traffic calming.
Or it might make sense to narrow the upbound lanes a bit more than the downbound lanes, in order to de-velocitize drivers emerging from the Claremont onto Upper James.
3) Inverness Avenue East
Inverness east of Upper James runs to Upper Wellington, which, in my fevered imagination, could evolve into a thriving local commercial district with some local leadership and reasonable traffic calming.
This stretch of Inverness is one lane in each direction but crazy-wide: 12 metres (40 feet), or wide enough for four arterial traffic lanes.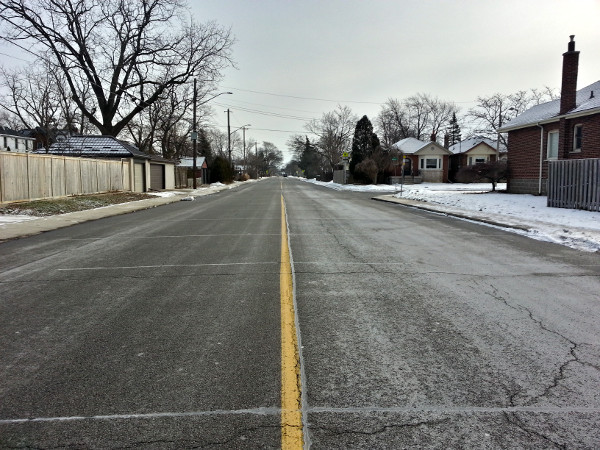 Inverness east of Upper James
There is absolutely no reason why Inverness east of Upper James can't be equipped with bike lanes to connect with the top of the Claremont Access for people heading toward the east end of the Central mountain.
With that kind of public right-of-way on Inverness, you can build a bollard-protected cycle track and still have leftover room for curbside parking on one side.
(Please don't try to argue that there is already a bike lane on the Jolley Cut: it is a narrow painted line that doesn't even start until partway up the access and has no downbound counterpart. The nicest thing you can say about it is that it's a form of Bike Lane Theatre.)
In addition, the City should consider installing traffic signals at Inverness with an advanced stop line - a bike box - for cyclists making left turns. This would also help make things easier for westbound buses on Inverness turning left onto Upper James.
4) Inverness Avenue West
West of Upper James, Inverness is much narrower: only 7.3 metres (24 feet). Realistically, there is no room for dedicated bike lanes along this stretch.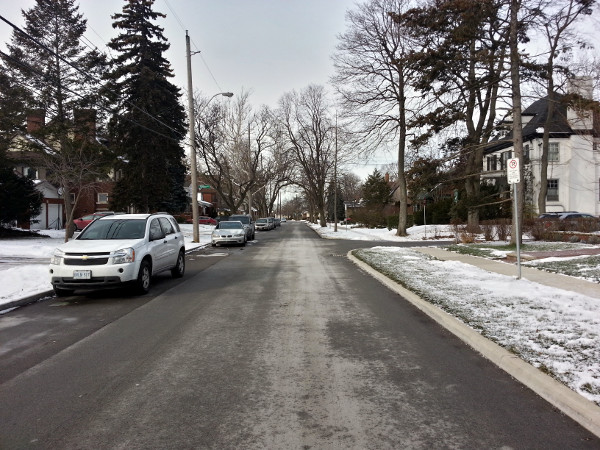 Inverness Avenue West of Upper James
I'm not sure what the rush-hour traffic is like, but I often walk it around lunchtime and there is no traffic at all, so it might make sense as a neighbourhood greenway - a low-volume residential street that allows automobile traffic but is optimized for walking and cycling.
Inverness also connects directly to Southam Park via Tanner Street, a very short laneway that runs between two houses and terminates in the park.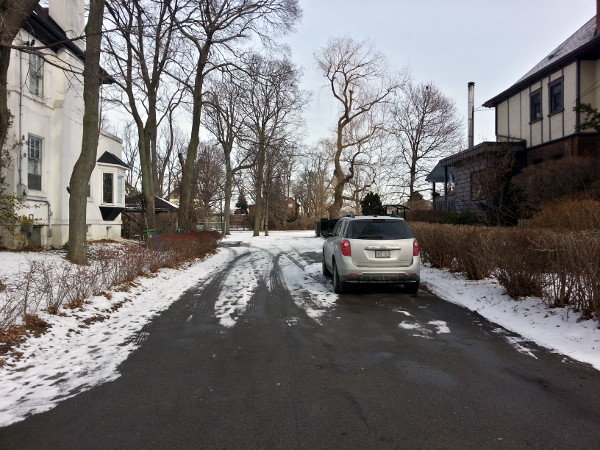 Tanner Street connecting Inverness to Southam Park
As usual, you can tell that this pathway is already being used by the desire path stamped into the snow: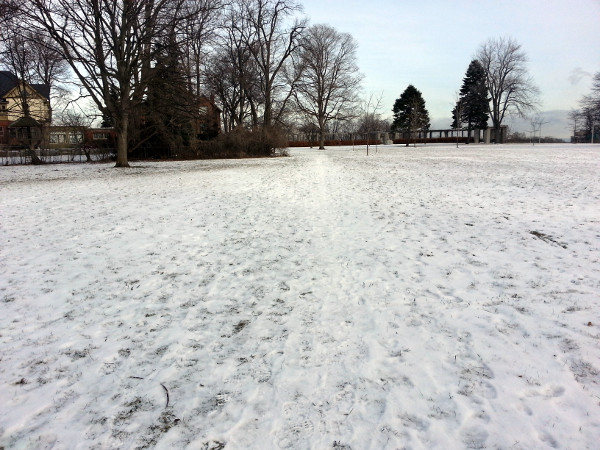 Desire Path in Southam Park connecting to Tanner Street
5) Claremont Drive
If you're walking or cycling, Southam Park also connects directly with Claremont Drive via the northwest end of the park.

Walking/cycling connection from Southam Park to Claremont Drive
Claremont Drive is a narrow residential street that runs parallel to, and just south of, the Claremont Access extension to West 5th. It starts at the northwest corner of Southam Park and ends where the James Mountain Road access turns into West 5th, very close to where the Claremont Access extension also merges with West 5th.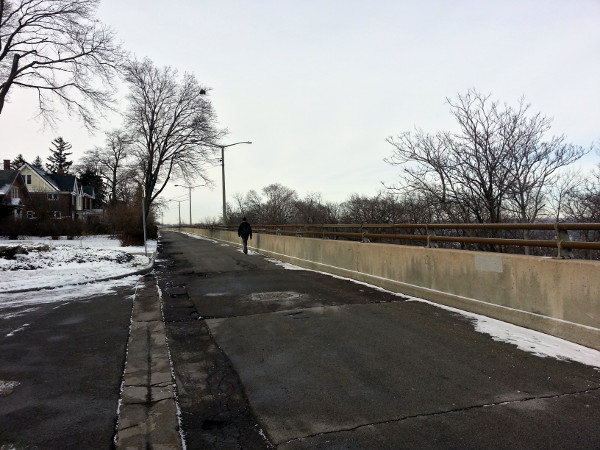 Looking west on Claremont Drive
Claremont Drive is lined with nice houses that overlook the lower city (yay!) and a two-lane concrete-lined highway (boo!), and it carries no non-local traffic due to the fact that it dead-ends at the park.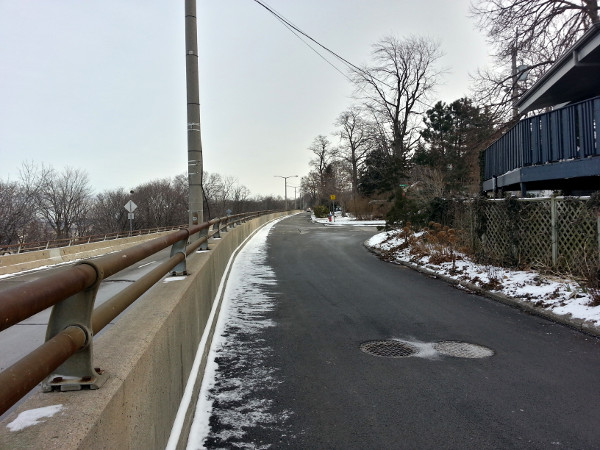 Looking east on Claremont Drive
If for some bizarre reason it is not possible to extend the Claremont Cycle Track west on the Claremont Access to West 5th, diverting bike traffic onto Claremont Drive would be a fallback option, though you would still have to solve the problem of how to connect across the top of the James Mountain Road access.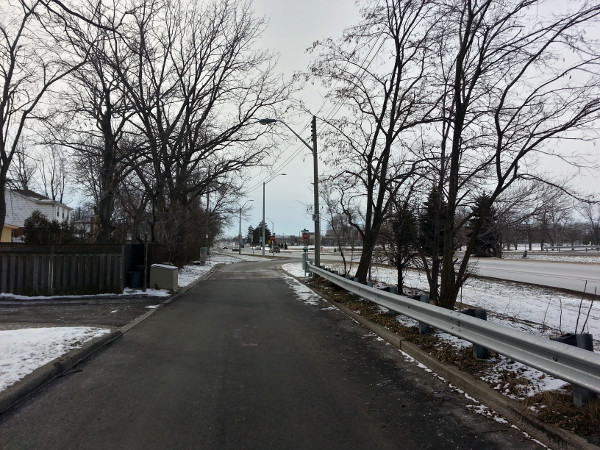 Looking west on Claremont Drive at West 5th/James Mountain Road
Incidentally, the awkward configuration of James Mountain Road and Claremont Drive produces another useless leftover wedge of grass that can't be used for development or provide local access to meaningful greenspace.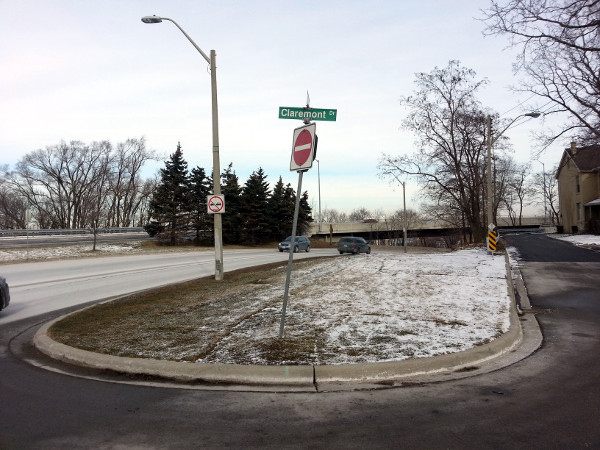 Useless wedge of grass between Claremont Drive and James Mountain Road
6) Claremont Access Extension to West 5th
A really obvious connection for the Claremont Cycle Track is to extend it west to connect with West 5th. The Claremont Access is two lanes wide along here and carries very little traffic, so it's easy to continue dedicating the right-most upbound lane for the cycle track.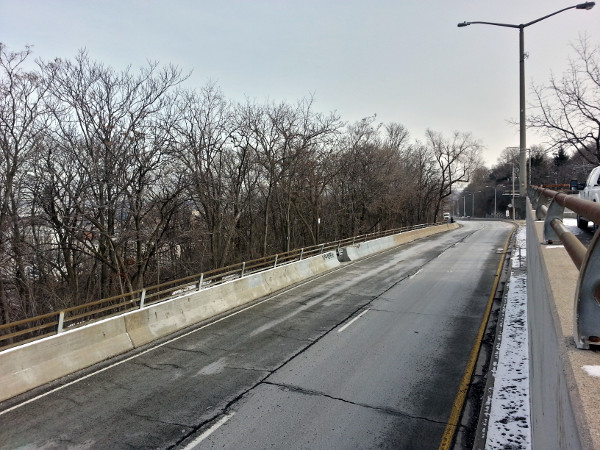 Claremont Access extension toward West 5th
The sidewalk next to the Claremont that emerges from John Mountain Road trail and joins the top of the James Street Stairs continues west to join West 5th, but the City currently only clears the short path between the James Street Stairs and the Southam Park stairs.
The rest of the sidewalk was impassable for weeks after we started getting snow this past December.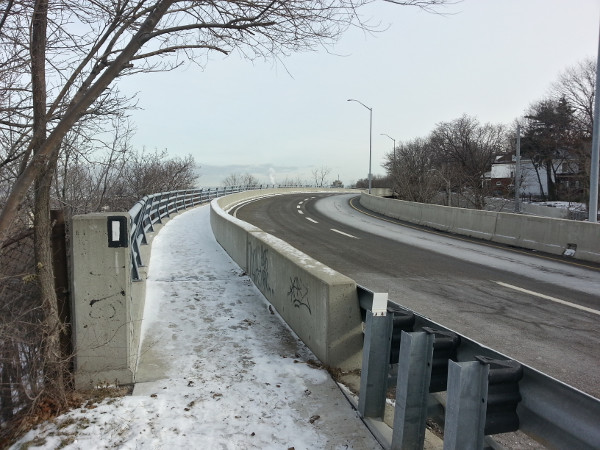 Sidewalk not cleared on Claremont Access extension
That sidewalk is already physically protected from vehicle traffic by a concrete barrier. It might be possible to simply move the concrete barriers out to block the right lane, saving some money for the cycle track installation.
7) Bruce Trail Connection
Notice the white rectangle on the concrete barrier in the previous photo? The Claremont Extension sidewalk, which the City does not currently clear after a snowfall, is actually part of the Bruce Trail, Canada's longest marked footpath, which runs through Hamilton in a winding path along the Escarpment.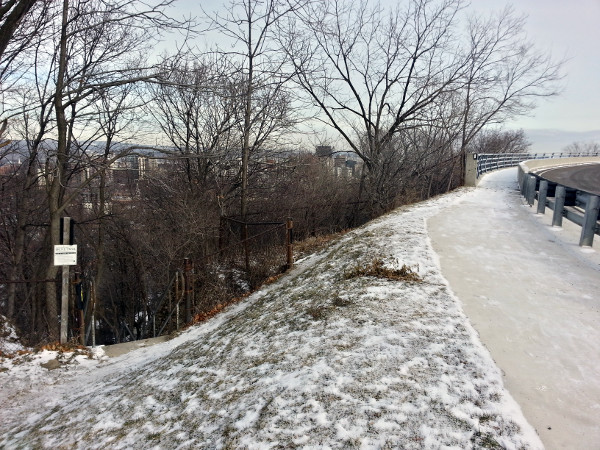 Claremont Access extension connecting to Bruce Trail Stairs
On the west end of the Claremont Access extension, just before it bends south to join West 5th, the Bruce Trail splits off from the sidewalk and goes down a short staircase into a pathway that meanders west. It eventually crosses Beckett Drive (the Queen Street Hill) at an uncontrolled crossing the City didn't bother to improve when reconstructing that access.
Nevertheless, this is yet another strand in the active transportation connective tissue that stretches across the escarpment and another opportunity to improve that connective tissue by increasing its quality and accessibility.
8) West 5th
One of the reasons we know we can afford to take a lane for the cycle track is that the two lanes merge into one before the extension merges into West 5th, and so whatever volume of traffic is on this stretch already has to fit in one lane.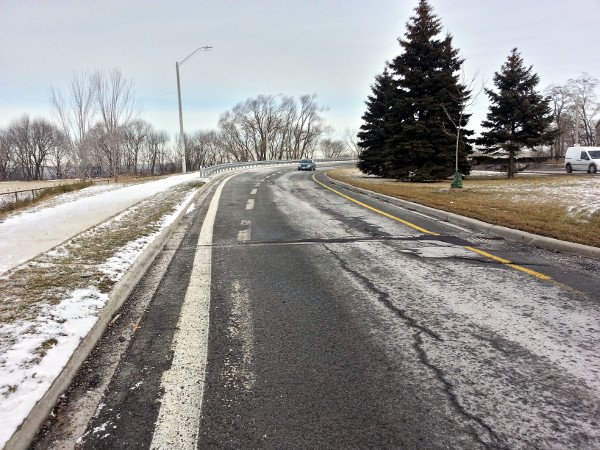 Two lanes merge into one lane before West 5th
And in a common pattern, the merging of Claremont Access and West 5th produces yet another useless wedge of grass that the City has to maintain but cannot use for development or meaningful greenspace.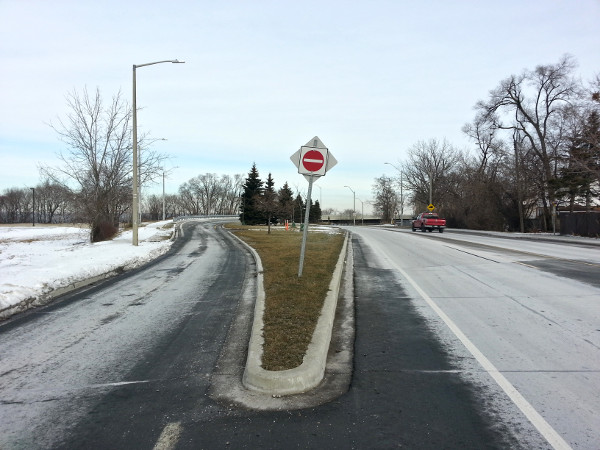 Another useless grass wedge at Claremont Access and West 5th
It should be a no-brainer to redeploy the right lane for safe active transportation all the way to West 5th. However, one challenge is continuing the cycle track after its lane has merged.
The good news is that there's lots of grassy median on either side of the sidewalk on the west side of West 5th that can be put to better use as a wide, multi-use off-street path.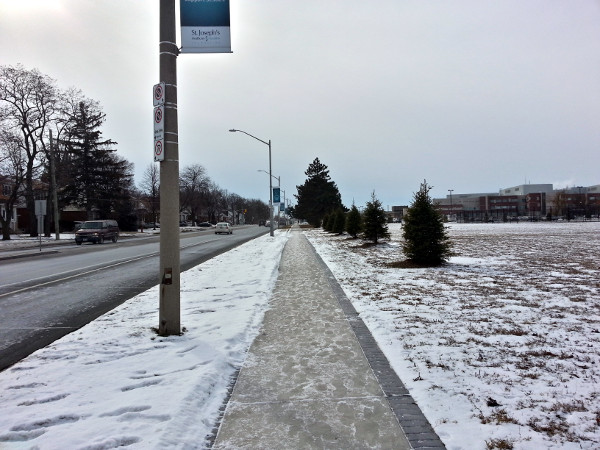 Sidewalk of West 5th looking toward the hospital
From there it would be easy to pave a path through the hospital grounds to connect to Juravinski Drive, which crosses Fennell Avenue and turns into Governors Boulevard as it runs into Mohawk College.
It's unfortunate that we have to figure this out at all. According to Shifting Gears, the City's Cycling Master Plan, West 5th is supposed to have dedicated bike lanes from the top of the escarpment all the way south to Rymal.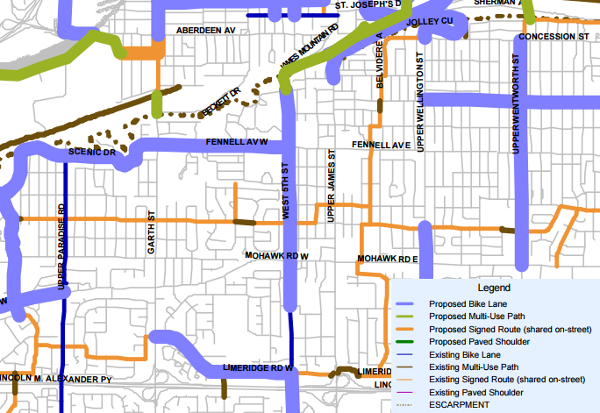 Detail from Cycling Master Plan route map with legend superimposed at bottom right (Image Credit: City of Hamilton)
In 2012, crappy bike sharrows were painted in the curb lanes of West 5th between Mohawk Road and the Governor's Boulevard entrance to Mohawk College.

Bike sharrows on West 5th (Image Credit: Google Street View)
The City considers sharrows a form of cycling infrastructure, but a sharrow is merely a marking indicating that people on bicycles are allowed to use the lane - a legal right under the Highway Traffic Act that already applies to every street aside from limited-access 400-style highways.
Sharrows confer no special access or protection to people on bicycles and should not be considered cycling infrastructure.
Meanwhile, the City recently reconstructed West 5th from around Mohawk College north to the top of the escarpment and left it as a five-lane arterial with no cycling infrastructure at all - not even crappy sharrows.
This is despite the fact that the street only carries 18,000 cars a day according to the City's most recent daily traffic counts.
This absence of political leadership on active transportation in the upper city - like on Concession Street - means we'll likely be stuck having to manoeuvre around bicycle-unfriendly arterials for decades, falling farther behind those cities that actually know what they're doing.
9) Gateview Drive
In keeping with my philosophy that the cycling network should be richly connected and serve lots of local micro-destinations, the West 5th end of the Claremont Cycle Track should connect to Gateview Drive, which runs east from West 5th where it merges with the Access extension.
Gateview connects with Inverness Avenue West (see #4, above), which could serve as a neighbourhood greenway, and it also features a non-car southward extension on Arcade Crescent, which runs into T. Melville Bailey Park and on to Brantdale Avenue.

Arcade Crescent leading to T. Melville Bailey Park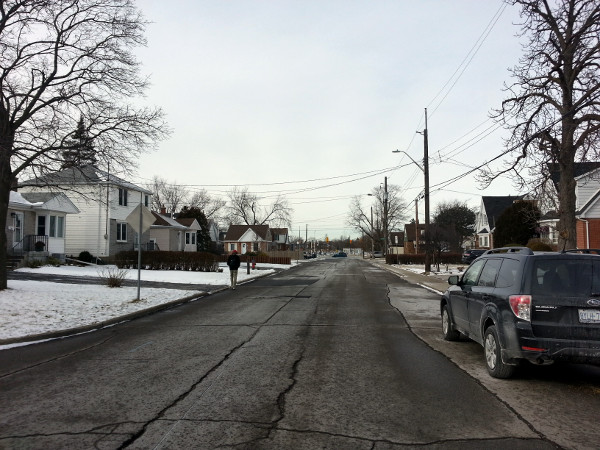 Brantdale Avenue
On the other side of Brantdale Avenue from the park, there is a small court called Glenwood Crescent. The houses at its end back onto the grounds of Auchmar Estate, which the City owns. This would make a fantastic north-south greenway for walking and cycling if you could access the park from an alley between the houses on Glenwood.
Conclusion
The design of the Claremont Cycle Track should benefit not only people who want to bicycle up and down the escarpment, but also people who live in its vicinity.
It should serve to make the local streets around the Claremont Access calmer, safer and more inclusive for everyone, including local traffic. But in addition to increasing the quality of connections between the two areas, it should also increase the quality of connections within each area.
This applies particularly in the case of the northern part of the upper city, which already has a more urban land form than the more suburban south end of the city and could easily accommodate more active transportation and public neighbourhood interaction.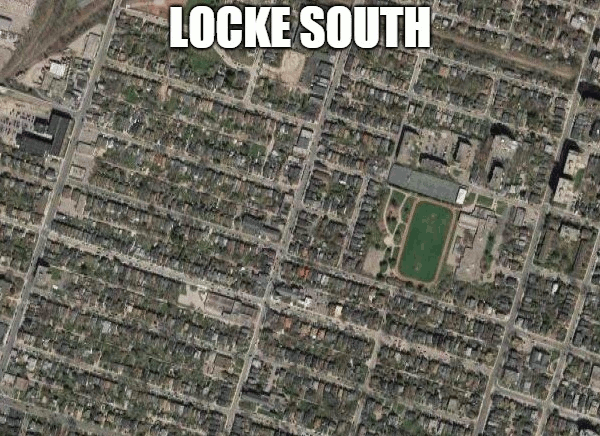 Animated GIF: Upper Wellington and Locke Street South satellite views (Image Credit: Google Maps)
Just as the bottom of the Claremont Access has traumatized the Stinson neighbourhood with a massive structure that looms over the local streets and cuts people off from their own community, the top of the Claremont Access has distorted traffic patterns and fragmented the Mohawk, Southam and Centremount neighbourhoods.
If we design the Claremont Cycle Track right, we can do a lot to mitigate these traumas and increase quality of life for people living around both ends.
Related:
With files from Jason Leach.
Post a Comment
You must be logged in to comment.