Continued Neglect of Gore Heritage Buildings an Embarrassment
It has been more than two years since Council voted to designate 18-28 King Street East, but the owner is still trying to delay action to save the buildings from demolition-by-neglect.
By Nicholas Kevlahan
Published January 18, 2016
Just over two years ago, in December 2013, the row of Victorian buildings at 12-28 King Street East in Gore Park were saved from demolition when Council supported an eleventh-hour motion by Ward 2 Councillor Jason Farr to officially designate them under the Ontario Heritage Act.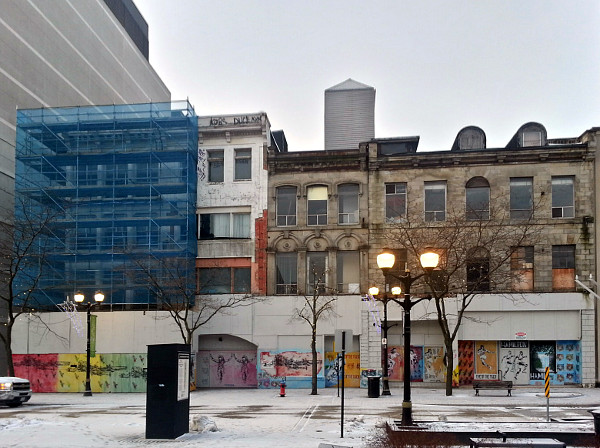 18-28 King Street East (Image Credit: Ryan McGreal)
This motion was born out of Council desperation and frustration. It was clear that after a year of negotiations and despite a very generous package of tax incentives and a $1.1 million pre-approved heritage preservation grant from the city of Hamilton, the owners had no intention of spending any money at all to incorporate the buildings or even their facades into a new development.
Council became more supportive of designation when the owners demolished a three-storey commercial building adjacent to City Hall and turned the site into an illegal surface parking lot, with no intention of redeveloping the site. That demolition reduced the City's property annual tax revenue from $77,667 as an office building to just $7,000 as a parking lot.
The danger at 18-28 King Street East was that the proposed demolition would merely make long-term property speculation easier by levelling the site and removing any heritage "complications". The fact that the owners did not present clear plans of what they would do with the site of the Gore buildings made it obvious that we would be looking at a huge vacant lot facing Gore Park for years to come.
The heritage value of these buildings, especially the two western ashlar-faced buildings built in the 1840s by noted architect William Thomas, is beyond doubt.
This value is increased because of their prominent location facing Hamilton's historic city square in the very centre of the city at King and James.
The importance of these buildings has been recognized by Architectural Conservancy of Ontario, amongst others, who called on the Province to ensure they are preserved because of their provincial and national importance.
Demolition by Neglect
The vote to designate halted the demolition. However, it has been clear in the intervening two years that the owners would be quite happy if the buildings collapsed on their own due to neglect.
Indeed, property owner David Blanchard has claimed the buildings are "probably flooding" and "full of mould" as they have been left unheated for over three years.
Blanchard has also said the buildings are "falling apart" and "already too far gone" to save from demolition.
On the other hand, City staff claim the roofs are in "excellent" condition and the buildings are solid.
The fact that the easternmost building had to be stabilized due to falling bricks is a worrying indication of the state the buildings. Councillor Farr assured the public in the Spectator last summer that the building is being inspected monthly. However, it is not clear what these inspections involve and if they are even happening.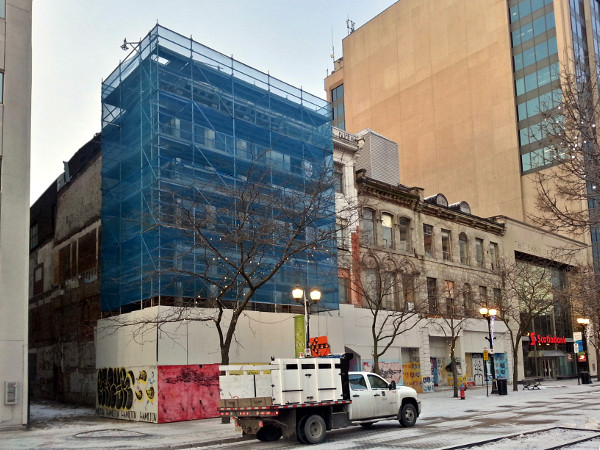 Hoarding in front of 28 King Street East (Image Credit: Ryan McGreal)
Municipal Law Enforcement Not Proactive
Unfortunately, the City's Municipal Law Enforcement (MLE) division has not been proactive in ensuring the buildings are properly secured from the elements and are being maintained to prevent further deterioration. They have also been completely unresponsive to complaints about broken windows and other basic violations of the property standards by-law.
On May 5, 2015 - ironically during the "Downtown Renewal" Jane's walk - I noticed several windows were broken on 170-year old William Thomas building facing Gore Park.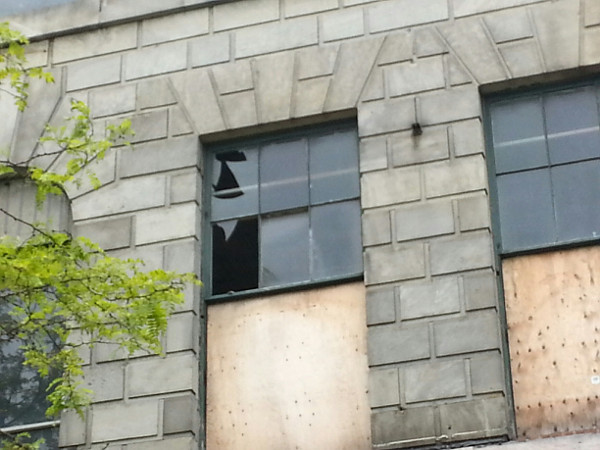 Broken window in William Thomas building
I took a photo and emailed it to Councillor Farr and MLE requesting that the windows be repaired as soon as possible to prevent water infiltration as required under the property standards by-law. Farr backed up my request and asked that MLE keep me updated.
I never heard anything back from MLE, despite repeated emails from myself (and Farr) over seven months!
In December, Councillor Farr informed me that the windows had finally been repaired. The "repairs" consisted of a board, not cut to size, bent over the upper sash and nailed in place, with gaps at the sides.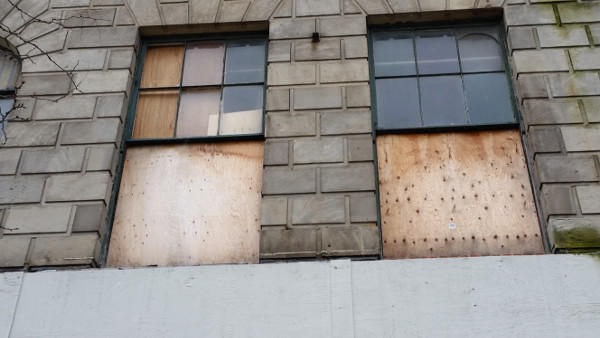 Broken windows covered with plywood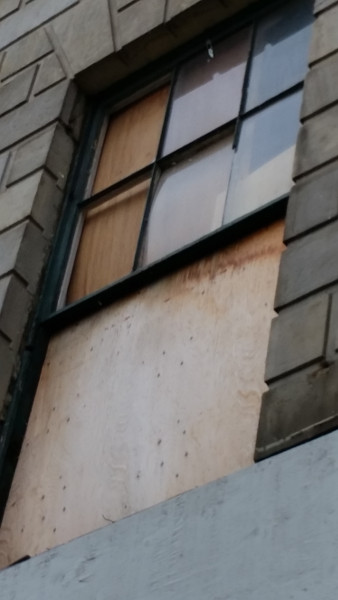 Slaphdash repair
This slapdash "repair" clearly doesn't meet the by-law requirement of covering openings "with no gaps"! (I never did receive any update from MLE staff, and they are apparently happy with this "repair".)
This highlights a serious problem in heritage protection: residents cannot have any confidence that the City will enforce their own by-laws to ensure that the value to the community recognized by the heritage designation is protected.
I would have thought staff would be especially careful in this case, given its prominent location and all the media attention it has received.
Pre-Hearing to Appeal Heritage Designation
What has happened in the two years since the vote to designate?
Councillor Farr assures me that city staff are attempting to negotiate with the owners to find a compromise, even though the owners are appealing the heritage designation to the Conservation Review Board.
Indeed, a "pre-hearing" on the appeal that was supposed to take place in early December was delayed until April, apparently at the request of the City, to allow for more negotiations. In early December, Farr told me that we could expect good news very soon, but without any other details.
The fact that the pre-hearing has been delayed is extremely worrying since, although the buildings are protected from demolition by the vote to designate, they cannot benefit from other increased protections for heritage buildings [PDF] until it they are officially designated. In particular, designated buildings must be "(a) maintained so as to prevent deterioration; and (b) repaired of any damage."
Vacant heritage buildings also have stronger protections than other vacant buildings. These protections are significant and it is clear that the owners have everything to gain from dragging out the appeal process as long as possible to delay actual designation in the hope that the buildings become unsalvageable.
It would give residents much more confidence in the process if MLE would explain publicly what inspections they have done and what the results are. They could simply release the reports.
Are the buildings "falling apart" with "water pouring in" as the owners claim, or are they solid and weathertight as City staff have claimed?
Mixed Messages
In September 2015, Jeff Feswick of Historia Building Restoration wrote a glowing appreciation of David Blanchard's heritage credentials for Urbanicity magazine, praising him for his "energy and effort in maintaining historic properties so they may endure" and claiming that he is a "buy and develop businessman" not a "buy-and-sit on it" businessman.
Similarly, architect David Premi of DPAI Architecture proudly showed off his architectural offices in one of the Gore Buildings not long before he was evicted to make way for the proposed demolition. He spoke positively about working in a heritage building facing Gore Park in the centre of the city.
In 2012, Blanchard's own property management group (Blair, Blanchard and Stapleton) conducted a survey of downtown commercial space and found that, as the CBC summarized, "Hamilton is still lagging behind the GTA when it comes to large commercial entities, but smaller boutique shops downtown help the core's vacancy rate drop."
The obvious conclusion is that that the demand for large office and commercial space downtown is low, but that the demand for smaller commercial space downtown is relatively strong.
In fact, this is what small business owners and landowners downtown have been saying: there is good demand for well-renovated historical building space downtown. There is little demand for the sort of large office/retail complex that Blanchard wants to replace his heritage buildings with!
National Trust for Canada 2016 Conference
This coming October, downtown Hamilton will be hosting the 2016 Conference of the National Trust for Canada. This is the premiere annual meeting of Canada's heritage industry professionals.
Cities across Canada are understanding that heritage buildings add real economic and social value. They also increase the attractiveness and competitiveness of cities. I can't imagine any other city that would allow a 170-year old streetwall on the city's main square to just disappear.
It would be wonderful if the City and the property owners could put together a creative solution that preserves this unique piece of Canada's built heritage in time for the 2016 National Trust Conference. It would show to the rest of Canada that Hamilton cares about its heritage and has the energy and know-how to come up with innovative solutions.
The boarded-up buildings didn't help when Hamilton hosted the Pan Am games. They would be downright embarrassing and damaging to our image as a city when we are showcasing our heritage during the National Trust Conference in October.
Post a Comment
You must be logged in to comment.