Get Out and Enjoy Hamilton's Gorgeous Trails
Wherever you live and whatever your politics, make some time to get out and enjoy your city!
By Ryan McGreal
Published October 20, 2015
Okay, now that the election is over, it's time to close the tab with the poll tracker and do something enjoyable. Over the past few weeks I've noticed a drop-off in the number of people I encounter on Hamilton's recreational trails, which is crazy because the trails are utterly gorgeous right now.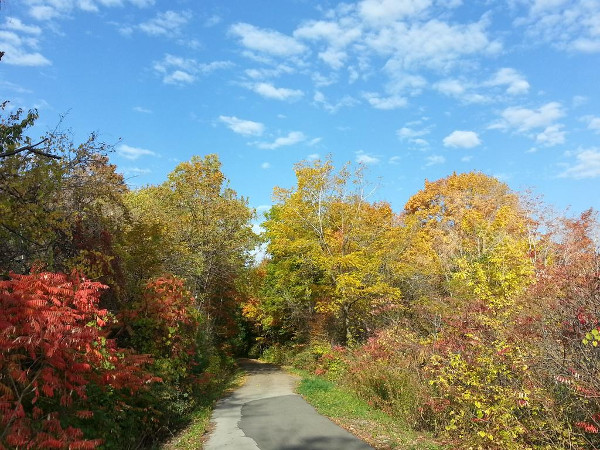 Escarpment Trail
It's October 20 and we're well into autumn, which means the brilliant canopy of Hamilton's escarpment - called the Green Wall in summer - is putting on a spectacular show of leaf senescence.
Hamilton's trails are easy to find and a joy to experience. The Escarpment Trail starts at Corktown Park, just minutes from the downtown core, and winds east and south up the escarpment, through Mohawk Sports Park on the East Mountain, past Albion Falls and over the Red Hill Valley Parkway to Stone Church, where the Chippewa Trail to Caledonia picks up just a couple of blocks west.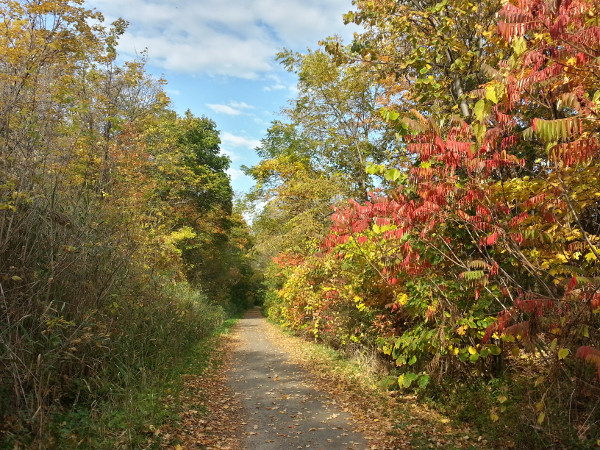 Escarpment Trail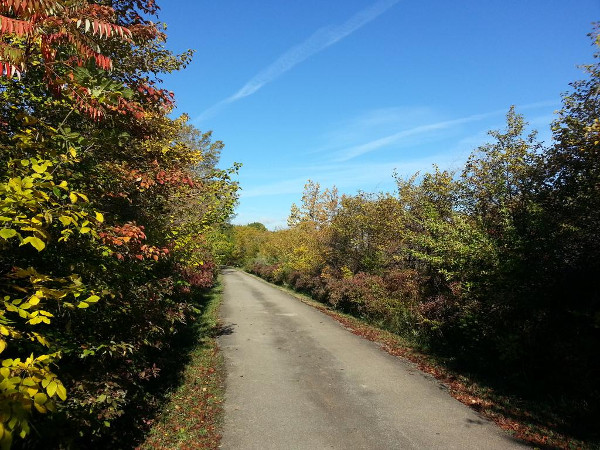 Escarpment Trail
Jump on your bike or sign out a Hamilton Bike Share bike and head east on Lawrence Road past Gage Park, taking advantage of the bike lanes. After it dips down below Parkdale Avenue, turn left at Mount Albion Road and follow the underpass below King Street to join the Red Hill Valley Trail.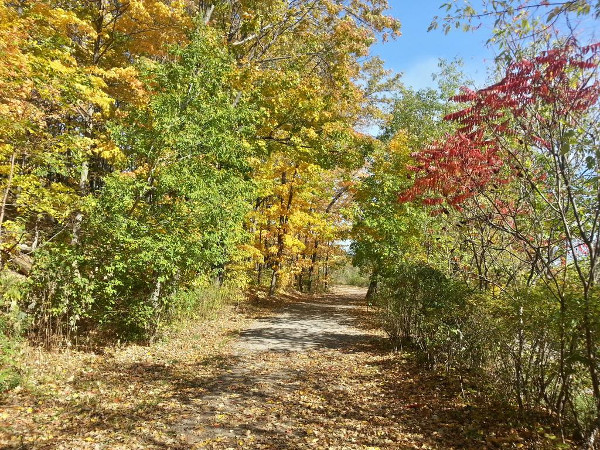 Red Hill Valley Trail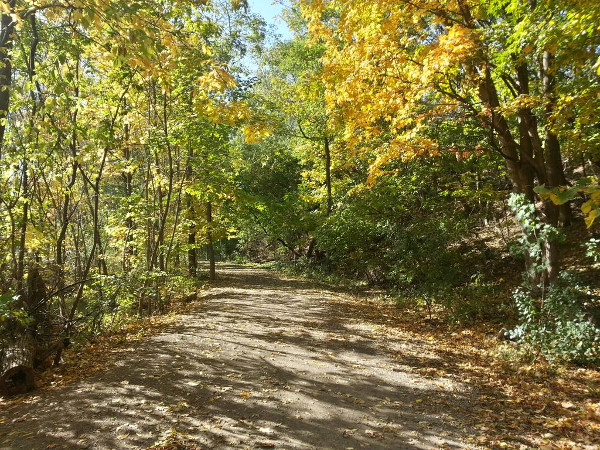 Red Hill Valley Trail
It runs north-northwest along the route of Red Hill Creek (and the Parkway, of course) and leads to the Walkway bridge over the QEW. That, in turn, connects with the Waterfront Trail.

Waterfront Trail at sunrise
Alternately, start at Van Wagner's Beach Road near Barangas On The Beach and rent a Sobi bike to ride along the Waterfront Trail.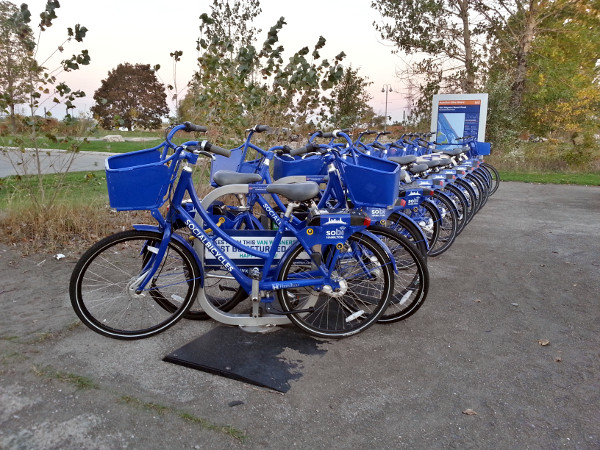 Hamilton Bike Share station at Van Wagner's Beach Road
Starting from Lawrence and Mount Albion, turn south at Mount Albion for a more challenging ride up the Escarpment to connect with the Escarpment Trail near Albion Falls.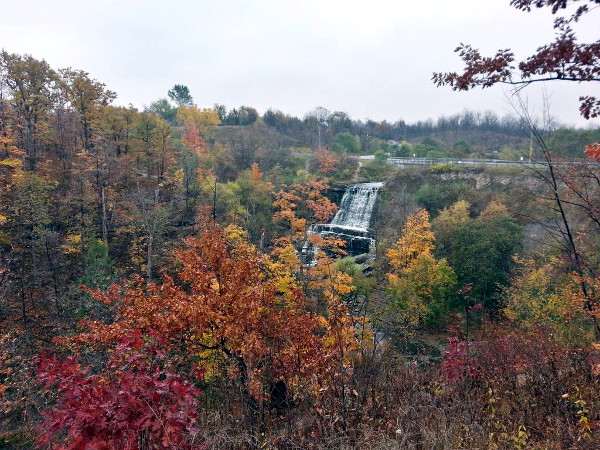 Albion Falls
If you're heading north from downtown, you can pick up the Waterfront Trail from Bayfront Park, which is at Bay Street North and Strachan Street West.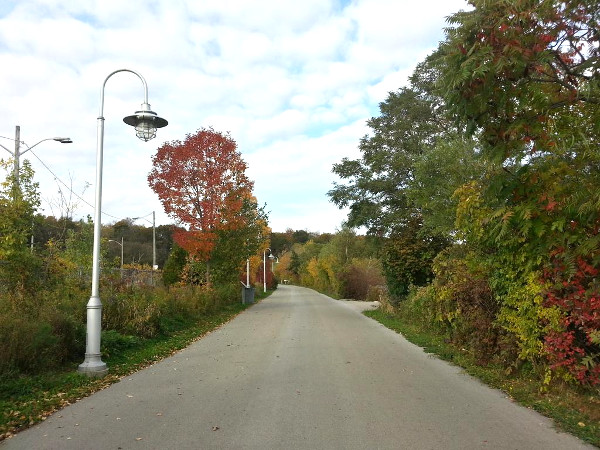 Waterfront Trail near Bayfront Park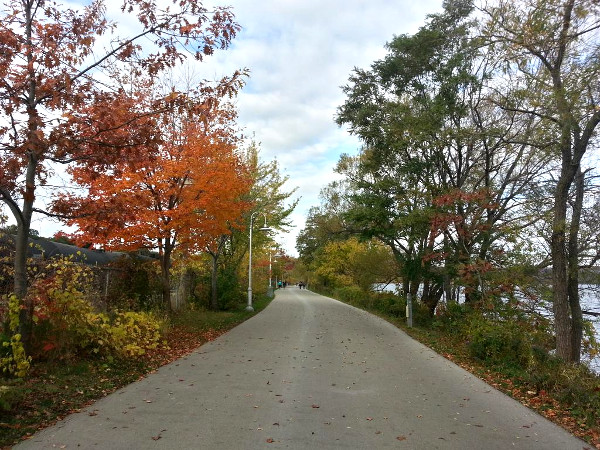 Waterfront Trail near Bayfront Park
It connects to Princess Point and the network of South Shore Trails that wind around Cootes Paradise.
Heading west from downtown, you can pick up the Rail Trail from Glenside Avenue through the north part of Chedoke Golf Course, across Highway 403 on a bridge shared with the Canadian Pacific Aberdeen Rail Yard, through Ainslie Wood and down into the Dundas Valley toward Brantford.
In Dundas Valley, you can turn onto the Main Loop and all the various trails running through Dundas Valley Conservation Area, or you can follow the path of Spring Creek on the Spring Creek Trail.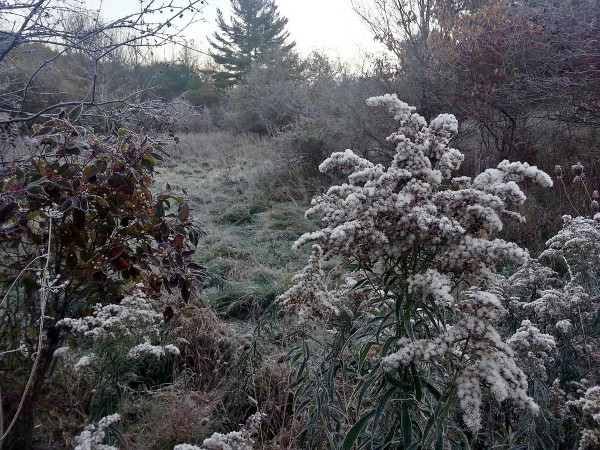 Spring Creek Trail early morning frost
Starting from the top of Dundurn Street South, you can take the Radial Trail through the southern end of Chedoke Golf Course to wind up the Escarpment to the west, meeting Scenic Drive on the edge of Ancaster and then crossing Highway 403 just before it meets the Lincoln Alexander Parkway.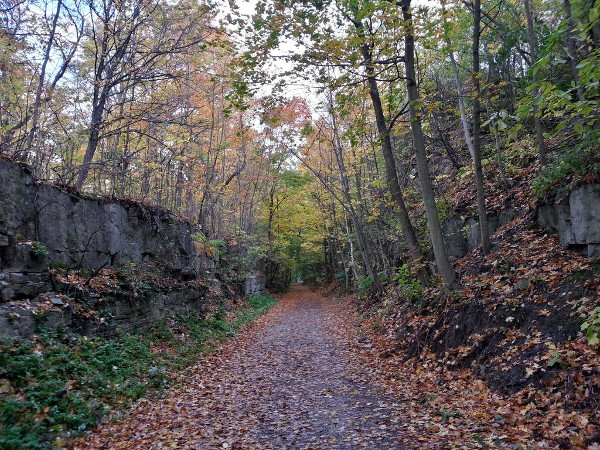 Radial Trail
From there it continues southwest until it crosses Wilson Street near Jerseyville Road.
This is just a sampling of the rich marbling of recreational trails Hamilton has to offer. Maybe you just want a short hike up or down the Escarpment, in which case you may enjoy the John Mountain Road Trail, which Martin Zarate wrote about earlier this summer.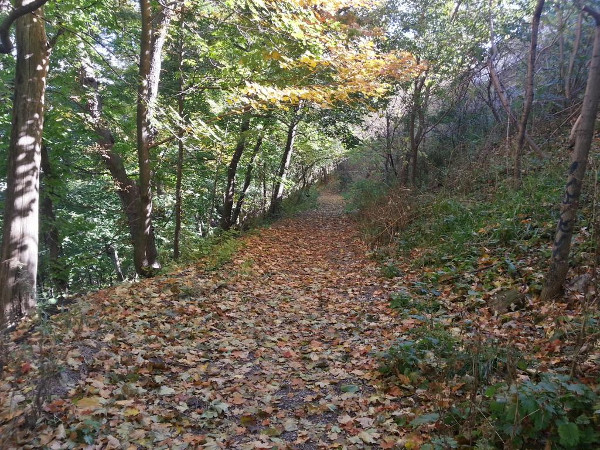 John Mountain Road Trail
It starts at the top of John Street South and lets you out on the West 5th spur of the Clarement Access near Southam Park.
Hamilton is a relentlessly beautiful city, and it's sometimes difficult to believe that the Escarpment was essentially stripped of trees less than a hundred years ago, as Paul Weinberg recently wrote in a look at the city's complex relationship with nature.
I've written this before and I'll keep repeating it: many Hamiltonians regard the Escarpment as a dividing line, a barrier between exclusive and mutually distrustful solitudes. Instead, we should regard it as a connective tissue, a shared heritage, an amazing resource that joins and connects us as a diverse community bound by common values and interests.
So wherever you live and whatever your politics, make some time to get out and enjoy your city!
Post a Comment
You must be logged in to comment.