What Does Success Look Like for Hamilton Bike Share?
In just a few months since the launch, 7 percent of potential users have already taken out memberships, compared with a realistic but optimistic upper bound of 17 percent, based on the world's most successful bike share.
By Nicholas Kevlahan
Published July 06, 2015
Hamilton's bike share system launched just three and a half months ago with 750 bikes and 114 stations over a service area of 45 square kilometres. Despite the cold Spring this year, uptake has been quick and trips and users are still growing rapidly.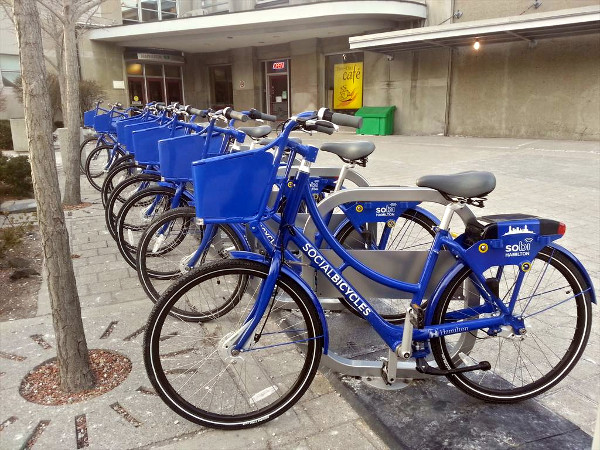 Hamilton Bike Share hub station at Hunter Street GO Station (RTH file photo)
We are now entering the prime bike share season, and the most current figures from Hamilton Bike Share Incorporated (HBSI), the non-profit that locally operates the bike share, show that there are over 5,298 members and up to 1,043 trips per day, typically 700-900 trips. Memberships and trips are still growing rapidly.
Disclosure: I am a member of the HBSI Board of Directors. These are my personal opinions, not those of the Board or HBSI.
This seems like very quick growth, considering that some Hamiltonians felt there would be no interest at all in a bike share system here.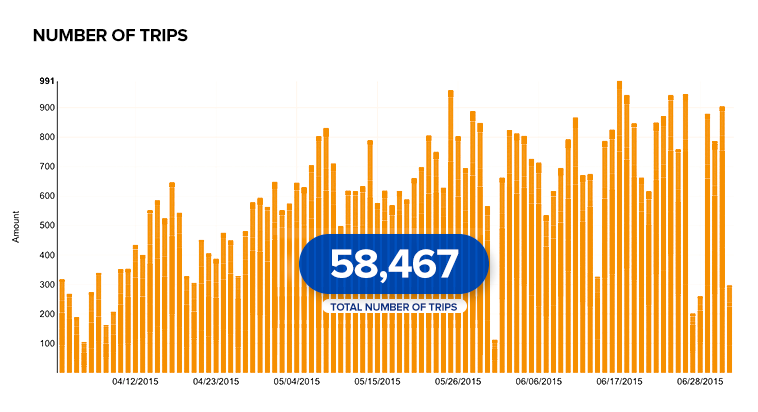 Chart: total Hamilton Bike Share trips as of July 2, 2015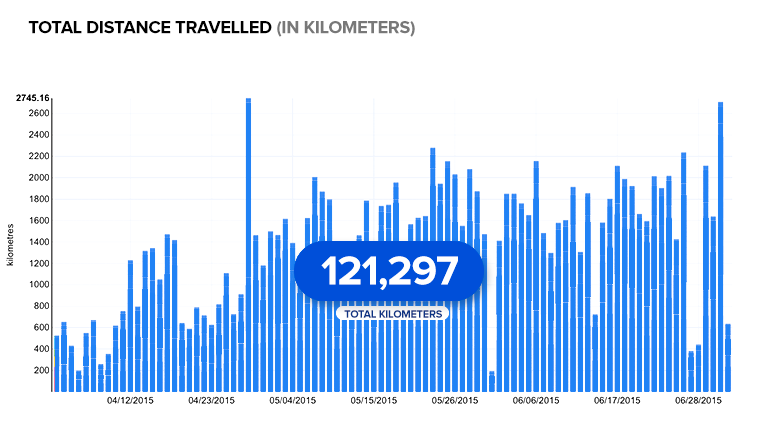 Chart: Hamilton Bike Share total distance travelled (km) as of July 2, 2015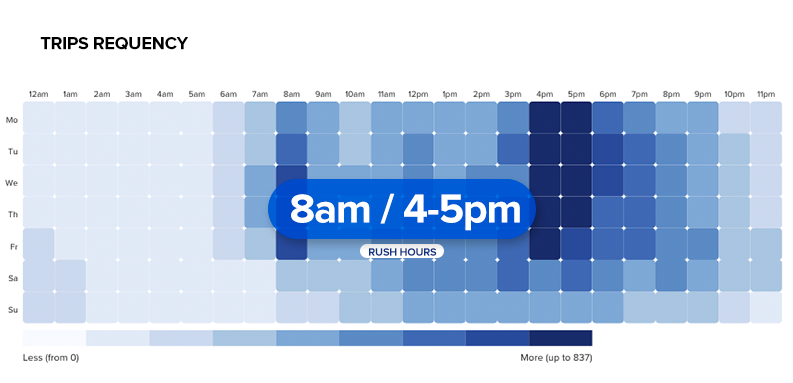 Chart: Hamilton Bike Share trip frequency by weekday and hour as of July 2, 2015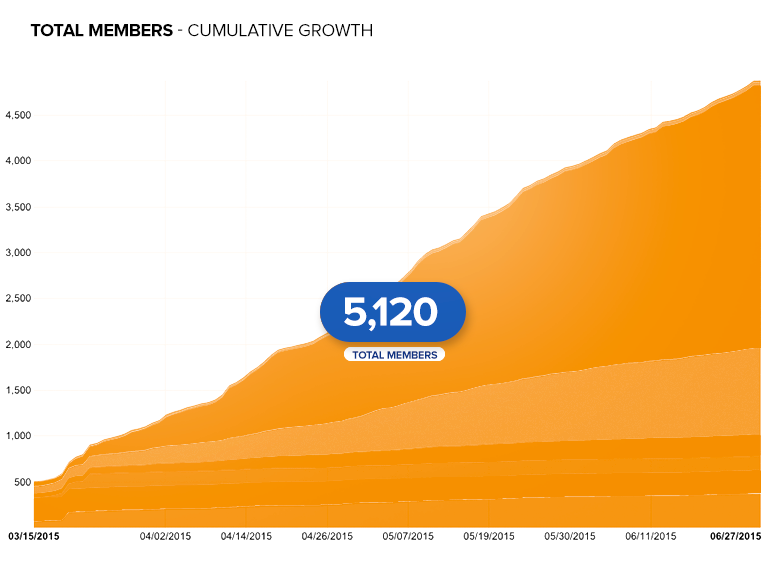 Chart: Hamilton Bike Share total membership cumulative growth as of July 2, 2015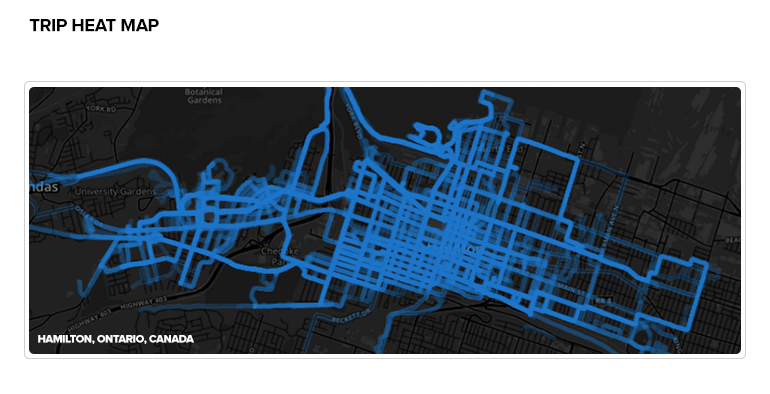 Chart: Hamilton Bike Share trip heat map as of July 2, 2015
Nevertheless, skeptics might claim the service isn't popular because membership is still "only" 1 percent of Hamilton's total population.
How Many Potential Users
First of all, comparing the number of members to the total population is clearly misleading (for a start, you have to be 16 or older to be a member), but what is the potential user base? And how many of those potential users could we expect to become members under ideal conditions?
Let's consider the first question: how many potential users are there for the current system?
There are only a few hub stations on the Mountain and five in Dundas and coverage becomes quite sparse in the eastern and northern parts of ward 3, but we can take the main service area as being roughly wards 1-3.
The total population of wards 1-3 is 106,527. Those under 16 are not able to join and many of those 70 and over are not physically able to cycle. So the core demographic for bike share are those residents in wards 1-3 aged 16-69.
According to Statistics Canada, 72 percent of the Hamilton CMA is aged 15-69, so the total number of potential users is roughly 76,699.
With 5,298 members, we can calculate that roughly 7 percent of all potential users have already taken out memberships.
This seems like pretty good uptake in a short time, but how does it compare to the most successful and well-established systems? In other words, how much better could we expect to do?
After all, not everyone will be interested or able to cycle, even under ideal conditions. And others will prefer to use their own bicycles.
Benchmark: Paris Vélib'
One of the oldest, biggest and most successful bike share systems in the world is Paris's Vélib'. It has been running since 2007 and now has 1,220 stations, about 25,000 bikes and 274,000 annual members (in 2014). Users make around 110,000 trips per day, boosted by the large number of tourists who use the system.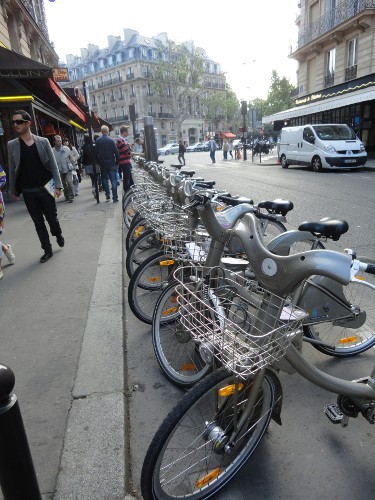 Vélib' station in Paris (RTH file photo)
The Paris system has about 33 times as many bikes as Hamilton's over a service area about three times larger. The system is run by the advertising and street equipment company JCDecaux at no cost to the city (apart from replacing vandalized bikes) in return for exclusive advertising rights.
Paris is in many ways the ideal city for a bike share: it is compact (10 km in diameter), very dense, relatively flat, and most residents do not own a car or have space to store a bicycle. The high population density also means that the system can have a very high density of stations.
The only downsides are that Paris has previously been considered a dangerous place to ride and public transport is an excellent alternative to cycling. However, the city has built many new protected cycle lanes and the increase in cyclists itself has made the city a safer and more comfortable place to ride.
Bike share use in Paris is an upper bound against which we can measure Hamilton's performance.
Comparing Hamilton to Paris
Although there are some stations in the near suburbs, the vast majority of stations and trips are in Paris proper. The population of Paris is 2,244,000 and Vélib has about 1 bike per 97 inhabitants. In comparison, a Hamilton-wide system would need about 5,400 bikes and a ward 1-3 system would need 1,100 bikes to achieve the same level of service.
If we take the population of Paris - slightly over estimating the uptake by excluding the near suburbs - and assume the same 72 percent demographic of potential bike share users, about 17 percent of potential users have taken out memberships.
This analysis shows that Hamilton's system is doing amazingly well in comparison!
In just a few months since the launch, 7 percent of potential users have already taken out memberships compared with a realistic (but optimistic) upper bound of 17 percent, based on the world's most successful bike share that has been operating since 2007!
So, what would a "Paris level" of success look like for Hamilton's bike share, assuming the current service area?
We would need to have around 1,100 bikes, 13,000 members and about 5,200 daily trips. We're already 40 percent of the way there on membership. It will be interesting to see how close we get over the next few years.
Post a Comment
You must be logged in to comment.