Hamilton Gets YES for an Answer
Premier announces up to $1 billion to build a light rail line in Hamilton and $150 million for a GO train extension to Centennial Parkway in Stoney Creek
By Nicholas Kevlahan
Published May 26, 2015
This morning, McMaster University hosted a special press conference by Ontario Premier Kathleen Wynne in Convocation Hall to announce significant and long-awaited transit investments in Hamilton.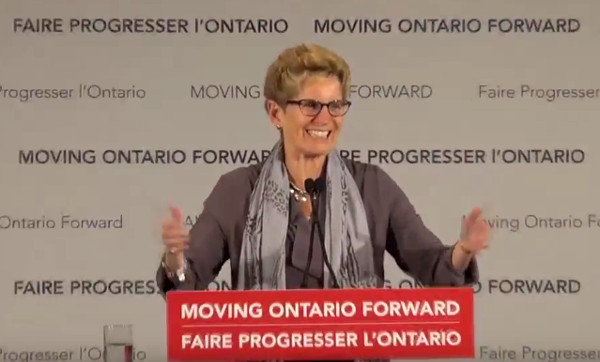 Premier Kathleen Wynne at LRT funding announcement
Council attendees included Mayor Fred Eisenberger, and Councillors Jason Farr, Lloyd Ferguson, Matt Green, Aidan Johnson and Terry Whitehead. City Manager Chris Murray and former mayors Larry Di Ianni and Bob Bratina were also in the audience.
You can watch a video of the event, recorded by Joey Coleman of The Public Record:
McMaster President Patrick Deane opened the event by emphasizing how he has made it his priority as President to expand the role of the University in Hamilton and work together with the City, Province and other stakeholders to increase the prosperity of the city.
Premier Kathleen Wynne then took the stage, first talking generally about the importance of infrastructure investment, quadrupling GO service and how Hamilton has always been a key part of Ontario's development, before finally getting to her big announcements.
Premier Wynne announced that the Province would invest "$1 billion to build new light rail in Hamilton".
She specified that the the line would be in an exclusive right-of-way and run from McMaster University to the Queenston traffic circle with a spur to connect to the new West Harbour GO station. The line will be extended later to Eastgate Square.
She then went on to announce that the Province would extend GO service to Centennial Parkway in Stoney Creek, with construction to start in 2017.
Transportation Minister Steven Del Duca continued, in front of a looping video of Hamilton's LRT going through downtown. He stated that "Hamilton's LRT will be a crucial link" and emphasized that "Yes, I DID say L!".
Then Bruce McCuaig, CEO of Metrolinx, pointed out that this is an "exciting milestone" for the City and that he would get down to work immediately with city staff and politicians in developing the projects.
Ted McMeekin, MPP for Ancaster-Dundas-Flamborough-Westdale, was clearly the local champion of this project at Queen's Park, but he also told us that the "Premier has been a real champion for Hamilton".
Interestingly, he thanked former Mayor Bob Bratina, "who has been particularly a champion on the GO side of things."
Most gratifying for me and all the thousands of Hamilton residents who have pushed for LRT over the past eight years is that McMeekin specifically thanked LRT advocates and Hamilton Light Rail for their efforts to "keep this vision in our minds".
He jokingly "thanked" us for the "20,000 tweets" that would "just lead to another 20,000 tweets, no matter what I said." Most importantly, he told us that our efforts did make a difference: "Very sincere thanks to the champions of LRT ... you kept this thing on the rails."
Finally, Mayor Eisenberger rounded out the event, again thanking the Province for "putting the L in the RT" and saying "thanks to the advocates" hoping that "the enthusiasm will be back". He finished by saying "Let's get this thing done!".
In the question session McCuaig suggested they would build a "high order pedestrian connection to the Hunter GO station".
In response to a question about the City's last minute request for $300 million for a bus shed and improved bus services Minister Del Duca simply said that "The focus is on LRT and GO transit." and that he would "have additional conversations going forward on how the Province could support bus transit".
When asked why the line stops at Queenston, McCuaig said that it was basically a trade-off: not going as far east in order to build the spur to the West Harbour GO station. He also emphasized that this section of the line has the greatest economic development potential. But he was clear that the extension to Eastgate would be built in a second phase.
When Del Duca was asked whether the Province needed another vote from Council supporting LRT to proceed he replied emphatically no, the focus now is on building it.
Today the Province clearly and unambiguously gave Hamilton "YES" for an answer to its eight year old LRT question.
They will invest $1 billion in building the B-line LRT in Hamilton and they clearly want to get started as soon as possible. In informal comments the Mayor suggested that his proposed citizen's panel will now morph into an LRT engagement panel.
This is a great day for Hamilton and sets on the journey to building a more prosperous, attractive and dynamic city. This is also billion dollar example of why citizen engagement matters!
Post a Comment
You must be logged in to comment.