Building the Network: Cannon Street
A chain is only as strong as its weakest link and a protected cycle network is only good until it encounters an unprotected gap.
By Kevin Love
Published May 14, 2015
This is the fourth article in a five-part series entitled Building Hamilton's Protected Cycling Network.
Today's article is Part 4: Building the Network: Cannon Street. The "Yes We Cannon" petition calls for bike lanes from "Kenilworth to Queen Streets." Currently Cannon Street has a protected bike lane that ends at Sherman.
On May 6, 2015, at the meeting of the Hamilton Cycling Committee, Hamilton city staff disclosed their plans for the Cannon Street cycling infrastructure extension from Sherman to Kenilworth. These plans are for unprotected bike lanes where nothing more than paint is separating cyclists from multi-tonne motor vehicles going 50-70 km/hr.
As we saw in part 1 of this series, unprotected bike lanes exclude 92 percent of the population and systematically discriminate against women. This is in profound contradiction to the "Yes We Cannon" petition's request for "accommodation for all road users."
Is there some good reason for this failure to provide protected bike lanes? Will the sky fall and the city grind to a halt by reallocating this road space for cyclists? Not so much.
To quote once again from the petition, Cannon is "...moving only 2,300-2,600 vehicles per lane per day, compared to roads like Mohawk and Garth Streets carrying 6600-9850 vehicles per lane, per day."
After last February's snowstorm, city staff performed an unintentional experiment demonstrating exactly what happens when lanes on Cannon Street between Sherman and Kenilworth are taken out of service.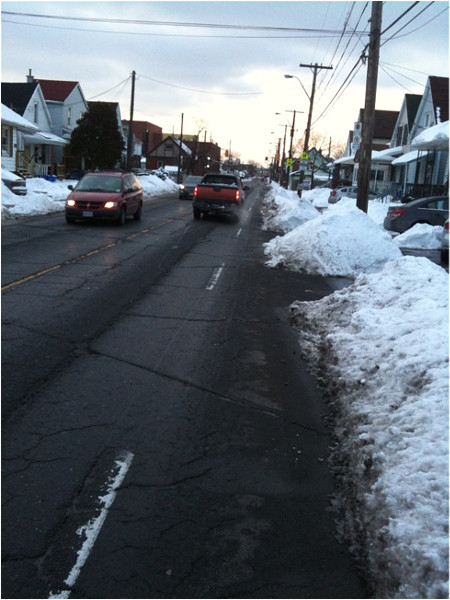 Cannon Street, west of Robins Avenue, looking west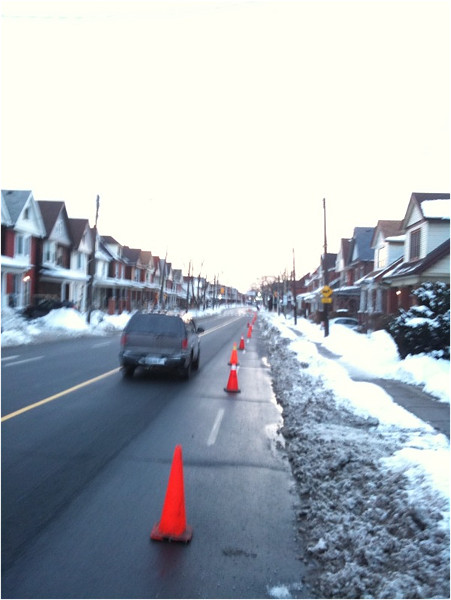 Cannon Street between Barnesdale and Sherman, looking east.
These lanes were out of service for over a week until the City finally cleared them. As someone who rides to and from work every day on Cannon Street during AM and PM peak hours, I can attest that what we see in the photographs is absolutely typical for the entire time.
Zero impact.
What Should the Cannon Extension Look Like?
There are several examples of four lane car streets being transformed into complete streets with protected cycle infrastructure. One example is Jodenbreestraat in Amsterdam, where a four lane car street was turned into a two lane car street with the other two lanes as protected cycle lanes.
The next example is for those who say "But Cannon has driveways!" or "cycle infrastructure only works because Dutch cities have high density!" Here is an example of a fairly low density suburb in Vught: two lanes for cars and the same amount of space for walking and cycling. Just the amount of space we have on Cannon Street.
The final example is a video of an even less dense area. We see the same amount of road space as is used by a four-lane car road. But cars get two lanes with the rest being a complete street.
The important point is that this could be Cannon Street if two of the existing lanes were converted for the use of people, not cars.
Cannon is, of course, a lot less rural. But I am really trying to kill the false notion that Dutch infrastructure only works because of some mythical high density.
The Dutch children in this video have high quality cycling infrastructure so they cycle to school.
What about the children at Prince of Wales Public School, King George Public School, Queen Mary Public School and Holy Name separate school?
All these schools need protected cycling infrastructure on Cannon Street between Sherman and Kenilworth for their children to cycle to school. We can guarantee that the proposed unprotected infrastructure will not enable any significant number of these children to cycle to school.
Creating a Gap in the Transportation System
Another important consideration is that Cannon Street connects to the car-free Pipeline Trail just beyond Kenilworth.
If the Cannon extension is not protected, an unprotected gap has been created between the Pipeline Trail and the protected Cannon lanes west of Sherman.
A chain is only as strong as its weakest link and a protected cycle network is only good until it encounters an unprotected gap. At that point it starts excluding 92 percent of the population.
Post a Comment
You must be logged in to comment.