'Modified Standard' Sidewalk Curb Cuts Put Pedestrians at Risk
Why replace a design that worked for decades with a design which puts pedestrians at risk, particularly the elderly and those with disabilities?
By Steven Toth
Published March 23, 2015
The International Walking Charter, adopted by the City of Hamilton in 2008, sets out ambitious goals for walkability - development of green space, access to public toilets, tree planting, and more.
A fundamental goal in the Charter is to:
Provide clean, well-lit streets and paths, free from obstruction, wide enough for their busiest use, and with sufficient opportunities to cross roads safely and directly, without changing levels or diversion.
Hamilton achieved part of that goal decades ago: sidewalks with a continuous flat surface wide enough for two people to walk abreast without changing levels along the length of the walk.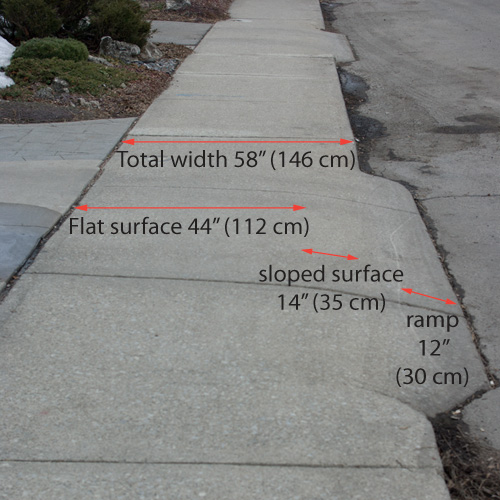 Sidewalk driveway cut, older design
Driveway access was provided by ramps extending a short distance onto the street. Safe and comfortable for pedestrians, the design did not interfere with on-street parking.
So why replace that with something called the "modified standard approach"?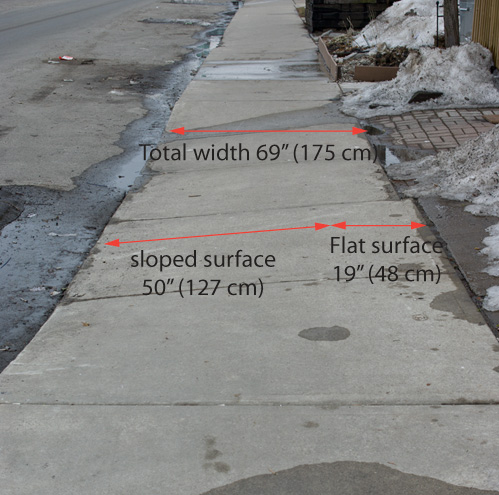 Sidewalk driveway cut, modified standard design
The "modified standard" provides driveway access by sloping approximately two-thirds of the sidewalk down to meet the road leaving one third flat for pedestrians. The design is uncomfortable and hazardous for pedestrians.
Last year I wrote to then-Councillor Brian McHattie about this issue and was put in touch with Gary Moore, Director Engineering Services, Public Works.
Mr. Moore has spent a good deal of time answering my emails, and last summer he took the time to walk Herkimer Street between Dundurn and Locke, where this type of sidewalk replaced the old style.
I walk along this street often. I've slipped on these ramps, and a friend who lives there has slipped repeatedly. I've seen children trip and fall on this sidewalk.
The flat portion of the sidewalk is too narrow to accommodate two people walking abreast or people passing each other. Wet leaves, early morning condensation or poorly cleared snow make the ramp slippery for able-bodied walkers and treacherous for those with mobility issues.
The other issue is what Mr. Moore referred to in a February 2015 email as "the roller coaster affect along the length of the sidewalk." The design forces pedestrians to constantly change levels each time they encounter a driveway.
Mr. Moore says this design is both the City and provincial standard. On February 26th he wrote:
It is not a question of the design or the standard it is a question of the ability to implement a feasible alternative that can accepted by all user groups on the street. Those that must park on the street because they have no driveway, those that have a driveway and an expectation that they can use it without damaging the bottom of their car and the provision of separate protected facility (a sidewalk) for the pedestrian.

Here's the reality of the situation. It is not always possible to achieve what you are looking for in a retrofit situation without creating a boulevard. Period. We understand what the pedestrian wants but as I stated before it is a question of the parking needs, the driveway access needs and the available land.

These all must be considered and not just dismissed in favour of the provision of unfettered absolute ultimate pedestrian consideration. That is what you are asking for. I have a dog and walk extensively, I know exactly what you are talking about, but the reality is there are different conditions of sidewalk (new and old) there are different standards and modifications on standards implemented over the 50 or 60 or 70 years of concrete sidewalk and people need to take these into consideration when they walk and where they walk.
I find the final statement particularly troubling. Asking pedestrians to consider "where they walk" is not a compromise design, it is a failure of design.
I've talked to numerous people about this issue - a couple in Dundas who cannot walk abreast because they both have mobility issues, a runner in east Hamilton who runs on the road to avoid the roller coaster, my elderly neighbour who finds the design sets her "off kilter" and a driver in Dundas who damaged her car's air dam on the edge of the approach.
On February 27, Mr. Moore sent the following email: "I suggest that if you need or want to have further discussion that you involve your Councillor and we have field visit, as it is very difficult to understand all of the technical terminology, challenges and necessary considerations without seeing it in the field."
He is correct. It is difficult to understand. Why replace a design that worked for decades with a design which puts pedestrians at risk, particularly the elderly and those with disabilities?
Currently, sidewalk retrofits are "whatever fits the situation" according to Mr. Moore. And while the choice was previously based on staff recommendation, it is now supposed to be made in consultation with the area councillor.
The standard in Hamilton needs to be better. The modified standard design is a failure for pedestrians. We need to stop using it.
Post a Comment
You must be logged in to comment.