Merulla to Call for Police Investigation in Ferguson-Coleman Incident
Merulla wants to remove Ferguson from Police Services Board while outside police agency investigates.
By Ryan McGreal
Published March 02, 2015
Ward 4 Councillor Sam Merulla has circulated a notice of motion calling on City Council to ask an outside police agency to investigate the February 26, 2014 incident between Ancaster Councillor Lloyd Ferguson and journalist Joey Coleman, and to remove Ferguson from the Police Services Board where he currently sits as Chair.
Background
As widely reported last year, the incident took place around 10:45 PM on the way to a press conference after an in-camera Council debate over the stadium lease to the Hamilton Tiger-Cats.
Coleman was following City communications manager Mike Kirkopoulos and former Councillor Brad Clark to the meeting when Ferguson walked up and began talking to Clark and Kirkopoulos.
Ferguson turned to Coleman, who was carrying his recording equipment to the press conference, and told him to move away. Ferguson then grabbed Coleman by the arm and shoved him back. As Coleman reported in a post on his website:
Ferguson turned around, strongly clenched my upper right arm and shoved me with force.

He did not let go of his grip, continuing to clench me and strengthening his grip as he very angrily stated with a threatening tone that I wasn't welcome to stand where I had been, stating further that he didn't want me eavesdropping upon his conversation, looking at my camera.
Coleman says the camera was turned off and the lens was shuttered and he was simply carrying it to the press conference.
The next day, Ferguson apologized to Coleman both privately and publicly, and Coleman accepted his apology.
Integrity Investigation
A couple of months later, two Hamiltonians independently filed complaints against Ferguson to the City's Integrity Commissioner, Earl Basse, who upholds Council's Code of Conduct.
It took nearly a year for Basse to come back with his report. He viewed the City's security camera footage and interviewed Ferguson. He did not interview Coleman or either of the two witnesses to the incident - Kirkopoulos and Clark.
Basse concluded that Ferguson had violated the Code of Conduct but that it had been a long and stressful day, and there should be no further consequence given that Ferguson had apologized.
Council voted to accept Basse's report last week. Only two councillors voted against accepting the report: Ward 3 Councillor Matt Green and Ward 7 Councillor Scott Duvall.
Now Merulla is alleging that the incident constitutes assault under the Criminal Code of Canada. Section 265 of the Code reads:
265. (1) A person commits an assault when

(a) without the consent of another person, he applies force intentionally to that other person, directly or indirectly;

(b) he attempts or threatens, by an act or a gesture, to apply force to another person, if he has, or causes that other person to believe on reasonable grounds that he has, present ability to effect his purpose; or

(c) while openly wearing or carrying a weapon or an imitation thereof, he accosts or impedes another person or begs.
Ferguson insists that the incident was not an assault. In an article published in today's Spectator, Ferguson is quoted saying:
"Absolutely not ... listen, I was approached from behind while having a confidential conversation with a senior staffer ... after a very contentious in camera meeting. I caught him (Coleman) coming up behind me with a recording device. I didn't know if it was on or off. I asked him twice to move, and then I took him by the arm to move him," he said.
Ferguson has also said he is happy that Basse's report recommended no penalty, and that he does not plan to step down from the Police Services Board.
Ombudsman Weighs In
Currently, the office of the Ontario Ombudsman has no official power to investigate municipal issues, though this is set to change under pending legislation that brings Ontario municipalities, universities and school boards under its purview.
Bill 8, the Public Sector and MPP Accountability and Transparency Act, was carried on December 9, 2014 and received Royal Assent on December 11, but the Ontario Government has not yet proclaimed it into law.
Meanwhile, Ontario Ombudsman Andre Marin has weighed in on the Ferguson issue on Twitter by giving Basse's report an "F" grade. Marin posted marked-up copies of the report's pages, noting that the report provided no analysis, interviewed no witnesses and explored no potential sanctions.
It also accused the report of playing "inside baseball" in its review of the complainants, which implied that they were politically motivated before concluding that they were "neither vexatious nor frivolous".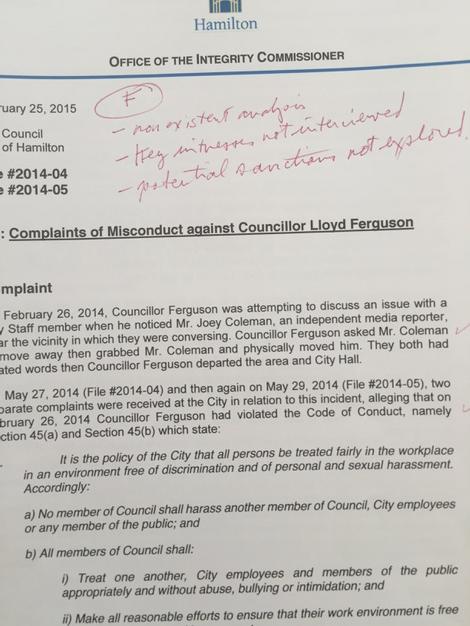 Andre Marin's notes on Basse's report, page 1 of 5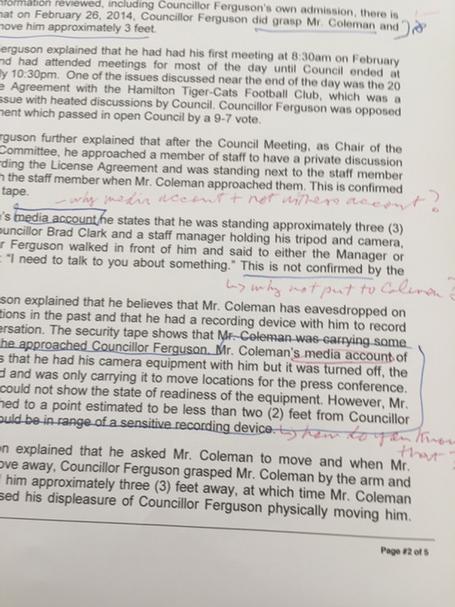 Andre Marin's notes on Basse's report, page 2 of 5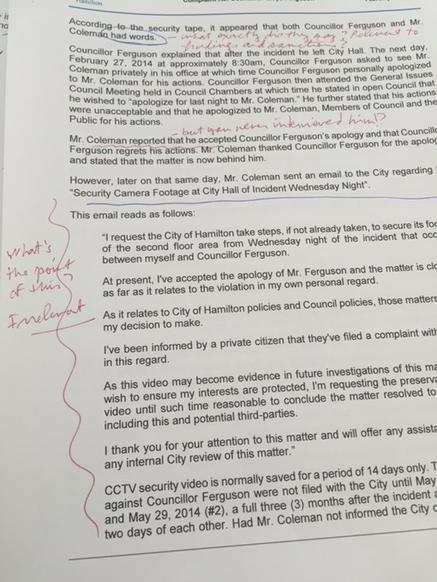 Andre Marin's notes on Basse's report, page 3 of 5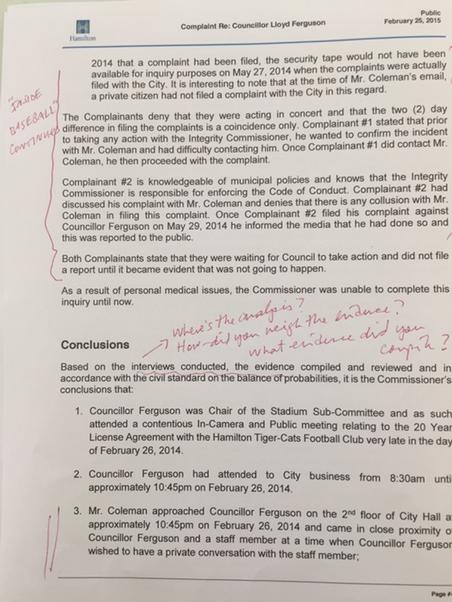 Andre Marin's notes on Basse's report, page 4 of 5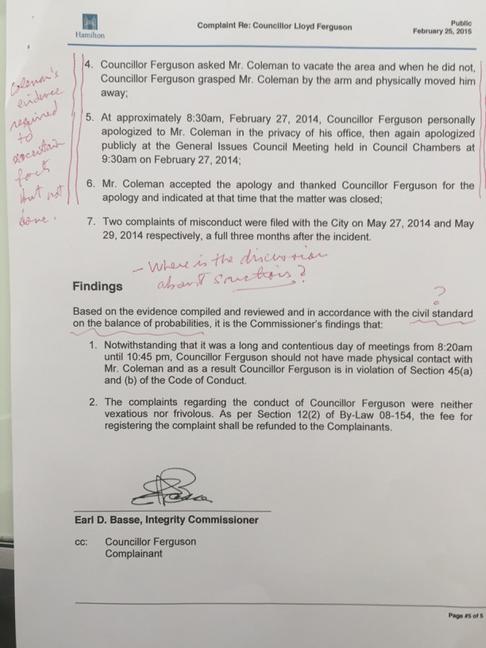 Andre Marin's notes on Basse's report, page 5 of 5
Marin concluded:
If #Bill8 had been in effect, I would have sent #HamOnt IC report back 2 drawing board. And not the grade 3 one it appears it was written on.
Post a Comment
You must be logged in to comment.