Throw Council on the Bus
A cheeky new campaign is collecting pledges to encourage Councillors to commute by transit for a week.
By Ryan McGreal
Published January 28, 2015
The good folks at Environment Hamilton have launched a cheeky new campaign: Throw Council on the Bus, in which Hamiltonians can pledge money to pay for City Councillors to commute on HSR for a week between now and March 28, 2015.
The rules are straightforward: if a Councillor agrees to commute for a week using transit, the Throw Council on the Bus campaign will collect the pledges for that Councillor and donate them to people who need help paying for transit.
The campiagn will use the honour system to determine whether a Councillor fulfilled their commitment to use transit, but Councillors are encouraged to share selfies on the bus.
You can donate the money city-wide, in which case it is divided evenly among the 15 Councillors and the Mayor, or you pledge specific amounts to a given Councillor.
You can follow the campaign on twitter via the hashtag #BusAMove.
The campaign launched yesterday, and people have already (at this writing) donated over $2,000. More than half the total has been pledged to Councillors Chad Collins (Ward 5) and Terry Whitehead (Ward 8):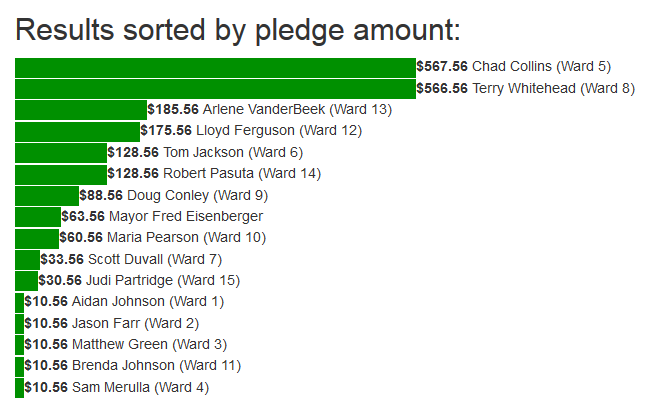 Results sorted by pledge amount (Image Credit: Throw Council on the Bus)
Collins was instrumental in building a majority vote to kill the transit-only lane on King Street between Mary and Dundurn. Whitehead accused City Staff of not being objective in writing the bus lane report, and misrepresented the results of a telephone survey.
At the Council meeting last week where Collins' motion to kill the bus lane passed, several Councillors who voted to kill the bus lane expressed strong support for transit and acknowledged the need to improve transit service - including through bus lanes.
Council has approved several strategic documents on improving transit service in the past 15 years, including the Transportation Master Plan in 2001, the Transportation Master Plan Review in 2007, the HSR Operational Review in 2010 and the Rapid Ready LRT Plan in 2013.
However, when it has come time to implement these strategic plans through transit policy, Council has consistently failed to act. The bus lane was the only proposal from the 2010 Operational Review that Council implemented, out of a list of recommendations that were supposed to be implemented by this year.
As a result, Hamilton has made no progress toward its goal of increasing the transit share of total trips from 6 percent in 2001 to 10 percent by 2011 and 15 percent by 2021. It is 2015 and we remain stuck at 6 percent.
Now several Councillors who claim to support transit but voted against the bus lane are saying it doesn't make sense to consider any transit improvements until the next Transportation Master Plan review is completed in 2016.
Hamilton deserves much better from its leaders.
Post a Comment
You must be logged in to comment.