Five Years Later, HSR Operational Review Transit Recommendations Mostly Ignored
Here we are five years later, when the recommendations should have already been implemented. Instead, this fantastic report that was paid for with our tax dollars has been almost completely ignored.
By Jason Leach
Published January 07, 2015
With the staff report on the King Street bus lane going to Council next week, now is a good time to review the final report of the HSR Operational Review, which was prepared by IBI Consulting in 2010.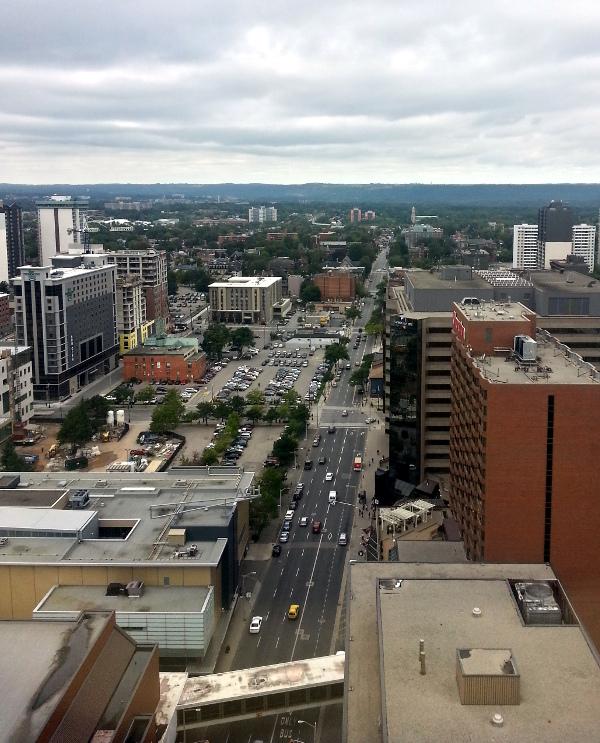 King Street West bus lane (RTH file photo)
This report was intended to be a five-year work plan to be fully implemented by 2015, and it is packed with excellent recommendations to improve transit in Hamilton.
As far as I can tell, we have only implemented one of those recommendations: the transit-only lane on King, which was implemented as a one-year pilot project. A motion went before Council late last year to kill the pilot without even waiting to find out how it worked.
Missed Opportunities
But look at the recommendations we haven't adopted, which will be familiar to people who have been reading RTH:
Multiple dedicated transit lanes downtown;
Advanced signals to allow buses to turn from transit lanes;
Transit priority at right-turn lanes such as those along Upper James and Upper Wentworth;
Transit lanes out of Limeridge Mall;
A new crosstown express bus route using the Red Hill Valley Parkway, Lincoln Alexander Parkway and Highway 403 that connects McMaster University, McMaster Innovation Park, the Meadowlands, Upper James, Limeridge, Meadowlands East and Eastgate Square; and
A commitment to reliable, seven-days-a-week express service with new branding.
It also calls for a re-orientation of some of the long, meandering bus routes that could be streamlined and connect more directly to the express lanes.
Here we are five years later, when the recommendations should have already been implemented. Instead, this fantastic report that was paid for with our tax dollars has been almost completely ignored.
Of course, another fantastic blueprint for transit improvements in Hamilton is the Rapid Ready LRT report, which Council approved nearly two years ago.
We Need Better Transit
I understand the HSR is going to be presenting yet another ten-year transit plan to council next month. I hope it incorporates many of the IBI ideas (better late than never).
We need reliable, regular transit service with a broad network of express routes right now. By eliminating some redundancy on other routes, we can achieve quick improvements to our transit system without big funding increases.
It is mind-boggling to me that we could even be having a council meeting with a possible vote to end our only transit lane in 2015, when our very own consultant reports recommended having several express lines and dedicated transit lanes up and running by 2015.
I hope this council will be the one to take reports like the Operational Review and Rapid Ready seriously and start building a city that can grow and prosper in the future.
There is not a single city anywhere that is booming and successful with a tremendous quality of life that doesn't have a high-quality transit system and a proper land-use plan that encourages transit use by having walking, cycling and street-oriented developments with reduced parking requirements.
As a resident and taxpayer, I strongly urge council to approve the plan coming from HSR with a request for 100 new buses added to the fleet over the next decade. I would also suggest we make a good number of them, 50% or more, 60-foot articulated buses.
Better Operating Costs
Looking through the HSR budget it is striking to see 'employee costs' account for over 50 percent of the total.
Longer buses and - especially - an LRT network will save the city huge amounts of employee costs due to more passengers being moved by fewer drivers.
Toronto's new LRT vehicles on the Elginton and Finch lines each carry 280 passengers. Up to three cars can be linked together to carry a total of 840 passengers per driver.
Likewise, Ottawa's LRT vehicles will have capability of being joined together to carry 600.
And bear in mind that these vehicles will last over 30 years.
One 40-foot bus carries 40 passengers and an articulated bus can carry around 80 passengers. They both need to be replaced every 10-12 years.
The math is simple: one Toronto LRT operator can carry as many passengers as ten Hamilton articulated bus operators - and those buses will need to be replaced three times for every one time the LRT vehicle is replaced.
Why we aren't beating down the door at Queen's Park to demand our fair share of modern rapid transit investment like every other city in the GTHA may be the biggest head-scratcher of all.
Status Quo Doesn't Work
Any Hamilton residents who are still under the illusion that we can continue to plan for universal driving as a viable transportation option in Hamilton needs to look no further than Los Angeles.
Twice last year we had just half of one highway closed down and it caused transportation mayhem city-wide. That is because we have built a city with no viable options other than driving. Add 100,000 people into our city who all have to drive, and mayhem will become the norm.
I call on Mayor Eisenberger and Council to make this the term that future observers look back upon as the one that moved Hamilton into the 21st century and laid the framework down for a successful, vibrant, livable city that could grow and be healthy for decades to come.
We had it correct back in 2001 when we published Putting People First - except that we mostly shelved that plan as well.
Experts all over the world have been telling us for years that the best transit, cycling, walking and vibrant urban city plan is one that puts people first.
A city built around the car gets only cars and outlying big box malls. When active transportation and transit are safe and convenient, people will walk, bike, use transit and support street businesses in their neighbourhoods.
We get the city we plan for.
This article was adapted from a letter to Council.
Post a Comment
You must be logged in to comment.