Mayor, Premier Out of Sync on Rapid Transit Funding Commitment
I really want to believe the Province is acting in good faith on the LRT file. However, if they are just being prudent there seem to be less confusing ways to go about it.
By Ryan McGreal
Published January 27, 2015
On Monday, Hamilton Mayor Fred Eisenberger met with Ontario Premier Kathleen Wynne and talked about rapid transit funding. Following that, Mayor Eisenberger met with Transport Minister Steven Del Duca and they also spoke about rapid transit.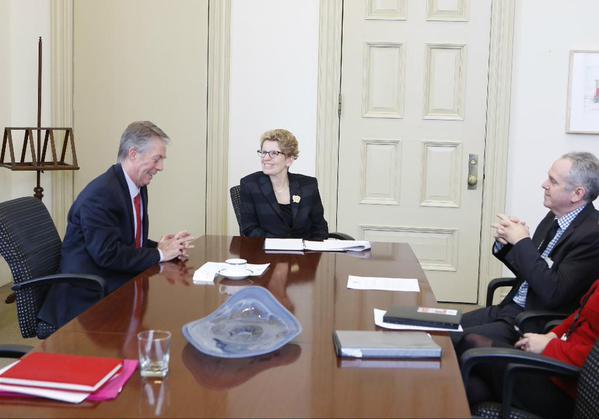 Hamilton Mayor Fred Eisenberger, Ontario Premier Kathleen Wynne and Hamilton City Manager Chris Murray (Image Credit: Government of Ontario)
According to Mayor Eisenberger, both Premier Wynne and Minister Del Duca committed the province to provide 100 percent full capital funding for the City's light rail transit (LRT) plan along the east-west B-Line between McMaster University and Eastgate Square.
Eisenberger also said he told the Premier he wants to establish a citizens' jury to evaluate the various rapid transit options and make a recommendation, a position with which he said the Premier feels "comfortable".
Eisenberger said, "My ask at the end of the meeting was, 'Are you comfortable with me saying this publicly?' and the answer was 'Yes'."
Premier Wynne More Vague
But Premier Wynne was more vague in her press conference after the meeting.
According to Globe and Mail reporter Adrian Morrow posting on Twitter, Wynne said, "We have said all along that we are committed to build the rapid transit in Hamilton."
Asked specifically whether rapid transit means LRT, Wynne demurred, saying "There has been a back-and-forth in Hamilton about what that rapid transit will be."
You can read a full transcript of Premier Wynne's remarks on The Public Record.
'Unequivocally' Committed to LRT Funding
In a subsequent press conference at City Hall, Eisenberger reiterated that Premier Wynne had committed to LRT "unequivocally".
The Public Record has posted a video of the conference:
Eisenberger said, "On the transit funding side, the Premier - as well as Minister Del Duca, we met shortly thereafter - both confirmed their commitment to 100 percent capital funding for LRT." He made air quotes when he said "LRT".
City Manager Chris Murray, who also attended the meetings with Premier Wynne and Transport Minister Del Duca, backed up Eisenberger's assessment of what happened.
According to Murray, "I think you captured what we heard. I think the Mayor has captured what we heard at both meetings. [...] In terms of the question that Council has asked for many months, 100 percent funding for the capital costs of B-Line LRT, we heard that that is the plan."
When reporters noted that the Premier seemed to be backpedaling, Eisenberger said, "I was in the room, Chris was in the room, my chief of staff [Drina Omazic] was in the room. It was clear, it was unequivocal. I asked her multiple times, the answer was the same each and every time. I asked the same question of Minister Del Duca and the answer was the same: fully committed to 100 percent funding for LRT."
What is Going On?
So what is going on? For years now, the Province has refused to give Hamiltonians a straight answer about whether their oft-repeated commitment to full capital funding for rapid transit will apply specifically to LRT.
Mayor Eisenberger's comments today after the meeting seemed to lay that uncertainty to rest finally, only for Premier Wynne to cloud the issue all over again.
There are a few possible explanations for the discrepancy between their statements:
Mayor Eisenberger and Chris Murray are wrong, and Premier Wynne and Minister Del Duca did not actually commit to full capital funding for LRT.

Premier Wynne and the Ontario Government are sowing uncertainty about LRT funding in the hopes that Hamilton's leaders lose their nerve and the LRT plan collapses.

Premier Wynne knows that Mayor Eisenberger wants to establish a citizens' jury, and she doesn't want to be perceived as prejudicing the city in favour of a particular option (i.e. LRT).
All cynicism about provincial politics aside, option 3 has a lot going for it. It assumes good intent on the part of the various participants, it is consistent with this government's historic reluctance to interfere with municipal issues, and it demonstrates a hard-won caution and reservation about making funding commitments after the past several years of turmoil over rapid transit planning in Toronto.
Eisenberger acknowledged that his citizen jury proposal "opens the door to all transit. And they were comfortable with that. Certainly, as you know, my hope is that LRT rises to the top as the higher order, higher value transportation system for the City of Hamilton."
So it is entirely possible that the reason Premier Wynne won't say "LRT" is simply that she wants to let Hamilton's citizen jury process unfold without interference.
However, it would have helped immeasurably for the Premier to just come out and say that, rather than forcing Hamiltonians to keep stirring the tea leaves.
More Details
According to Eisenberger, he also heard today that the Province wants to see the B-Line LRT connected to the new James Street North GO Station currently under construction. The Mayor suggested a spur line could connect the east-west LRT to the station, which is several blocks north of King Street.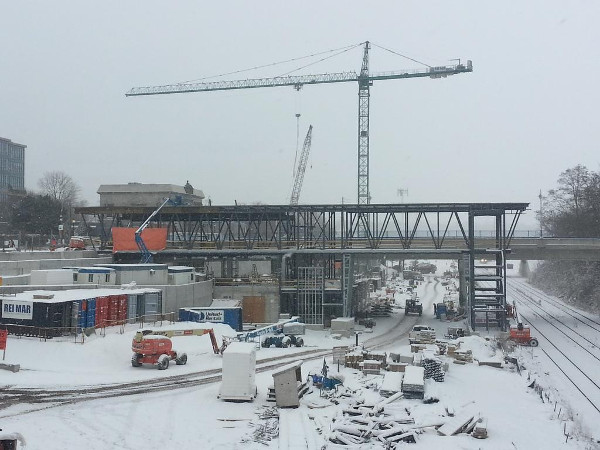 James Street North GO Station under construction
This makes a lot of sense, since the James North GO Station will eventually be servicing Hamilton with all-day, two-way train service along the Lakeshore West line, and the Province has stated that electrifying its GO Train network is one of the Government's top priorities.
It is not clear what impact that additional route design would have on the cost or timeline of the system.
The Mayor said Premier Wynne and Transport Minister Del Duca did not go into specifics around the actual cost of the system. They "have said they don't want to put a number on it because it may go up or down depending on what the design costs are."
According to the 30 percent functional and detailed design work the City submitted to the Province in 2013 under the Rapid Ready LRT plan, the cost to build the system was estimated at $811 million, though staff noted that they may be able to reduce that price through value engineering.
Eisenberger said he hopes to have more details on the timeline of the rapid transit funding within the next two or three months.
Eisenberger also said the Province recognizes that Hamilton is looking to invest in LRT proactively rather than in response to a traffic congestion crisis. "They quite understand that it is not predicated on a congestion issue, although we can get out ahead of that if we do it sooner rather than later, but predicated on the economic uplift that comes with the higher order transportation."
Murray and Eisenberger were asked what was different from this meeting compared to the meeting last summer with former Mayor Bob Bratina and Minister Del Duca. Murray responded, "The one thing that's different is that what I heard was straight from the Premier's mouth. So, I've never attended a meeting before where a Premier had expressed exactly what I heard this morning."
"The Mayor said it and I'll say it again. It's the question that Council's been asking for some time: 'Will the Province fulfil its commitment to 100% funding for LRT?'"
Eisenberger joked, "It's because I'm persuasive." He went on:
According to the Premier, the words the she used are they remain committed to 100% capital funding to LRT. You know, in their mind, they've never varied from that opinion. Minister Del Duca did indicate some vagueness when he came here last time. It was much more specific and clear today. I'm not going to surmise the change other than, the election's passed, we have a new term of council, they have a new mandate, and it's a good time to clarify some of the issues that have been vague and uncertain, and now's the time, I think, that we certainly need clarity, and they need to provide clarity as well. So I think it just all came together today.
Except the summary of today's meeting being communicated by the Mayor and the Premier still don't quite come together.
Again, I really want to believe that the Province is acting in good faith and that they have a legitimate reason to continue refusing to come out publicly and say they will fund LRT. However, if they are just being prudent there seem to be less confusing ways to go about it.
Post a Comment
You must be logged in to comment.