Dead End: Suburban Sprawl and the Rebirth of American Urbanism by Benjamin Ross
Dead End is an engaging book, appropriately critical of sprawl without being sanctimonious and asking the right questions about why we continue to build sprawl when so many people prefer complete neighbourhoods.
By Rob Fiedler
Published November 17, 2014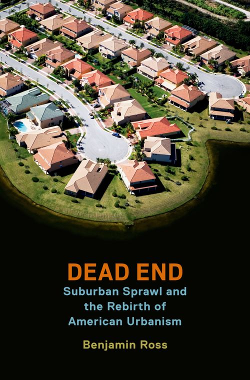 Dead End
At the end of September, I attended an event co-sponsored by Epic Books on Locke Street and Raise the Hammer (RTH) dubbed "An Evening with Transit Activist Benjamin Ross". Ross was in town to promote his new book Dead End: Suburban Sprawl and the Rebirth of American Urbanism, which I purchased and later agreed to review for RTH.
For those of you who missed his talk, Ross is an activist for urbanism and transit. A hydrogeologist with a PhD in physics from MIT, a Washington Post story about his book reports that "he got involved in advocacy [in Maryland] in the early 1990s out of annoyance that he had to walk in the street from his Bethesda home to the nearby Medical Center Metro Station."
This personal frustration about lack of sidewalks in his neighbourhood eventually led him to serve 15 years as president of the Maryland's Action Committee for Transit, which, according to his book's dust jacket, "grew under his leadership into the [United States'] largest grass-roots transit advocacy group."
Message to municipal politicians everywhere: you never know where a failure to provide sidewalks can lead.
More seriously, many RTH readers will find his discussion of the Purple Line - an LRT line destined to connect three Washington, DC Metrorail (subway) lines in Maryland's Montgomery and Prince George Counties - insightful.
I'll leave the specifics of the Purple Line and other examples he discusses in Dead End for readers to discover, except to say that after more than 20 years of political twists and turns, construction on the Purple Line is expected to start next year.
One can only hope that our B-Line LRT moves from plan to reality more expeditiously.
After a couple of reads, I can report that I found Dead End an engaging book, one that is appropriately critical of sprawl, but avoids being sanctimonious.
It helps that the author is an activist for urbanism and transit who resides in suburbia. This is a book about spreading urbanism far and wide because there's growing demand for it, including in "the burbs".
The book starts with a brief tour through suburban history. Hardly exhaustive or comprehensive, his review works for its purpose. It establishes the linkage between the antecedents to contemporary sprawl and the use of covenants then zoning to protect the social status of residential areas, whether urban or suburban, from physical and social change, except where it would be status enhancing.
Readers familiar with recent debates about suburbanization and suburban history will note that Dead End tacks toward the suburban cliché. Ross tends to emphasize suburban trends that relate only to wealthy suburbanites or affluent commuters.
That tends to reinforce the impression that the historical suburban periphery was a place of privilege and leisure rather than a complex and variegated landscape of open spaces, agricultural production, industrial satellites, unplanned working-class districts, picturesque borderlands, and railroad suburbs (i.e. commuter towns).
Quibbles aside, Dead End gets the story mostly right in terms of what contributed to vast, sprawling form and ways of life in contemporary metropolitan regions: early planning ideas that confused density with "congestion" and "overcrowding"; fiscal and snob zoning; federal housing policies; mortgage redlining; white flight/racism; public subsidies for automobility; the destruction of inner-city neighbourhoods via the combination of urban renewal, parking lots, and expressways; and later the rise of NIMBYism and anti-development politics.
As the book progresses, Ross increasingly turns to the subtle abuses of language, planning, and the law used to preserve the status quo, which often without acknowledgement fuels sprawl. It is here that Dead End takes no prisoners. I suspect that many readers will find themselves nodding in agreement one minute and troubled or passionately disagreeing the next.
For example, Ross outlines how "compatibility" has come to relate more to protecting and enhancing the character of the neighbourhood than actually ensuring that truly incompatible uses are prohibited.
A few paragraphs earlier a letter from a spurned builder is quoted. It offers a rare, but candid assessment of the real intent of a wealthy New York suburb's zoning rules: to ensure "that each newcomer must be wealthier than those who came before, but must be of a character to preserve the illusion that their poorer neighbors are as wealthy as they." The builder had proposed building an apartment building for seniors.
This is, of course, a case of snob zoning, and it is easy to deplore it as such. But it also an obvious and egregious example. What about when this isn't the case?
When Ross next moves on to discuss the "shell-game" that has emerged around "exemplary" you can see more clearly the difficulty. The ordinary or dictionary meaning of exemplary revolves around "a thing of unusual value" and this was, as he says, how the public initially understood laws to protect historic buildings and districts, "to preserve the outstanding". In practice, Ross argues, the result can be the opposite, "to embalm the ordinary".
Urbanists in Hamilton will probably see this critical assessment of "exemplary" as double-edged. We've lost so many of our outstanding historic buildings that what's left may be ordinary, but worth preserving precisely because it's old, typical of past urban form, and irreplaceable.
Of course, we are blessed in Hamilton with an impressive amount of land downtown being used as parking lots. There is little reason for us to have to choose between preserving old buildings and intensification. We can have both.
The final chapters of Dead End review the history and politics of "smart growth success stories". Again, those interested will find the details he covers worth reading.
In Hamilton, we might benefit from the overall lesson Ross draws from Portland, Arlington, and the Purple Line: that advocates for urbanism and transit win by thinking big. As he states, only a big vision can stitch together a broad enough coalition of support to override parochialism and backyard politics.
It is the balancing of local and regional concerns and determining broad public interest that is the essential business of politics. Smart Growth intensification is not only about curtailing sprawl and the rebirth of urbanism, it is also about land development.
Perhaps, if there is one glaring weakness throughout the book, it is that Ross elects not to subject finance capital and the real estate development industry to the same degree of critical scrutiny as planning ideas, zoning laws, government policy, and the political pull of nimbyism.
Dead End asks the questions that so many of us urbanists ponder: "What is the compulsion that keeps us building what so many revile? Why are urban streets, so much in demand, so rarely supplied? Why do attempts at cure so often worsen the disease?"
To this reader, Ross mostly hits the mark. A large part of that lies in his asking the right questions. The ones that matter, and should preoccupy us if we see a better future as one where more neighbourhoods are transit-supportive, walkable, and home to vibrant mix of places to live, shop, play, and work.
His book is also a reminder that politics is the vehicle that gets us there.
[Postscript: Dead End is an American book. It goes without saying that our two countries share much in common, but certain aspects of the historical narrative and arguments Ross presents differ in their specifics from the Canadian experience.]
Post a Comment
You must be logged in to comment.