Yet Another Developer Asking for Two-Way Streets
We have a classic opportunity for education and leadership, not stalling and cowardice. How much more trauma, injury, death and lost potential will we endure while we wait to act?
By Ryan McGreal
Published September 09, 2014
Can anyone today stand up with a straight face and still claim that Hamilton's network of paired one-way thoroughfares constitutes some kind of "competitive advantage" for the city? Property developers certainly don't think so.
270 Sherman
The Spectator's Paul Wilson writes that the family behind the redevelopment of 401 Richmond and the Gladstone Hotel in Toronto have bought the old Imperial Cotton factory at 270 Sherman Avenue North.
There's plenty to be excited about with that news, but note the closing comment by developer Rob Zeidler:
He does have one beef about Hamilton - one-way streets. "Two-way brings people, stores, makes a neighbourhood," he says. "I'll be fighting for that here on Sherman."
The way we have done other conversions in the past several years, I would not be surprised if the City assents to his wishes by converting Sherman to two-way between Biggar Avenue and Landsdowne Street.
Staybridge/Homewood
When Vrancor built the Staybridge hotel at Caroline and George and began work on the Homewood Suites on the block framed by Caroline, George, Bay and Main, the company requested that Caroline be converted to two-way south of Main so that people can access the buildings more easily.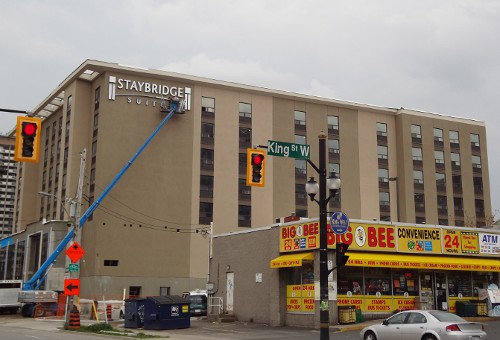 Sign going up on Staybridge Suites Hotel (RTH file photo)
The City converted exactly two blocks of Caroline to two-way, between Main and King Street. There are two lanes in the original southbound direction and one reluctant lane northbound.
The Downtown Transportation Master Plan includes two-way conversion of Caroline all the way to York Boulevard, but the reconfiguration of the Caroline/York intersection has not been budgeted.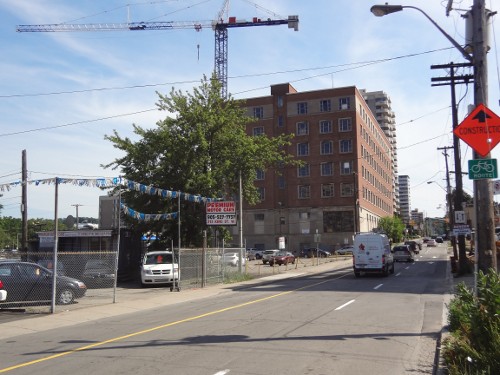 'Two-way in name only' on Caroline (RTH file photo)
Studebaker Site
Likewise, the redevelopment of the old Studebaker factory site into a new industrial park hinges on the two-way conversion of Victoria Avenue North.

Old Studebaker Plant (Image Credit: Wikimedia Commons)
A Spectator article from April 2014 cites project manager Sergio Manchia:
He said there is a solid market demand for this kind of product, simply because there isn't much available, particularly in the city's core.

But after two years of jumping regulatory hurdles with at least another year ahead, Manchia said he understands why industrial spaces are rarely redeveloped. Just one of those hurdles is getting final council approval for a proposal to turn Victoria Avenue into a two-way street that would facilitate ingress and egress into the site.
The City plans to convert Victoria to two-way between Burlington and Barton Street.
Victoria currently functions as an extension of the northbound side of the expressway-like Claremont Access, with Wellington as the southbound side.
Both streets are grotesquely overbuilt monstrosities that traumatize their neighbourhoods to carry a relative trickle of cars, making them dangerous and unwelcome for pedestrians and cyclists and seriously harming livability for local residents and businesses.
Insanely Overbuilt North-South Arterials
Wellington at Wilson carries just 12,200 cars a day on four one-way lanes - more than double the necessary capacity for that volume of traffic.
Victoria North carries a paltry 8,900 cars a day at Barton on its four one-way lanes - literally four times the necessary capacity for that volume.
We can keep going. Sherman carries 9,900 cars a day at Cannon on its four lanes. Wentworth carries a pathetic 5,400 cars north of King on its three one-way lanes.

Wellington Street North during afternoon rush hour (RTH file photo)

Sanford Avenue does not need to be a one-way thoroughfare

At Sanford and King, they had to put up steel bollards to protect the sidewalk

Wentworth Street does not need to be a one-way thoroughfare

Birch Avenue is a ridiculously unnecessary highway
This is insanity made manifest.
Dangerous Speeding
A predictable result of insanely overbuilt streets that have been engineered for 70-100 km/h vehicle speeds is that people drive at homicidal speeds through vulnerable urban neighbourhoods.
Last night, a collision on four-lane, one-way Wilson Street near Steven Street was so severe that one car ended up on a front lawn and the other ended up lying upside-down in a wide spray of debris.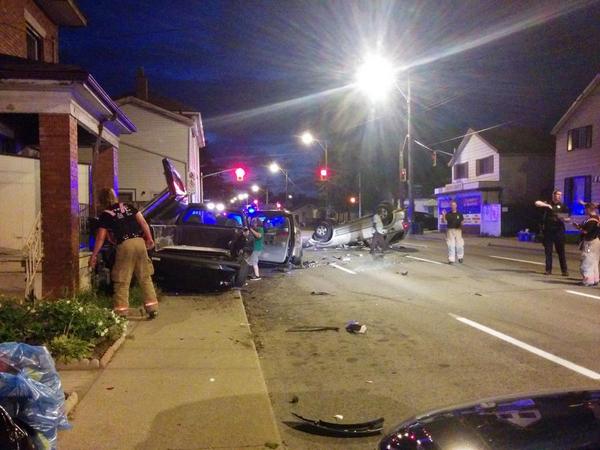 Collision on Wilson Street near Steven (Image Credit: Joey Coleman)
York Boulevard/Wilson Street was converted to two-way between between Bay and Ferguson in December 2010, and then Wilson was converted to two-way between Ferguson and Victoria in July 2011. Beyond Ferguson, it's still four mostly-empty one-way lanes.
This kind of freeway-style collision shouldn't be physically possible on a city street. But it's far from unprecedented for an area of the city where most arterials still look like freeways more than a decade after Council voted to convert many of them back to two-way.
In July, a single-vehicle collision on Main near Victoria obliterated a bus shelter and left the car a crumpled mess.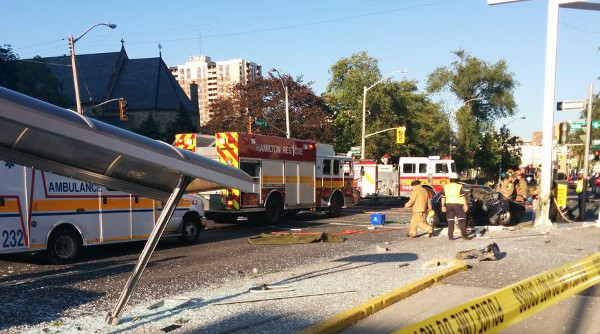 Scene of the July 5, 2014 crash on Main near Victoria (Image Credit: Joey Coleman)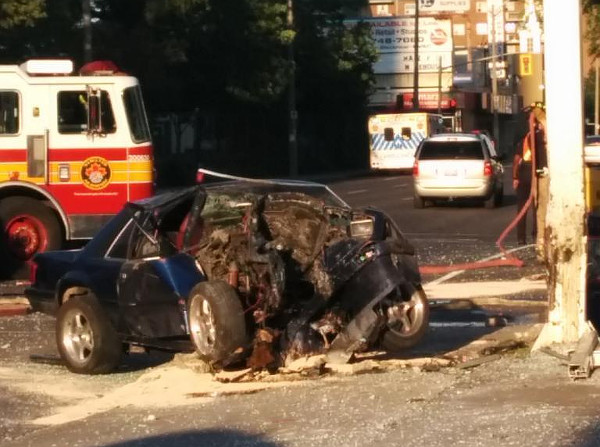 Smashed car after July 5, 2014 collision (Image Credit: Joey Coleman)
Earlier this year, two middle-aged male drivers were charged with stunt driving and speeding when they were clocked going 125 km/h on the aforementioned Claremont Access.
Council Afraid to Act
Council has been extremely reluctant to act on the two-way conversions it approved all the way back in 2001, and when staff bring forward conversion proposals at all, they are tepid plans that convert just a couple of blocks at a time.
Amazingly, a CAA South Central Ontario survey on two-way conversions undertaken in the end of 2012 found that a clear majority of Hamiltonians already support the conversion of secondary north/south streets and a plurality of Hamiltonians support converting downtown side streets.
The only conversions that a majority of respondents opposed were the major east-west streets (Main/King/Cannon). Even there, support was stronger with younger residents.
The summary report noted: "The majority of reasons for not supporting changes are emotional, not safety or financially founded."
This is a classic opportunity for education and leadership, not stalling and cowardice. How much more trauma, injury, death and lost potential will we endure while we wait to act?
Post a Comment
You must be logged in to comment.