Routing Changes to Locke, York Buses Canceled
When we take modest steps toward a more connected system now, we should remember that the ways we do that will serve as models for even bigger changes in the future.
By Stephen Barath
Published June 24, 2014
The summer schedule of the Hamilton Street Railway (HSR) was implemented on Sunday. With it, thousands of riders must adapt their lives to reduced levels of services on their routes. In Strathcona and Kirkendall, one relatively minor change was planned to be implemented, which would improve service and allow for better transit connectivity. That change has been cancelled.
Currently, the 6-Aberdeen, 7-Locke and 8-York bus routes have eccentric routings that are less than intuitive: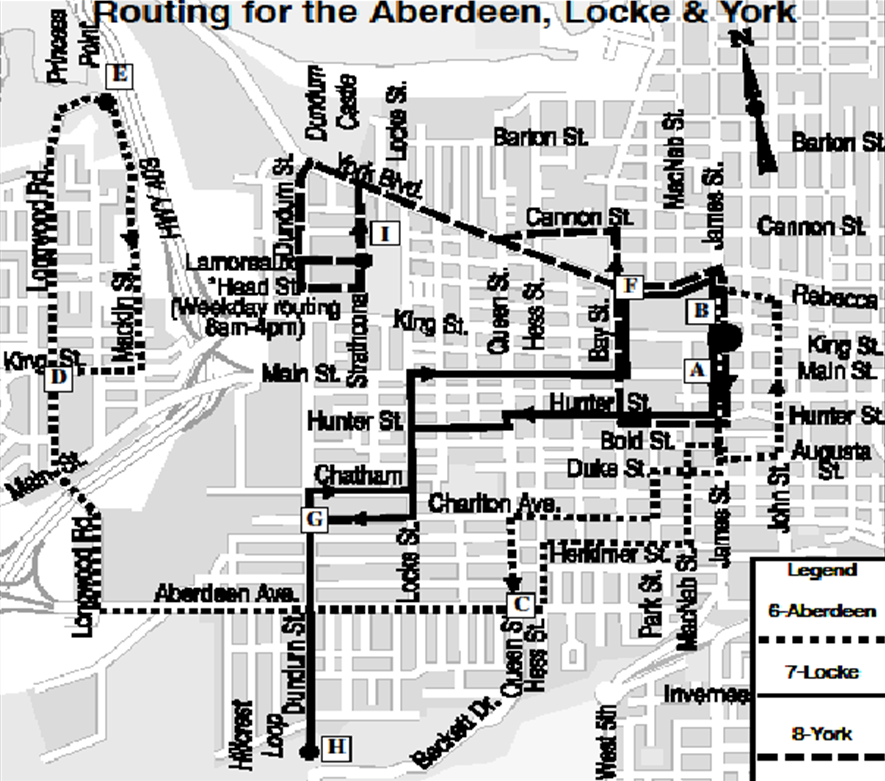 Current routing on Aberdeen, Locke and York routes
It's no wonder that, in the 2007 HSR Operational Review, these three routes are among the worst in the city in terms of passenger boardings, and the very worst by this measure in the lower city.
They nevertheless serve some large trip generators and are important in terms of serving the Strathcona and Kirkendall neighbourhoods, and connecting them to downtown.
Improving Route Usefulness
One specific comment that the two neighbourhoods have had for a number of years is that Dundurn Street should be served by one bus running its entire length. Currently, residents along Dundurn cannot access amenities by transit, even when they are located on the very same street.
Someone living in Kirkendall South cannot hop on a bus to make a connection to the Go Bus or the B-Line at Dundurn and King. Nor can someone in Strathcona get by bus to Fortino's or to a business on Dundurn South.
In September, HSR held consultation meetings with transit users and residents to consider the possibility of realigning the 8 York to continue along Dundurn south all the way to the Hillcrest loop, allowing connections between that route and the B Line; and allowing direct travel between Dundurn North and South.
This was a continuation of a process undertaken by the HSR and members of the community, and the goal of the meeting in September was to gauge community support for various options.
Three options were proposed, and this was selected based on input from respondents: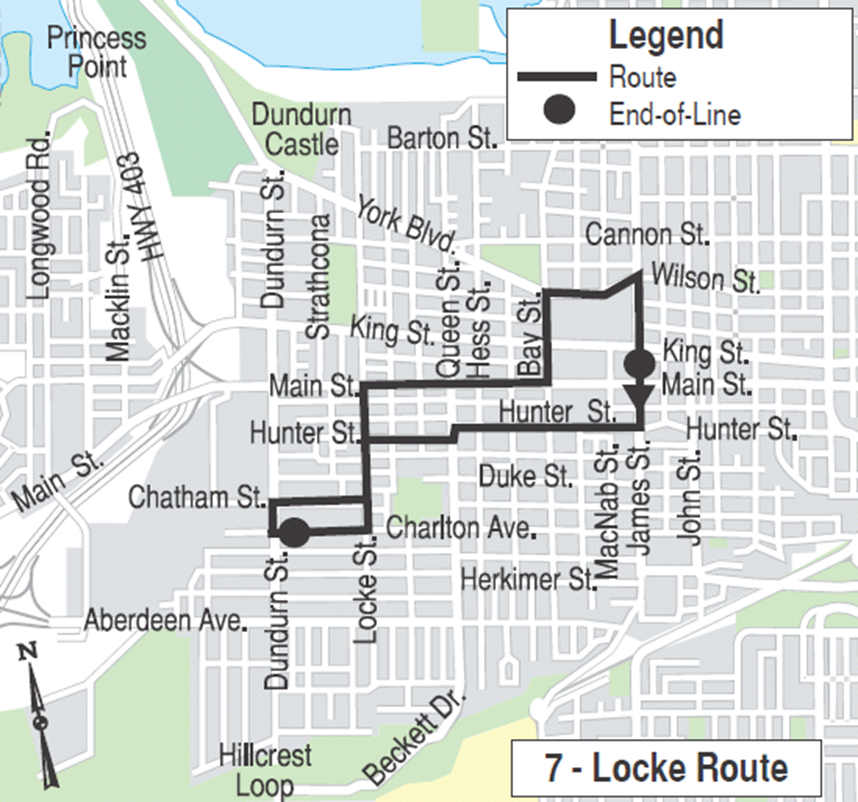 Proposed Locke route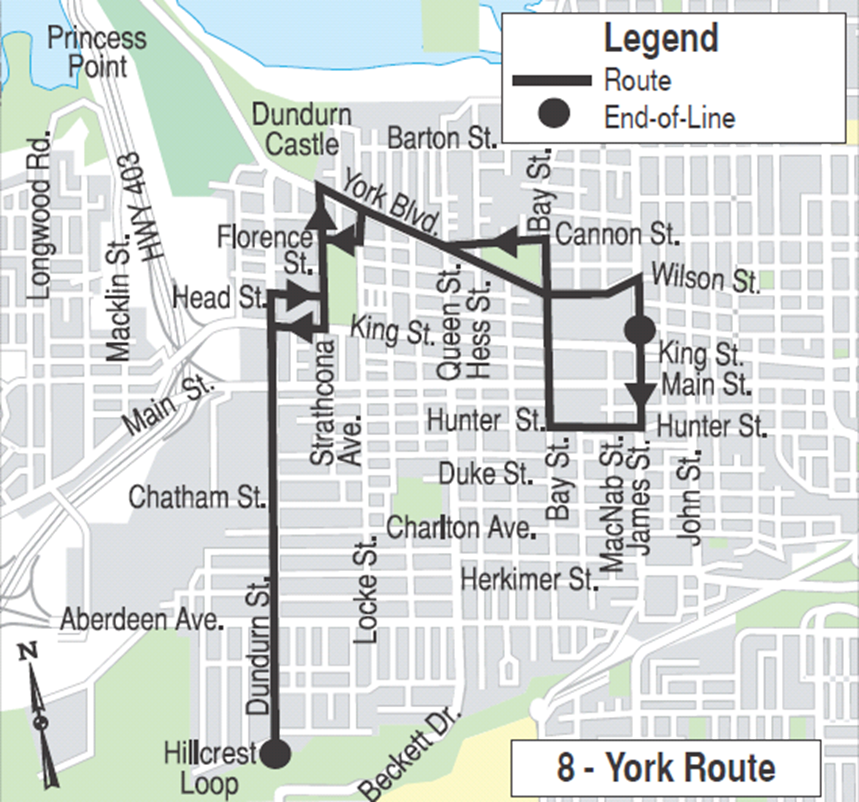 Proposed York route
7-Locke would terminate at Charlton and Dundurn, but its routing would remain otherwise unchanged. From downtown, 8-York would travel through the Strathcona neighbourhood before taking Dundurn south to the end of the street at the Hillcrest loop. The reason for it traveling through Strathcona was due to of comments at the public meeting that seniors living in buildings on Strathcona Avenue should have bus service as close as possible.
To accommodate the changes, nine new bus stops would be required; and six bus stops would be removed. In April, residents were informed that the changes would be implemented on June 22 with the new summer schedule. The installation of temporary bus stops began, in order to get residents used to the change and inform them of the new routing.
Change Canceled
Today, Dundurn North and South remain divided to users of transit. On the HSR web site is the message, "Route 7 - Locke & 8 - York: will not be implemented on June 22nd as previously advertised." That much we can tell for ourselves. The questions remaining are "why" that is the case, and "whether" and "when" the change actually will take place.
HSR informs that Ward 1 councillor Brian McHattie "has determined that this change will not take place as scheduled," and suggests contacting his office. As reported on hamiltontransit.ca in late May, the change was either cancelled or delayed due to concerns from residents about stop eliminations on Dundurn between Lamoreaux and York. McHattie said he hopes the process to settle on a satisfactory rerouting can be begun again soon.
The concern that stretches of Dundurn and York will no longer be served by transit is of course legitimate. For people who may have rearranged work schedules and personal habits around that bus service, it is an inconvenience to have to now walk instead to Strathcona Avenue to catch the bus. Other riders on other parts of the route will be impacted as well.
However, opportunity was given to these users to offer their feedback at the meeting in September. In fact, the reason HSR decided against the route that traveled all the way to York along Dundurn - which HSR had presented as option one - was that the people who attended the meeting preferred a routing that used Strathcona over one that used Dundurn.
It's hard not to feel now that the consultation process was a waste. Citizens were invited to take the time to provide their thoughts at a community meeting, and the ward councillor has now overruled the outcome of their input.
Worse, he has done that after a date had already been set by the HSR for implementation, and city workers used time and resources to install temporary bus stops to alert people to the change.
Transit users were beginning to plan their lives in part around the new service that they believed would be implemented yesterday. The change back to status quo was not effectively communicated.
What this Might Mean for Rapid Transit
Part of the reason this is important is because changes like this will need to be made on a much larger scale if rapid transit along the B-Line is to thrive. We should be taking the time now to improve connectivity between local routes and the 10 and other B-Line routes to prepare for connections with higher-order transit when that time comes.
Dundurn is one obvious place where it is a relatively easy fix that provides connection to the B-Line, along with a lot of other benefits to neighbourhood mobility. It's frustrating that we cannot get this right, and does not inspire a lot of hope for our ability to one day do it on a larger scale.
Waterloo Region, along with many other transit systems, is moving toward this model. There, the Ion LRT will serve the region's central corridor, with local routes meeting it at intervals. It has meant having to realign often-circuitous local routes, inconveniencing those riders. But, in the end, it will mean a much more efficient system that can connect more people with more destinations more quickly.
Rapid transit will be hampered if each time a relatively simple proposal to improve a local route is slated for implementation by the HSR, the local councillor cancels the change after it has been announced, ignoring the results of consultation.
When we take modest steps toward a more connected system now, we should remember that the ways we do that will serve as models for even bigger changes in the future.
Post a Comment
You must be logged in to comment.