Still Time for Leadership on LRT
LRT could be a reality for Hamilton if our leaders have the understanding, vision and political courage to champion it, stick-handle it through opposition, and forcefully negotiate a good funding arrangement.
By Ryan McGreal
Published May 02, 2014
The release yesterday of the 2014 Ontario budget shed no new light on whether and to what extent the Province will uphold its promise to fund Hamilton's east-west Light Rail Transit (LRT) system. That's the bad news. The good news is that neither did it slam the door on a funding commitment.
Whereas the budget specifically identifies "LRT" as the technology for the Hurontario rapid transit line connecting Mississauga and Brampton and "Bus Rapid Transit" (BRT) as the technology for Dundas Street, Hamilton's line is still a generic "Rapid Transit".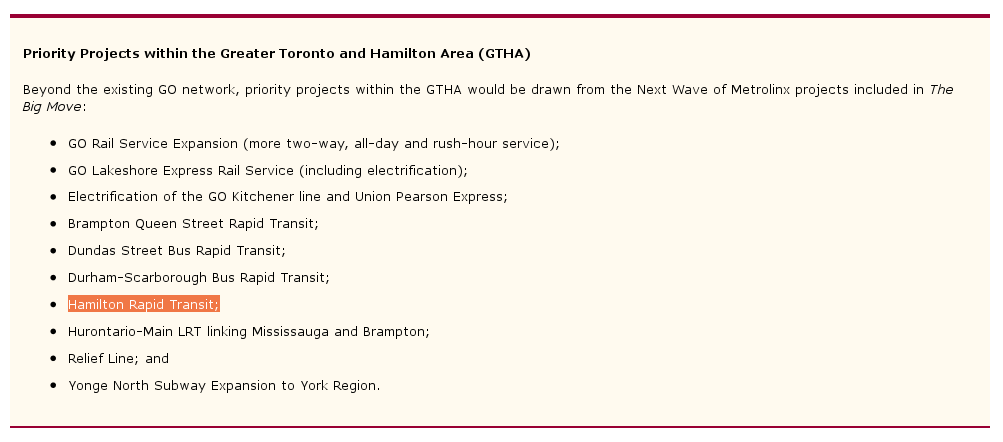 "Hamilton Rapid Transit" in 2014 Ontario Budget
The City submitted its Rapid Ready LRT plan to the Province in February 2013, more than a year ago. The report assumed a 100% capital funding commitment from the Province, which has been the default funding arrangement for Greater Toronto/Hamilton Area (GTHA) transit projects funded through Metrolinx.
The province still hasn't formally responded, but Transport Minister Glen Murray keeps saying the city's leaders need to sit down with him to discuss the funding arrangement. Murray has indicated that the City might have to contribute something toward the capital cost, but that there are options to do so through tax-increment financing - borrowing against future increases in property tax assessments - rather than diverting money out of the property tax base.
Making it Easy for Province to Break Promise
It's not often that a Provincial cabinet minister actually reaches out to spend time with a city council. Murray is clearly eager to see this project go ahead, and he stopped just short of telling us we'd be crazy not to invest in LRT, given the huge return on investment in new high-quality development around the line.
Yet the local reaction has been literally to call him names. Councillor Sam Merulla called Murray's comments "delusional", "nonsensical" and "moronic".
Councillor Chad Collins insists that LRT is "well over a decade away from even close to offering a new system", even though we already have a 30% engineering and detail design, a completed environmental assessment and even a land use plan to encourage development. There's no reason, aside from lack of political will, why we couldn't have a system up and running within a few years.
Councillor Brad Clark, who is running for Mayor, now opposes LRT after supporting the city's LRT planning since 2008. He says the Province not specifying a technology "sends a clear signal" to Hamilton that they will only fund BRT.
It seems that most of the Councillors who are doing anything at all are making it as easy as possible for the Province to decide not to fund LRT - after which they will surely point to the decision as justification for their lack of leadership.
Only a few have done anything to champion LRT. Councillor Brian McHattie, who is running for mayor, wrote a letter to Premier Kathleen Wynne earlier this year to state that Hamilton is ready for LRT funding. (Disclosure: I have done some volunteering with McHattie's campaign.)
Last week, the joint City-Chamber of Commerce LRT Task Force voted to reiterate Council's support for 100 percent provincial funding, but also stated that if the City does have to contribute something toward the capital cost, the Province should pay those costs upfront and allow the City to use alternate funding tools, like tax-increment financing, instead of having to pay via the property tax base.
Councillors McHattie and Jason Farr, who sit on the task force, voted along with the motion, while Councillor Lloyd Ferguson, who also sits on the task force but wasn't present for the vote, later spoke against it.
Leadership Vacuum in Mayor's Office
It's truly disappointing that most city councillors either don't see - or, for populist reasons, refuse to acknowledge - the strong, evidence-based case for supporting and showing leadership on LRT, but at least they have some justification for taking a parochial view. After all, each of them is ultimately accountable only to the voters of their own ward.
Far more egregious is the total absence of leadership from the Mayor's office. The man who is "not a champion of very much in life" has spent his entire mayoralty confusing, misinforming, mis-characterizing and undermining the case for LRT at every opportunity.
This includes consistently misrepresenting what the city's Rapid Ready LRT plan says, and he was at it again yesterday:
The Rapid Ready plan, Bratina said, outlines that the city will grow its ridership with BRT and eventually implement LRT. He expects the discussions to revolve around "rapid transit which sometime in the future will lead to LRT."
Bratina is still twisting the meaning of the Rapid Ready plan a year after the fiasco in which Council reiterated its support for LRT amid Bratina's excruciating attempt to confuse the issue.
Rapid Ready is a comprehensive road map to a city with a much better overall transit system, but there is no question that LRT on the B-Line is the centrepiece of the plan. At last April's meeting, a commendably patient City Manager Chris Murray repeated what he had already told council back in February:
In terms of where we've been all along, we've been focused all along on the B-Line and advancing the detail of that B-Line so the Province can make a decision on the B-Line. Okay?

But clearly Rapid Ready has added to that a number of other investments that, should they choose, should the Province choose to defer the B-Line to some later date, we are still there with our hand in the air saying, wait a minute, there are other things you should be investing here in Hamilton. ...

We think investing in transit, LRT specifically, in the City of Hamilton is something fundamental to our growth, and that, you know, it's really at the end of the day up to the Province to make a decision about what it is it wants to invest here in Hamilton.
(This, of course, was followed by the infamous uproar in which Bratina left his seat to berate Murray, prompting Councillor Jason Farr to lose his temper and call the mayor "awful nasty".)
What Leadership Looks Like
There's a reason Hamilton's "rapid transit" is still undefined while Mississauga's rapid transit, which they started planning later than Hamilton, is already clearly defined as LRT and is enjoying priority attention from the Province: Mississauga's political leaders, and especially Mayor Hazel McCallion, have been champions for the plan.
McCallion has passionately explained and promoted LRT, engaging with her constituents. She has engaged the Province actively and consistently, working both formal and informal channels to put pressure on Queen's Park and make sure the project stays on the radar. She has demanded a fair funding arrangement. She has pushed back against PC leader Tim Hudak's threat to cancel LRT investments outside Toronto in favour of highways
Meanwhile, our Mayor has done the opposite of McCallion at every stage. He has debated against residents and organizations that support LRT. He has gone on record repeatedly with a series of false claims calculated to undermine the case for LRT. He has told the province and the public that LRT is "not a priority" for Hamilton. He has advocated a passive wait-and-see approach when challenged to engage the province.
The worst part is that Bratina know it will take a champion to advance LRT in Hamilton. He has repeatedly quoted the McMaster Institute for Transportation and Logistics study on LRT, which stresses the importance of "strong political leadership" as "a critical element in the success of any rapid transit and TOD project.
A political champion can help to realize success by marshaling resources, building coalitions, and resolving disputes. Coordinating institutions, streamlining processes, and minimizing red tape are seen as crucial in implementing TOD projects and are dependent on strong political leadership.
Bratina even promised to start championing LRT after the Council vote to submit Rapid Ready to the province. Needless to say, that didn't happen.
Passive wait-and-see is not leadership. Misinformation is not leadership. Pandering and concern-trolling is not leadership.
The good news is that Bratina has already said he will not seek re-election. That means we have an opportunity to elect a mayor who is prepared to fight for this opportunity.
LRT could still be a reality for Hamilton if our mayor and council has the understanding, vision and political courage to champion it, stick-handle it through opposition, and forcefully negotiate a good funding arrangement with the Province.
If this once-in-a-generation opportunity slips through our fingers (again!), we will have only ourselves to blame.
Post a Comment
You must be logged in to comment.