Visionary Leadership Usually Looks Like 'Going Rogue'
Thank goodness for those few politicians who are willing to step outside the status quo and take calculated risks to achieve transformative change.
By Ryan McGreal
Published April 25, 2014
In today's Spectator column, Andrew Dreschel accuses Councillors Brian McHattie and Jason Farr of having "gone rogue" after their vote on a recent motion by a joint City/Chamber of Commerce Light Rail Transit (LRT) task force.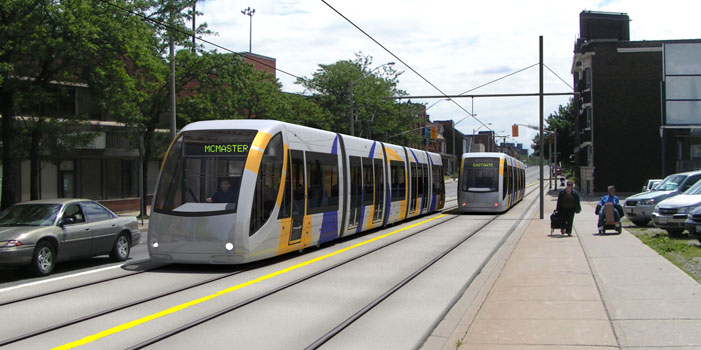 Hamilton B-Line LRT rendering
The task force voted to reiterate Council's support for 100 percent provincial funding, but also stated that if the City does have to contribute something toward the capital cost, the Province should pay those costs upfront and allow the City to use alternate funding tools, like tax-increment financing, instead of having to pay via the property tax base.
Such a message is likely to be received well by Ontario Transport Minister Glen Murray, who understands the net benefits of LRT and says Council needs to come to the table to discuss LRT funding options, particularly in light of an upcoming provincial budget that will allocate serious money to transit projects that are ready to go ahead - projects like Hamilton's east-west B-Line LRT.
Council, for its part, maintains that it is only interested in LRT - and barely at that - if the Province covers 100 percent of the capital cost. Council actually went so far as to oppose any provincial funding sources for LRT that would affect Hamiltonians.
Unserious Position
This position is hard to take seriously. Council apparently understands the case for LRT well enough to have supported its development and design over the past six years, based on the assumption of 100 percent provincial capital funding.
Given that, Council should also understand that we would be insane to turn down 90 percent provincial funding plus tools to generate the rest without hitting ratepayers, if that is the best deal we can get.
The current Mayor of Hamilton, Bob Bratina, was elected in 2010 on a platform supporting LRT but has since spent over three years delaying, misinforming, confusing and undermining the case for LRT.
Despite clearly understanding that a project as big and scary as LRT needs a political champion to explain and defend it, navigate political and bureaucratic challenges and marshal broad community support, Bratina steadfastly refuses to be that champion.
Bratina has already announced that he will not be running for re-election in the upcoming municipal election. However, McHattie is a registered mayoral candidate. (Disclosure: I have done some volunteering with McHattie's campaign.)
Saving the Lister
To Dreschel's credit, he credits McHattie with "go[ing] rogue" on principle:
[T]his clearly positions McHattie as LRT's champion par excellence, in much the same way he broke ranks and stepped into the breach to save the Lister from demolition. As then, so now, principle is probably the guiding force.
It's interesting that Dreschel draws a parallel to McHattie's efforts in 2006 to save the Lister building. At the time, the Mayor and Council approved a plan by LIUNA and Hi-Rise Group to demolish the iconic building and replace it with a cheap replica - and all with a large public subsidy.
No matter that it had already been designated as a municipal heritage building under the Ontario Heritage Act and that it had been inspected by architects and engineers and found to be structurally sound and an excellent candidate for restoration and adaptive reuse.
Council didn't see the value in heritage or the exciting opportunity that restoring such an important building would provide to help revitalize the core.
As a last resort, McHattie went directly to then Minister of Culture Caroline Di Cocco and asked her to intervene by designating the Lister as a Provincial heritage building.
Di Cocco commissioned a study by the Ontario Heritage Trust which concluded that the building meets Provincial criteria for designation and "is a provincially significant building that is associated with provincially significant patterns of Ontario's history and is an increasingly rare aspect of the province's heritage."
The Province stopped short of designating the building, but a last-minute intervention brought the parties back to the table to work out an agreement by which the Lister was restored rather than demolished and replaced.
Principle and Pragmatism
When the building's fate was still in the air, Dreschel described the Council meeting where Councillors voted to demolish the building as "the moment of truth between purists and pragmatists" and warned that McHattie was "open[ing] a can of worms" by involving the province.
During the 2006 election campaign, Dreschel accused McHattie of being "on the side of the lofty angels if not necessarily the grounded realists."
Yet here we are today, patting ourselves on the back because principle and pragmatism came together and we ended up saving the Lister building after all.
Most of the people who had most loudly demanded that the "eyesore in the core" be demolished have since acknowledged that the city narrowly missed making a tragic mistake and that saving it was clearly the right thing to do.
McHattie saved the city from Council's short-sightedness by intervening to protect the Lister from demolition. Today, in his ongoing efforts to show the leadership on LRT that is missing from the mayor's office and scant around the Council table, McHattie is once again trying to save this city from its chronic inability to recognize value and seize opportunities to create change.
Thankfully, this time he also has the support of the Chamber of Commerce, which has shown some impressive leadership on transportation investment and urban revitalization.
If they are successful, we will once again look back on this as an inflection point in the city's history - a transformative change narrowly saved from a failure of tragic proportions.
Related:
Post a Comment
You must be logged in to comment.