Light Rail Generates Highest Return on Investment: Transport Minister
Speaking at a luncheon at Sarcoa Restaurant organized by the Hamilton Chamber of Commerce, Murray presented an evidence-based case for investment in great civic infrastructure, explaining that beautiful, well-made infrastructure in the right locations del
By Ryan McGreal
Published March 03, 2014
In a lunchtime talk last Friday, Ontario Transport Minister Glen Murray stopped just short of telling Hamilton we'd be crazy not to invest in Light Rail Transit (LRT).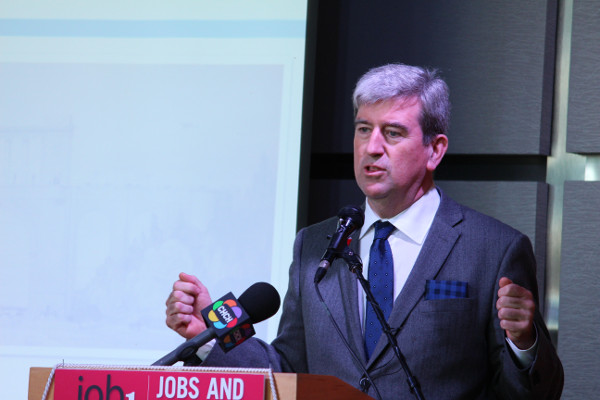 Glen Murray (Image Credit: Richard Allen)
Speaking at a luncheon at Sarcoa Restaurant organized by the Hamilton Chamber of Commerce, Murray presented an evidence-based case for investment in great civic infrastructure, explaining that beautiful, well-made infrastructure in the right locations delivers tremendous returns on investment.
Murray was in Hamilton to announce that the Province has put out a tender to build a $44 million GO Train station on James Street North, across the street from Liuna Station.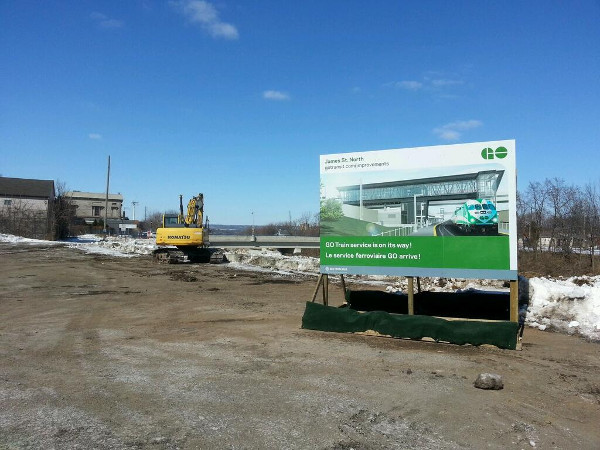 James North GO Station location (RTH file photo)
LRT Generates Economic Development
Murray extolled the economic benefits of LRT, pointing out that it produces a much higher return on investment than bus rapid transit (BRT) by attracting new private developments around the line.
He demurred, "I am not endorsing types of technology here, I am not a salesperson for Bombardier." Then he added that the City has "been working on a plan that is both an economic development plan, a cultural plan, a fiscal plan and a transportation plan" - the city's Rapid Ready LRT plan for the east-west B-Line between McMaster University and Eastgate Square.
Murray put up an image of Portland, Oregon's LRT system with new economic development around the line. "Portland was a lumber town that went into deep decline and depopulated. Portland now has the highest per capita GDP on the west coast. It has not one Fortune 500 company, not one. It is home to more small and medium enterprises than any other. You know, as Mayor Sam [Adams] in Portland says, people go to Los Angeles to get rich, they come to Portland to be prosperous."
(This reflected Murray's earlier comments on the Bill Kelly Show on AM 900 CHML on Friday morning, in which he noted that BRT does not attract much economic development.)
Attracting Young People
Murray noted that the job recovery in Ontario is driven by small, entrepreneurial companies being started by young people with university and college educations. Pointing to Portland's LRT, he said, "This is the kind of infrastructure that you need to attract that young creative class.
"This is the first generation where most young people don't want to own cars and are not owning cars. So walkable friendly neighbourhoods are also important." The audience applauded.
"You can see how the urban landscape changes around these kinds of things, and we can talk about GO or bus rapid transit or LRT, but you can see the dynamic of this environment." One problem is that we don't have local examples of modern LRT systems. New systems are being built in Kitchener-Waterloo, Ottawa and on Eglinton Avenue in Toronto, but many people don't know what to expect and are afraid of the unknown.
Talking about LRT in other parts of the world he said, "Every place that's done it, once there's one up everyone wants more of it."
Local Leadership
Murray then pointed out that it takes "local leadership" to make the decision on how and where to invest. He said it is not up to Queen's Park to tell Hamilton's leaders what to choose.
However, he went on to show how cities can calculate the economic uplift that comes from LRT investment. He often reiterated that to make good decisions, cities need to focus not just on the cost of a project but on the return on investment.
After the talk, Murray noted that transit investment in economically depressed urban corridors produces the biggest uplift because there's so much potential for improvement.
He said that he would be willing to go with Hamilton's leaders to Ottawa to ask for a Federal contribution to Hamilton's rapid transit system, noting that the Federal government will not contribute to an infrastructure project that has already been announced.
He also noted that tax-increment financing (TIF) is one way to help cover the capital cost of a public infrastructure project without imposing any burden on the property tax levy, based on the future value of the economic uplift that comes from the project.
Innovation Economy
During his talk, Murray also drew a parallel to Pittsburgh, another city whose economy was formerly based on steel that has reinvented itself and rebuilt its tax base around education and creative entrepreneurialism.
Like Hamilton, Pittsburgh still makes lots of steel but it is no longer a significant source of jobs. Manufacturing by itself has stopped being a significant source of jobs. Rather, employment is growing in the innovation economy, which cities need to cultivate through post-secondary education and great civic infrastructure.
"If you're actually going to have job growth and not just GDP growth, you have to open it up, and that's why universities and colleges are the single most important cultural, social and economic institutions in our society today," he said.
Citizens, not Whiners
A recurring theme in his talk was a sharp distinction between thinking and acting as citizens - people who are invested in their country and community and want to work for its betterment - as opposed to mere "taxpayers" or "consumers".
He spoke about the construction of the beautiful High Level Bridge as an inspiring example of the understanding that "making beauty necessary and making necessity beautiful was important, and that our public works shouldn't be, you know, stretching tax dollars so far that every GO station, every college, every library looks like a fertilizer factory. But we are manifesting in our public works, in our public buildings, the expression of our civic pride and great design."
Before the 1970s, which Murray characterized as the beginning of "the age of whiners", civic leaders understood that beautiful cities attract and retain passionate people. "They built a city that people want to live in and be part of."
Murray attacked the "taxpayer" meme head-on, pointing out, "I pay about 25 percent less taxes than my father did." At the time, Canada spent 5 percent of its gross domestic product (GDP) on infrastructure. "That's how all those buildings got built."
He went on, "Then in the 1970s, that great age of citizenship [got] took over by the age of whiners." Provincial infrastructure spending dropped to just 0.25 percent of GDP.
He said the government has now restored infrastructure spending to 2 percent of GDP. "We built everything in this country that we own and love with that level of commitment."
Local Leaders Missing
It was disheartening to note that, aside from Mayor Bob Bratina, there were only four out of 15 City Councillors in attendance: Ward 1 Councillor Brian McHattie, Ward 2 Councillor Jason Farr, Ward 3 Councillor Bob Morrow and Ward 15 Councillor Judi Partridge.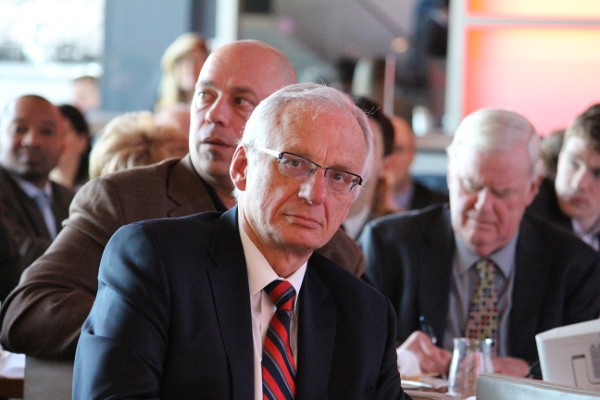 Mayor Bob Bratina, front, with Councillors Jason Farr (left) and Bob Morrow (right) behind him (Image Credit: Richard Allen)
For those members of council who don't already understand that LRT is a necessary investment in economic development and sustainability rather than merely an expensive bus, Murray's talk would have been highly informative.
Also notably absent were any senior managers from Public Works, the department that actually builds and maintains Hamilton's critical infrastructure, or from Planning and Economic Development, the department whose job it is to understand and explain why Hamilton needs LRT in the first place.
Hamilton's LRT plan has effectively been left to wither on the vine. Its mayor doesn't support it, most Councillors won't stick their necks out for it and the staff teams who developed it have been dispersed (Justin Readman, the rapid transit project manager who shepherded Rapid Ready to completion, is now working for Waterloo Region on their LRT system).
Almost no one is explaining or promoting LRT to Hamiltonians. Without a champion pushing the plan forward, fear and misinformation are slowly taking over the public discourse.
People who don't understand the economic development impact are asking why we don't just build a cheaper bus system. People who don't know the east-west route of the B-Line already has 13,000 rides a day claim we don't have enough ridership for LRT.
And of course, anti-LRT political opportunists who do know these things exploit the relative paucity of public information to sow uncertainty and doubt.
Post a Comment
You must be logged in to comment.