Mayor's Latest LRT Comments are More of the Same Nonsense
Bratina's latest dispatch is just another in a long succession of childish "gotcha"-style games calculated to sow confusion and doubt about Hamilton's LRT planning process.
By Ryan McGreal
Published March 05, 2014
On Monday, in his excellent review of how we got where we are on the light rail transit (LRT) issue, Nicholas Kevlahan noted that Mayor Bob Bratina's 2010 election platform included the pledge, "Work with all levels of government to bring light rail transit to Hamilton".
Peggy Chapman, Bratina's chief of staff, contacted RTH yesterday evening to suggest "there is a misconception" in that piece about Bratina's campaign pledge, because Bratina had specified in public comments just prior to the election that he preferred to focus on the north-south A-Line before the east-west B-Line.
Bratina also posted a new blog entry on his website yesterday to present an alternative LRT route that follows neither the B-Line nor the A-Line.
Bratina would like the city to build an LRT line down Bay Street North from the Waterfront to Main Street, where one spur goes west to McMaster and the other spur goes east on Hunter to the Escarpment Trail, where it continues east up the Escarpment, south along Mountain Brow Boulevard and then southwest along the Chippewa Trail to Airport Road, where a spur runs west to Hamilton International Airport.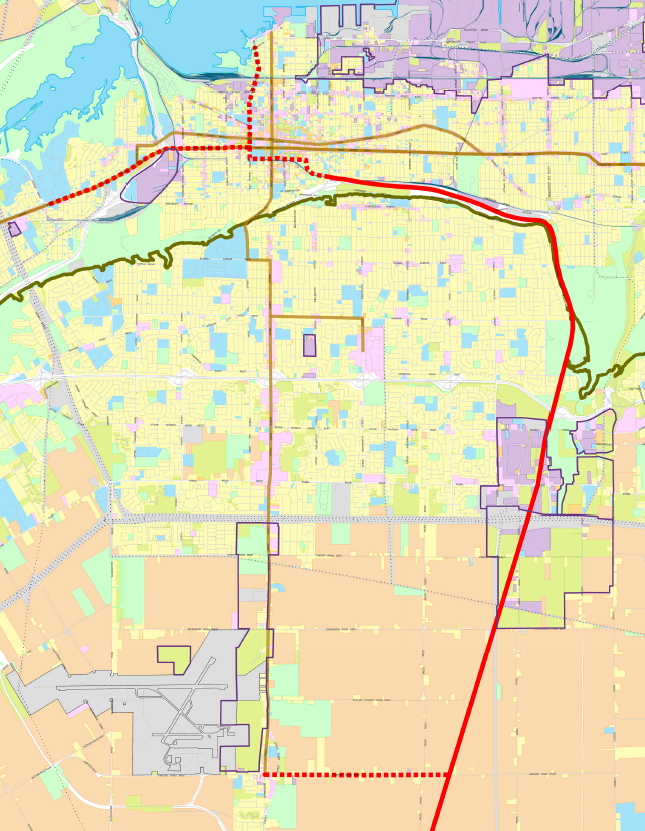 Bob Bratina's proposed LRT line (Image Credit: Bob Bratina)
Bratina writes, "That line would be on city-owned property, a rail bed in fact, with few, if any, encumbrances. It would serve an area where over 20,000 new dwellings are planned; it would run through two business parks, pass within a mile of the airport and Binbrook, and would better fulfil the development promise of the B-line."
Even if we set aside the fact that this would wipe out two wonderful multi-use Hamilton trails - the Escarpment Trail and Chippewa Trail - the economic uplift potential of this route is severely limited.
It would run several kilometres along the Escarpment on a forested trail with limited accessibility and no potential for new development. Then it would run several more kilometres through rural farmland outside the urban boundary, again with zero potential for new economic development around the line.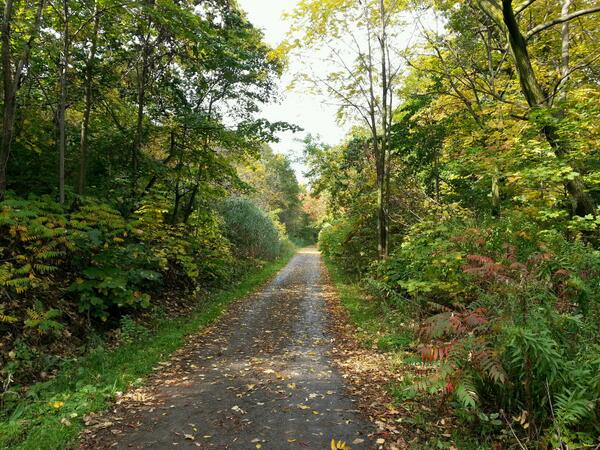 Escarpment Rail Trail, where Bratina wants LRT to run (RTH file photo)
Economic Development
Bratina's proposed LRT route removes the biggest benefit of LRT, which is its proven ability to attract new investment in dense, mixed-use developments that produce value uplift.
Bob Bratina was at Transport Minister Glen Murray's speech in Hamilton last Friday, but he doesn't appear to have been listening to anything Murray said.
Murray specifically said infrastructure investment should aim to leverage economic development and create new employment opportunities.
Murray pointed out that LRT in walkable urban neighbourhoods creates exactly the kind of environment that attracts the creative entrepreneurs and young, small companies responsible for most of the new jobs that have been created since the 2008 Recession.
Murray also noted that the most dramatic uplift comes from investment in economically depressed urban environments like lower-city Hamilton.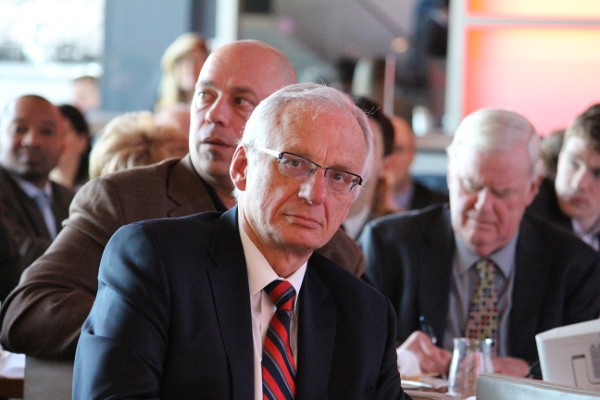 Mayor Bratina at Minister Glen Murray's February 28, 2014 talk in Hamilton (Image Credit: Richard Allen)
Misinformation Galore
Bratina makes a number of misleading claims in his piece.
Many of us were excited by the announcement that the Province was offering to provide an LRT for Hamilton, couched in a murky suggestion of 100% funding.
It wasn't a "murky suggestion" but a promise, repeated several times in public announcements and partisan campaign messages directed at Hamilton.
Problems began to quickly arise over such decisions as using King Street rather than Main
There are arguments for both Main and King Street as the route (my personal preference would be Main Street), but both routes have excellent potential for success.
closing part of King to automobile traffic, to the dismay of the International Village B.I.A.
The International Village BIA did express concern about a proposal to close a short segment of King Street to automobile traffic but formally affirms its support for the B-Line LRT and recognizes its long-term benefits.
It also became apparent that numerous traffic compromises and property annexations created more doubt about the proposal.
This is straight-up FUD. Nothing has come out of the engineering and detailed design of the LRT system that would undermine its potential for success.
To this day, there is no decision on a storage and maintenance site.
City staff recommended a city-owned site on Wentworth Street North but Council put off making a decision, and Metrolinx said we could proceed with our planning without making a decision yet. This is not a deal-breaker.
The plan emerged on the basis of assumptions which are no longer applicable.
This is perhaps the most egregious misinformation. If anything the case for building LRT along the B-Line has gotten stronger since it was first proposed in 2008, as the economy has continued to shift structurally and cities across North America have accelerated their re-urbanization after decades of decline and disinvestment.
Bratina claims that the lower city doesn't need LRT any more because it is already on an upswing:
We have posted two straight years of over a billion dollars in new development
More than half of that new development has been residential, and almost all of the residential development has been single-family houses in suburban subdivisions.
The lower city, and especially the downtown, is still vastly underperforming its potential, with dozens of vacant lots where new buildings could stand.
Of course, Bratina is the same person who told radio host Bill Kelly in 2011 that he didn't know where the new development expected around the B-Line is supposed to go.
the lowest big city unemployment in the Province
As Business Professor Marvin Ryder pointed out last week on The Agenda with Steve Paikin, Hamilton's unemployment rate is low in large part because our labour market participation rate is low. A high percentage of Hamiltonians are retired or have otherwise given up looking for work.
In addition, while 70 percent of Hamiltonians work in Hamilton, more people commute out of the city to work than in. That ratio has stabilized over the past five years but we need to get a lot better at creating new jobs in Hamilton.
And again, as Murray pointed out last week, most of the new jobs in Ontario over the past five years have been created in the innovation economy by creative entrepreneurs - the very people who like to locate in cities with walkable streets, urban character and excellent rapid transit.
What is disturbing in the discussions that have taken place, in large part to this point by my critics, is their uncompromising pursuit of a specific technology.
When we advocate for LRT on the B-Line, there is a method to our madness: we believe we need to invest in the right technology in the best location to produce the biggest overall benefit.
It is not "ideology" that drives us, as Bratina claims, but the full weight of evidence about what we need to do and how best to achieve it.
Ultimately, Bratina's latest dispatch is just another in a long succession of childish "gotcha"-style games calculated to sow confusion and doubt about Hamilton's LRT planning process.
Post a Comment
You must be logged in to comment.