Staff Recommend LRT Maintenance Yard on Wentworth Street North
Light rail transit planning staff recommend a maintenance and storage facility at city-owned 330 Wentworth Street North, with a spur line running on Sanford, Barton and Birch.
By Ryan McGreal
Published August 10, 2012
Hamilton's light rail transit (LRT) planning team has completed a proposal for locating a maintenance and storage facility (MSF) as part of the 2012 work plan. According to the staff report that will be presented to the General Issues Committee on Monday, August 13, staff recommend locating the LRT vehicle maintenance yard at 330 Wentworth Street North.
A partially split spur line connecting the B-Line LRT route on King Street to the maintenance yard would run in mixed traffic along Sanford Avenue, Barton Street and Birch Avenue.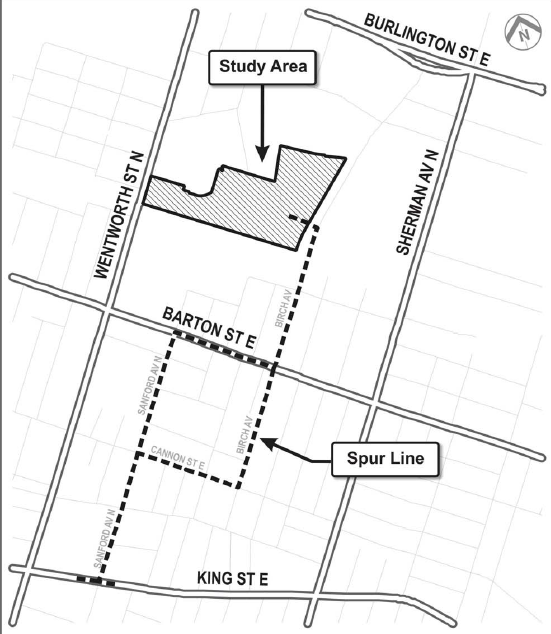 Staff recommended LRT maintenance and storage facility and spur line
The report notes that the proposed routing "provides aesthetic improvements to the neighbourhood by burying the existing hydro lines within the hydro corridor; uses roads which have excess capacity available; and provides a high level of protected outbound LRV [Light Rail Vehicle] lanes."
The maintenance facility is required under Hamilton's plan to build the east-west B-Line LRT and a proposed north-south A-Line LRT. It will be used for "full administration, storage, cleaning, maintenance, overhaul and support services for the LRT system." This is also the lowest-cost option.
Potential sites under consideration included Stuart Street and Frid Street. They were rejected as a maintenance yard would be incompatible with the secondary plans for those locations - Setting Sail and West Hamilton Innovation District, respectively.
The proposed Wentworth Street location, which the city already owns, has historically been used as a maintenance yard and can accommodate 40-45 LRT vehicles, enough to service both the B-Line and the A-Line.
Staff note that its distance from the LRT line is farther than ideal and the spur line runs through a residential neighbourhood, but the other potential sites are equally distant and are not under city ownership.
The cost to build the facility, which is required for Hamilton's LRT plan, has been estimated at $73 million. The site will need to undergo a public consultation and Class Environmental Assessment if Council gives it the go-ahead.
In addition to locating a maintenance facility and conducting an environmental assessment, the 2012 LRT work plan includes a phasing study to determine the most cost-effective construction plan (all at once or in phases), a firm capital and operating cost determination, and a cost-benefit analysis on not building LRT.
The Metrolinx King-Main Rapid Transit Benefits Case Analysis published in February 2010 determined that a phased LRT (with projected opening years of 2015 and 2030) would have a lower initial cost but would also have lower economic development potential.
It concluded, "the highest cost option (the full LRT along the Main Street-King Street corridor), with estimated capital and operating costs of $784 million in net present value terms, also generates the highest Transportation User Benefits."
Metrolinx also requires the completion of a value-for-money (VFM) exercise on Hamilton's LRT plan to determine the best method of project procurement. Infrastructure Ontario will lead that exercise in cooperation with Metrolinx and the City.
Hamilton's B-Line LRT was identified in the 25-year Regional Transportation Plan as one of the top priority projects to be completed in the first ten yeas of the plan. However, Metrolinx has said that it will not make a funding decision on Hamilton's LRT plan until after it completes an investment strategy for regional transportation planning, due in June 2013.
Post a Comment
You must be logged in to comment.