Council Approves Bike Share
Council gave its final approval to the Social Bicycles proposal for a bike share in Hamilton. The program is scheduled to start this coming Spring.
By Ryan McGreal
Published December 12, 2013
Almost overlooked at last night's landmark Council meeting is Council's approval of the bike share proposal for Hamilton.
Council gave its final approval to the proposal submitted by Social Bicycles (SoBi) for a next-generation bike share in which the technology is self-contained in the bicycles themselves.
Read more:
The remaining details of the plan, like membership and usage pricing, station locations and seasonal availability, still need to be finalized but that work will commence now that Council has approved the proposal. The program is set to commence this coming Spring.
City staff have released a revised map of the bike share service area, developed using a combination of market research, expert input and statistical data on potential ridership. Note that the map has not yet been finalized with the service provider.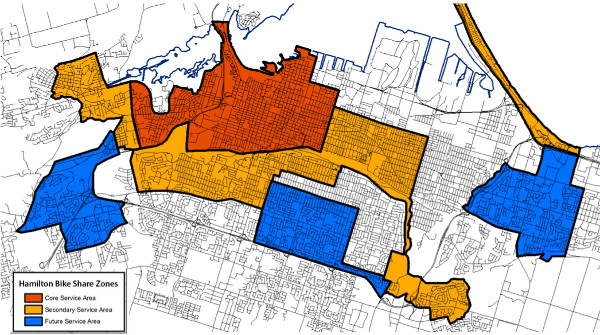 Hamilton Bike Share Zones
Peter Topalovic, public works manager in charge of transportation demand management projects and the point person on the bike share plan, notes that the core service area (highlighted in red) "will receive the highest level of service with the most station density."
The secondary service area (highlighted in yellow) "may not necessarily have full coverage and instead may include areas of dense coverage in certain key locations," for example around Mohawk College.
The area highlighted in blue is slated for potential future coverage if and when the bike share is expanded.
The staff report also notes that the bikes themselves can be ridden outside the service areas - they can be ridden anywhere in the city. The boundaries indicate the area where stations will be located.
Post a Comment
You must be logged in to comment.