How Legal Liability is Determined in a Driver-Pedestrian Collision
Legal liability assessments in the case of collisions between drivers and pedestrians indicates that the City's policy of neglecting uncontrolled crosswalks is not legally sound.
By Nicholas Kevlahan
Published November 10, 2013
For many years, the City of Hamilton has steadfastly refused to provide safe and convenient pedestrian facilities by using the argument that these facilities, such as crosswalks without associated stop signs or traffic lights, open up the city to potential liability from pedestrians who might be injured using the facility.
The most infamous example of this thinking was the decision, over a decade ago, to remove the signs from unsignalized designated pedestrian crosswalks and allow the painted lines to gradually fade away over many years.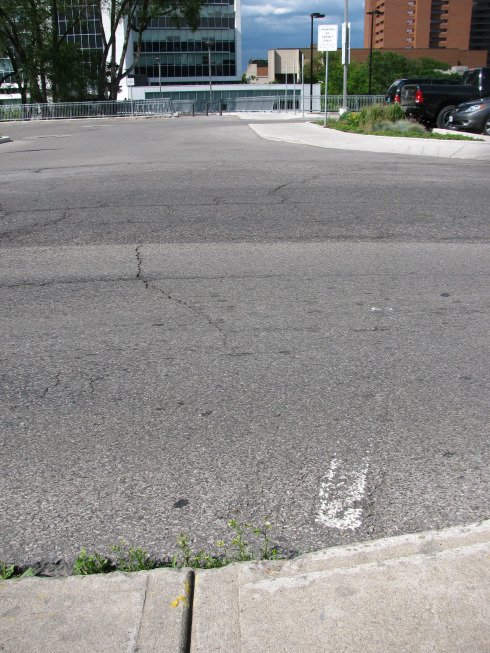 'Ghost crosswalk' on Hunter near City Hall (Image Credit: Undustrial)
The fact that Hamilton has the second worst rate of pedestrian injuries in Ontario gives the lie to the claim that this decision has somehow made the streets safer for pedestrians.
Liability for the City
There remains, however, the argument that even if refusing to designate crosswalks at uncontrolled intersections makes walking more dangerous and less convenient, it at least avoids a significant liability risk to the City.
It would be helpful if the City's Legal department actually engaged in an open discussion about the reasons for their opinion regarding liability at non-signalized crosswalks, and why they think no signs should be posted for drivers reminding them of their duty to yield to crossing pedestrians.
Any such legal opinion is a particular interpretation of the law and assessment of relative risks and benefits, and involves value judgments that should be influenced by public debate.
This discussion could include: citing particular parts of the Highway Traffic Act and Regulations, relevant jurisprudence and precedent, and insight into how the lawyers weight the risk of liability to the City against the duty to provide safe and convenient infrastructure to pedestrians (while supporting the City's official goal of promoting walking and a recent Ontario Coroner's Office report on pedestrian deaths).
Presentation on Pedestrian Accidents
Until we hear from them, this slide presentation by Frank Devito [PDF] of the Toronto law firm Beard Winters LLP provides some guidance. I should emphasize that IANAL, and would be interested in hearing comments from lawyers on this discussion.
Devito's presentation addresses precisely the issue we are interested in: pedestrian and driver liability in the event of a collision:
"This presentation will focus on the duties of pedestrians and drivers and will discuss some of the liability assessments which have been apportioned against pedestrians and drivers in recent decisions."
I will quote some salient passages, and then draw some conclusions for Hamilton.
"The Highway Traffic Act 193(1) imposes a reverse onus on a driver who impacts a pedestrian on a public roadway."

In other words, the driver is presumed negligent unless they can establish in court that they acted "reasonably and properly in the circumstance". The plaintiff (i.e. pedestrian or cyclist) need only prove that a collision occurred and caused the damages.

"Pedestrians are assumed to act rationally and reasonably."

In other words the motorist must prove that the pedestrian did not act rationally or reasonably. The actions of the pedestrian must be "unforeseen and unexpected". The fact that the pedestrian was negligent and unreasonable is not an acceptable defense if the driver could have reasonably anticipated the negligent action.

Examples of actions that could lead to the pedestrian being considered at least partly liable include: suddenly running into the middle road for no reason, jogging across a crosswalk without looking while wearing headphones, or being intoxicated.

"A higher duty is owed to pedestrians crossing at regular street crossings\pedestrian crosswalks. Although they still must exercise care, they have higher rights than if they attempted to cross elsewhere."

Note that this implies that legally crossing at any intersection (even unsignalized) gives pedestrians higher rights, since a "regular street crossing" means "an intersection". The only case where motorists do not have this "higher duty" is when a pedestrian crosses mid-block (what is sometimes called jaywalking) where there is not a designated mid-block pedestrian crosswalk.

This is the consistent with the Highway Traffic Act, which defines "crosswalks" to exist at all intersections, whether marked (controlled) or not. The fact that all intersections are "crosswalks" is crucial to understanding liability, and why Hamilton's courtesy crosswalks should not lead to a higher liability risk provided they are only implemented at intersections.

"Even in circumstances where a Defendant driver failed to maintain a proper look out or was driving at an excessive speed, the Court has attributed a majority of liability to the Plaintiff where they did not cross at a crosswalk."

This is quite shocking, but it seems to be the reasoning driving the City's legal interpretation. However, it hinges on what is defined to be a crosswalk (or "regular street crossing" above). Since the Highway Traffic Act defines crosswalks at all intersections (those without signals are termed "uncontrolled crossings"), the City's argument that crossing pedestrians only have right of way when legally crossing at a signalized intersection seems weak.

However, the presentation does also use the term "designated crosswalk" (the designation is by the municipality). This implies that the City can designate crosswalks as they wish with signs and pavement markings, even mid-block, provided the designation is clear to motorists and pedestrians.

This is what is done in many other municipalities in Ontario, and is the practice throughout Canada. But, once again, intersections or "regular street crossings" do not require special designation to give pedestrians higher rights.

"The Supreme Court of Canada, in the cases of Petijevich v. Law [1968] S.C.J. No. 95, 1 D.L.R. (3d) 690 and Coso v. Poulos, 1969 CanLII 95 (S.C.C.), [1969], S.C.R. 757, has stated that once a pedestrian has safely entered a crosswalk, the pedestrian may assume that motorists will yield to the right of way and will share no responsibility if struck in a crosswalk."

This is essentially what the MTO told us: the pedestrian must wait until there is a sufficient gap that the motorist can stop safely (it must not be "impractical" for the motorist to stop), and once crossing legally the pedestrian has right of way and will share no liability in the case of a collision.

"Regardless of what the pedestrian is doing, if a driver is not keeping a proper look out or was negligent by speeding, a driver will be found at least partially liable."

This reminds us that drivers must be alert, even for pedestrians behaving negligently (e.g. an 8-year old running out from a playground after a ball).
In summary, pedestrians legally crossing mid-block at "designated crosswalks" or at street intersections have much higher rights and consequently higher legal protection than pedestrians crossing elsewhere.
Courtesy Crossings
Hamilton is proposing new "courtesy crossings" for currently uncontrolled street intersections which are therefore locations where pedestrians (in principle) already enjoy higher rights and motorists have a higher duty. (The Toronto style PXOs with overhead lights are intended primarily for mid-block crossings.)
The City's Legal department recommends posting signs that read, "Caution - Vehicles Not Required to Stop" but this wording has not been finalized yet.
Over decades, Hamiltonian motorists have come to ignore their duty to yield to pedestrians crossing legally at intersections. Therefore, the key to enhancing pedestrian safety at these new "Courtesy Crossings" is to make it clear to the motorist that they are approaching a pedestrian crosswalk and that it is an area where they should be on the lookout for pedestrians.
With respect to municipal liability, it would be very difficult for a motorist to claim that they didn't know that an intersection painted with a zebra crossing and a sign saying "motorists must yield to crossing pedestrians" was a pedestrian crosswalk (and, in any case, it is still a "regular street crossing").
Note that the presentation and examples do not distinguish between crosswalks at uncontrolled intersections, pedestrian crossovers, and crosswalks at signalized intersections. The only requirement is that the crosswalk be "designated" or that it be a "regular street crossing".
It is important to remember that many (perhaps most) other Ontario municipalities have continued to designate even mid-block crosswalks with signs and painted lines, just like Hamilton did up to a decade ago.
Having such crosswalks at intersections, where motorists already have a duty to yield to crossing pedestrians, should not be a problem.
Adopting a new, even clearer, zebra crossing + "motorists must yield to crossing pedestrians/watch for traffic" McMaster/Mohawk type sign would be even better. It would definitely make walking safer and more convenient for pedestrians and remove confusion for motorists by reminding them exactly what their duties are.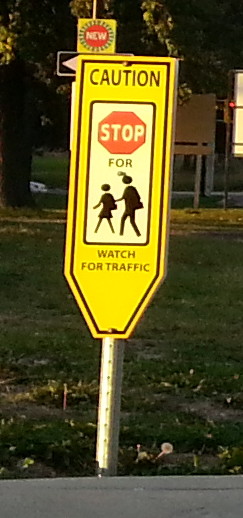 'Caution: Stop for Pedestrians' sign at Mohawk College Fennell Campus (RTH file photo)
Another advantage of designating more crosswalks is that motorists are legally required to exercise more care and attention in areas with high pedestrian activity. Having many crosswalks and other signs shows motorists that the area (e.g. downtown) is a neighbourhood with high pedestrian activity and they need to be extra careful.
The current policy of not including crossings, except where motorists already need to stop, sends the opposite message.
Finally, nowhere in the presentation did the author mention anything about liability for the municipality, even as as a separate issue. All cases considered how liability was divided between the pedestrian (plaintiff) and the motorists (defendant).
Many more specific precedent examples on pedestrian/motorist liability are given at http://carl-wais.com/blog/?p=105.
Post a Comment
You must be logged in to comment.