Ten Things We Should Do in Hamilton Before the Pan Am Games
Simple things we can do by 2015 that will make the Pan Am experience far more safer and enjoyable for everyone, and will hopefully start to lead to bigger, more necessary change afterwards.
By Jason Leach
Published August 29, 2013
As everyone knows, Hamilton is hosting a portion of the Pan Am Games in July 2015. Events like this are an opportunity for a city like ours to make improvements that will showcase the positive change happening here and potentially show off another side to Hamilton that many people don't know about.
They are also a chance to invest in some local initiatives and projects that will remain with the community and make this a better, more enjoyable place to live for those of us remaining after the games are long gone.
Toronto is seeing enormous development in preparation for the Pan Am Games. Entire new communities are being built along the waterfront, connected with brand-new LRT lines, separated bikeways and gorgeous pedestrian promenades full of commerce and enjoyable urban amenities.
Full marks to that city for taking advantage of this opportunity to redevelop long-neglected brownfields and make critical improvements to their transportation infrastructure.
Small Changes, Big Impact
Here in Hamilton, we have an opportunity to make some changes that may seem more minor in nature, but can have a huge impact on our quality of life, and therefore, our image.
People often talk about 'image-changing', but I'm a believer that you only change a city's image by changing its reality. People aren't dumb. They can walk the streets in Montreal and walk the streets in Hamilton and figure out very easily where they want to spend time and money, or plan their next trip.
The only way we will ever take advantage of the millions of people living on our doorstep is to create a destination that they look forward to visiting for a weekend, or day trip.
Hamilton is urban enough and small enough that we could offer an incredible experience for visitors to come and enjoy a stunning waterfront community, walkable, cycle-friendly downtown streets and neighbourhoods, amazing greenspace on the escarpment and surrounding conservation lands, hiking, waterfalls, arts, theatre and world class dining.
Connect the Pieces
We have many of the pieces of this puzzle in place, but have always lacked the political will to connect them through a green, urban core of fun, safe, vibrant streets.
How often has someone visited Hamilton and from an escarpment perch said "this could be a mini-Montreal"? Except you can't ride a bike to that escarpment perch, or enjoy a coffee or meal overlooking the city, or get anywhere conveniently on transit.
Our effort to suburbanize the lower city in the middle of last century was a monumental failure and did massive damage to our quality of life.
Perhaps the only bigger failure is the fact that despite overwhelming changes in society and in the next generation, we are still flogging the four- and five-lane expressway model as though somehow we expect it to come back again and we'll be the Canadian urban leader in planning. It's not, and we aren't.
Considering the lack of vision to humanize and green our urban streets over the past 60 years, I'm not naive enough to think we will suddenly do it in the next two years.
So I've come up with a smaller, more manageable list of ten things we can do by 2015 that will make the Pan Am experience far more safer and enjoyable for everyone, and will hopefully start to lead to bigger, more necessary change afterwards.
1. Complete Streets
The current traffic volume data is overwhelmingly clear on the fact that we don't need all of these vehicle lanes.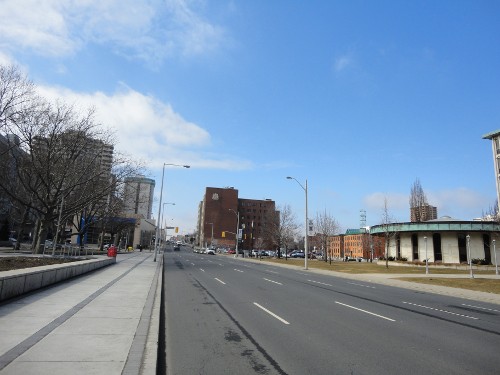 Main Street: five lanes is a huge waste of space (RTH file photo)
By simply repainting
Cannon Street
from Hess to its eastern terminus, and Main Street from Longwood to the Delta, we could add in 24-7 street parking and protected two-way bike lanes, while still leaving more than enough capacity for vehicle travel. Add in hundreds of large tree planters along the route and even some permanently planted trees, and we have suddenly taken the two ugliest streets I've ever seen in Canada, and turned them into something not wonderful, but a million times better and safer than they were. The
evidence is in
and the trend is clear - cities that promote safe, separated bike infrastructure are going to be among the most successful cities in the future. Those that don't will be
left behind
. Hamilton has a glorious opportunity due to our streets that were designed for a massive industrial-bound workforce that no longer exists.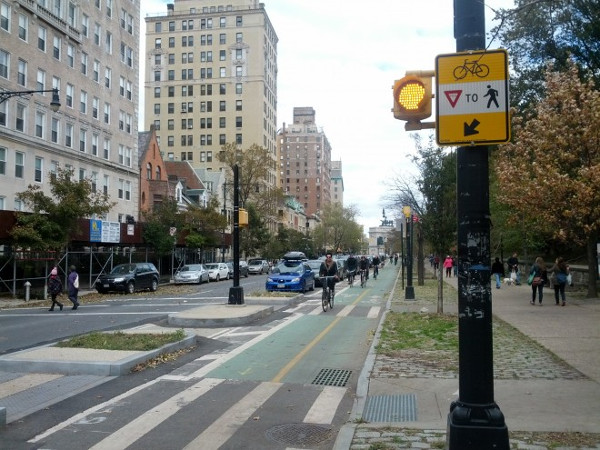 Protected bike lane (Image Credit: pps.org)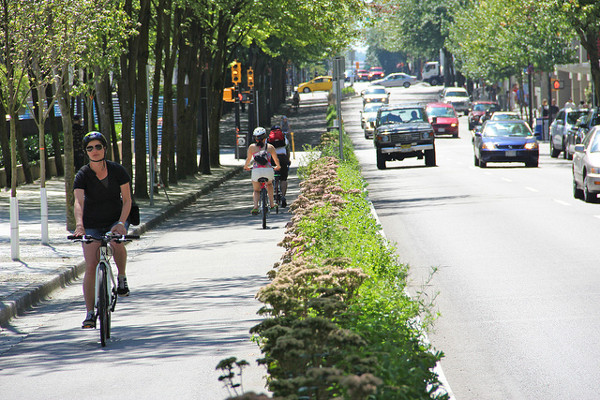 Hornby separated bike lane (Image Credit: Paul Krueger/flickr)
2. Escarpment Crossings
Other than rail trails, stairs or the Jolley Cut sidewalk there is no convenient, central city route for cyclists and pedestrians to take to access both parts of our city.
The most logical route with ample capacity and a gradual grade is the Claremont Access. By simply adding planters and concrete barriers, we could provide two-way cycling and pedestrian routes on both the downbound and upbound curb lanes of the Access.
Upbound currently has four lanes of traffic. The northernmost lane can be converted to a multi-use path with connections to Southam Park at the top of the escarpment, as well as continuing on towards Mohawk College via the West 5th ramp, which is two lanes and can easily see one lane converted to this multi-use path.
Downbound, we have had the curb lane closed for over a year due to a rockslide with zero impact on traffic. It can also be converted to a multi-use path that connects perfectly into the Stinson neighbourhood at Charlton Avenue.
Suddenly a rather ugly freeway in the heart of the city becomes a safe route for all modes of transportation and can have much needed urban greenery added to it.
One of our best urban views is from Sam Lawrence Park on Concession Street. Standing at the edge of the park, you realize how close you are to the Jolley Cut and Claremont bridges.
This would be a fantastic spot for a 'switchback' style path or bridge easy enough for pedestrians and cyclists to navigate that would lead directly to the sidewalk of the Jolley Cut and then continue down to the new Claremont Access multi-use pathways.
Suddenly central city escarpment crossings for both pedestrians and cyclists is not only simple, but enjoyable and with spectacular scenery.
3. Waterfront Connections
Burlington Street offers a direct cycling route from the West Harbour to the East Harbour and lakefront. Let's fast-track a multi-use path along the southern lanes of Burlington Street from James over to Woodward/Eastport so folks can explore our industrial and recreational waterfront up close, and safely.
4. Bridges and Harbour
I've shared both of these ideas in the past - it's time to light up our steel bridge structures with LED lights, and time to install a multi-coloured water jet in the middle of the harbour.
Anyone who ever visits a city with either of these features, inevitably comes back with lots of photos of them. We are blessed with three gorgeous steel and concrete structure bridges. Let's light them up!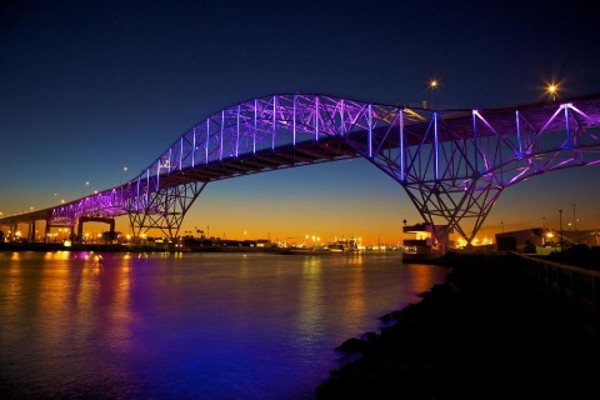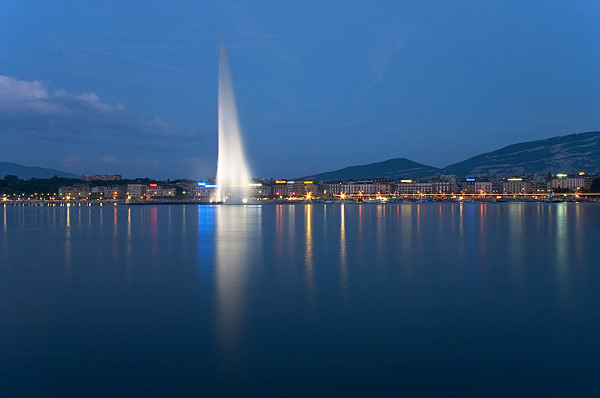 5. Plant More Trees
A great tree canopy provides cooler, cleaner air, safer streets, higher property values and a better quality of life. Is it any wonder the Spectator's 'One Big Idea' contest back in 2005 saw "plant more trees" as the winning idea as selected by the public? Hamilton really needs to ramp up our urban tree canopy.
Hamilton has planted 3,000 trees per year for a long time, and is now upping that to 6,000 per year. By comparison, Portland's Friends of Trees organization has planted 400,000 strees in the past 20 years. That's 20,000 trees a year.
Hamilton has a massive industrial core with no trees and a lot of heat being generated, so we have to be even more committed to greening the rest of the city, especially in the central, north and east ends of the city.
The lack of trees and abundance of wide streets and parking lots in Hamilton has created a situation where we have a much higher heat island effect than even downtown Toronto.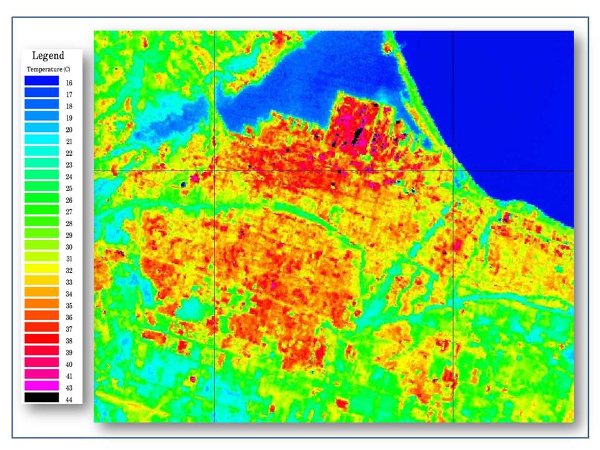 Landset 7 ETM+ Image of the Hamilton Area (Image Credit: Clean Air Partnership)
You'll notice that our poorest communities are the hottest. 20,000 trees per year would go a long way to addressing this issue that not only affects quality of life, but health.
6. Bike Parking and Bike Share
Quite simply, we need both. ASAP. Any great cycling city has great cycling infrastructure. Adding protected lanes as outlined above is great, but we need a safe, convenient place to park bikes and bike sharing is a very convenient, tourist-friendly mode of transportation.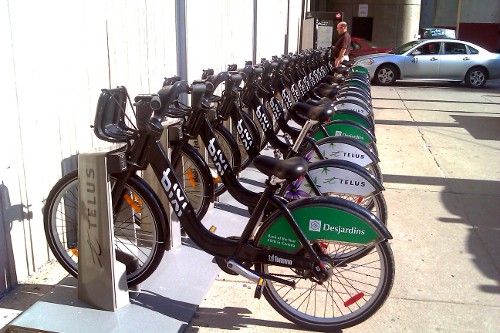 Bixi Toronto station (RTH file photo)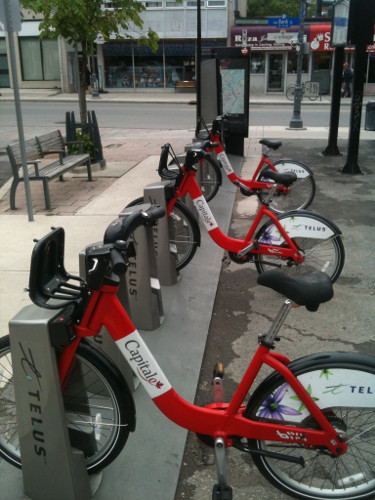 Bixi Ottawa station (RTH file photo)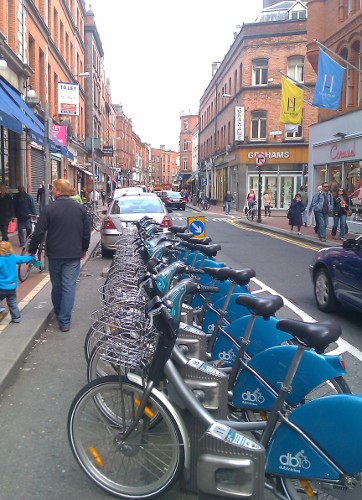 Dublinbikes station (RTH file photo)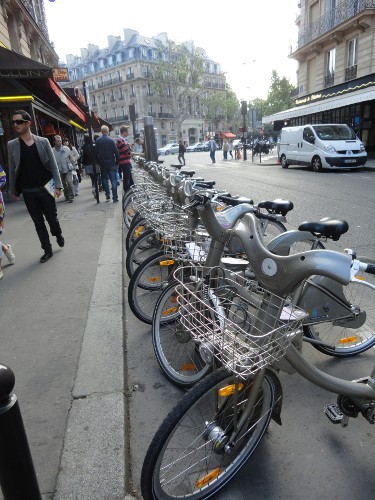 Paris Velib station (RTH file photo)
7. Neighbourhood Squares
Think about all the places available for pedestrians to relax and enjoy city life in Hamilton: parks, trails and sidewalks. Two of the three we do really well: parks and trails. But our sidewalk culture is horrendous at best.
For a very low cost, Hamilton could begin to develop some wonderful neighbourhood gathering spots for people to enjoy local business and the company of neighbours. Think of John and Augusta, or King and Locke, The Delta, or any number of corners along Barton, Ottawa, Kenilworth and so on. Wider sidewalks, street trees, fun furniture, and calmer traffic.
Watch the following video and envision city life in Hamilton as fun and safe as this. Imagine sitting down on the sidewalk with your kids, inches from the roadway.
Right now, pedestrians in Hamilton have almost nowhere to sit and enjoy the city. If we want to show the world we aren't a suburban town operating with 1950's planning principles, let's begin intersection repair and create fun, welcoming places to congregate all throughout urban Hamilton.
More on pop-up plazas:
8. Parklets
Streets like Locke, James North and Barton are perfect candidates for one of the most popular new ideas in North American cities right now: Parklets.
You simply remove a couple of parking spots from the street and replace them with a small patio or seating area. San Francisco is currently developing numerous parklets, and Toronto has one of the longest ones on record that has been a huge success this summer.
Again, low cost, but brings more fun, vibrancy and enjoyment to life in the city.
9. Open Streets
Hamiltonians have really enjoyed the Open Streets events on James Street North the past few years. We should look at bringing this concept to many local streets during the Pan Am games. James, King, Locke, Concession, Ottawa and so on - with the above ideas in place and people free to safely move around our city, open streets can be a highlight of the Games.
What better way to enjoy a city than seeing its various neighbourhoods and retail districts on foot?
10. Act Like a City
Finally, and it's a simple one: Let's start acting like a city once again.
The following two videos shot in Montreal last week show how amazing city life can be when a city wants to be a city.
We have been so focused on being a suburban, high-speed shortcut to somewhere else for so many decades that we've forgotten how great of a city we have, and could have.
Let's start holding our elected officials accountable for how they treat our city. We deserve to be one of the best cities in Canada. We want to be one of the best in Canada. The formula for success is rather easy - you get the city you plan for.
I'd love to see us start to plan a city that is fun, enjoyable and the envy of visitors who come here.
Post a Comment
You must be logged in to comment.