West Don Lands: Birth of a Neighbourhood
I've never seen a neighbourhood emerge from the ether, but the Pan Am Games facility at Front and Cherry is shaping up to be a most memorable delivery.
By Ben Bull
Published June 01, 2012
It's a wonderful thing to witness a birth. To count the fingers and toes, hear the first cry, feel the baby's breath on your cheek...It's alive!
One of the best things about a new arrival is the anticipation: What will it look like? Will it be a boy or a girl? What will they do when they grow up? What kind of future will they face?
There's a new delivery currently pushing its way through just down the road from me. It's not a baby but it is a living, breathing thing.
It's a neighbourhood.
I have never seen a neighbourhood emerge from the ether, but this is exactly what is happening at the West Don Lands in Toronto. The Pan Am Games facility at Front and Cherry is shaping up to be a most memorable delivery.
Right now it's just rubble, a gleam in the eye. Some features are already visible, though: The Bayview loop at the bottom is now paved and a couple of condo towers are underway. And the kids' park, tucked away below the Richmond Street overpass, has been officially declared 'open'.
But for the most part, the main attributes of the new arrival - the streets and houses, shops and parks, people and plazas - are not quite visible on the architectural ultrasound.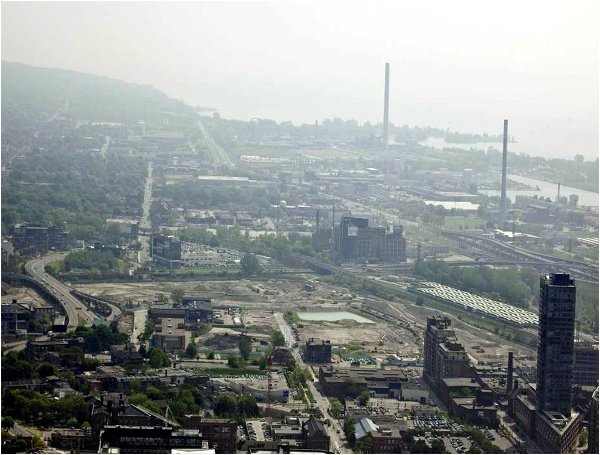 West Don Lands today (center of the picture, i.e. the rubble). Photo credit: Waterfront Toronto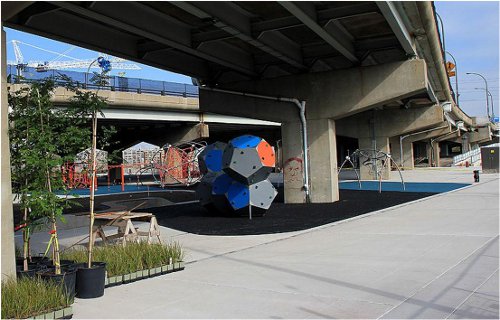 Underpass Park. Photo Credit: urbantoronto.ca
My wife and I have been keeping a close eye on the neighbourhood-to-be. We live a 5 minute walk away and make frequent trips to the site. We've even considered investing in a condo - the plans are certainly enticing.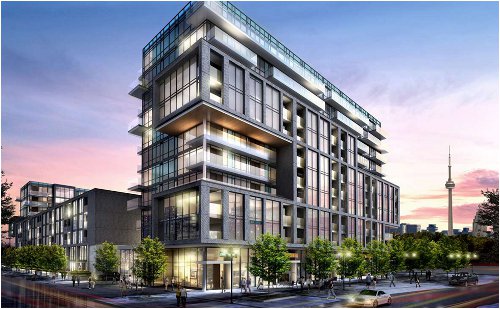 River City Condos at King and River. Photo Credit: RiverCityCondos.ca
In a nutshell, the design envisages a mixed housing community for the athletes of the 2015 Games, which will then be sold off to the public. Housing stock will include both market rate and geared to income units. Various options will be available, from 1 bedroom condos to floor level 'virtual townhomes'.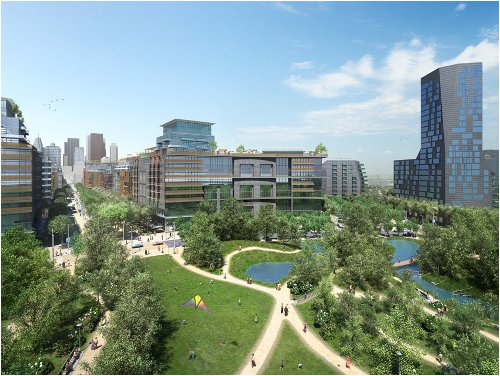 Don River Park, West Don Lands. Photo Credit: Waterfront Toronto
A signature park will anchor the site, which links to developments along the Keatings channel - where the Don River meets Lake Ontario. And history will be preserved. The impressively structured 1859 former Palace Street School, better known locally as the Canary Diner, will be retro-fitted for some yet to be determined purpose.
This building is intriguingly located at the gateway to the neighbourhood - at Front and Cherry - tempting folks to christen the area, 'The Canary District'. That's a nice name.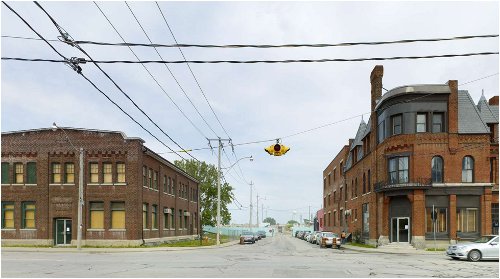 Canary Diner today. Photo Credit: Waterfront Toronto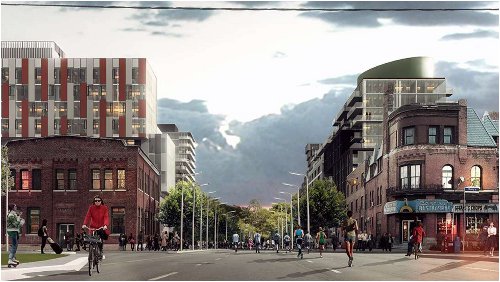 Canary Diner tomorrow - The gateway to the Canary District. Photo Credit: Waterfront Toronto
When my wife and I pored over the street plans provided by the River City condo developers they included acres of green spaces, inter-linked with the Don Valley trail as well as pretzel shaped streetcar tracks, winding their way through the district (although, we were cautioned, that transit service is yet to be determined, ' You might have to catch a bus').
As the Canary District moves out of the embryonic stages and takes on a more recognizable shape there appears to be plenty of reasons to believe that this will be a healthy and handsome new addition to Toronto's neighbourhood population.
Here's hoping for a trouble free delivery.
Post a Comment
You must be logged in to comment.