Councillors to Discuss Pipeline Plans
The Enbridge Line 9 pipeline reversal poses a very clear risk of a significant environmental disaster throughout a long corridor of our rural lands.
By Undustrial
Published October 15, 2012
This Wednesday at the General Issues Committee, Councillors will be receiving a staff report [PDF] about the proposed reversal of Enbridge's Line 9 oil pipeline, which cuts through Flamborough on its path from Montreal to Sarnia.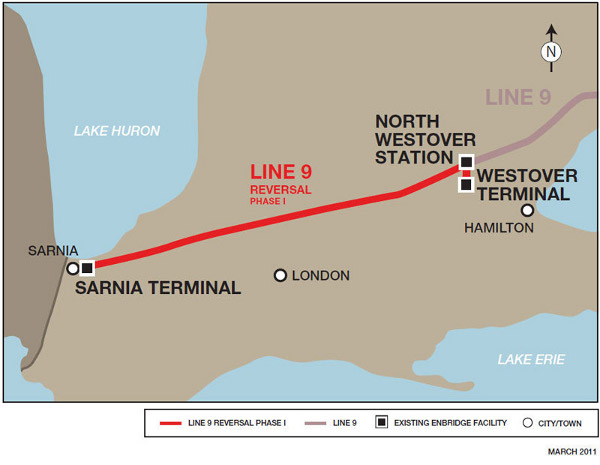 Line 9 Reversal route (Image Credit: Enbridge)
Though publicly confirmed details are hazy and somewhat contradictory at this point, it looks very likely that this is part of plans to connect Alberta's Tar Sands with the Atlantic, now that eastern and southern pipeline routes are proving too controversial. Enbridge had requested to address council about the matter, but has now canceled, after twice rescheduling already.
Nevertheless, discussions are planned to go ahead, with a number of groups planning to speak to the issue, from environmentalists to a representative from Six Nations, very likely the reason Enbridge now seems so hesitant to appear.
Growing Controversy
Over the past year or so, the "Keystone XL" pipeline, which had planned to connect Alberta to America's South has become one of the most difficult issues of U.S. President Barack Obama's term. Thousands of people, many famous, lined up outside the White House (and our Parliament) to be arrested in protest.
Then the "Northern Gateway" pipeline became an issue in British Columbia, threatening to cut through the northern part of the province to connect with oil tankers in the coastal islands, banished since the infamous Exxon Valdez spill devastated the region.
Given this legacy, there was a furious reaction causing even the B.C. Liberal government to oppose it (eventually), as well as the NDP, who seem poised to take power in next Spring's elections.
Undeterred, the petrochemical industry is now planning an even longer route toward Eastern Canada and it seems to have considerable political support.
Beyond the now obvious support from Prime Minister Stephen Harper, even NDP leader Thomas Mulcair has voiced support for this route, a notable change from his opinion regarding the Northern Gateway or "Dutch Disease". (So far, David Christopherson doesn't seem to be returning calls on the matter.)
Dilbit
What will be pumped through this pipeline? That's not exactly clear. When discussing Mulcair, the press made specific mention of Albertan oil flowing through Line 9. In other discussions, Enbrige has made vague mentions of a "light oil" pipeline from Bakken, ND, which also mentioned Line 9.
As much of an issue as the source is, though, there's also the question of where it's refined - before or after it reaches us. The Tar Sands are exactly what they sound like, a mixture of "heavy" petrochemicals ("bitumen"/tar) and sand.
In order to pump bitumen through a pipeline, it must be mixed with other petrochemicals to dilute it such as naphtha ("zippo fuel"). This produces diluted bitumen, or "dilbit".
When dilbit spills, it produces a nasty mix of air and waterborne toxins making an ordinary (crude) oil spill seem tame in comparison. Residents of Marshall, Michigan learned this when, in 2010, Line 6B burst, dumping around 20 000 barrels of dilbit into the Kalamazoo River, creating an ecological nightmare which may never be completely cleaned up.
Effects here depend largely on how much (highly toxic) refining and upgrading take place in Sarnia's "Chemical Alley", and how much the pipeline will be used for exports of raw dilbit to be refined elsewhere (like Northern Gateway plans). Regardless, with a capacity of 225 000 barrels/day, chances of a very serious spill exist for thousands of kilometres along the route.
Line 9 and Hamilton
What should Hamiltonians know about this Line 9? It's now 37 years old and has already been reversed once. Both reversals and (corrosive) dilbit significantly increase chances of a leak or spill.
The pipeline passes through the Beverly Swamp, which alone holds three important area watersheds in an area where most depend on wells for drinking water. Line 9 is a part of the same route as Enbridge's ill-fated Line 6B which spilled in Michigan.
Of course, so far most of this has been planned behind closed doors and like thousands of other projects, has been exempted from legally required environmental assessments by Harper's budget omnibus bill.
Demonstrations
Since last spring, this proposal has faced increasing public scrutiny. Last May, protesters burst in on National Energy Board hearings in London, shutting them down for the day. More recently in Hamilton, a packed public forum was held last month at the First Unitarian church.
Many plan on heading to demonstrate inside and outside City Hall Wednesday morning to support those speaking against the reversal. Following that, Hamilton 350 is planning a protest ride to the pipeline's Westover Terminal (6th Concession and Westover Road), where they will be demonstrating on Sunday, October 21.
Others in Toronto and elsewhere are planning their own forums and demonstrations, in what it sure to become a much larger controversy.
Council
It's still not clear how City Council will react, or what a motion from them could do either way. This pipeline poses a very clear risk of a significant environmental disaster throughout a long corridor of our rural lands. Hamilton is in no position financially to afford such a disaster, nor does our battered environmental image need further tarnishing.
We already have one nationally-famous (coal) tar spill at Randle Reef which now seems poised to cost $140 million (public) dollars to clean up (and rising).
Though Council cannot directly stop a federal project, they can stand symbolically against it, and with others who do the same.
There's also the taxation option, as pipelines are a specific section in our code. Elsewhere, cities like Victoria have seen successful with a public divestment campaigns, seeing many institutions withdraw their pension and financing holdings of Enbridge stock.
Ultimately, though, our fair city can't do it alone. Pipelines have been halted elsewhere only through vast and often unlikely alliances which span their routes. Line 9 follows a path much like the 401, cutting across the Haldimand Tract before us and GTA afterward.
With or without Council, many Hamiltonians will be opposing this pipeline, joined by countless others from cities and towns nearby.
For more information, visit http://hamiltonline9.wordpress.com.
Post a Comment
You must be logged in to comment.