School Board Betrays Urban Neighbourhoods
It's hard to avoid the conclusion that the fix was in from the beginning, that this whole process was mere ceremony to present the illusion of inclusion.
By Ryan McGreal
Published May 30, 2012
The Hamilton-Wentworth District School Board trustees have confirmed their decision to close seven high schools in older neighbourhoods, especially across the lower city.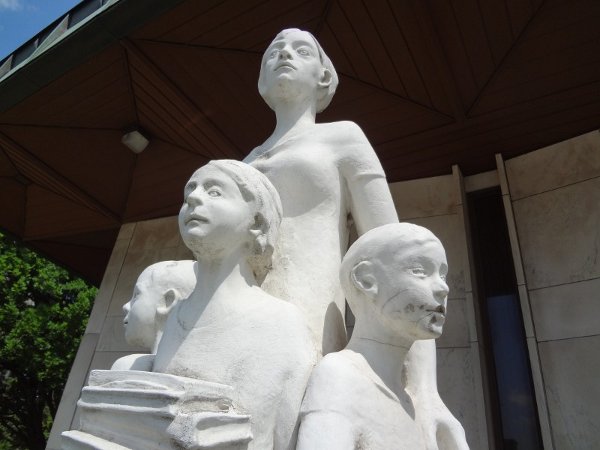 The statue of a teacher protecting her students in front of the Board of Education building is a grim irony (RTH file photo)
What a betrayal to those families whose children will now be commuting to a single central school whose catchment spans approximately 1,200 square blocks between Queen Street and Kenilworth Avenue. So much for walkability.
What a crushing blow to those neighbourhoods that can no longer offer the promise of a community school to would-be residents. This self-fulfilling decision will actually provoke the flight of families with school-age children from urban neighbourhoods that the Board has projected.
What a tragic missed opportunity to find solutions to the Board's funding problems that aren't community-destroying, like adjusting catchment boundaries, moving special programs from over-capacity schools to under-capacity schools, and renting out spare school space to third parties - as the Board did a decade ago to keep Central School open.
As if that was not damning enough, the Trustees also voted to shut down prematurely the process of searching for a downtown location for the HWDSB education centre, instead of waiting three weeks to hear the committee's recommendation.
It's hard to avoid the conclusion that the fix was in from the beginning, and the process was tailor-made to produce the desired outcome. The decision to move to Crestwood - like the decision to close seven high schools, like the decision to close Prince Philip School - appears to have been predetermined, the public process a mere ceremony of tokenism to present the illusion of inclusion.
The HWDSB's closed, secretive and contemptuous decision-making process has reached a nadir with these blinkered, far-reaching decisions, which were hatched behind closed doors and will now be foisted on outraged and marginalized communities.
While other cities are taking active, meaningful steps to reinvest in inner city neighbourhoods and accommodate the growing numbers of people who want to live in them, the HWDSB has chosen instead to reinforce Hamilton's retrograde practice of investing in endless sprawl while starving older neighbourhoods of the resources that would otherwise allow them to flourish.
We will pay the cost of their folly for decades to come.
Post a Comment
You must be logged in to comment.